This post may contain affiliate links, which means I'll earn a small commission if you purchase something through these links. You won't pay any extra; instead, you'll be helping Aloha With Love to thrive. Thank you! Learn more.
--
Green beans grow well in Hawaii especially in our yard. This year Mom has harvested from this particular crop several times over and is letting the last few beans grow large to plant the seeds. The bonus to growing your own green beans is how fresh they are. They just beat out even the freshest beans in local grocery stores. Right before dinner, Mom heads out into the yard and snaps a handful to bring back to the kitchen. Each knife cut is crisp and you can taste the "green" if you can imagine that!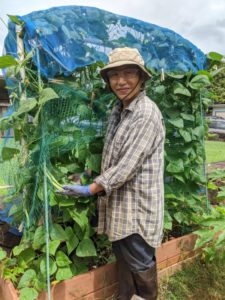 For this dinner, Mom combined the green beans with some pork and carrots and we ended up with a colorful and extremely tasty dish. The pork was juicy with the perfect amount of salt, the carrots added a touch of sweetness, and the green beans offered that satisfying crunch with each bite. No wonder green beans are one of my favorite vegetables!
Aloha with love,
Amy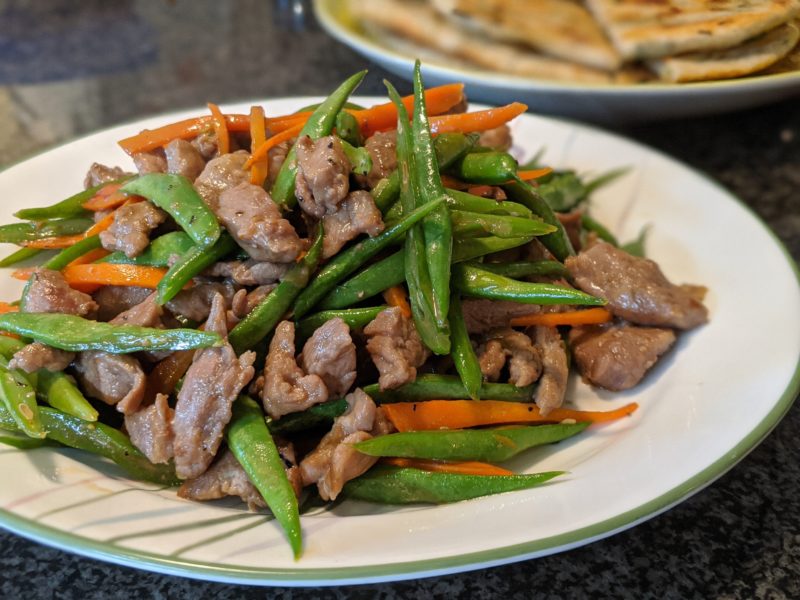 Ingredients
½

lb

pork

1

medium carrot

Thinly sliced.

1

bunch

green beans

Thinly sliced. Mom used a handful.

1

clove

garlic

Diced.

1

tsp

ginger

Diced.

1½

tbsp

shoyu

Soy sauce.

1

pinch

salt

1

tsp

cornstarch
Instructions
Peel and thinly slice the carrots. Take the ends off the green bean and slice them at a diagonal.

Cut the pork into bite-sized pieces and mix in a bowl with garlic, ginger, shoyu, salt, and cornstarch. This will all flavor the pork and allow a fine crust to form as it cooks on the pan.

Add about 2 tbsp of olive oil to the pan and adjust the temperature to high. Add the pork and cook until brown.

Add the carrots and cook for about 30 seconds.

Add the green beans. If these are very fresh, they'll be extremely tender, which is why they'll go in last. Cook for 2 minutes.

Add pepper and salt to taste (Mom put in about 1 tsp each). Add shoyu and cook for 30 seconds. Turn off the stove and add sesame seed oil. Mix one more time and serve.
Notes
Make sure your beans are young and tender. If they're too old (basically if they're too big), they'll be tough and chewy.