This post may contain affiliate links, which means I'll earn a small commission if you purchase something through these links. You won't pay any extra; instead, you'll be helping Aloha With Love to thrive. Thank you! Learn more.
--
The company I work for wanted to meet up for lunch and work at Entrepreneurs Sandbox (a coworking space) for the rest of the afternoon (we all work remotely), so we needed a restaurant nearby. After some discussion, we decided on Highway Inn because of how close it is to Entrepreneurs Sandbox and you can't argue with good old Hawaiian food done right. Here's what we ordered and my thoughts on this neat restaurant on the edge of Kakaako.
Aloha with love,
Amy
About Highway Inn
Highway Inn has been around since 1947 so they're a big name when it comes to longevity in the restaurant industry here in Hawaii. On an island where transients come and go and rising property prices block home buyers and business owners out, it's a tough place to run a successful restaurant. But they've done it beautifully with a focus on authentic Hawaiian and local food.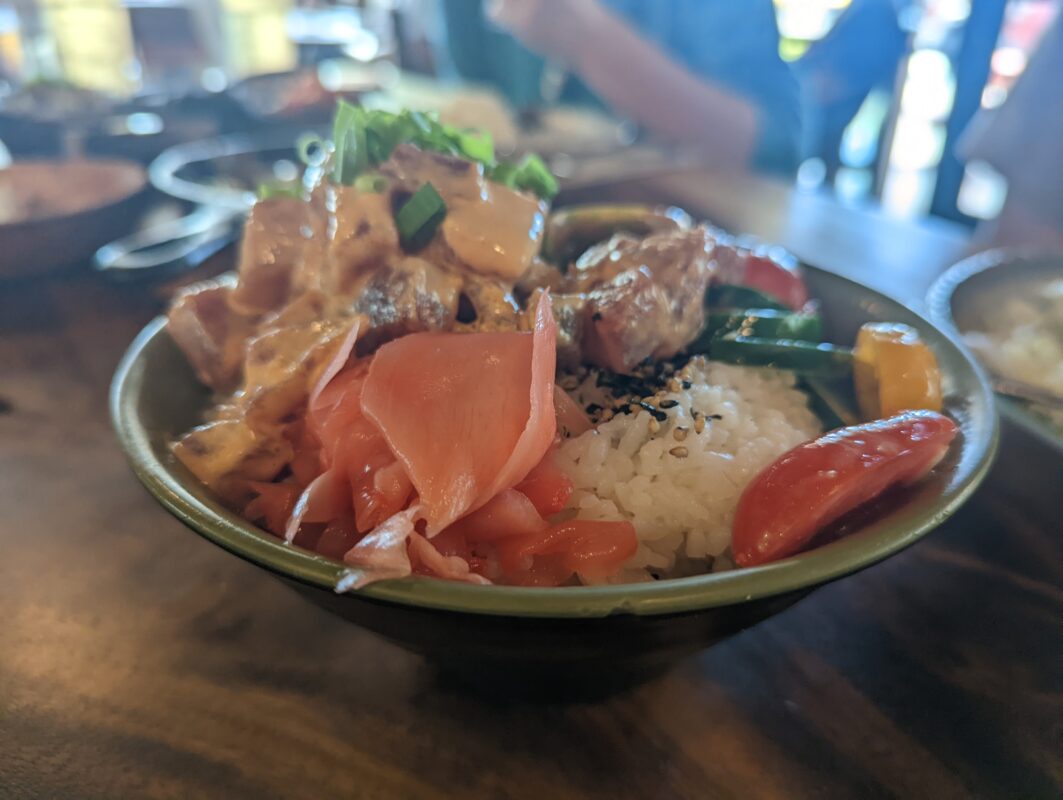 What Highway Inn is really popular for is their Hawaiian and local food such as lau lau, poi, kalua pork, squid luau, chicken long rice, sweet potato, lomi salmon, beef stew and poke bowls. They've got a fairly simple menu, but the food tastes great and the atmosphere inside is nice (loved the beautiful wood table we sat on!).
Think you might eat here often? Check out their frequent diner program on their website. They also have events such as lau lau making and Tutu's Kitchen Sunday Dinners.
Parking
Parking can be tough if you're eating here during the lunch hour. The paid parking lot is shared by several stores and is right next to SALT at our Kakaako. There is a parking attendant that points out open spaces, but the constant in and out means that there are parking spaces opening up often. I'd suggest coming here an extra 15 minutes earlier so you can find a spot in time.
Food and atmosphere
There were 5 of us in our party (we made a reservation) and we ordered the mochiko chicken, Hawaiian moco, Highway Inn tasting plate, poke bowl, and the pulehu short ribs. The food was great and I enjoyed my Hawaiian moco – a twist on the usual loco moco using beef stew instead of gravy. The next time I go, I'd like to share the Highway Inn tasting plate with someone. I rarely get to eat poi (usually it's a small serving when I do). The poi bowl in their tasting plate had me envious!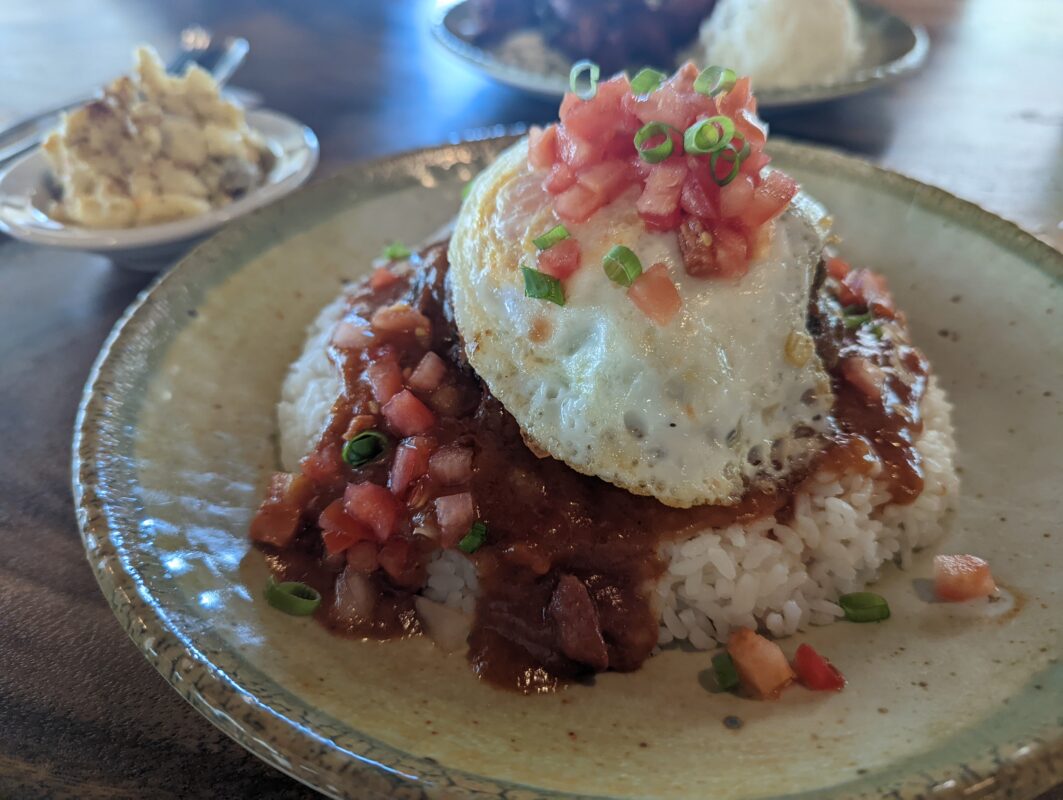 Who should eat here?
In my opinion, Highway Inn is similar to Nico's Pier 38 on Nimitz as both are good spots to take visitors, clients, or friends. Both serve unique food at their establishments and would make the list for top signature local restaurants to try.
If you're visiting Hawaii and want to try some authentic Hawaiian food, Highway Inn is a great place to try. The Kakaako location is a close drive or bus ride away from Waikiki and it's accessible from anywhere in Honolulu. If you're eating out with picky eaters, they also have an all-around menu so that everyone can be happy with what they ordered.
For local residents or those working in Honolulu, Highway Inn is a good place to take visiting friends or business clients. It's also popular among downtown workers during the lunch hour who are looking for something a step up above a quick plate lunch or sub sandwich. Make sure you make a reservation as it can get quite crowded and a queue outside does form when it gets busy.