This post may contain affiliate links, which means I'll earn a small commission if you purchase something through these links. You won't pay any extra; instead, you'll be helping Aloha With Love to thrive. Thank you! Learn more.
--
My brother Michael is a member of Aloha United Way's Society of Young Leaders (SYL) and he invited me out to one of their service events – volunteering at Papahana Kuaola's taro patches. The event was free to join and activities like these are a great way to meet new people and enjoy the outdoors. If you have a chance to volunteer at a loʻi, I highly recommend that you give it try! You get to learn about the Hawaiian culture and feel good about yourself at the end of the day.
Aloha with love,
Amy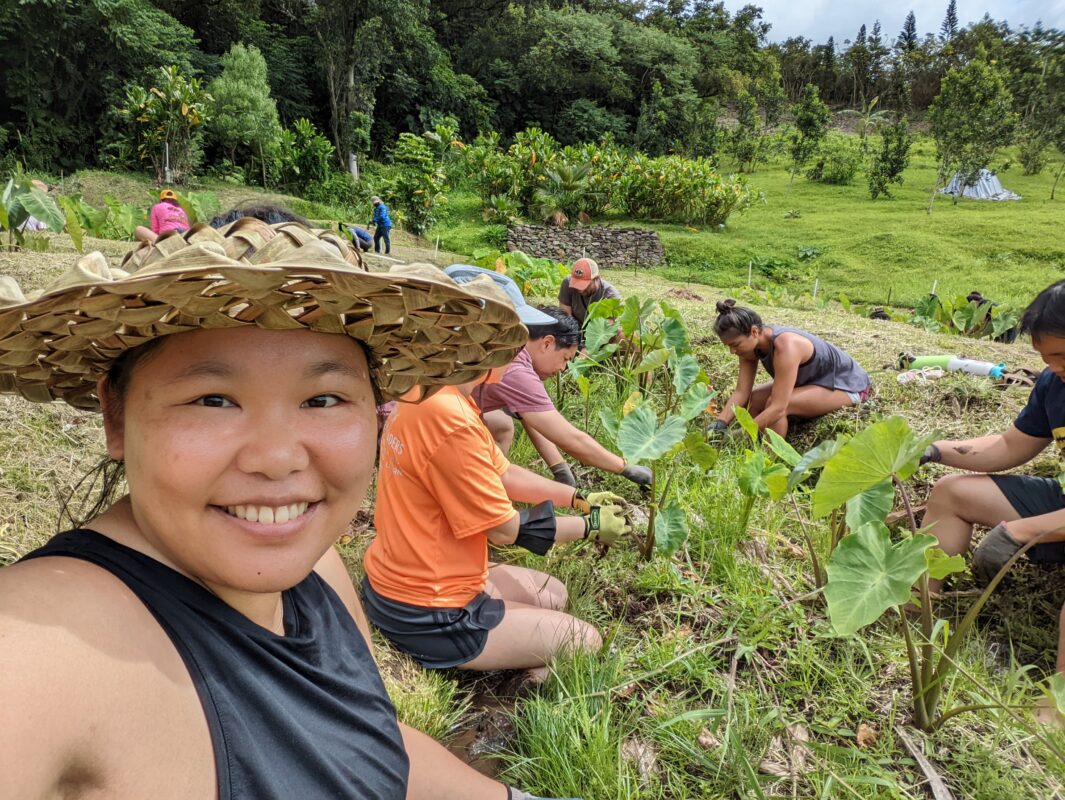 Introduction and a Hawaiian prayer
Many taro patch fields are located in Windward Oahu and Papahana Kuaola is in a prime location nestled close to the Koʻolau mountain range. Parking inside their facility was limited, but there was plenty of parking up top on a dirt lot that overlooked the property. Our leader gave us a brief intro into what we'd be doing and what to expect and one of the volunteers recited a Hawaiian chant before we headed off to the taro patch field.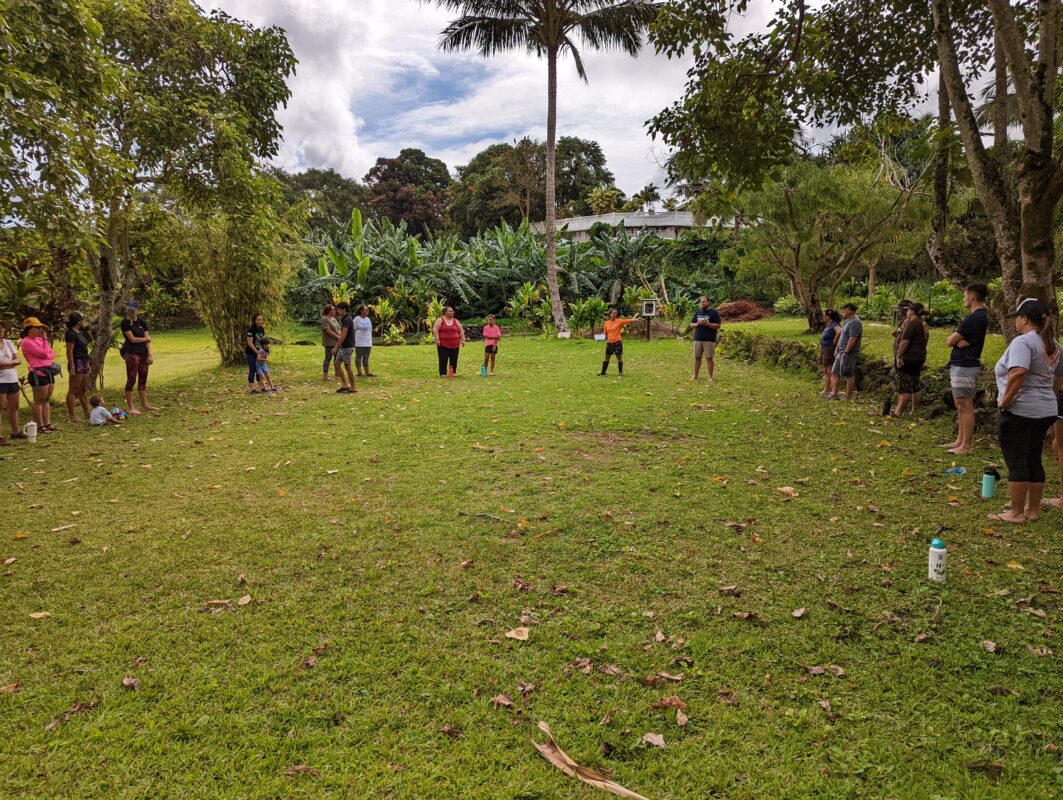 After the chant, we put our bags in the main building, which our group leader closed (but didn't lock). You really only need to bring your water bottle and a hat with you, so once we picked out our gardening gloves, we walked on over to the taro field.
The introduction continued in the fields with a brief explanation of what else was growing in the area, the freshwater streams and springs, and even a little history about this particular taro patch. Our leader jumped in and showed us what to do and from there we were on our own.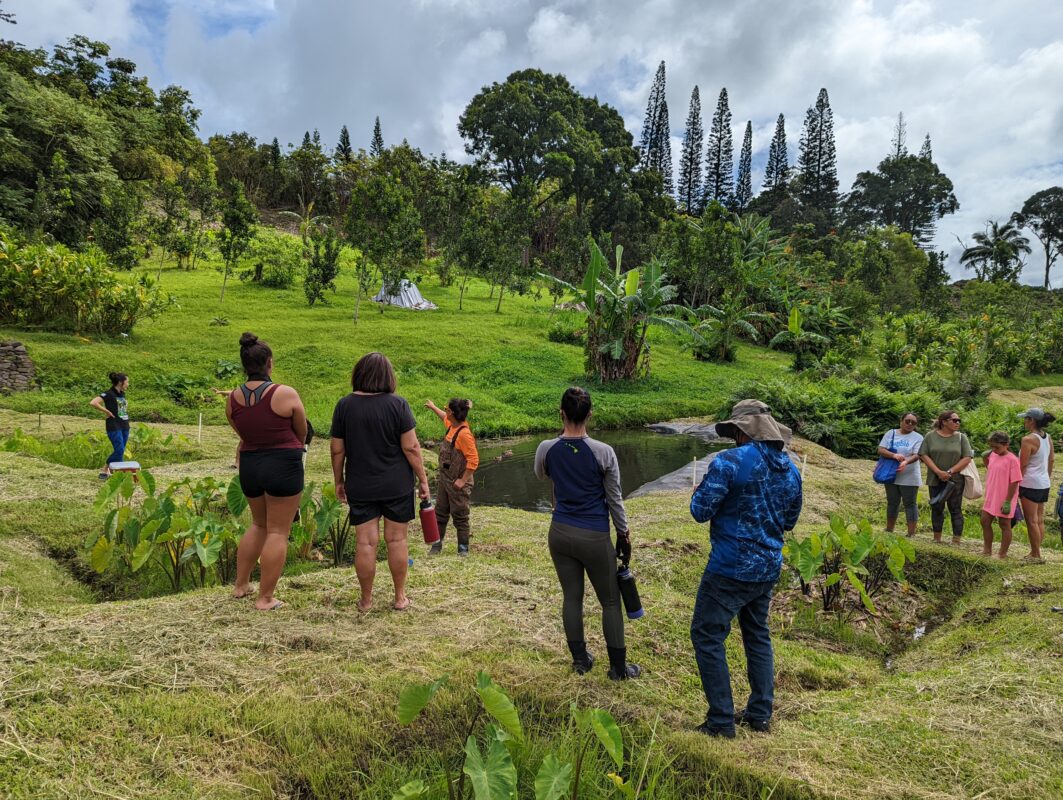 Pulling weeds from a taro patch
There's not much to pulling weeds – anything that wasn't a taro plant was plucked out and thrown into a pile on the side. Clumps of mud would come out with the weeds, so we were also digging into the fresh mud we were standing in and plugged up any holes we made along the way.
Volunteering at a taro patch does get muddy, but my experience at Papahana Kuaola was fairly clean. The mud-water is shallow and mostly only came up to our ankles. At the end of the day, the mud was mostly on the lower half of my legs, hands, and butt (from sitting on the slopes while weeding).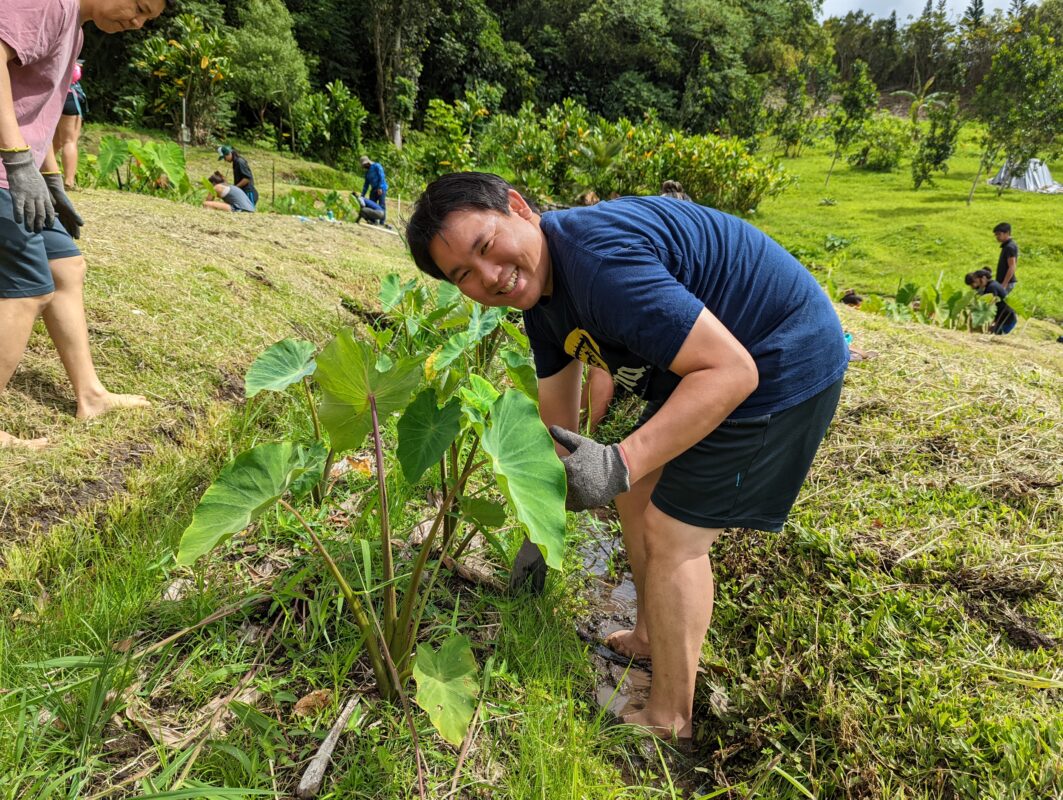 After all of the weeds had been pulled, this was the result – a nice, muddy raised bed with only taro growing from it. The work only lasted about an hour (we were a large group) and it was a fun morning outdoors with laughter and conversation.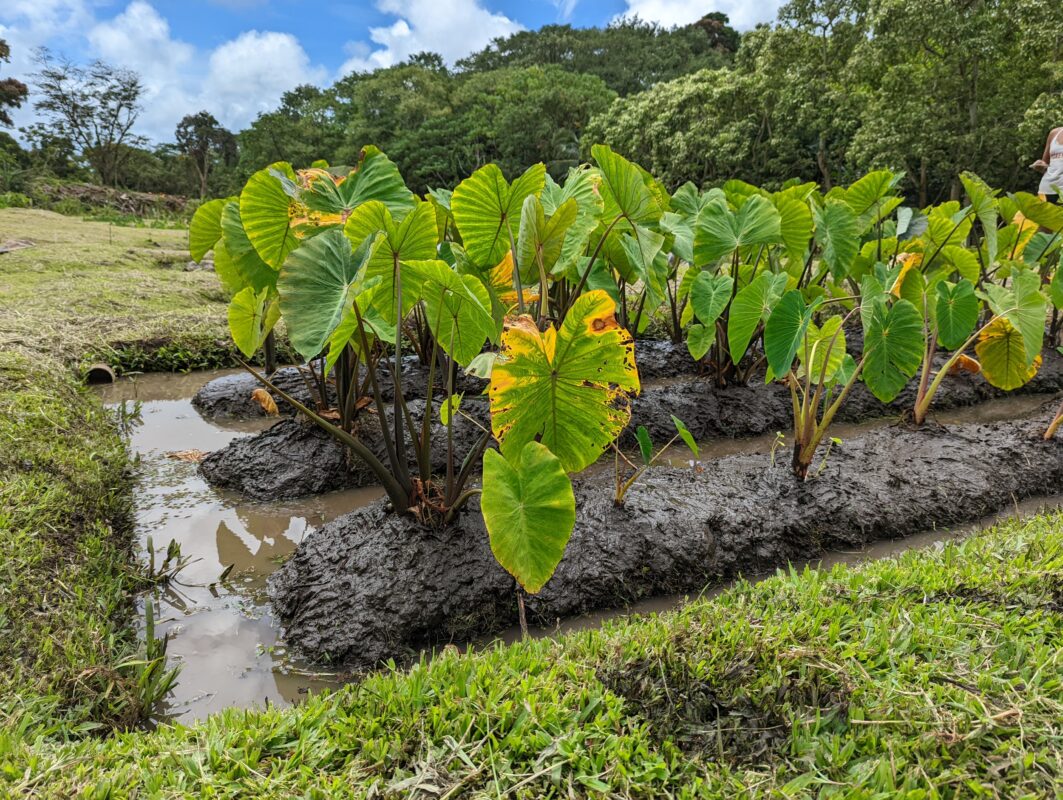 The Papahana Kuaola experience
Overall, this was an incredible way to spend my morning. I got to meet new people, dig my hands into the ground, and enjoy a view that not many people get to see. You can't hear the cars or city life from this pocket valley in the mountains. The sky seems wider and it's just invigorating to be outside and doing something positive.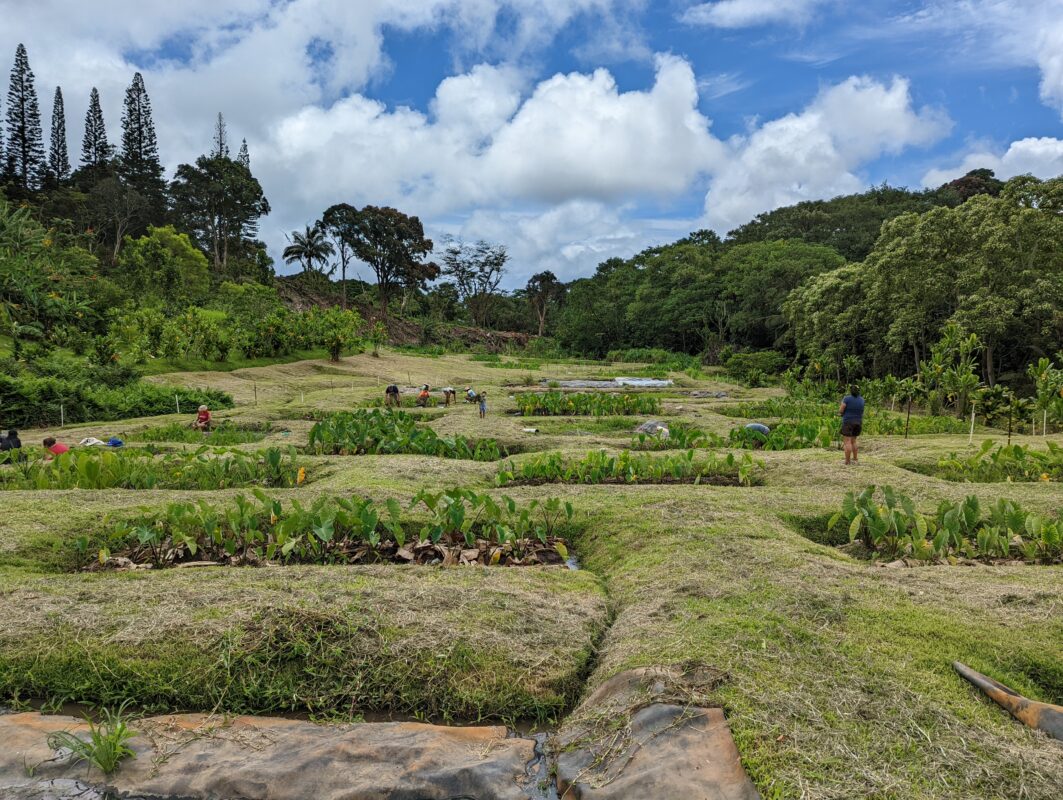 I'd recommend this volunteer opportunity at Papahana Kuaola for any age. A few kids joined us and they had no problems jumping in and working up a sweat. The taro patches here are also great for older volunteers or anyone who does not want to get too muddy. Unlike some other taro patches where you could potentially fall in a large pool of water and get completely wet, there is little to no chance of that happening here. The deepest mud pockets come up to your knees, but generally the mud only comes up to your lower calves.
Most of the work was also done sitting on the perimeter of the taro patches with our feet in the mud. So more often that not we were just shifting to the side when we had pulled out all the weeds in front of us.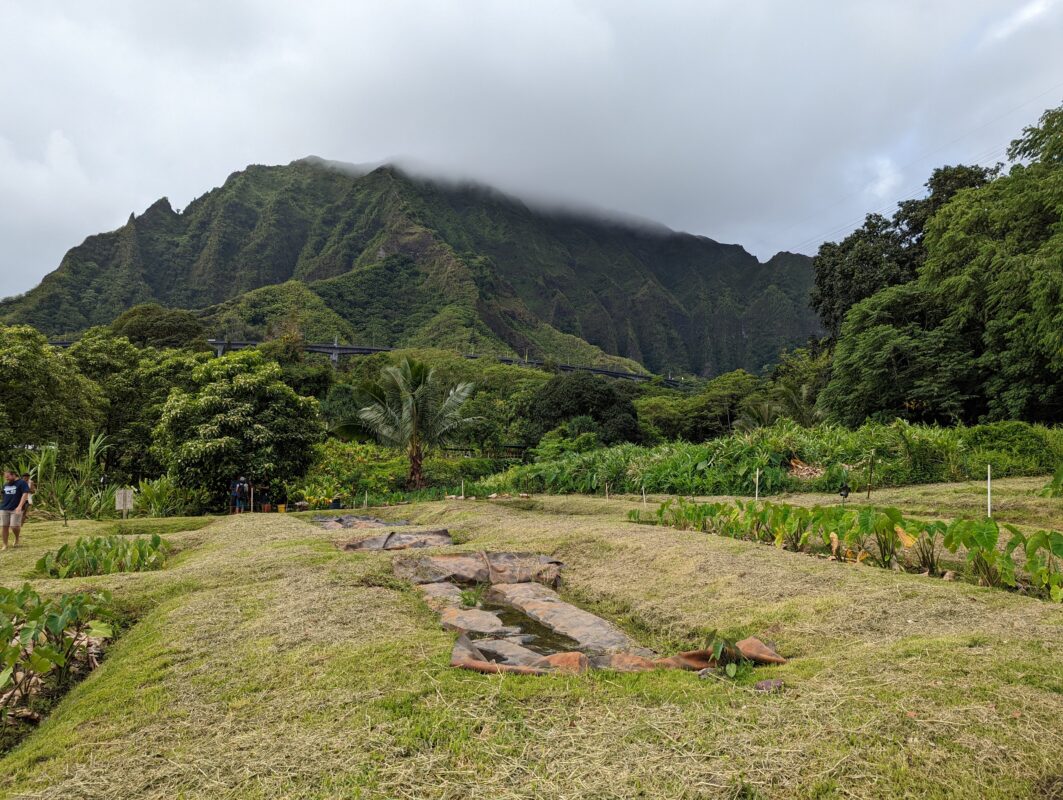 Things to bring and what to expect
Here's a list of things you should bring with you if you are volunteering at Papahana Kuaola:
Bottle of water
Hat
Sunscreen
Towel
Change of clothes (just in case)
Black pants/shorts
Bug spray (if you're prone to getting bitten)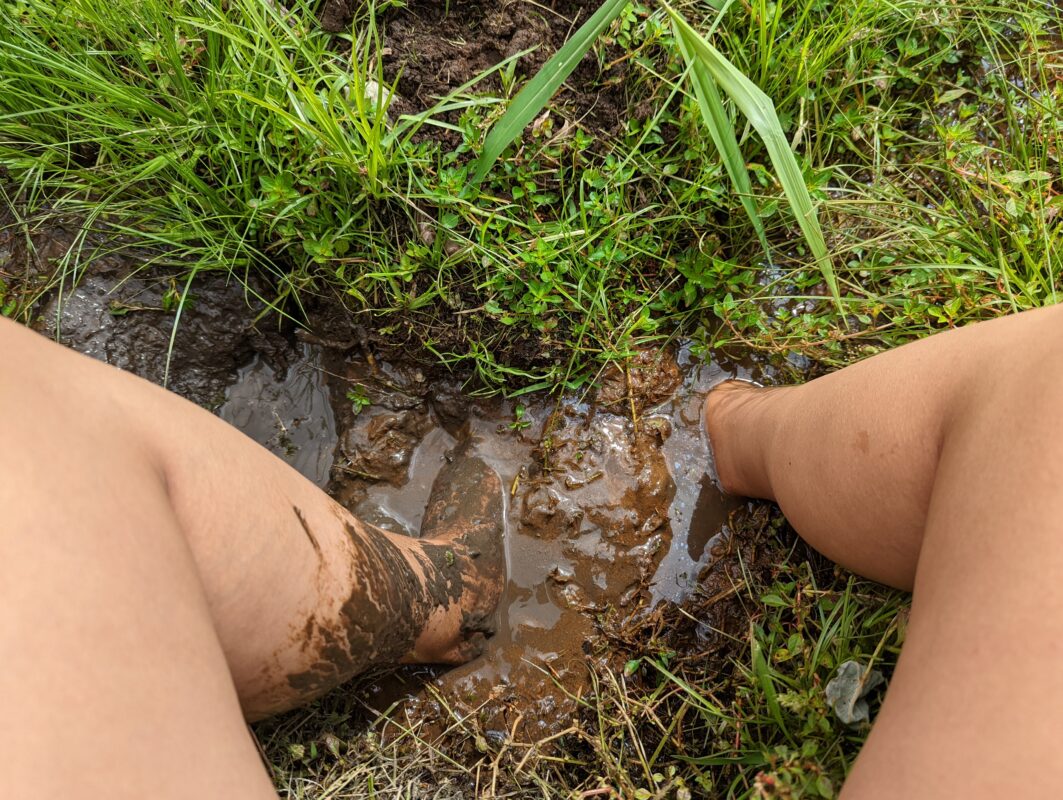 Volunteering at a taro patch means you're going to get muddy! But don't worry, the mud comes off easily and I haven't had any problems with mud stains even on light-colored clothing. The bigger problem for me is getting mud under and around my nails. I've found it's easier to just paint my nails a few days before volunteering at a taro patch to hide any mud that's hard to get out. But some soap and a toothbrush will get your nails looking normal again.
In these particular taro patch fields, our group came across snails, toads, a Hawaiian blind snake and even a crayfish. Nothing too drastic or threatening. If you do happen to touch anything, make sure you wash your hands well and avoid touching your face.
Washing up and cooling down
There's a freshwater stream running on the property where we washed off all of the mud on our hands and legs. The water was refreshingly cool and it was nice to sit and just talk story with each other. After this, our leader took us to one of two freshwater springs on the property and we had the chance to drink from it!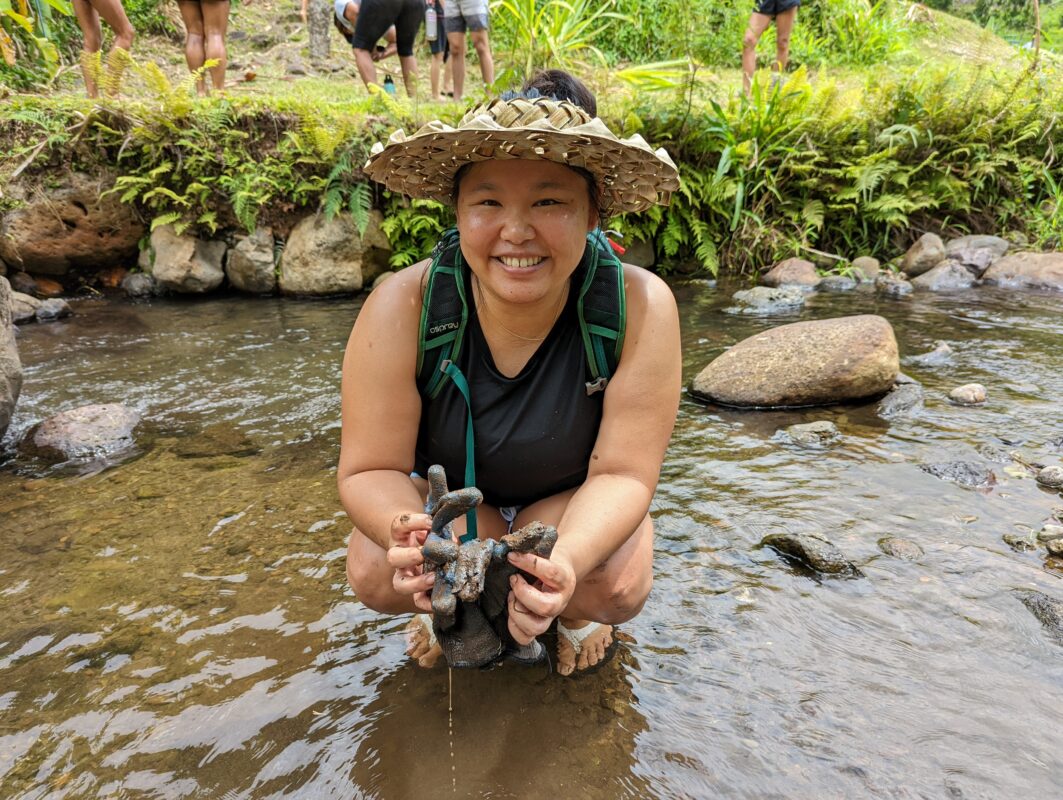 This is a really cool experience – naturally filtered water in Hawaii can take years to surface. So having the chance to drink it straight from the source felt almost spiritual to me. Did it taste like water? Yes, it did. But it's neat to think that clean and drinkable water from the ground is accessible in Hawaii. What a gift! We also were invited to take a dip in the waterfall and pool behind the main building, which I might take advantage of the next time I volunteer here!