This post may contain affiliate links, which means I'll earn a small commission if you purchase something through these links. You won't pay any extra; instead, you'll be helping Aloha With Love to thrive. Thank you! Learn more.
--
Got a special occasion coming up? Need an incredible restaurant for a romantic dinner? Want to set the mood and really make your dinner celebration memorable? Then you might want to make a reservation at Gaslamp in Kailua. For most restaurants, the experience begins when you step inside the door. For Gaslamp, my friends and I anticipated this dinner several weeks in advance!
Despite the high price tag, I had a very memorable time here and really enjoyed this special birthday party. Would I do it again? Oh yes, most certainly.
Aloha with love,
Amy
Learn more: https://gaslamphi.com/
What Is Gaslamp?
Gaslamp is a high-end speakeasy that delights in mystery and intimacy. It will put a dent in the wallet for most people, but it's a fantastic option if you're looking for a restaurant that delivers on a quality experience.
My friend wanted to do something really special for her birthday and invited me to eat with her at Gaslamp. After making the reservation (which you should make a few months in advance), she received an email that came with instructions on how to gain access to enter this "hidden" gem.
The Setting
My pictures look dark, but there is enough light from (you guessed it) gaslamps and chandeliers placed strategically throughout the room. There are only a few tables and at first glance it looks compact, but we weren't bothered by any other customers or the staff. There's an intimate feel to the room and the noise level naturally matches the vibe.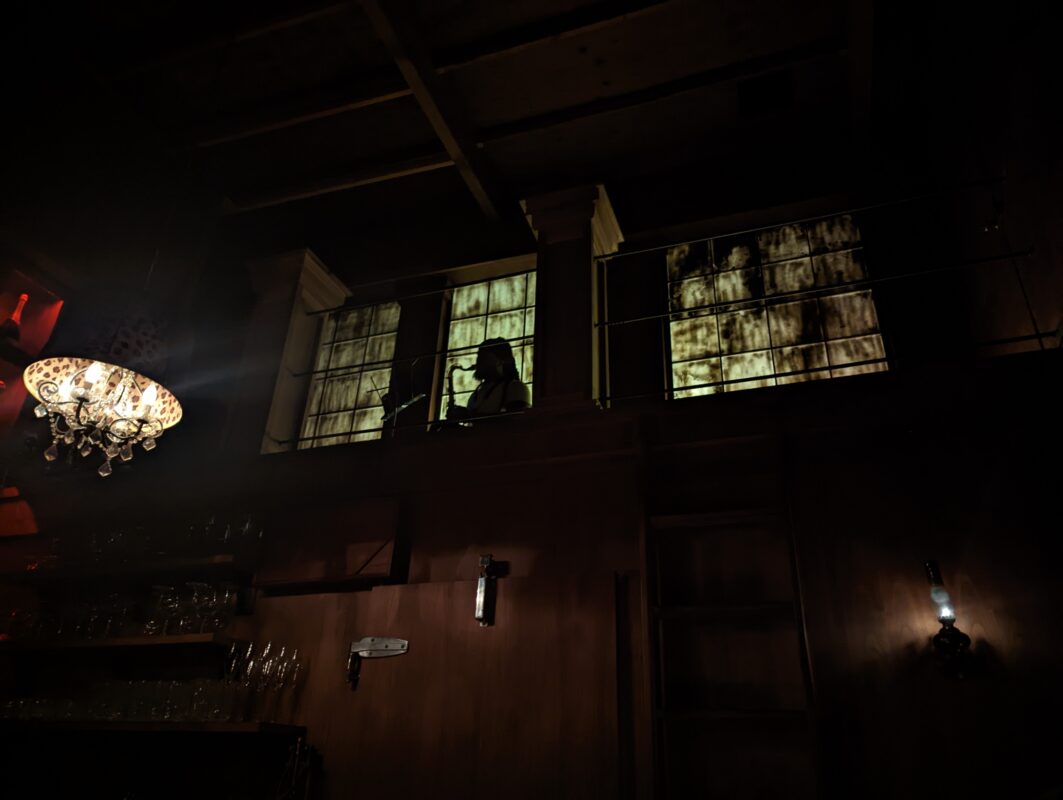 One of my absolute favorite things that set the tone for the night was the sax player! We never got to see his face because he played upstairs and we could only see his silhouette, but it was such a neat experience audibly and visually. I don't know of any other place in Hawaii that does their live music quite this way. It added to the secrecy of the night, which is really saying something considering speakeasies were literally illegal drinking establishments back in the day!
The Food
My pictures did the dishes absolutely no justice, but man were they gorgeous! (If you're looking for scrumptious photos, check out the eat-it-off-the-screen images on Gaslamps website.)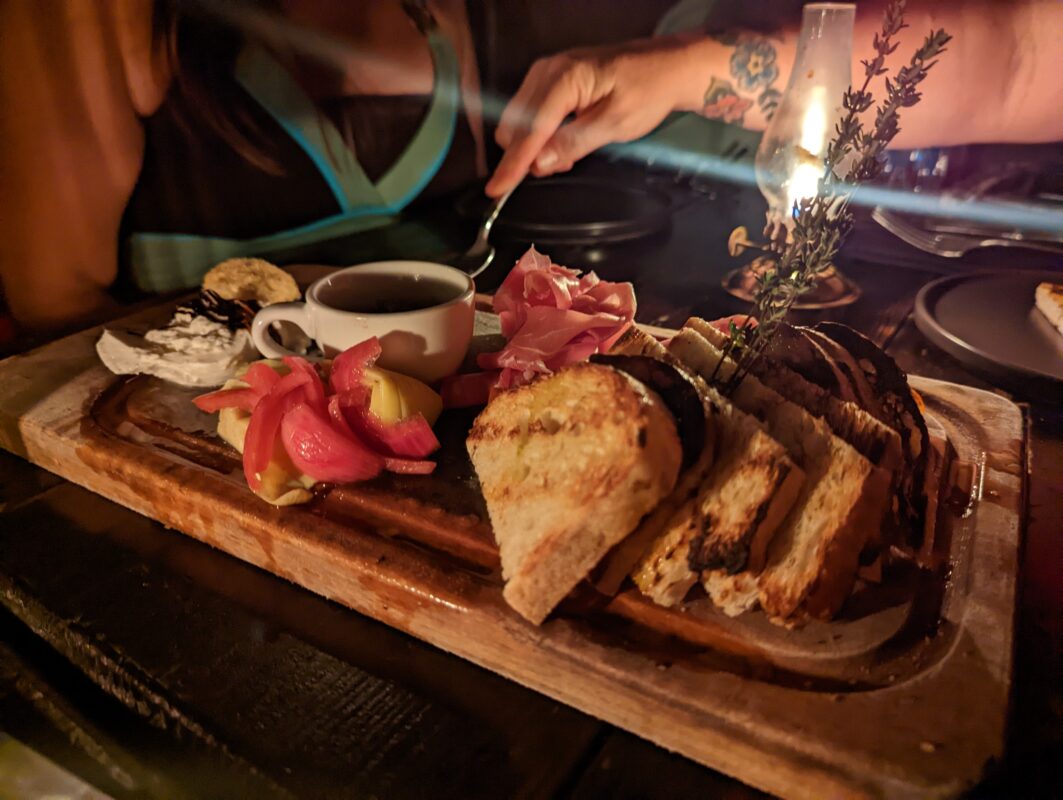 I ordered their popular beef wellington, which came with a couple of snow crab claws flavored in garlic-buttery goodness, and enjoyed the charcuterie board we ordered as a starter. But I have to admit, I was eyeing the "French Laundry" being served to the table next to us. Who can refuse a swinging Japanese wagyu tomahawk backed by romantic candlelight?
The Drinks
As someone who doesn't really drink alcohol, I had incredible fun at Gaslamp. Now usually, ordering virgin drinks is a bland experience for me – I look at the menu options and end up going with pineapple or cranberry juice – whatever's available. At Gaslamp, when asked what kind of drinks I liked (tart, fruity flavors that aren't too sweet) they delivered a concoction of lilikoi with a hint of fresh ginger – wow! It was so much fun to be excited about my drink – similar to how my alcohol-loving friends look forward to trying out different drinks when we hit a new bar.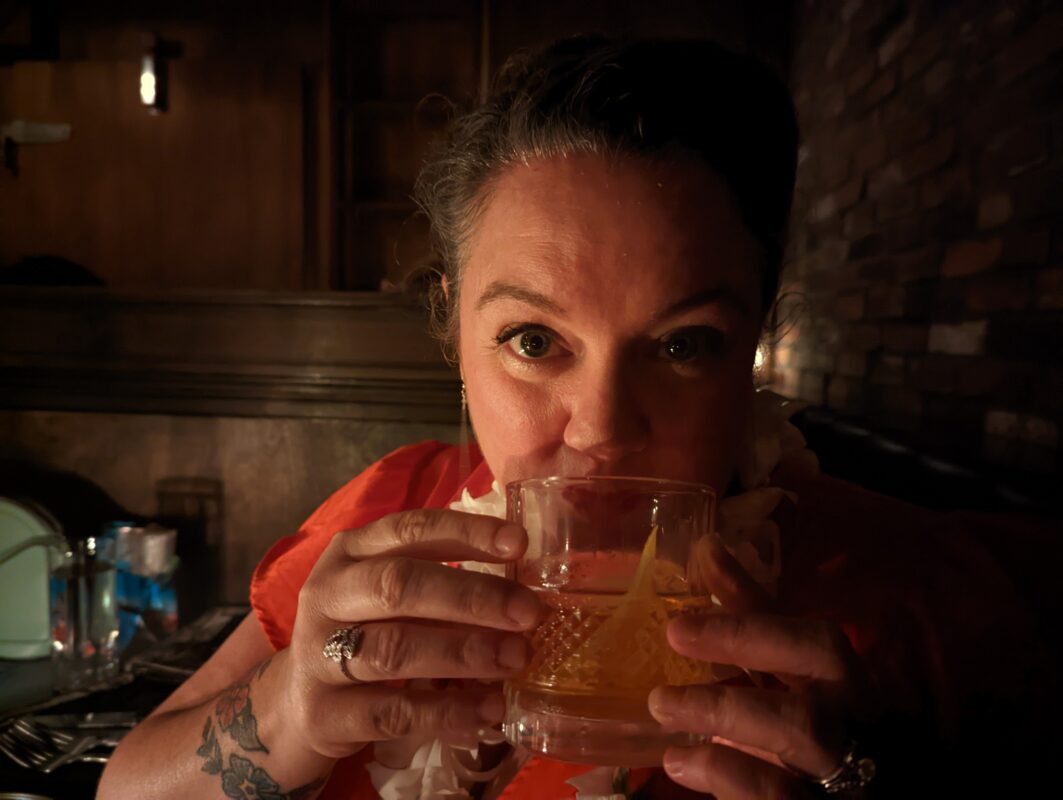 I really appreciated the time the bartender took in preparing my drink and my friends loved their choices as well. They also had a spectacular drink menu, too – the names of their cocktails just made you laugh and wonder about how they got those names. You'll know what I'm talking about when you get there!
What Did I Think?
Gaslamp truly delivers on the experience. I'm not just talking about the food and drinks (which are both awesome by the way), but the adventure begins when you get "the email".
After making your reservation, you'll get directions on how to access this speakeasy because it's hidden in the back of your average looking pub and grill (I won't say which one, just in case you don't want spoilers, but you can easily find out on the internet).
There was a fun zing of nervousness when we entered this casual establishment in our nice dresses and heels and followed the directions on how to gain access to this hidden room. Upon entering, the atmosphere was similar to a candlelit dinner, making the whole experience intimate and special.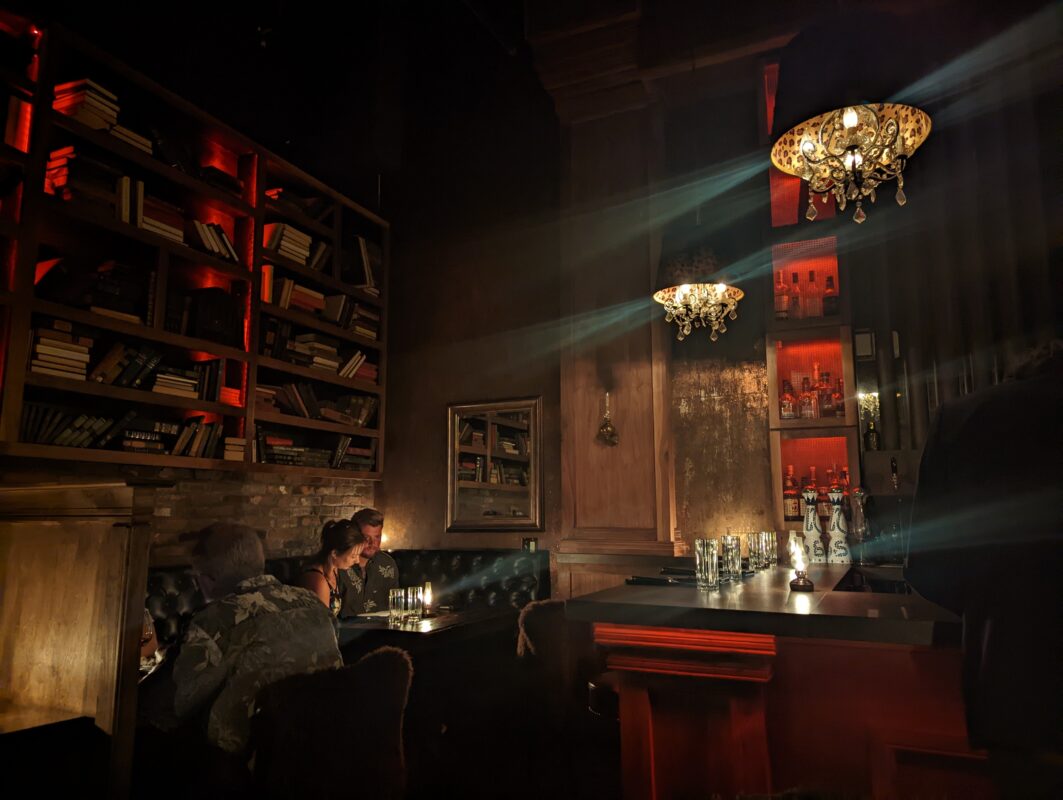 It's a great place to celebrate something special. I'd highly recommend it for anniversaries, special dates, or significant occasions with a small party. While I'm sure Gaslamp would be able to make some accommodations for larger parties, the truth is that the intimacy creates some of that magic. With everyone talking in low voices, it really adds to the experience especially when the silhouette sax begins to play!