This post may contain affiliate links, which means I'll earn a small commission if you purchase something through these links. You won't pay any extra; instead, you'll be helping Aloha With Love to thrive. Thank you! Learn more.
--
I recently attended TravelCon in Austin, Texas and took a flight on Hawaiian Airlines from HNL to LAX and back. For the most part, the flight was as expected with little surprises.
Hawaiian Airlines is often my airlines of choice, but that's probably because I live here in Hawaii. I have a Hawaiian Miles Mastercard (as do most Hawaii residents) and use it to book flights with the free miles. Plus the 1 free check-in really helps out as I rarely need 2 check-ins these days.
In general, most Hawaii – mainland flights are pretty similar when it comes to Hawaiian Airlines. The only exceptions would be the in-flight meals, pets and extra paperwork required by the department of agriculture.
I'll cover them all here so if you're flying on a domestic Hawaiian Airlines flight, I think you'll find this article useful. For this flight, I sat in the main cabin both ways and will be reviewing the main cabin experience.
Aloha with love,
Amy
Check In 2 Hours Before Your Departure And Be Ready For "Ag"
From Hawaii to Los Angeles, my flight was scheduled to depart at 8 AM, so I got to the airport at 6 AM on a Tuesday in September. There are a few things to be aware of when getting to the Honolulu International Airport in the morning:
If you're coming from Waikiki, it will take about 20 – 30 minutes. Traffic is not too much of a big deal as everyone is trying to get into downtown Honolulu and you're trying to leave.
From the Kailua/Kaneohe area it will take about 30 minutes, but check the traffic on the highways before you leave. If there's an accident in the tunnels, traffic comes to a complete stop and you'll be stuck.
If you're staying at one of the Ko Olina resorts, you'll be traveling with the rush-hour traffic so schedule in extra time to be safe. It will take you about 1 hour to get to the airport and maybe even longer if there's been a bad accident on the freeway.
Traffic in Oahu depends on the University of Hawaii and private schools. If school is in session, you can expect the morning traffic (6 AM – 8 AM, townbound) and afternoon traffic (4 PM – 6 PM, outbound) to really affect your commute.
For any airlines leaving Hawaii, there's an additional check-in step that's required by the Department of Agriculture. What they're looking for are raw fruits, vegetables, plants and bugs that aren't allowed outside of Hawaii or commonly carry diseases. There's a pretty big fine if you're caught doing this knowingly so just leave the fruits behind.
These days the process is pretty quick. It was a real headache until about 10 years ago because it could take 1 – 2 hours during busier hours and unsuspecting travelers would miss their flight.
Local Tip: Wearing your fresh lei home is perfectly fine. There are only a few flowers/leaves that aren't allowed out of Hawaii, but you can ask any lei maker and they'll let you know what is and isn't allowed according to current regulations.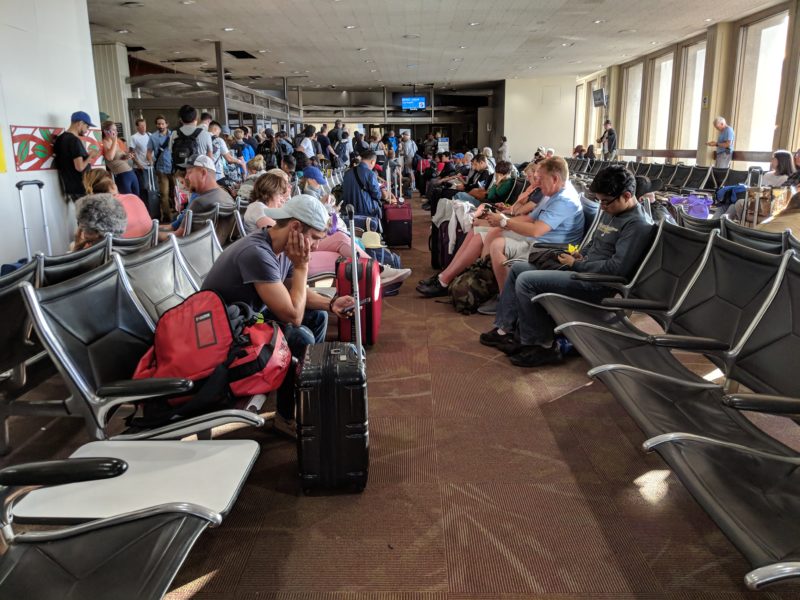 Inside A Hawaiian Airlines Plane In The Main Cabin
Each seat has a small touch-screen television, but you'll have to pay to watch or play anything worth your time. A much better option is to bring your own device for music, games and videos. There's a USB outlet that you can use to charge your device, so use that to your advantage.
Local Tip: I've heard that not all of the planes have a USB outlet to charge your devices. Keep that in mind and have a back-up plan or you'll go crazy.
The air wasn't blowing directly on me, so I was pretty comfortable for the duration of the trip and didn't need anything more than my own light jacket. But according to my aunt who flew the same flight just a week before, said it was so cold for her she had to buy a blanket for $10.
While she did get to keep the blanket and thought it made for a nice souvenir that she could reuse, I'm the kind of person who'd rather save my precious luggage space for souvenirs and snacks. I'm just glad the air wasn't pointing directly at me!
The seats were normal for me. Like most of my main cabin seat experiences, my butt began to get numb halfway through the flight. The headrests have those 2 side supports that you can bend out, which I always use to avoid getting a crick in my neck.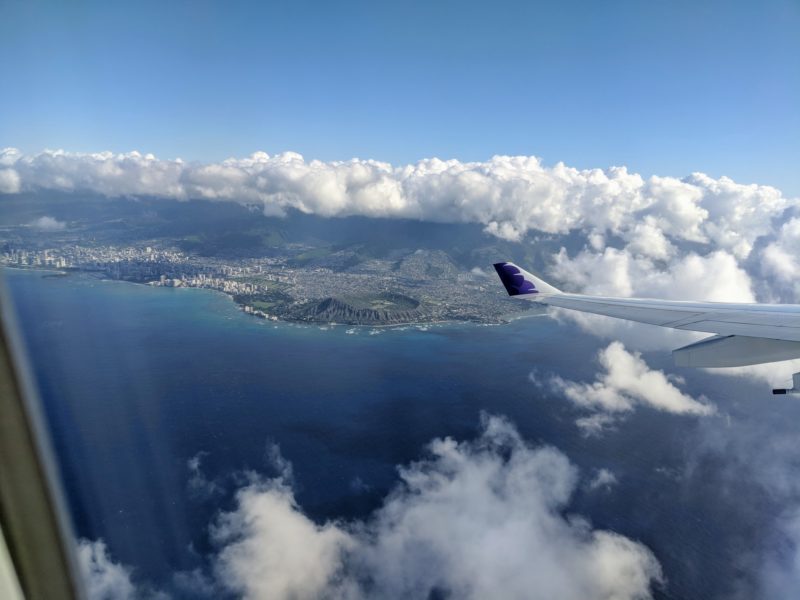 Meals During Morning And Brunch Flights Are Unexceptional
Considering that Hawaiian Airlines spends a lot of time promoting their meals created by local chefs, I was disappointed by breakfast. Strawberry yogurt, granola, grapes and a loaf of flavored bread does not really remind me of Hawaii or Los Angeles (their meals are supposedly inspired by the destinations they fly to).
Of course if you decide to upgrade to first class, you can expect a really nice Hawaiian-style meal, but since most of you will fly in the main cabin the "created by a local chef" meal won't apply. I also ate the same meal flying back to Honolulu, too.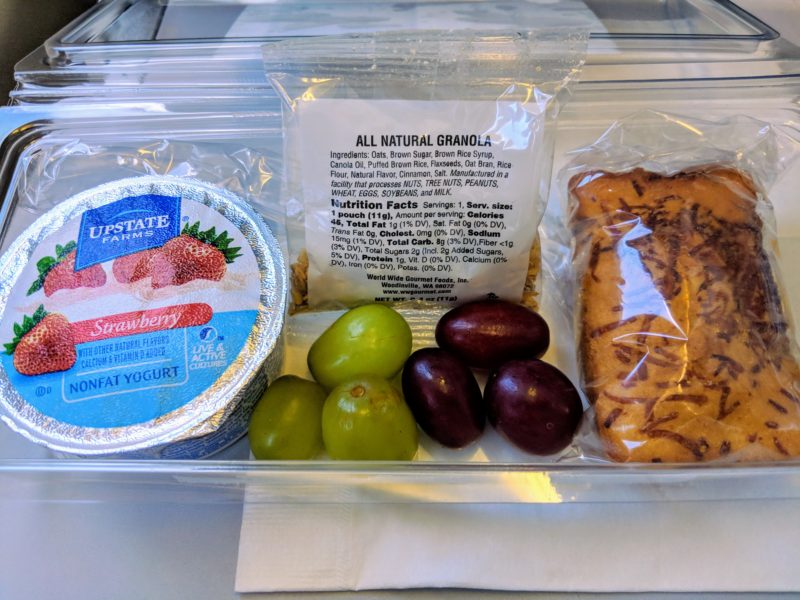 What To Do After Disembarking
Island Hopping
If you've got less than an hour before your flight to a neighbor island, I highly recommend hopping onto a wiki wiki shuttle. The staff will point the shuttles out to you and they should be ready and waiting. Not all gates have shuttles right outside so ask the staff if you're in a rush.
If you've got more than an hour, you can make your boarding time even from the farthest gate by foot in about 20 minutes.
Baggage Claim
You'll be disembarking on the 2nd floor and all baggage claims and most of the transportation is on the 1st floor. It's a much better idea to stay on the 2nd floor and head toward your baggage claim rather than taking any exit to the 1st floor. Pathways on the 1st floor are blocked because the international passengers are isolated until they exit. If you go down too early, you'll be walking around the closed off areas like a maze.
There will be signs pointing to your baggage claim letter (B – H). Follow the signs and head out and downstairs when indicated. Usually, B and C are designated for Hawaiian Airlines. D – H is for everyone else.
Transportation
Taxis, shuttles and rental cars are all easily accessible from the 1st floor. Any staff member can point you in the right direction and everything is pretty self explanatory.
If you're going to catch the bus or an Uber/Lyft, you'll need to head upstairs again. It's a bit of a headache, but just make sure you speak to the agent at the information desk before you head up. They can tell you the best way to get upstairs (the stairwells and elevators are hard to find) and which area to head to.
Local Tip: Have a question? Besides the rare airport staff member that are few and far between, look for a lei greeter from any company. They get tons of questions all the time during TSA, at the gates and baggage claim and have probably rushed their guests to a neighbor island flight more than once. (From my own experience as a lei greeter.)
Required Paperwork For Everyone Flying Into Hawaii On Any Flight
One thing that may take you by surprise is the Declaration Form you'll have to fill and sign on your flight into Hawaii. It's one per family and the questions are easy and their answers common sense. Basically, raw fruits, vegetables, seeds and animals are a big no no.
This has to be filled out because as an island chain in the middle of the Pacific Ocean, Hawaii's ecosystem is a unique one where any alien species will wreak havoc. Invasive species like rats, snakes and non-indigenous plants flourish in Hawaii's tropical weather and suffocate our forests and threaten Hawaiian animal species who have no defense mechanism.
Local Tip: Bring your own pen. Seriously. I've probably asked for a pen at least 10 times in my life and the flight attendants usually have to scramble. Usually the flight attendants have to ask other passengers if they could lend me their pen. I even lent my pen to the passenger next to me when their flight attendant couldn't find one.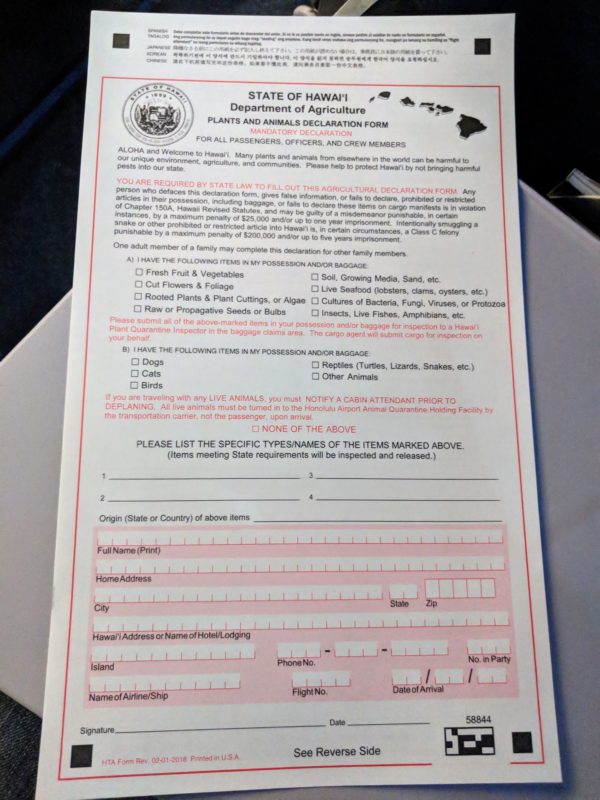 Hawaiian Airlines And Honolulu Airport Travel Tip List
Toward the end of the flight, the staff will promote their Hawaiian Airlines MasterCard. If you fly to Hawaii often, this may be something worth considering and there's a pretty good sign-on bonus if you spend the required amount.
Look for the Hana Hou magazine in the pocket in front of you. It always has a bunch of neat local information and some pretty good coupons and deals.
The Honolulu International Airport's official name is the Daniel K. Inouye International Airport. You can also refer to it as the Honolulu Airport of HNL.
The airport is one of the worst for finding places to charge your device. My favorite airports are the ones that have chargers next to every seat no matter which gate you're at. At HNL, you'll have to do a bit of hunting.
How Was Your Hawaiian Airlines Ride? Any Memorable Honolulu Airport Experiences?
I want to hear all about it – the good, the bad and the ugly. Or if you have a questions, let me know in the comments below!
If you enjoyed this article about domestic flights via Hawaiian Airlines and the Honolulu International Airport experience and plan to visit Hawaii someday, sign up below to get my local Hawaii tips. It's free and I can't wait to help you plan the perfect Hawaii vacation.