This post may contain affiliate links, which means I'll earn a small commission if you purchase something through these links. You won't pay any extra; instead, you'll be helping Aloha With Love to thrive. Thank you! Learn more.
--
When I think about Haleiwa, inevitably I think shave ice!
Matsumoto Shave Ice is one of those mom 'n' pop stories of success that we love to hear about. Hardworking parents begin a perfectly simple and wildly successful business that just works.
In Matsumoto's case, it was shave ice. Haleiwa already had visitors from around the globe streaming through. All they needed was a cold and sweet snack for those hot days under the sun. Armed with a variety of homemade syrups and always choosing to be the only Matsumoto Shave Ice shop in existence, word spread like wildfire even before the internet existed. Soon the choice to expand was never a choice. People flocked to Matsumoto's and still do.
I have childhood memories of shave ice after a morning of fishing or a day at the beach. When I drive past Matsumoto's today, I still see the old dirt parking lot with wild chickens. And instead of their fancy new store, I recall those plain wooden benches that sat in front of the original entrance.
So is it worth it to stand in that line among tourists and locals? Well, I still do.
Aloha with love,
Amy
Matsumoto Shave Ice V.2 Is Not Old School Anymore, But It's Still Delicious
The shave ice at Matsumoto's hasn't changed. There is still a massive list of flavors ranging from tropical passion fruit to root beer. You can still get the original rainbow shave ice if you can't decide and adding sweet azuki beans and creamy ice cream to the mix only makes it better.
The lines may get long as the day gets hotter, but it moves quickly. There are a lot more staff members and the equipment has received a major upgrade (goodbye coolers, hello freezers!). Ordering has been streamlined and by the time you reach the cashier to make your order, you've decided that your 7th flavor combination is the one you truly want.
Traditionally, shave ice in Hawaii means you get to choose 3 flavors. Your strategy is so important here. You have to decide if you like sweet, sour, tangy, or creamy and how you want these flavors to combine.
I'm about to get technical here. I'm serious about my shave ice:
Personally, I always go for a sweet/sour + creamy shave ice. So a combo like lilikoi (passion fruit) + vanilla + pickled mango is a common choice for me. Lilikoi is a sweet and sour flavor, and while I'd normally consider mango as a sweet syrup, the pickled flavor adds that bite. I've also found that flavors like vanilla, coconut or banana make for a great creamy base and blends the sour-based syrups really well.
Surprised that I think about my shave ice that much? I've had years of experience and this is my recipe to deliciousness! Let me know if it works for you.
Local Tip: You can also add sweet azuki beans and creamy ice cream to your shave ice. If you do, I suggest choosing shave ice flavors that will match with sweet and creamy. Maybe a more neutral flavor like green tea or a tart flavor like pineapple could do it.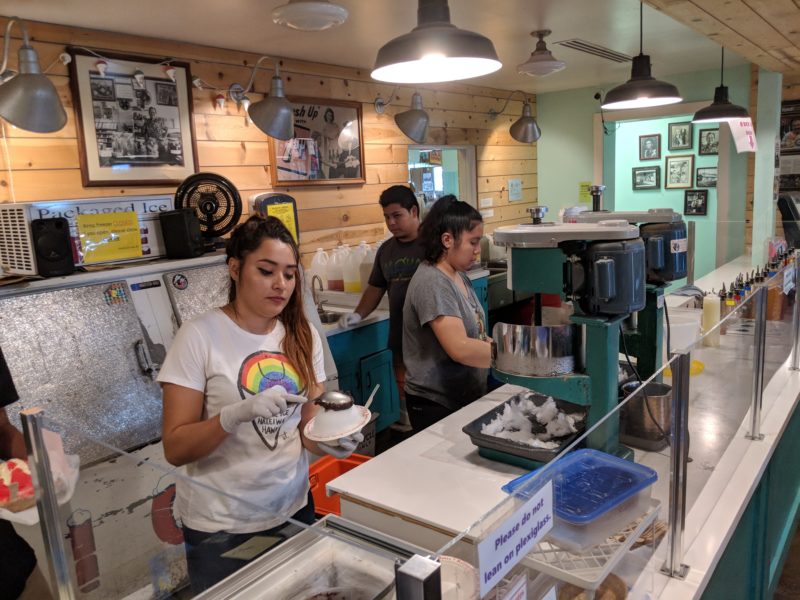 Eat Outside And Enjoy The Weather
Almost every day in Hawaii is a pleasant day, so how can you not eat your shave ice outside? Right outside Matsumoto Shave Ice is a large, open area with plenty of benches and picnic tables. Don't be afraid to ask someone if you can share their table. Everyone is friendly here and most of them are waiting for their shave ice.
Local Tip: Large parties will often split up. Half will reserve a table, and the other half will stand in line and bring the shave ice out to everyone. Once you place your order, the shave ice comes out quick.
There are no servers or janitors to clean the picnic tables so they get a little sticky on occasion. Clean up after yourselves when you leave and throw your trash away in one of the multiple trash cans available.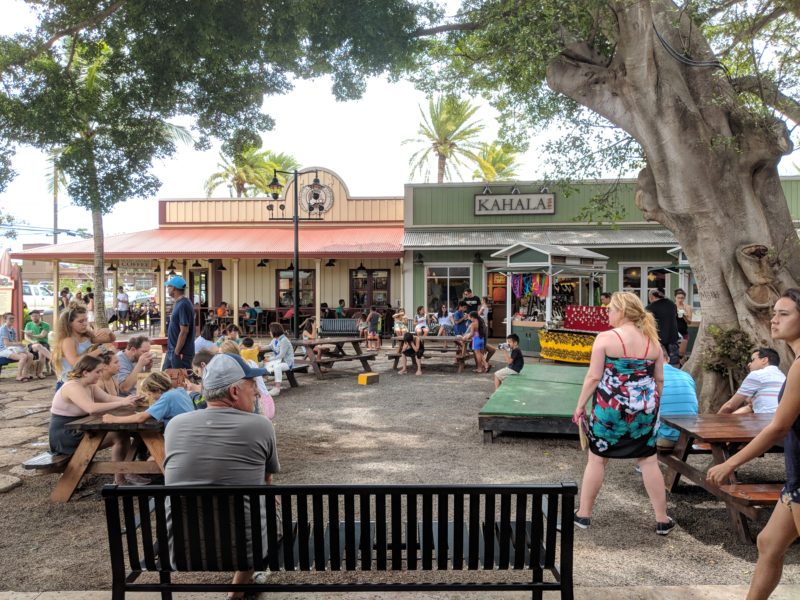 The Matsumoto Shave Ice Souvenir Shop Takes Up 2 Full Rooms
While standing in line to order your shave ice, you'll walk past shelves and displays of souvenirs. Everything ranging from local products to souvenir trinkets for the kids. The next room over is also crammed with neat island-style products like local snacks and Matsumoto Shave Ice logo paraphernalia.
It's a neat place to be since a lot of the souvenirs here you won't find anywhere else. I especially like the t-shirts. There's a huge variety of colors and designs to choose from.
Local Tip: One of the shirt designs has a cartoon man with a HUGE smile. That's the owner (son of the original founders, Mamoru and Helen Matsumoto) and he's a local celebrity and visits his store quite often. If you're lucky enough to see him walking around, ask and he'll be happy to take a picture with you!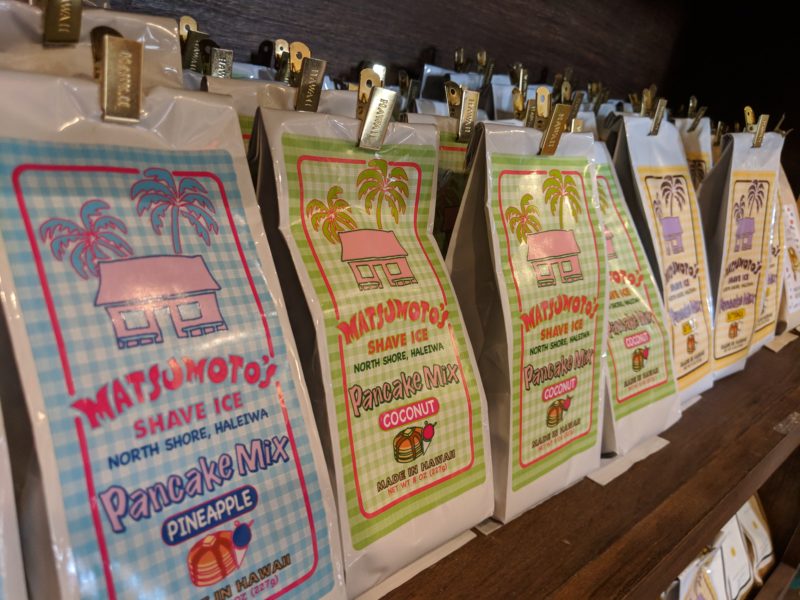 The Matsumoto Shave Ice Checklist
Matsumoto Shave Ice is located in the Haleiwa Store Lots – a small shopping complex of about 10-15 shops.
Haleiwa Store Lots has a pretty large parking lot as well as nice and clean bathrooms. I recommend parking here as your central base as you explore Haleiwa for the day.
As you know by now, I have a set strategy when selecting shave ice flavors. But choose anything you want. Any combination will taste great.
For those who want sugar-free, there are 3 flavors for you made with Splenda! Strawberry, banana and vanilla.
The small is $3 and large is $3.50. Most of the extra items are about $1 each. The price is fair for a good-sized snack.
Favorite local flavors that tourists don't really order: Pickled mango, lilikoi (passion fruit), li hing mui (sweet/sour plum).
The Matsumoto Shave Ice website has a ton of information: history, shave ice FAQs, souvenir shop and even their flavors are all listed if you want to get a headstart.
Want to eat shave ice? Melissa from The Family Voyage has her own favorite list of best Oahu shave ice stops that are kid-approved.
Headed For Cold Shave Ice After A Hot Day At The North Shore?
Since 1951, Matsumoto's has grown into the center of Haleiwa. On one side you have the Haleiwa Harbor, watersport tours, surfing lessons, sea turtles and the road out to the rest of the North Shore. On the other side is Haleiwa Town with its boutique shops, small eateries, acai bowls and food trucks.