This post may contain affiliate links, which means I'll earn a small commission if you purchase something through these links. You won't pay any extra; instead, you'll be helping Aloha With Love to thrive. Thank you! Learn more.
--
When you look at banana lumpia recipes, it's difficult to make because it requires a certain kind of banana. But if you're in Hawaii, you'll come across these bananas quite frequently especially if you get to know the Filipino community or know someone who owns a farm (or grows them in their yard).
The best thing about banana lumpias is that you can make a bunch of them and put it in the freezer. Whenever you have a party or guest over, take a few out and deep-fry for a wonderfully crispy snack.
Aloha with love,
Amy
Note: Many banana lumpia recipes out there will have you roll the banana in brown sugar and top it with caramel. My family enjoys banana lumpia without all of that added sugar. The bananas are plenty sweet and stay crispy for longer. If you don't finish them, put them in the fridge and heat them up in an oven toaster or on a fry pan and they'll be nice and crispy again.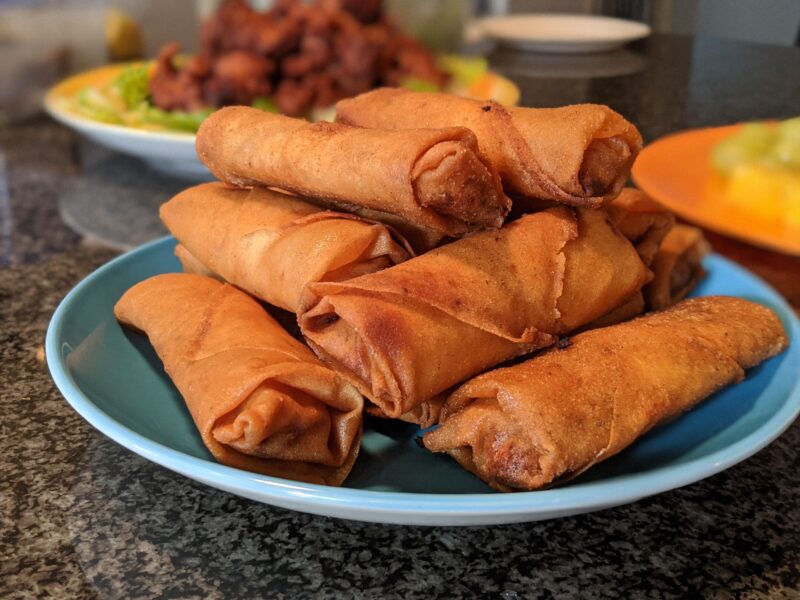 Ingredients
Cooking bananas or plantains

Apple bananas can be used.

Lumpia skins

Often called spring roll skins/wrappers.

Small dish of water
Instructions
Preparation
Begin with cooking bananas such as these saba bananas. You can also use plantains or apple bananas. Regular bananas are too soft and cannot be used.

These are the skins (wrappers) we use for our lumpia. You can get them at almost any local grocery store here in Hawaii.
Wrapping
Slice the bananas lengthwise so that they're flatter and aren't so round. You want them to be a little less than a ⅓ of the length of the lumpia skin from opposite corners.

Bring the corner closest to you up and over the bananas until the skin covers the bananas.

Bring both side corners in toward the middle so that you have something that resembles and open envelope.

Roll the banana upwards until only the top corner is showing.

Dip your finger into the water and quickly dampen the upper corner and edges. This will help the skin to stick to the lumpia so that it doesn't flap about.

Continue to roll the banana upwards until you have a roll.

The raw banana lumpia can be piled up on top of each other as they won't stick to each other.

Note: You can wrap raw banana lumpia together in a piece of foil and freeze for the future. We'll do this in sets of 10 or 20 and bring them out when we have friends over or are invited to someone else's house for an impromptu dinner.

In a pot, add about ¾ to 1 inch of cooking oil that can be used for deep frying (not olive oil). Adjust the heat to medium low (not high heat

like other deep fry recipes) and cook until golden brown on all sides.

Plate on newspaper and/or paper towel and serve hot.
Notes
Cooking bananas (such as Saba bananas) or plantains are the best bananas you can use. If you don't have these, apple bananas are the next best choice. Do not use regular bananas.
You can get bananas at farmers' markets, farms, neighbors, or grow your own.