This post may contain affiliate links, which means I'll earn a small commission if you purchase something through these links. You won't pay any extra; instead, you'll be helping Aloha With Love to thrive. Thank you! Learn more.
--
Kabocha may be gaining in popularity in recent years as a health food, but our family has been eating them since I was kid. It's a tasty sweet treat at the dinner table that is reminiscent of a traditional pumpkin and sweet potato.
One thing we've discovered is that my grandparents (who have missing teeth and weak gums) enjoy eating kabocha prepared this way. Since my grandma (with dementia) lives with us, we eat it quite often as she can be a picky eater especially when something is too hard to chew.
Aloha with love,
Amy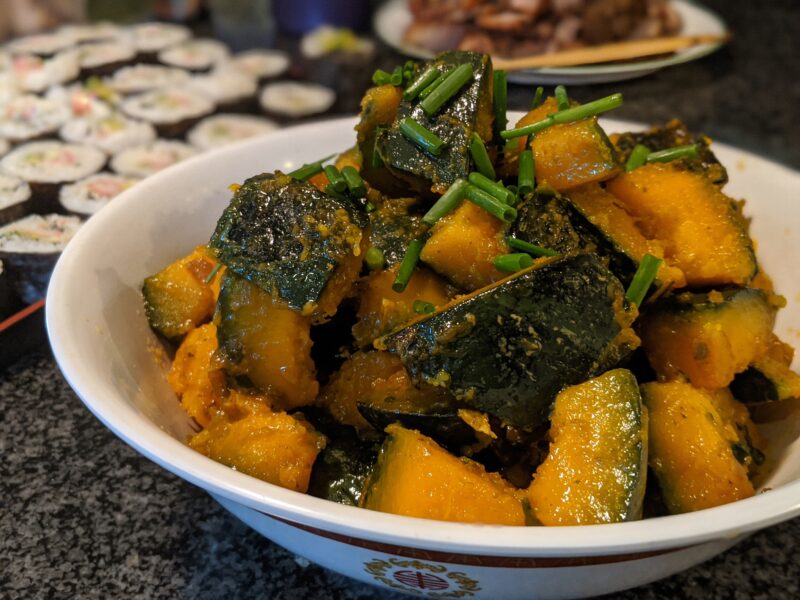 Ingredients
1

kabocha (Japanese pumpkin)

1

handful

chopped green onions

Separate into 2 piles.

1 – 2

tbsp

Kikkoman shoyu
Instructions
Give the kabocha a quick rinse and slice off any superficial scars that you don't want to eat.

Cut the kabocha in half and cut off the stem. Be careful as the kabocha is very hard and can be difficult to cut. Mom likes to insert the knife point first, then cut the rest of kabocha with the knife like a lever.

Scoop out the seeds with a spoon like a regular pumpkin. The meat should be a light golden yellow-orange.

Cut the kabocha into large cubes (about 1 – 1½ inch cubes). You can also cut the kabocha into slices like many fancy restaurants do, but cubes are much easier to deal with.

Chop a large handful of green onions and separate into 2 piles: a larger pile to cook, and a smaller pile for the garnish when plating.

On a large pan, add a healthy amount of cooking oil.

When the oil is hot, add the large pile of green onions and stir for several seconds.

Add all of the pumpkin cubes and stir until the oil completely coats all of the kabocha's surface areas.

Add shoyu and stir. The amount of shoyu will depend on the size of your kabocha and how salty you want this dish to be. Mom doesn't even measure this anymore and instead just pours some shoyu into the pan straight from the bottle. What you want is just enough shoyu to spread around the whole dish so you can just taste the saltiness, which will match the natural sweetness of the kabocha.

Adjust the heat to medium and cover for about 15 minutes.

Check to see if your kabocha is ready by pushing a chopstick all the way through. It should go in and exit out the skin with no resistance. If it's not ready, cover the pan once more and let it cook as needed.

Now is a good time to do a taste test and add a pinch of sugar/sweetener if you have an unsweet kabocha (see bottom notes).

Plate your kabocha and sprinkle the remaining green onions on top to add a bit more color.
Notes
The kabocha is very dry inside, so traditional pumpkin recipes don't really work as well. Vice versa I wouldn't recommend cooking your regular Halloween pumpkin with this recipe as it's too wet and will become mushy.
While most kabocha we get from our grocery turn out sweet, once in a great while we'll run into a kabocha that isn't as naturally as sweet. Add a pinch of sugar/sweetener as needed during the chopstick test.
Even if the kabocha is not very sweet at first, sometimes Mom will still not add any sugar/sweetener and instead we'll eat it the next day. The kabocha will often taste sweeter once its had some time for the flavor to come out.
When shopping for a kabocha, you want it to be hard on the outside. Blemishes and bumps are completely normal, but a smooth kabocha is easier to eat and looks better, too. We choose the kabocha that feels the heaviest for its size.