This post may contain affiliate links, which means I'll earn a small commission if you purchase something through these links. You won't pay any extra; instead, you'll be helping Aloha With Love to thrive. Thank you! Learn more.
--
Mom really loves her YouTube Time and with COVID-19 restricting our out-of-the-house entertainment, she's been watching Chinese-speaking YouTubers cook nonstop. Her favorite videos are the ones way out in the country – often starring hardworking Moms that have no time for measuring and where every meal is "bulk". Large families means you'll need an enormous wok to satisfy all of those mouths and hungry stomachs. A lot of these country Moms tend to their vegetable farms right outside their front door, which appeals to my Mom since she's always using fresh fruits and vegetables from her own garden in our meals.
Last week Mom stumbled on a salted pork belly recipe on YouTube that brought back a lot of memories for her. The only problem was that they were using a lot of Chinese herbs and spices that she didn't have on hand. She also knew that these herbs and spices wouldn't normally be found in the average non-Chinese household either. So she adapted it and this is the salted pork belly recipe she came up with.
And I've got to say…it's delicious! We've been eating it almost everyday for dinner and so far we've been clearing out our plates in an instant. The preparation for salted pork belly is so easy and you can do it several days in advance, which is great for those who want something delicious fast. If you give this a try, let us know what you think!
Aloha with love,
Amy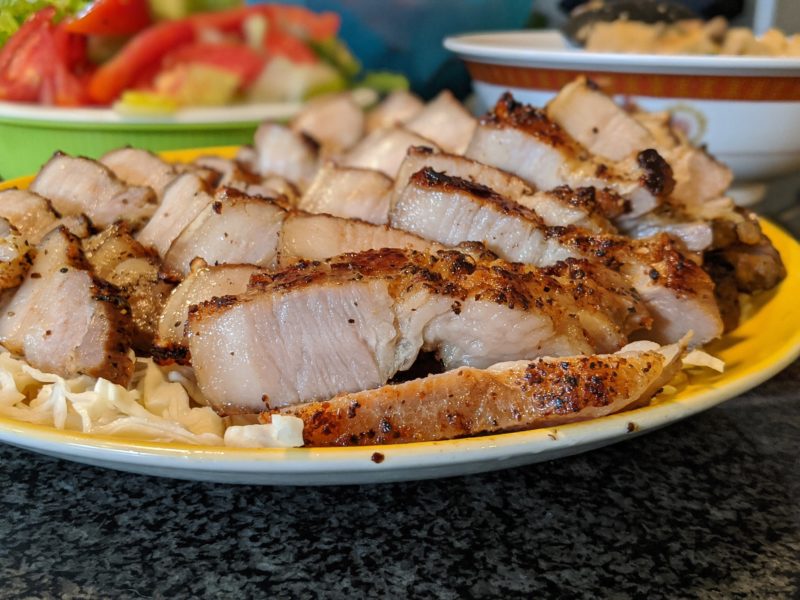 Ingredients
2

lbs

pork belly

1-inch thick.

2

tbsp

cooking wine

3

cloves

garlic

Chopped.

1

tbsp

sea salt

1

tbsp

pepper

1½

tsp

sugar

Cane sugar preferred.
Instructions
If you are using frozen pork belly, defrost completely then wipe with a paper towel to remove excess water. You do not have to do this step if you are using fresh pork belly.

Note: We highly recommend choosing pork belly with the skin. Some butchers will remove the skin. Our local Costco usually has both options right next to each other. You can also do this recipe with other pieces of pork. Just make sure it isn't too lean.

Use a fork to poke all the way through the meat. For these pieces, Mom poked them about 3 – 4 times each.

In a mixing bowl, combine pork belly with cooking wine, garlic, sea salt, pepper, and sugar. Mix and massage for 1 minute.

Transfer the pork belly to a Ziploc bag. Remove as much air as possible and let this marinate in the fridge for 2 – 3 days. The longer you leave the pork to marinate, the more flavorful/saltier the middle will be.

Note: Personally, I think the sweet spot is at 2½ days.

Set the stove on high, add the pork belly, then adjust heat to medium when the pan heats up again.

Note: You do not need to add any oil since the pork belly will not stick to the pan when cooking.

Cover and let it cook for about 10 minutes.

Flip and cook until golden brown on both sides.

Optional: Mom likes the skin to be slightly crispy, so she'll flip the pork belly skin down to cook for a minute or two.

Slice thinly and serve on a bed of sliced cabbage. If you have leftovers, slice thinly again and use in a stir fry with vegetables. The added flavor in the pork belly will really enhance your stir fry.