This post may contain affiliate links, which means I'll earn a small commission if you purchase something through these links. You won't pay any extra; instead, you'll be helping Aloha With Love to thrive. Thank you! Learn more.
--
I'm not a huge shrimp fan, but I love deep-fried shrimp that leaves the shell so crunchy that you can eat it. My Mom's salt and pepper shrimp recipe is one of my personal favorites and I definitely wanted to document it so I can cook this in the future. There's something about that satisfying crunch and hot and salty flavor that I just can't say no to.
We usually get frozen shrimp whenever there's a sale (we stock up and keep them in the freezer). Once in a while they go on sale at our local grocery stores and in my opinion they're larger and sweeter. Try them out and let Mom and I know what you think!
Aloha with love,
Amy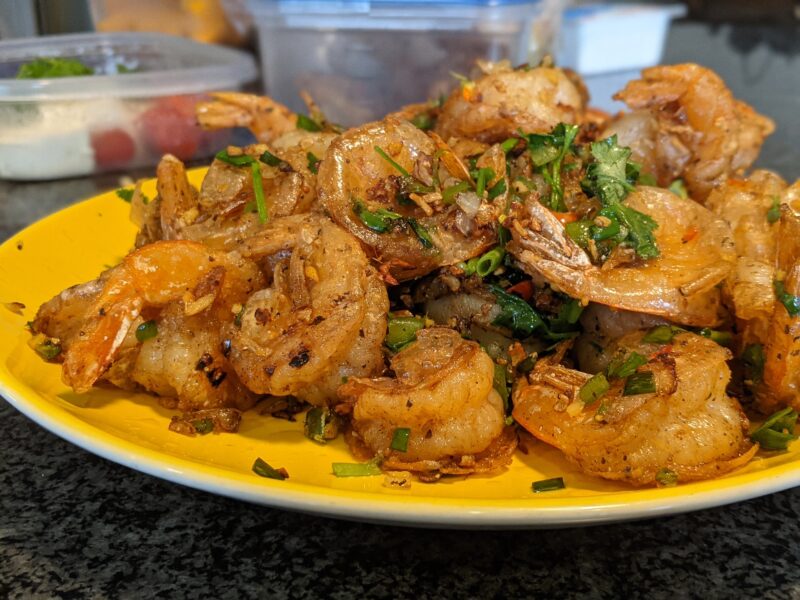 Ingredients
2

lbs

shrimp (1 bag)

For frozen shrimp, already deveined shrimp are the most convenient. Make sure they have their shells and tails on as this makes the shrimp crispy.
Shrimp batter
2

tbsp

white wine

1

tsp

salt

¼

c

corn starch
Vegetable toppings
1

chopped jalapeno

1

handful

chopped green bell pepper

1

handful

chopped green onions

1

handful

roughly chopped Chinese parsley

Optional, but adds some nice color and flavor.

2

red chili peppers

Or red bell pepper if you don't want the heat.

¼

c

chopped onions

2

tbsp

chopped ginger

5

cloves

chopped garlic
Instructions
Preparation
In a medium sized pot, add 1 – 2 inches of vegetable oil (not olive oil) and adjust heat to high as you prepare. The oil must be very hot when you start frying.
Shrimp batter
If your shrimp is frozen, let it defrost naturally in the sink for a couple of hours. Devein if fresh. In a large mixing bowl, combine the shrimp, wine, salt, and corn starch. Mix.

While your oil is heating up, cup up all your vegetable toppings.
Frying the shrimp
Once the oil is very hot, add the shrimp into the pot a few at a time and make sure they don't touch or overlap in the oil or they'll stick together. Mom used a small sift about 45 seconds in to mix and turn the shrimp and make sure they were all separate from each other.

Cook about 2 minutes and once the shrimp turns into a light gold color, take them out and put them on some newspaper and paper towel to let the oil drip. Fry the rest of the shrimp until all are cooked.

Once all of the shrimp have been removed from the pot, let the oil reheat for about a minute and deep-fry the shrimp for an additional 1 – 2 minutes. This will make the shrimp extra crispy even when the dish has cooled off a bit. Remove and place on the newspaper and paper towel once more.
Adding the vegetables
On a large frying pan, add a couple tablespoons of oil and adjust the heat to medium high.

Add the garlic, ginger, onions, and red chili pepper. Let this cook for about a minute.

Add the bell pepper and cook for another minute.

Add the shrimp and stir so that the vegetables go all over the shrimp.

Add salt and pepper (about 1 tbsp each) and mix once more. I personally like extra pepper in this dish. Cook for another minute.

Turn the heat off and add the green onions and Chinese parsley. The parsley is optional but our family loves the flavor so we'll add extra.

Remove from the stove and plate on a large serving dish.
Notes
Mom recommends using a pot instead of a large pan for frying because this dish tends to splatter since the shrimp are wet. The deeper the pot, the less splatter you'll have going onto your countertops, floor and yourself.

Because the shrimp splatters so easily, add the shrimp into the oil away from your body.
For this recipe, we actually ran out of jalapenos and used green bell peppers instead. However, ideally you want to use red chili peppers and jalapenos for a nice all around heat. Remove the seeds if you don't want it to be so hot or substitute with red/green bell peppers.
While all of the vegetable toppings are optional, it's best to have some green and red vegetables because that's what makes this dish so attractive.
Fresh shrimp can be used, but it's a lot more work as you'll have to devein them.
Frozen shrimp: Mom uses 21-25 shrimp in a bag per pound, which is the easiest to get and usually a cheaper option here in Hawaii. She also uses 16 – 20 if that's all available. Do not use 40+ as these shrimps are just too tiny.