This post may contain affiliate links, which means I'll earn a small commission if you purchase something through these links. You won't pay any extra; instead, you'll be helping Aloha With Love to thrive. Thank you! Learn more.
--
One of the very first vegetables I started growing with my aquaponics system is bok choy (pak choi). I knew I wanted to start off with a leafy vegetable that our family would have use for. We eat a lot of stir-fried and Chinese dishes, so bok choy was a good one to start off with.
Germinating bok choy in the black lava rock media is easy. I make a small hole, drop a seed in, cover it up and they sprout in about 3 – 4 days. After sprouting, I can begin to harvest after about 3 weeks. In general, I harvest 2 times a week for about 4 – 5 months. That's a lot of bok choy!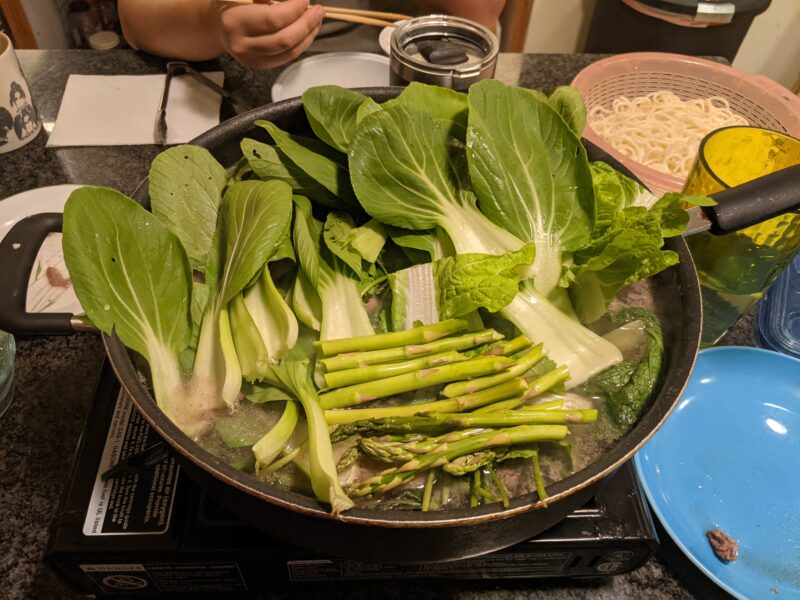 It's very easy for our family to use bok choy, too. It matches well with most stir frys, Asian soups, and noodle dishes such as:
Pork, green beans, carrots stir fry
Minced pork tofu
Japchae or fried saimin
The types of bok choy I grow in my aquaponics
So far, I've grown two types of boy choy in my aquaponics system: Pak choi hybrid Shanghai (large green stem) and mini green li ren pak choi, both from Fukuda Seeds – a local seed store located in Honolulu that also supplies their seeds to many gardening centers.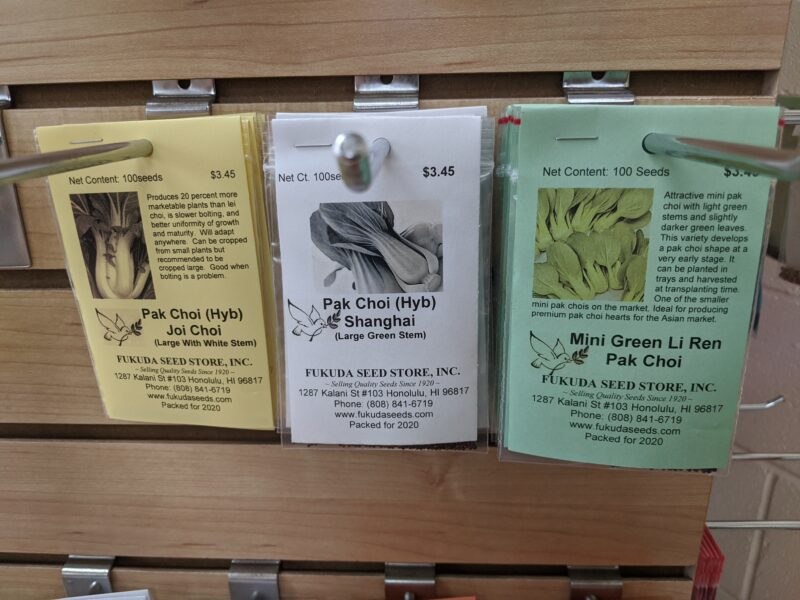 I like growing my vegetables from local seeds, not just to support local businesses, but also because the vegetables tend to do better in Hawaii's unique environment. Weather, bugs, diseases – these have all been taken into consideration and you'll usually end up with a healthy plant to harvest from.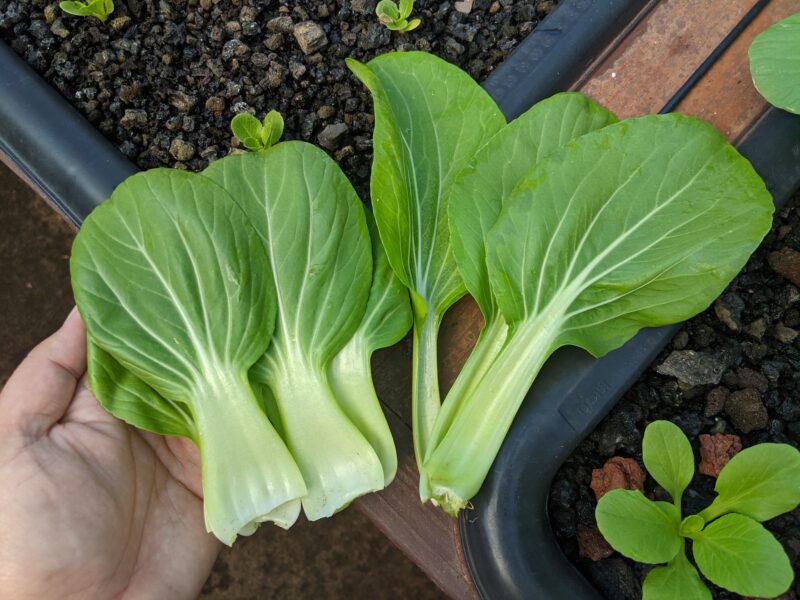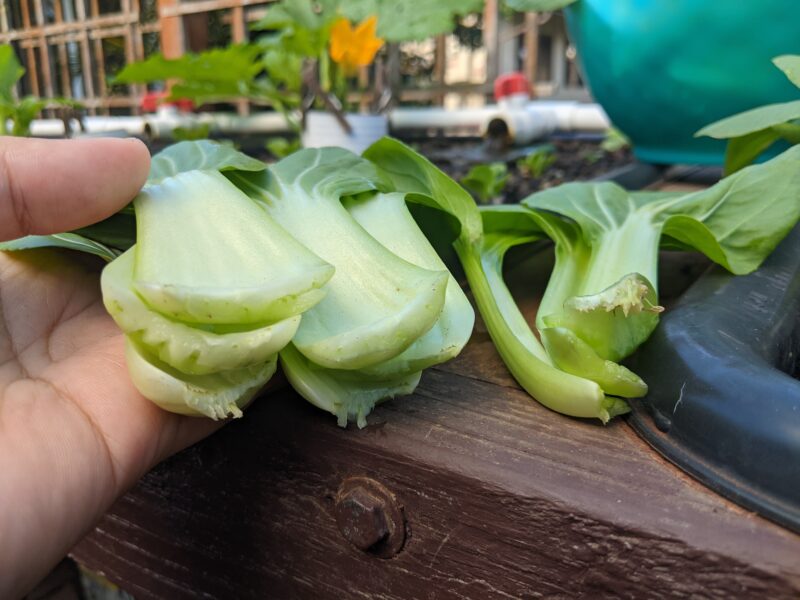 Mini li ren bok choy: Slightly shorter than the Shanghai hybrid. The biggest difference are its stems, which is significantly thicker and crunchier. If you want extra crunch for any of your dishes, the mini li ren bok choy is the one to go for (Mom loves the extra crunch in her dishes).
Shanghai hybrid bok choy: Taller and thinner than the mini li ren bok choy variety. While the stem is not thick or crunchy, the flavor is the same and I can't tell the difference especially for dishes that are stir-fried since the bok choy leaves are cooked through.
Local Tip: Another deciding factor are the worms. I've noticed that the mini li ren bok choy make the perfect hideout for worms because of its stiff shape and tendency to grow into a nice, tight bulb. In comparison, the Shanghai hybrid grows loosely, with its leaves often growing outwards. I've never had any problems with bugs eating my Shanghai hybrid bok choy leaves, which is a huge plus in my book.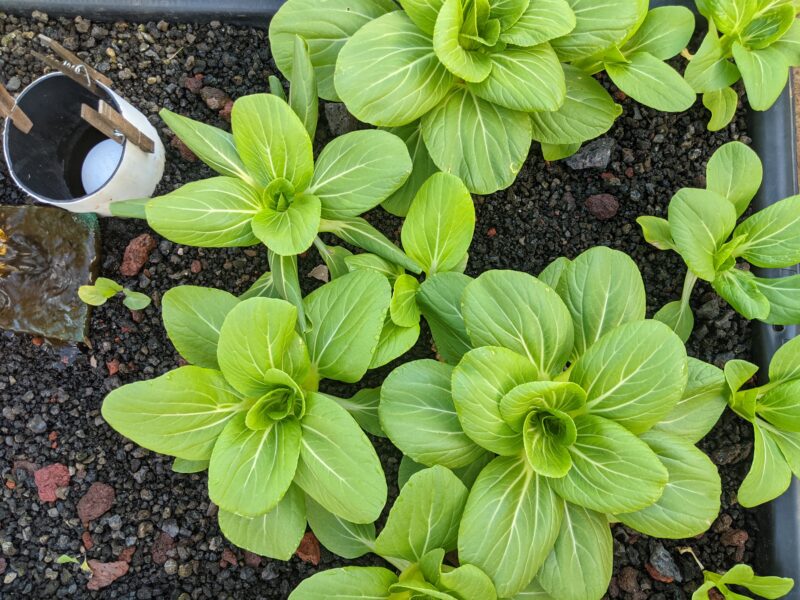 Germinating, growing, and picking bok choy in my aquaponics
So far, I've only grown my bok choy in my front yard aquaponic system. I love how it looks and how long it lasts, so it's a great aesthetic piece that makes for a neat conversation starter for visitors.
Germinating bok choy seeds in black cinder (black lava rock) media has been really easy. I dig a small 1-inch hole each about 6 inches apart from the next, cover it back up, and I have a bok choy sprout in about 3 – 4 days. It takes about 2.5 weeks for the bok choy to mature enough to be harvested from.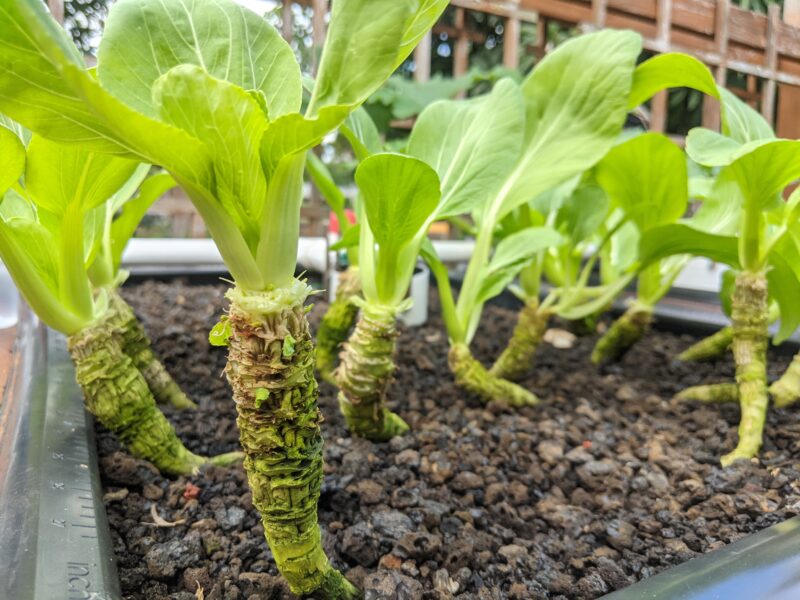 Bok choy leaves grow into a circular bulb so it's easy to tell when the bok choy is ready to harvest from. I don't like to wait too long because I want the leaves to be tender. The outer edges of the leaves tend to brown and dry out if left unpicked for too long.
In my experience, the mini li ren bok choy lasted 4 months before I had to pull it out. The stiff stems tend to damage the base of the plant especially when it gets taller and begins to bolt. The Shanghai hybrid is on its fifth month and still counting. The leaves have gotten a bit smaller, but the plant hasn't yet bolted and the stems are flexible enough that they don't damage the base when you pull them off during harvest.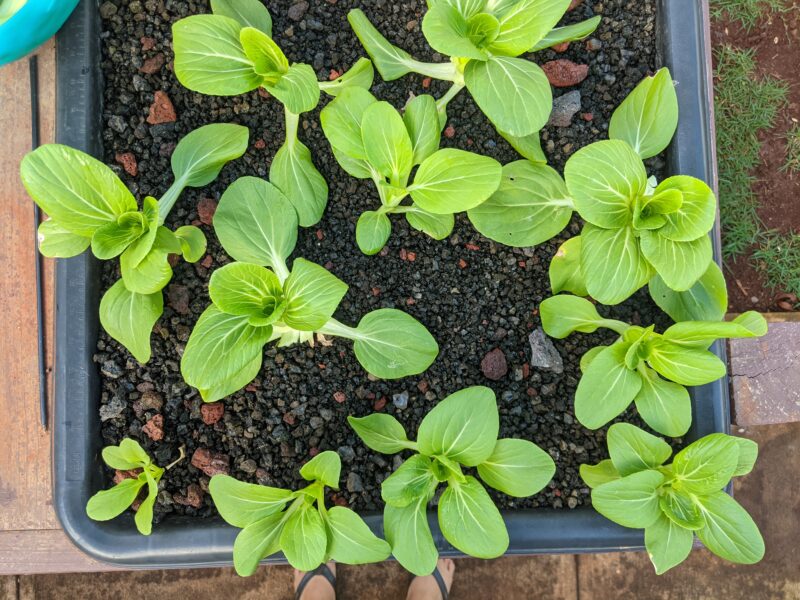 If you're thinking about starting your own aquaponics system, bok choy is a great vegetable to start off with here in Hawaii. There are all kinds of varieties (Fukuda Seeds has 10 at the time of this post) and they grow well in Hawaii's warm weather without bolting too fast.
Local Tip: Type in "pak choi" in Fukuda Seeds website's search function to see what they have available.
It's also a huge plus that the slugs and snails can't get to the bok choy leaves when you have them on a raised bed. Mom has grown bok choy several times in the ground, but the leaves always come out eaten and chewed up the next morning.
Let me know your questions and how your bok choy growing goes in the comments. I'd be interested to hear of other bok choy varieties that grow well in Hawaii and are worm-resistant like the Shanghai hybrid.
Aloha with love,
Amy