This post may contain affiliate links, which means I'll earn a small commission if you purchase something through these links. You won't pay any extra; instead, you'll be helping Aloha With Love to thrive. Thank you! Learn more.
--
My Mom's good friend, who I call Aunty Xieqi (shay-chee), recently purchased a new car and she wanted to take us both on a field trip. So we hopped into her new bright red Tesla (wow!) and drove off to Kahuku where the famous North Shore shrimp trucks are. Aunty Xieqi's favorite shrimp stop is Fumi's, which is the first one you'll come across if you're driving up from Haleiwa. It was a beautiful day with delicious shrimp and happy people enjoying good food.
Aloha with love,
Amy
About Fumi's
Fumi's isn't a shrimp truck, but when you mention "North Shore shrimp trucks" Fumi's is one of the big 3: Giovanni's, Romy's and Fumi's. Of the 3, Fumi's and Romy's both serve shrimp from their shrimp ponds (Giovanni's serves local when they can and uses frozen shrimp the rest of the time). Look for the bright blue building with a big red shrimp and FUMIS written on it. Parking is on the side of the road and while plenty of tour groups stop here, turnover is quick so you're sure to find a spot.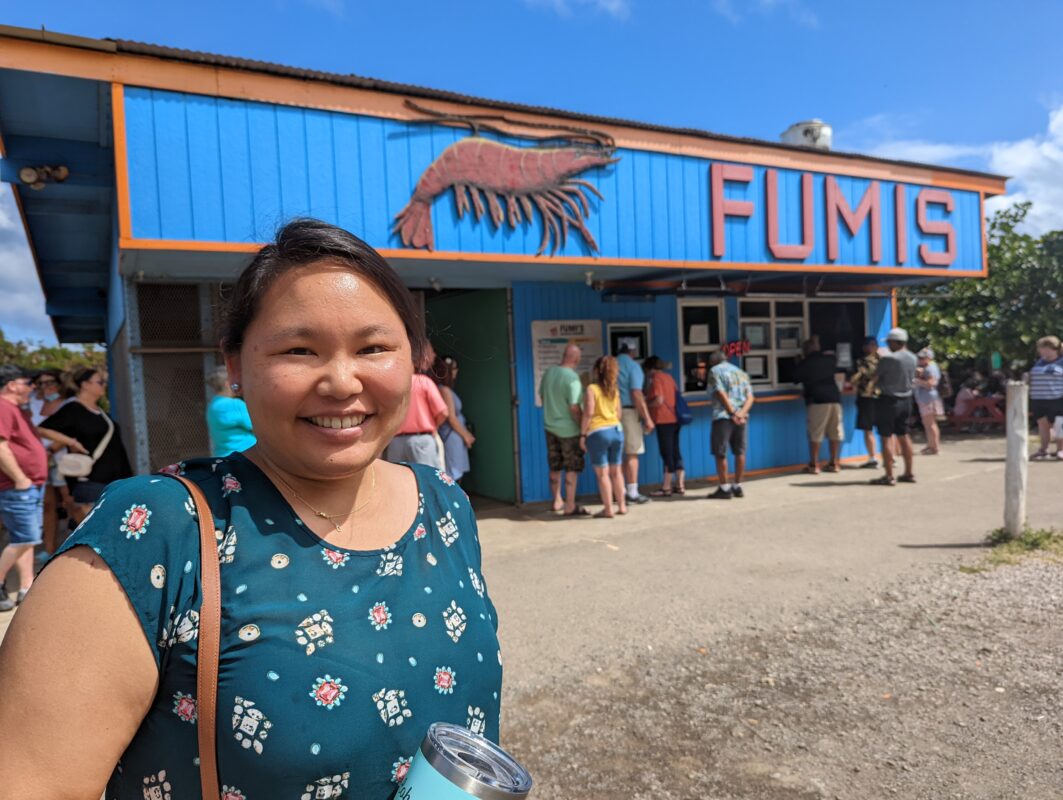 The line moves very quickly so don't be intimidated by the queue even when it bends around the corner of the building. You'll get your food as soon as you place your order because the cooking crew is churning them out all day. Next to the blue building, there's a large tent covering several picnic tables and you'll find even more picnic tables outside under some shady trees.
Most of the picnic tables seated two groups each, so make sure you scoot to the side so there's enough room to share. There was even live entertainment so we enjoyed our meal with some solid music and corny shrimp jokes! After your meal, there's a large sink where you can wash up at – believe me, you'll need it especially if you order the spicy garlic shrimp!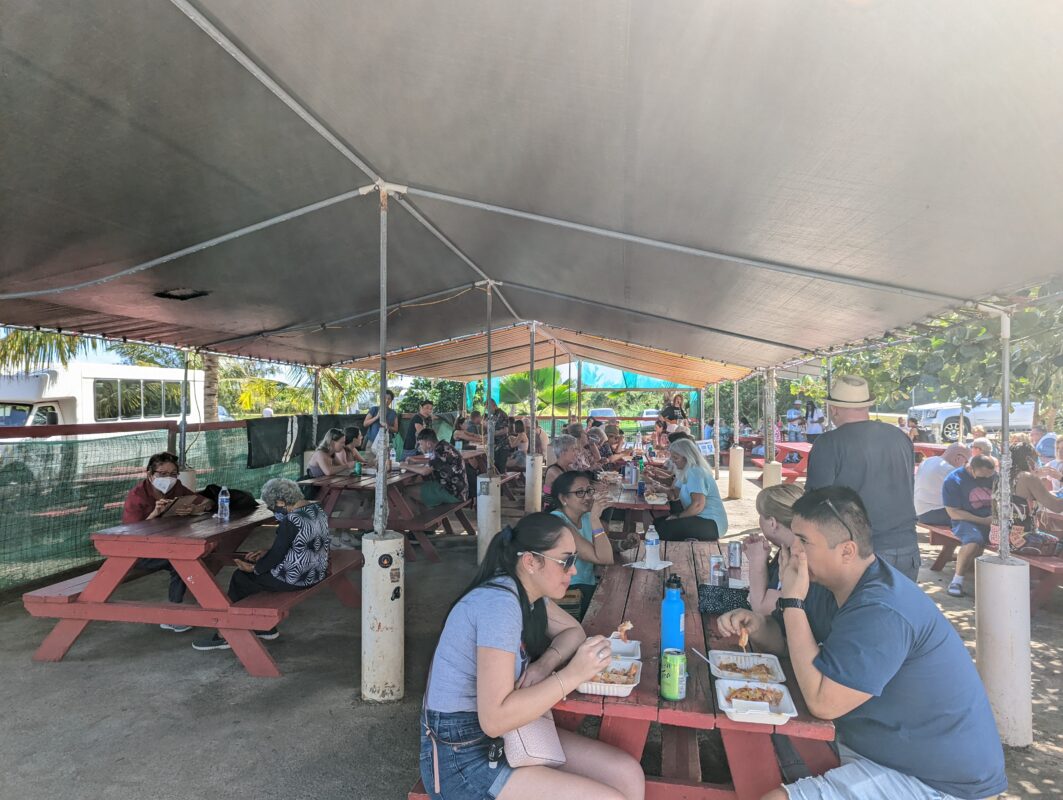 Fumi's menu
The Fumi's menu is simple and basic. The most popular are the spicy garlic shrimp (which comes highly recommended by Aunty Xieqi) and butter garlic shrimp (best for those who are sensitive to spicy foods). If you're sensitive to oily food, I recommend the salt and pepper shrimp – another one of my favorites. It's a dry dish and isn't dripping with extra sauce so it's a lot cleaner and easier to eat. It's a bit sweeter than I'm used to, but I like peppery and savory foods more than the average person so it might work for you.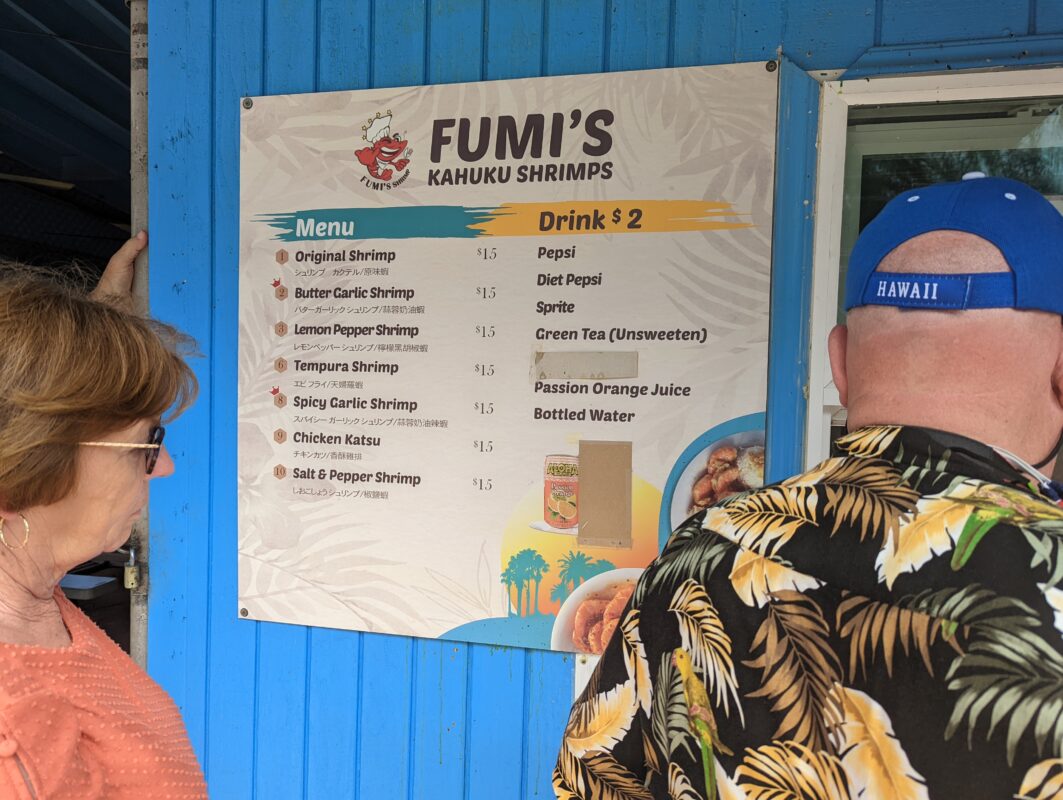 If you're allergic to shrimp, Fumi's does have the chicken katsu plate – a local favorite dish inspired from a Japanese breaded chicken dish. Try the passion orange juice if you haven't had a chance to try any of the Aloha Maid juice drinks here in Hawaii. Or, you can be thrifty like me and bring your own bottle of water so you don't have to spend $2.
Will you enjoy Fumi's?
The price for each plate is about $15, so depending on your budget, your meal can leave a huge dent in your wallet especially if you're traveling with a large group. But if you like no-frills restaurants, Fumi's will deliver. The dirt pathways, outdoor tent, so-so bathrooms and wooden picnic tables is nothing to boast about, but everyone is so happy to be eating fresh shrimp and listening to the entertainment. The noise level is lively and you can tell the patrons are bustling with that special energy you have when you feel lucky to be on the islands with a good breeze and beautiful weather.
It's an enjoyable experience and believe it or not, some local residents purposely drive all the way out here just to eat a plate (like Aunty Xieqi!). I've certainly made the drive out to Fumi's before (or other Kahuku lunch trucks) and I certainly won't hesitate to do so again. It's a great break from the norm if you spend all your time in downtown Honolulu and the drive out here is nice!