This post may contain affiliate links, which means I'll earn a small commission if you purchase something through these links. You won't pay any extra; instead, you'll be helping Aloha With Love to thrive. Thank you! Learn more.
--
I was invited to attend a tour of Mari's Gardens – Hawaii's largest farm of aeroponic, aquaponic, and hydroponic systems and my was it an experience! I learned about edible flowers, studied systems large and small and fell in love with my new favorite fruit/veggie: the finger lime.
If you have an aquaponic/hydroponic system at home, or are interested in setting one up, sign up for the tours at Mari's Gardens. A unique feature in their systems (and in many Hawaii systems) is their use of lava rock as their media.
Mari's Gardens is located in Mililani, my hometown and a rare destination for any tourist in Hawaii. It's still a beautiful neighborhood to drive in though (I may be biased) so this is a great spot if you're looking for something more local to do.
Aloha with love,
Amy
Update November 2019: I attended another Mari's Gardens tour where we got to explore "the back" where all the hydroponic and aeroponic farms are. So worth it especially if you're into this kind of farming!
Aquaponics, Hydroponics And Family History
The tour began at the entrance to Mari's Gardens, but we arrived early and there was plenty to see right in the beginning. Plump succulents in mini pots, cute hanging plants with what looked like peas on vines and small systems with guppies that made children ecstatic.
The main office/store is also in the front and sells cute figurines, fresh veggies and other neat items that you might want to add to your own garden collection. October was just beginning, and their Halloween decor was cool to see since the staff incorporated their plants and pots into the holiday decoration.
Tanya, our lovely tour guide, welcomed us all with a huge smile and began the tour with some history about who is Mari, the family, the other staff members, their experience with landscaping and gardening, and facts about the facility (hint: it's huge…and they're expanding!).
From there we visited several aquaponic and hydroponic set-ups and learned all about what goes on from seed to harvest at Mari's Gardens. I loved Tanya's perspective since she explained everything from a business and "feeding the masses" point-of-view. We covered temperature, bugs, demand and even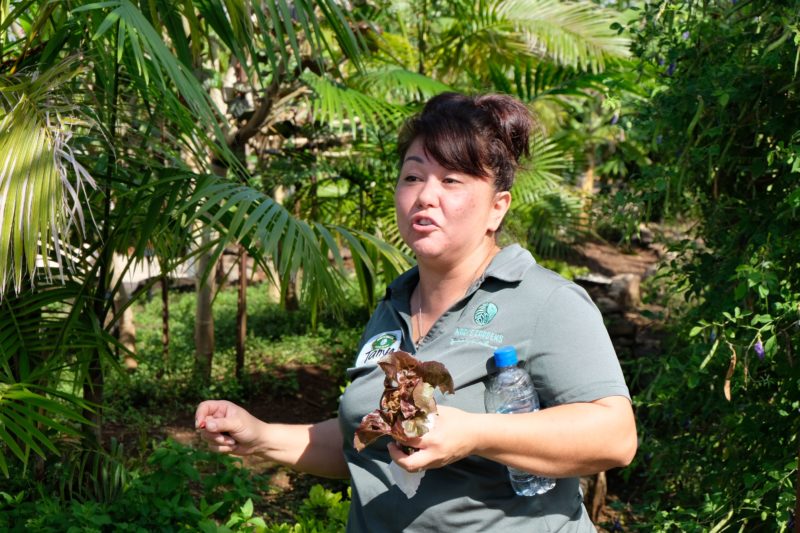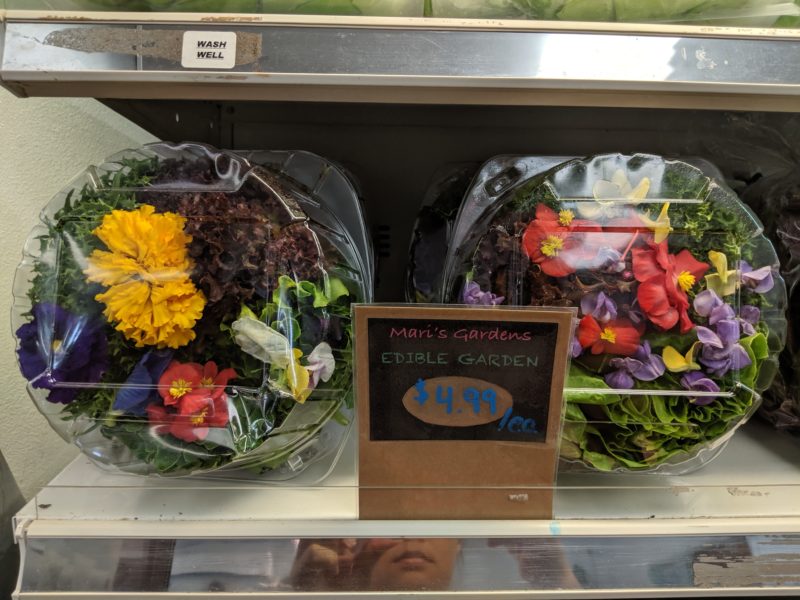 Edible Flowers And Finger Limes
Seeing the different systems wasn't the only thing we did. Mari's Gardens have their green thumbs in all sorts of pots and my favorite were the finger limes. At first glance, finger limes look like black chili peppers. But Tanya tore off the skin on one end and gave us each a squeeze of small bubbles that burst in our mouths and tasted like limes. I now have dreams of salads topped with this stuff.
We were also introduced to edible flowers – another delicacy that the more high-end restaurants in Hawaii request. This tiny purple flower was the size of my thumbnail but one sniff had me convinced I had a plate of crushed garlic in front of my nose. I can salivate just by imagining using these garlic flowers in some shrimp and butter. Mmm…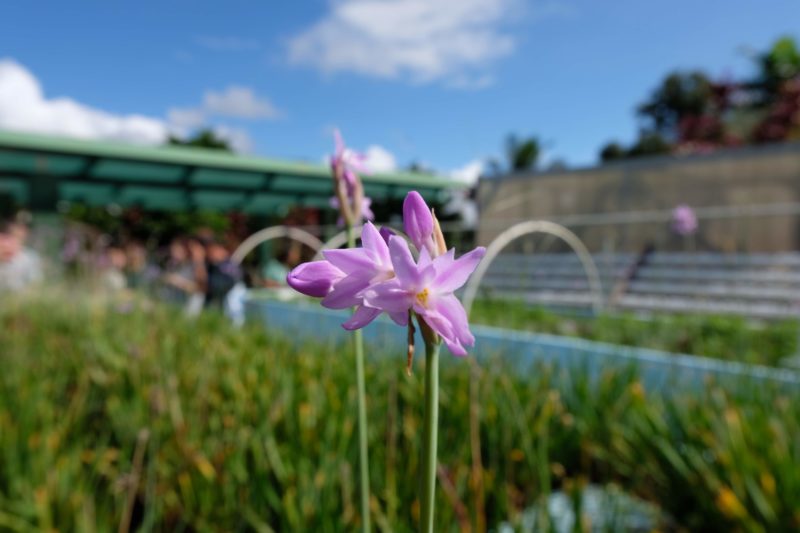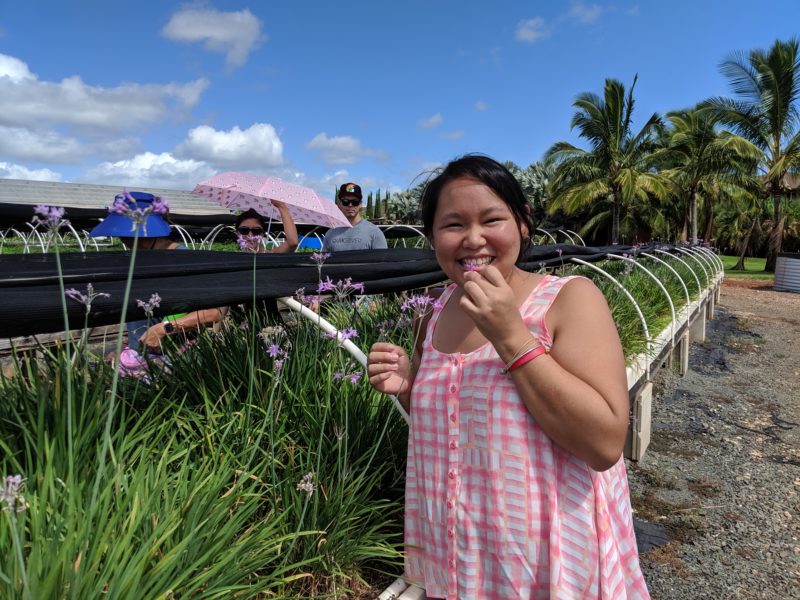 Celebrate And Party Or Have Fun In An Event
Besides the different tours you can sign up for at Mari's Gardens, you can also arrange parties and events, which might be fun for those of you traveling with a group of kids and need to throw in some education into the mix.
A common event that Mari's Gardens hosts periodically are their succulent workshops. In fact, one succulent workshop birthday party was happening right during our tour and they looked like they were having a blast.
Mari's Gardens also occasionally hosts special events, particularly for special days. Doesn't a Mother's Day dinner with Mari's Gardens' vegetables sound delicious? Or, design your own event and host it at Mari's Gardens. This is a great idea if you're in Hawaii for business and you need a healthy food theme or a team-building event.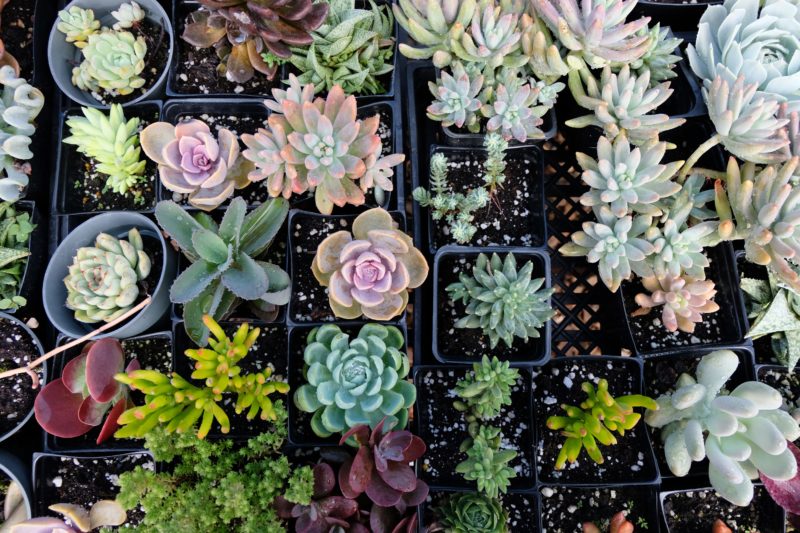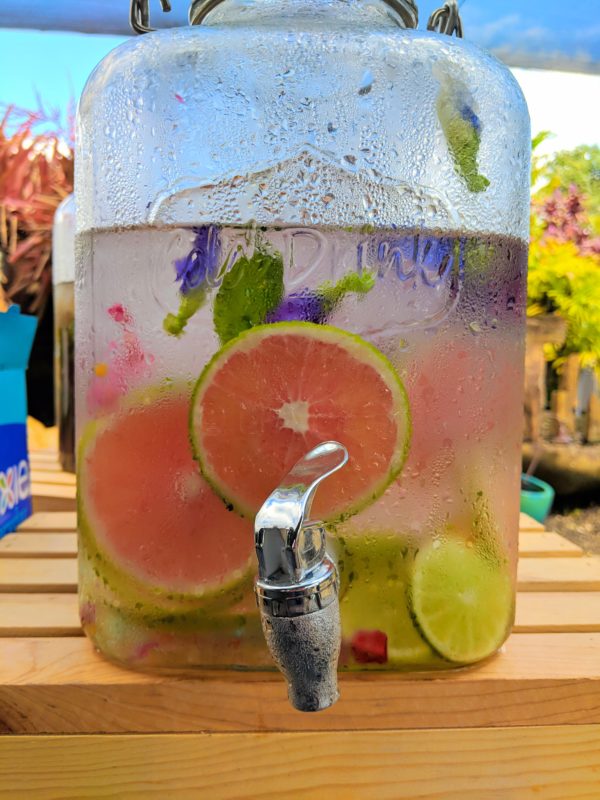 Things To Know For Mari's Gardens
Visit the Mari's Gardens website for more information on their tours, events, workshops, facility and restaurant relations.
Can't make it to Mari's Gardens? Try their products locally at Chefzone, Foodland, Safeway, Whole Foods and Down To Earth.
My favorite Mari's Gardens products are their Spring Mix and Butter Lettuce!
For those interested in just a glimpse into the Mari's Gardens production, the 45-minute tour will be enough. But if you're really interested in their aquaponic/hydroponic systems, sign up for their longer tour where you'll get to explore their whole backyard!
After the tour is over, feel free to get all of your specific questions out with your tour guide. They'll be happy to help answer your questions and you can even keep in touch with them as you set your own system up at home.
There are beautiful landscaping resources here, too. Landscaping runs in the family and they also periodically bring in large shipments of garden decor from Japan.
Will You Go To Mari's Gardens?
Overall, this was a gem of a find even for me (plus, it was right in my neighborhood!). I recommend their tours and facility for those who have been to Oahu several times before and are looking for something off the beaten path. Or, if you're interested in learning about the complex aquaponic and hydroponic systems in Hawaii, then Mari's Gardens is a must.