This post may contain affiliate links, which means I'll earn a small commission if you purchase something through these links. You won't pay any extra; instead, you'll be helping Aloha With Love to thrive. Thank you! Learn more.
--
Most people in Hawaii starting off on aquaponics are going to go with tilapia, which is what I did. Specifically, I started off with a mix of Hawaiian Gold, Black Nile Tilapia, and "koilapia" – a blend of Hawaiian Gold and the Black Nile Tilapia resulting in a light pink/orange tilapia with black markings that's resembling koi (hence the nickname).
Hawaiian Gold tilapia are extremely easy to get in Hawaii and very pretty to look at. Plus, they're a great beginner fish for aquaponics and extremely hardy. Here's my experience working with them.
Aloha with love,
Amy
About Hawaiian Gold tilapia
These are a variety of Mozambique tilapia developed in Hawaii that do great in tropical weather. Keep in mind that Hawaiian Gold tilapia do best near the ocean (where it's hotter). If you're higher up in Hawaii, the cold weather will slow their growth and movement.
Timeline
I got my first batch of Hawaiian Gold tilapia in June 2021. Most were about 4 to 5 inches long and had been with the previous owner for about 8 months. I started harvesting them in February 2022, which makes them about 16 months old. Out of the 20 or so from this batch, I've only been able to harvest 3 of them because they reached a decent size (12 inches). The others are still too thin or small to provide enough meat for a meal.
Before summer hits, I want to get rid of most of them (I'll probably give them away for free) so I can start growing some White Nile or Red Nile tilapia. Nile (Niloticus) tilapia are the fastest growing tilapia and I'll update the blog as I document my experience with them!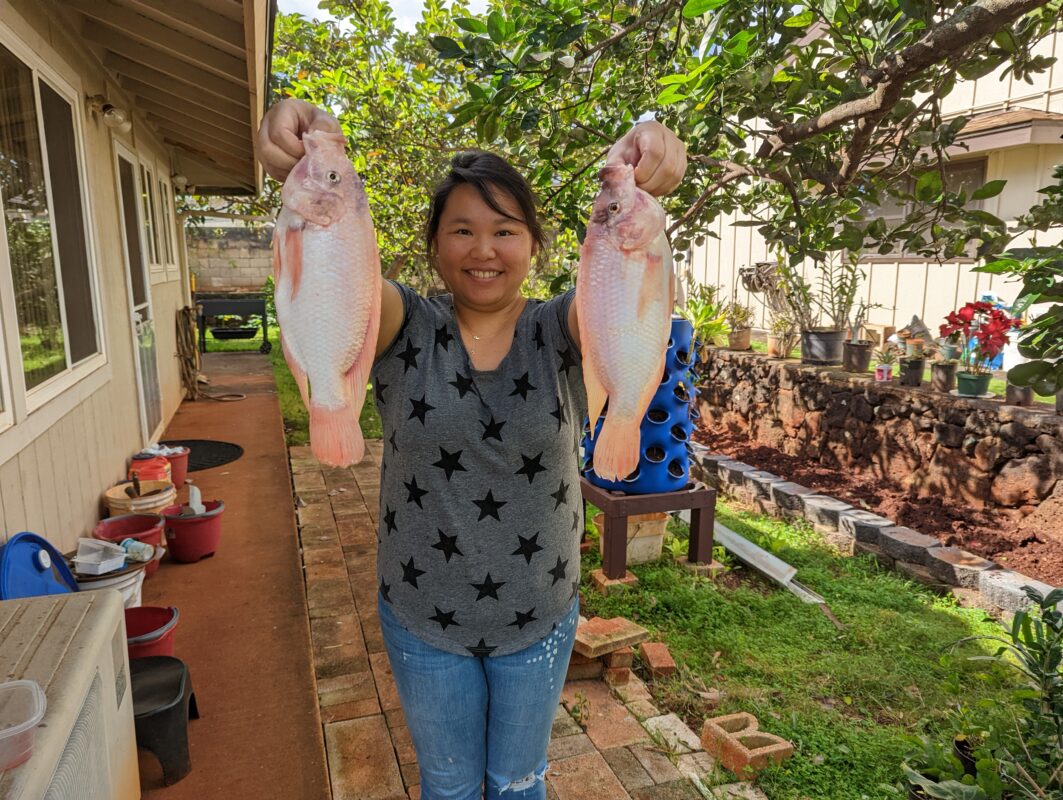 Availability
There are a few places where you can get Hawaiian Gold tilapia such as Waiahole Nursery and Garden Center, The Aquaponics Place, and
What do they look like?
Hawaiian Gold tilapia are very pretty and if you get to look at them up close, you'll notice that their coloring is a combination of white, pale pink, and a light orange. There's a light iridescent shimmer to their scales and as far as looks go, I really enjoyed them as they swam in my aquaponics systems.
Most people use black tubs for their fish tanks in aquaponics and these guys are extremely easy to see against black walls. So if you want to be able to see your fish, Hawaiian Gold tilapia are a great choice.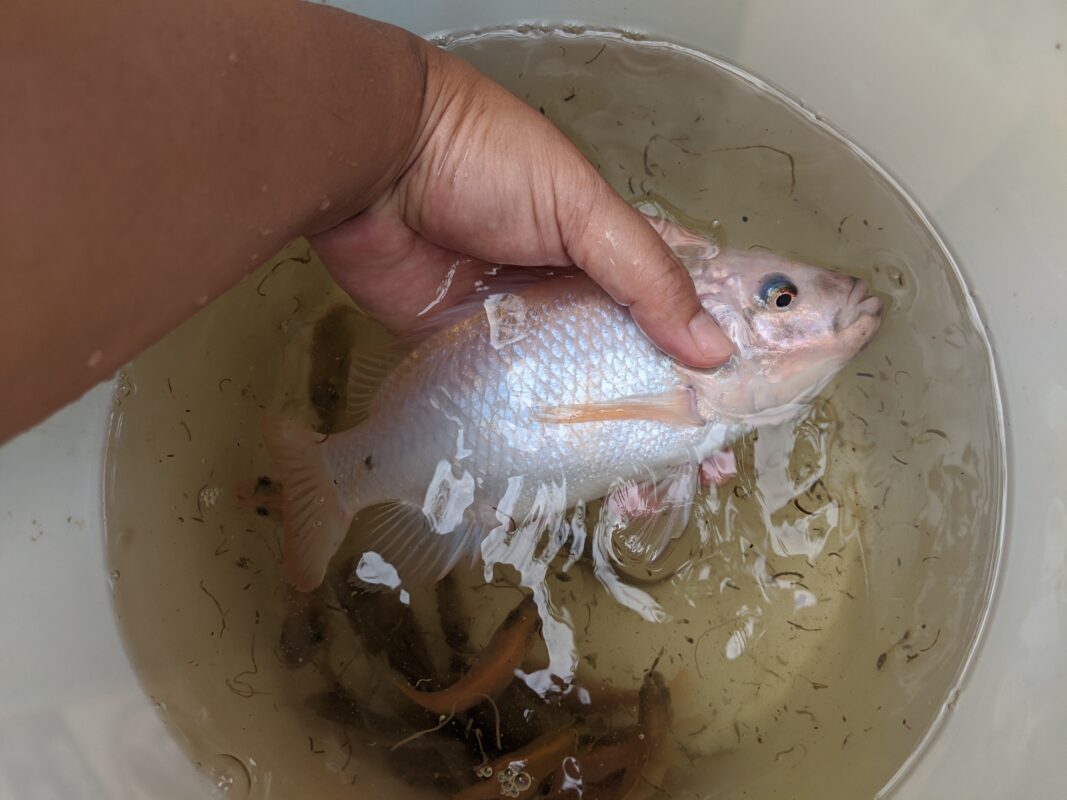 How pure are they?
Unless you're buying Hawaiian Gold tilapia from a certified company (a mainland source is your best option if you want pure Hawaiian Gold), it's impossible to know the genealogy of your tilapia here in Hawaii. If you're buying your tilapia off of Craigslist, instead of pure Hawaiian Gold tilapia, you're likely to end up with a mix of Hawaiian Gold, Black Nile, and "koilapia" in one scoop. That means any Hawaiian Gold tilapia you have are probably koilapia with very light markings.
However, koilapia are very beautiful since their black markings are unique to each individual and make them easier to identify when you're searching for them or pointing them out to a guest.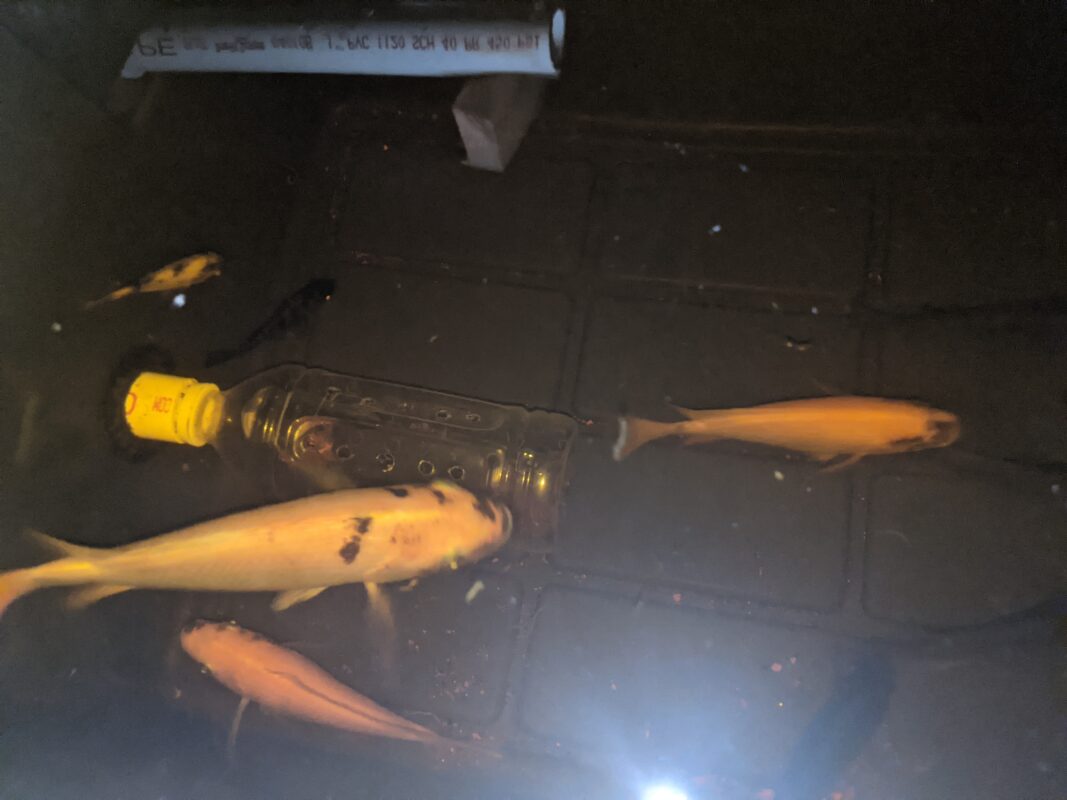 How do they taste?
Tilapias in general get a bad rap for the way they taste, but from my research and in my opinion, Hawaiian Gold tilapia taste great as long as they've been raised in clean water. If you're running your aquaponics system correctly and the water is being filtered, your Hawaiian Gold (or any tilapia) should taste great! So far, we've had them steamed, grilled, and cooked in shoyu.
We've tried them as sashimi, too, and they're perfectly fine. Red Nile tilapia are actually raised as a substitute for red snapper, so if you like red snapper, you'll probably like tilapia.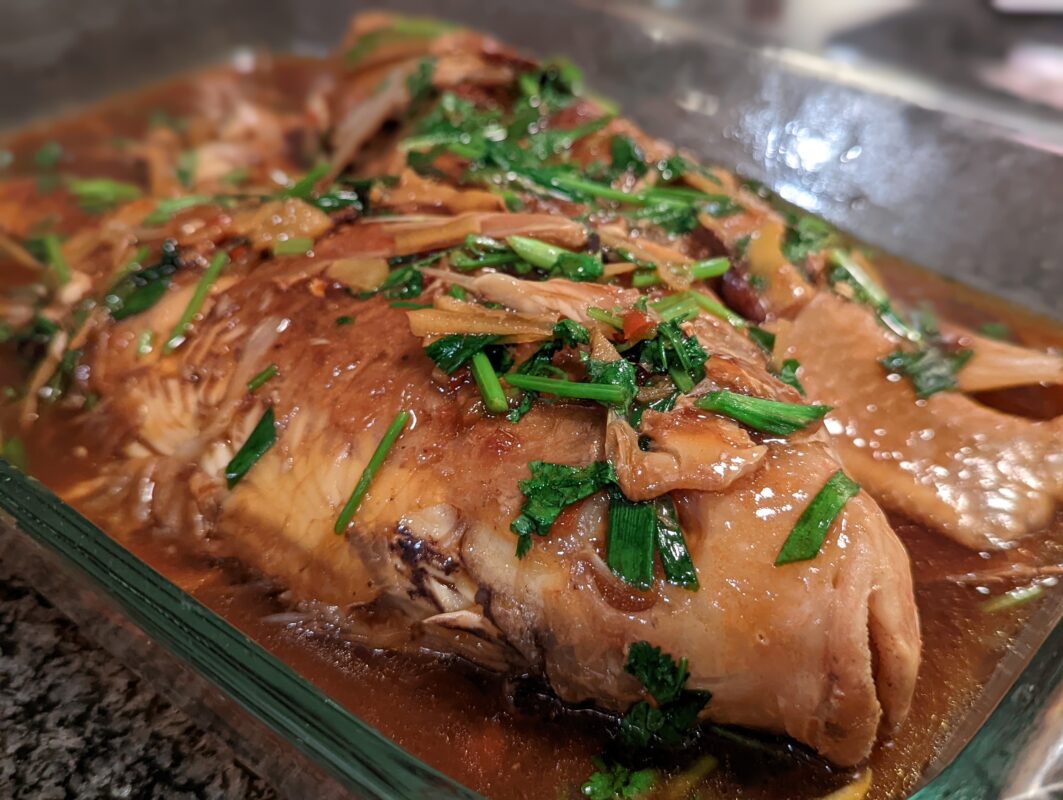 How fast do they grow?
The biggest con for Hawaiian Gold tilapia is if you plan on harvesting them for food. These guys grow very slowly, which is why I've only had them as sashimi once. There's just not enough meat in the filet to make enough sashimi for my family of 4 adults.
It takes about 2 years for them to reach 10 inches and even then they're on the skinny side so the filets aren't filling. This is the biggest reason why I'm changing over to Nile tilapia, which are the fastest growing tilapia. To get a decent amount of meat off of a Hawaiian Gold tilapia, it will need to be at least 12-13 inches.
I've also noticed that my Hawaiian Gold, Black Nile, and koilapia all grow at different speeds. I think this is because some have more Hawaiian Gold in them (slow growing) while others have more Black Nile in them (fast growing). From the same first batch, I have some all black tilapia that are still only 4 to 6 inches after 2 years, Hawaiian Golds that have hit that 10 inch mark, and koilapia of various sizes.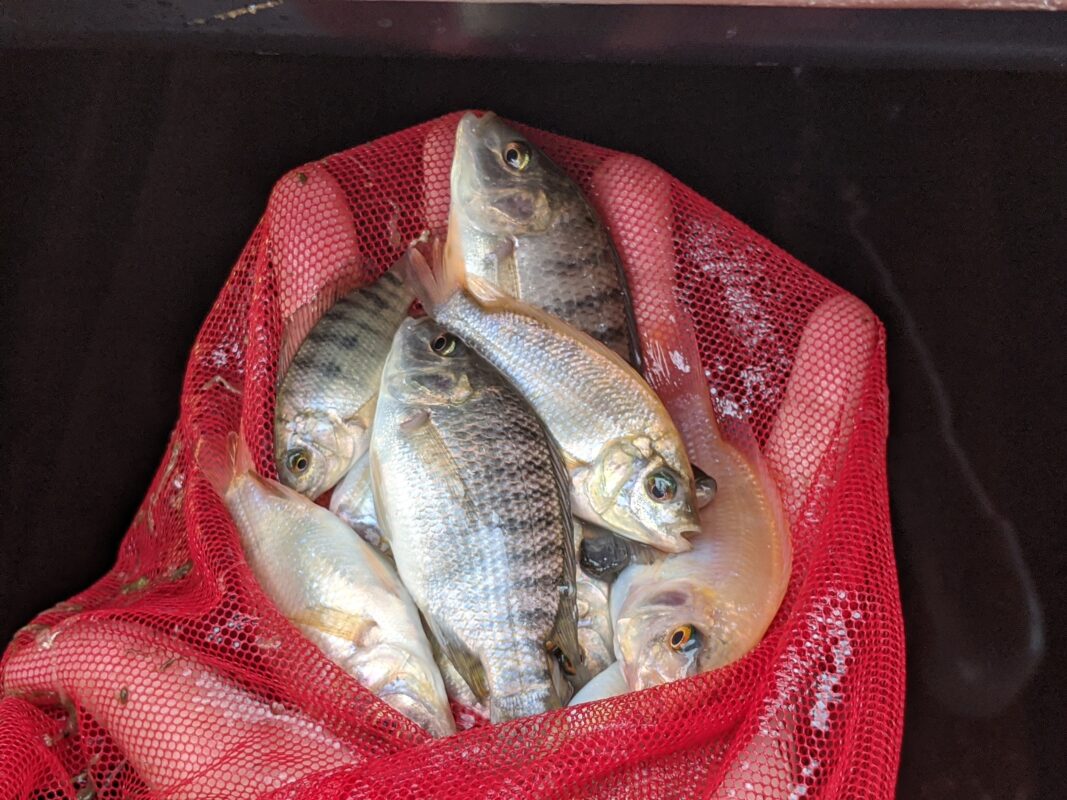 Breeding
Like most tilapia, Hawaiian Golds have no trouble making babies. Even with no hiding spaces, about 20 fry from one of my females survived last year and are now 2 to 5 inches long. If you don't plan on harvesting your fish, you'll have to find a way to stop them from breeding or give them away. Otherwise you'll end up with too many tilapia crowding your tank.
When the weather warms up, the females start making their eggs and once we move into that warmer spring/early summer weather, be ready for hundreds of eggs and fry (most will be eaten unless you provide good hiding spots).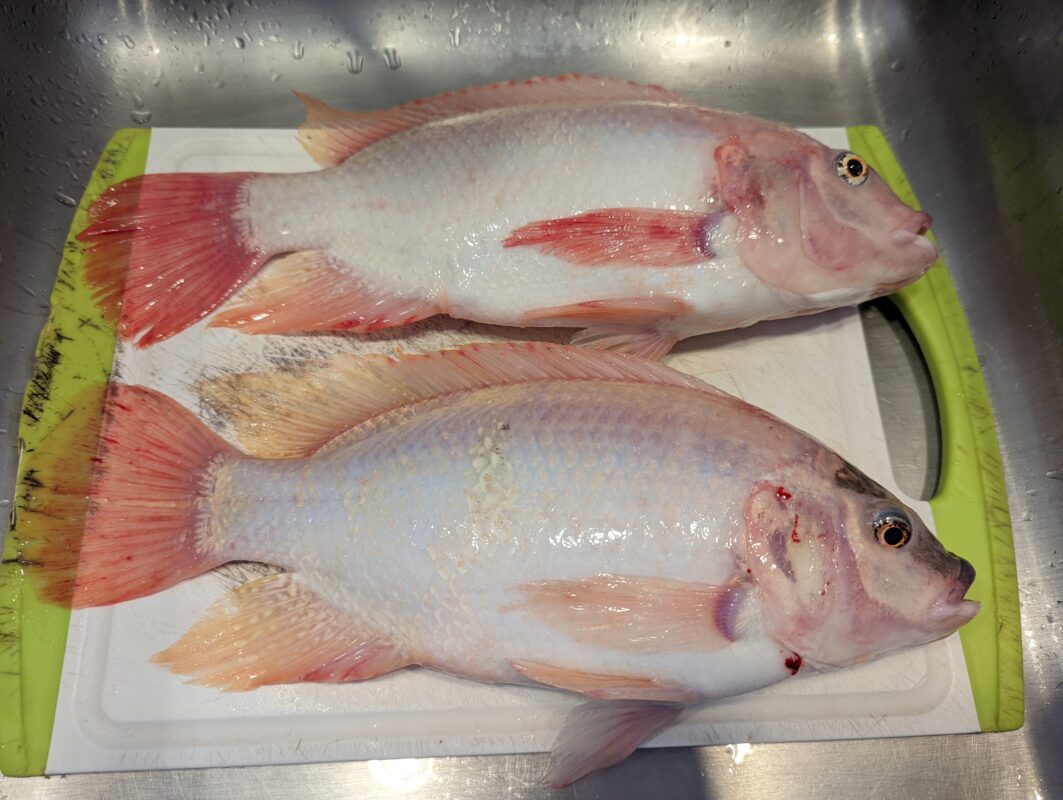 Thoughts
Overall, I liked how easy it was to start off on Hawaiian Gold tilapia for my aquaponics system. They're easy to find, relatively cheap, pretty to look at, and taste great. The only downside is the speed of their growth, but if you don't plan on eating your tilapia, then Hawaiian Golds are a great option for you. Just plan ahead for spring and summer so you can manage the offspring!