This post may contain affiliate links, which means I'll earn a small commission if you purchase something through these links. You won't pay any extra; instead, you'll be helping Aloha With Love to thrive. Thank you! Learn more.
--
I made a visit recently with my brother Michael to Coral Fish Hawaii because I was ready to add some fish to my aquaponics system. Michael and I have some pretty fond memories of Coral Fish Hawaii. When we were small, Dad would take us to this aquarium store every so often to look at the colorful variety of fish they had. With both freshwater and saltwater fish in stock, it was a lot of fun for 2 young kids to explore like a local aquarium (which was free – a big plus for Dad's wallet).
Growing up, Dad kept a couple of 20-gallon saltwater tanks. Mostly we'd fill it up with small fish and shrimp we caught off the rocks on our weekend fishing excursions. But once in a while we'd go to Coral Fish Hawaii to check out what else they had in stock.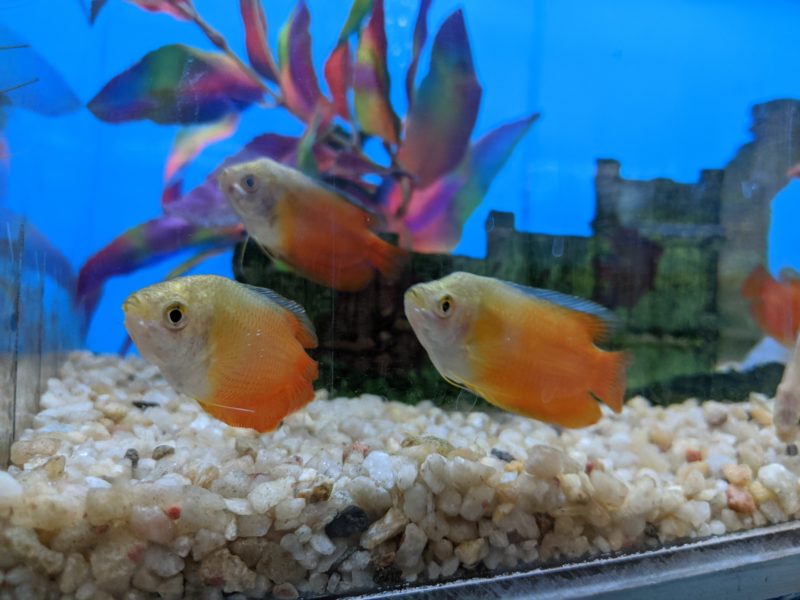 If you're thinking of starting an aquarium with exotic fish that aren't sold at your average pet store, then a visit to Coral Fish Hawaii is worth your time. They have 2 floors, each one dedicated to housing saltwater fish and freshwater fish.
The first floor is where all the saltwater fish live and you can browse the many aisles and tanks to see what's available. Even if you don't plan on starting an aquarium, this is a wonderful place to take your young kids to to see fish they normally wouldn't see in your average pet store. Most common are species such as puffers, tangs, wrasses, and trigger fish all sporting unique colors and patterns.
Local Tip: The floors are often wet, especially on the first floor where the saltwater fish are. It's like walking into a staff-only area for an aquarium facility and I think it adds some fun to the already unique atmosphere.
The staff are knowledgeable and they know which fish get along well with others and what conditions your aquarium will need in order to keep them healthy and happy. They're also a great resource for learning about aquariums, supplies, and other helpful information. Don't hesitate to ask them a question especially if you're working on your first saltwater tank. Saltwater fish require a little more work to upkeep, but the rewards are great because of the beautiful colors and exotic fish you'll be able to raise.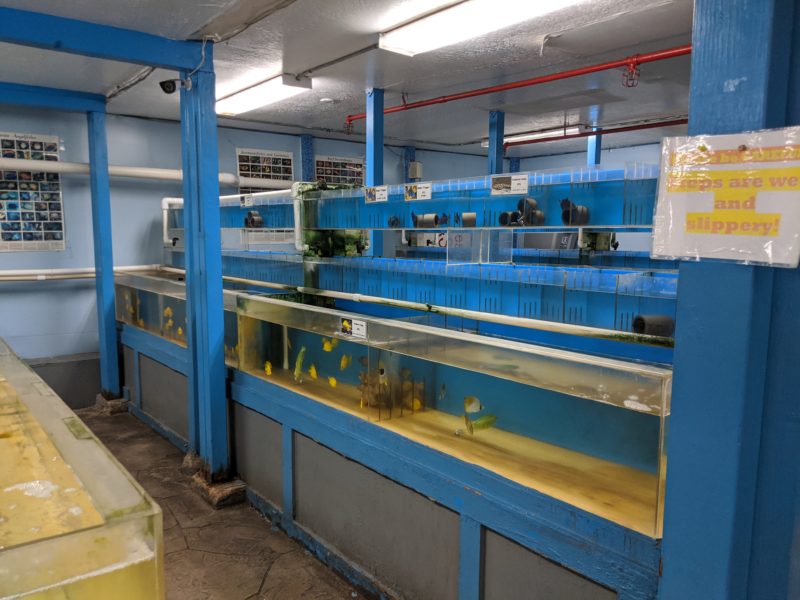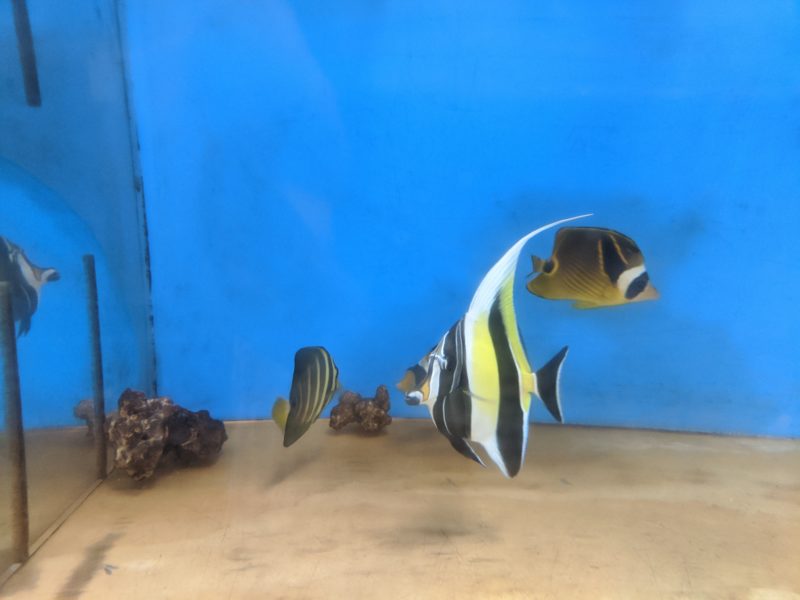 The second floor is where you'll find all of the freshwater fish, supplies, and fun aquarium decor. There's a nice selection of aquarium sizes and shapes and they have several types of fish food depending on the kind of fish you're raising. You'll find all the supplies you need to maintain a clean aquarium up here, too.
While most of the freshwater fish are small enough to be housed in regular-sized aquariums, I do like to spend a few minutes watching the baby koi in their gigantic aquarium. Coral Fish Hawaii always has a few in stock and their colors and flowing fins are really fun to look at.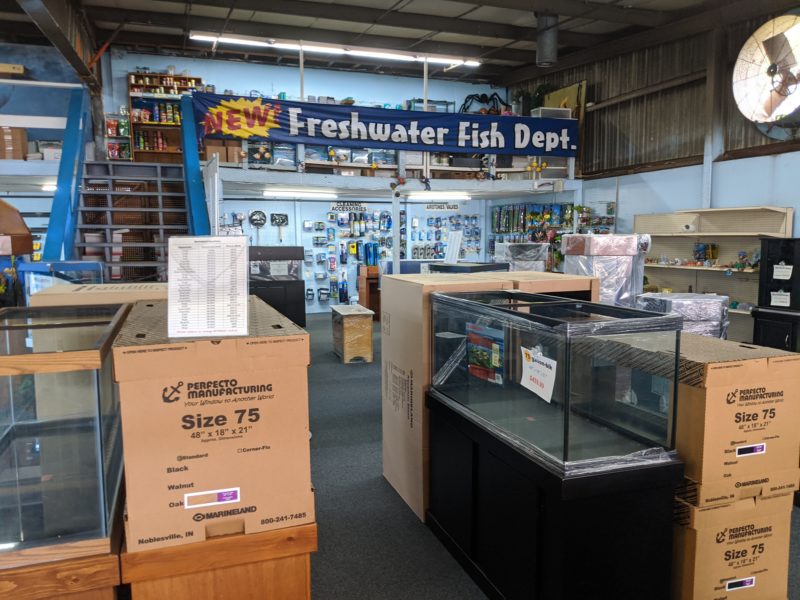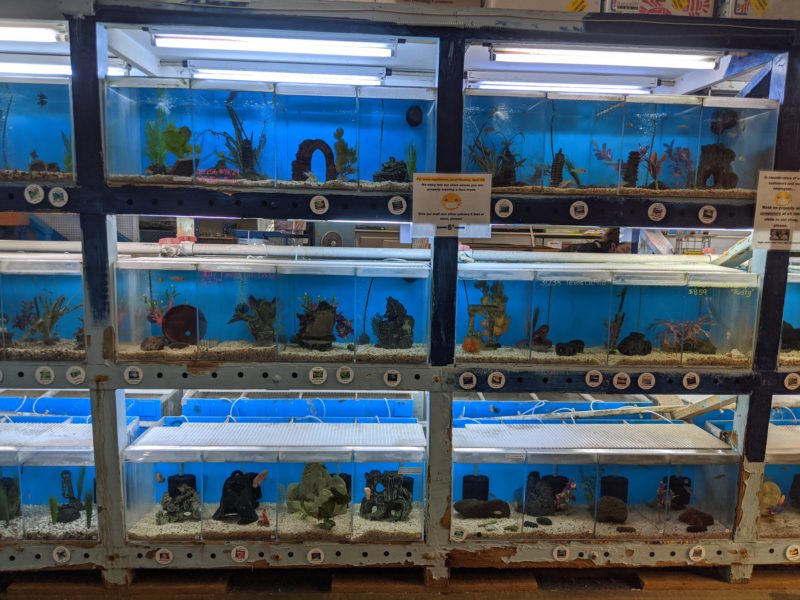 Starting an aquarium (especially large ones) are a big investment. In addition to a tank and fish, you also have to consider things like filters, media, aquarium tubing, cleaning supplies, etc. But if you want to do it right, Coral Fish Hawaii is a solid place to visit not just for fish, but also for reliable information and experience.
Don't forget, you don't have to be starting aquarium to visit Coral Fish Hawaii. Growing up, it was a lovely place to visit and you can easily spend an hour or two peering into each tank's inhabitants and enjoying their colors and behaviors.
Are you starting your own aquarium? Freshwater? Saltwater? Will you take your kids here for a fun afternoon? Let me know what you think in the comments – I'd love to hear about it.
Aloha with love,
Amy