This post may contain affiliate links, which means I'll earn a small commission if you purchase something through these links. You won't pay any extra; instead, you'll be helping Aloha With Love to thrive. Thank you! Learn more.
--
I've been reading about Oahu budget trips and a lot of the blog posts out there say "visit the beach for free" or "take a walk and explore for free." Well, of course you're going to hit the beach and stroll – that's what you do on a tropical vacation, am I right?
From a local perspective, there are a TON of things that need to be on a tourist's must-do list. I've lined them all up for you here and guess what? You'll get by on $50 a day. How's that for an Oahu budget plan?
These are all the places and activities that I recommend to all of my visiting friends. They're affordable, cheap, fun and make for a memorable trip. What more can you ask for?
Don't miss my extra Oahu Budget Tips at the bottom!
Aloha with love,
Amy
Sunday
Oahu Budget Day #1: Cheap eats, boutique shopping and snorkeling.
Bring: Towel, picnic mat, slippers, extra clothes.
Wear: Shoes and swimsuit underneath
Aim to be in Wahiawa around 9 AM for breakfast. There will be no work traffic on Sundays, so a day to Oahu's famous North Shore is a good plan. Once in Wahiawa, head to Kitchen Delight – a hole-in-the-wall cheap eats breakfast and okazu (side dish) stop.
Local Tip: The fried rice special and a slice of pie. Just do it.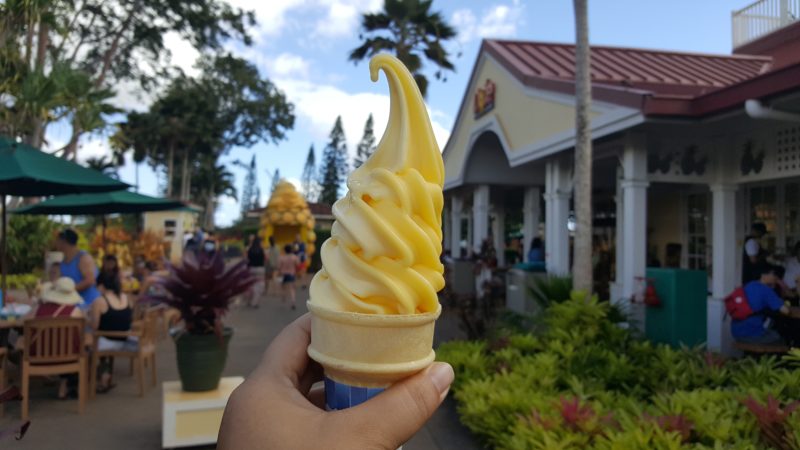 Continue to Dole Plantation and get a taste of their Dole whip – a soft serve with that delicious, tart pineapple flavor. There are several ways this is served so those that are very budget-conscious will want to get the cheapest regular cone or cup for $5.50.
Local Tip: Want to eat a Dole Whip but can't get to Wahiawa? Head to Walgreens. The taste is almost the same and it's still delicious.
The next stop is Haleiwa where you'll be able to stretch your legs, do a lot of boutique shopping and scope out your next lunch spot. My current favorite is Kono's North Shore where they take our local kalua pig dish and slow roast it for 12 full hours. Oh yeah.
Once your belly has calmed down, make your way to Shark's Cove – a personal favorite for snorkeling on Oahu. The underwater scenery here is gorgeous and worth the trip out to the North Shore.
Oahu budget tip: Need snorkel gear? You can rent a basic mask, snorkel and fins for $20 right across the street. But if you plan on snorkeling at least twice during this trip, I'd recommend purchasing your own in advance:
If you find yourself with extra time and you aren't ready to pack up just yet, famous Waimea Bay is not too far away. If you're on the North Shore during winter, there's a big chance that you won't be able to snorkel due to the big surf in the area. No worries! Instead, check out the amazing surfing competitions.
Return back to Wahiawa for dinner at Shige's Saimin Restaurant. When you first see it, you'll probably think "uh…do I really want to eat here?" Yes, it looks plain from the outside, I agree – but the local saimin here absolutely rocks and you won't find another like it in Waikiki. The staff are all super nice as well and a few celebrities end up coming here, too (check out their wall of famous people!).
Monday
Oahu Budget Day #2: Local breakfast, snorkeling, hiking, shopping.
Bring: Towel, picnic mat, swimsuit and extra clothes.
Wear: Athletic shoes or comfortable walking slippers.
Grab an early breakfast at Koa Pancake House. Think macadamia nut pancakes and coconut syrup. Mmm.
Hanauma Bay is only a few minutes away and it's easy to spend the whole day here. This is a great spot for beginner snorkelers.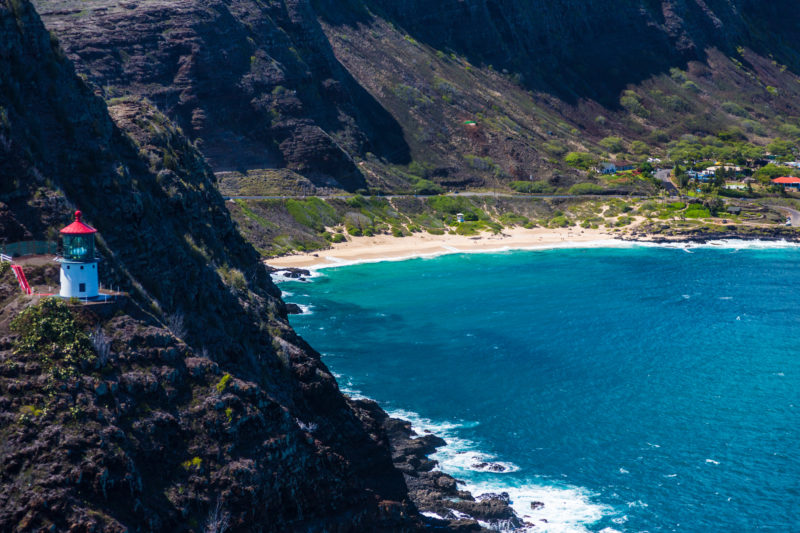 If you're not a beginner and want to skip Hanauma Bay, keep going until you get to Makapuu Beach. This beach is one of the best for body surfing, pristine waters, a beautiful view of the mountains and small islands and even tidepools.
Local Tip: Next to Makapuu beach is a small spot called "Baby Makapuu". There are a handful of small tidepools and calm ocean water. Perfect for babies and infants to sit and play. Most likely other babies will be there, too!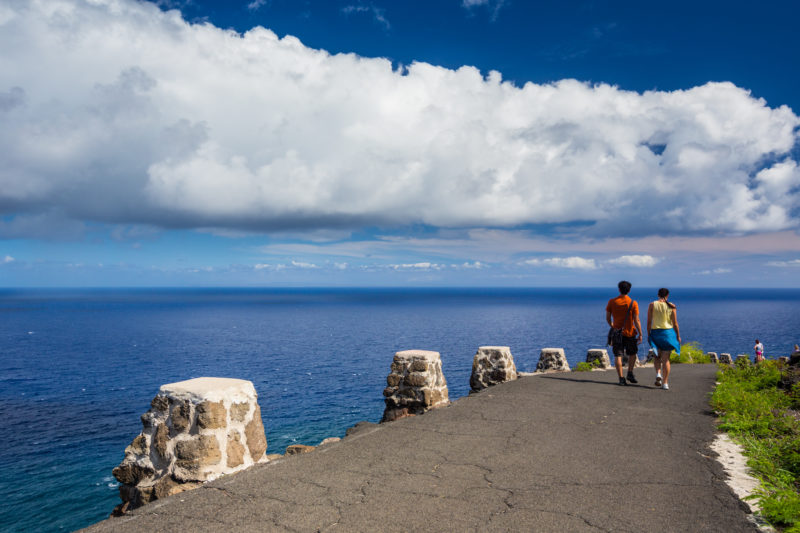 It's also a short walk to the Makapuu Lighthouse Trail. This is a beautiful trail that is friendly for all ages and a hot spot for whale watching.
Local Tip: Even those on wheelchairs can come on this trip with the family.
For lunch, backtrack to Hawaii Kai and check out Moena Cafe where a nice meal for $15 – $20 comes with exceptional service run by a husband and wife team.
Back in Waikiki after you're well-rested, take a short bus ride to Ala Moana Center. This outdoor shopping mall has gone under a recent renovation and even I get lost in there! The architecture and gardens are gorgeous, so you don't have to spend a cent to enjoy this scenery.
Follow the locals to the Shirokiya Village Walk for dinner – pick and choose your dishes from a large room packed with Japanese food stands. The best part are the $1 beers in the beer garden!
Tuesday
Oahu Budget Day #3: Historical and cultural museums and local eats.
Bring: Only your wallet and whatever can fit in your pockets. No bags!
Eat breakfast before you leave by buying something quick at an ABC store. Or, head to Leonard's Bakery on Kapahulu.
Pearl Harbor opens at 7 AM and in order to not waste time waiting around for your boat time, I suggest getting there a few minutes early to line up. Leave your bags and purses in the car or back at the hotel or you'll have to pay a locker fee ($5 from 2018).
For lunch, Zippy's in Pearl City will hit the spot. There are plenty of local treats to fill you up here such as the Portugese bean soup, saimin, oxtail soup and Zippy's chili. Even the desserts are scrumptious: haupia cake, malasadas and apple napples are droolworthy. Lunch will be about $10 – $15.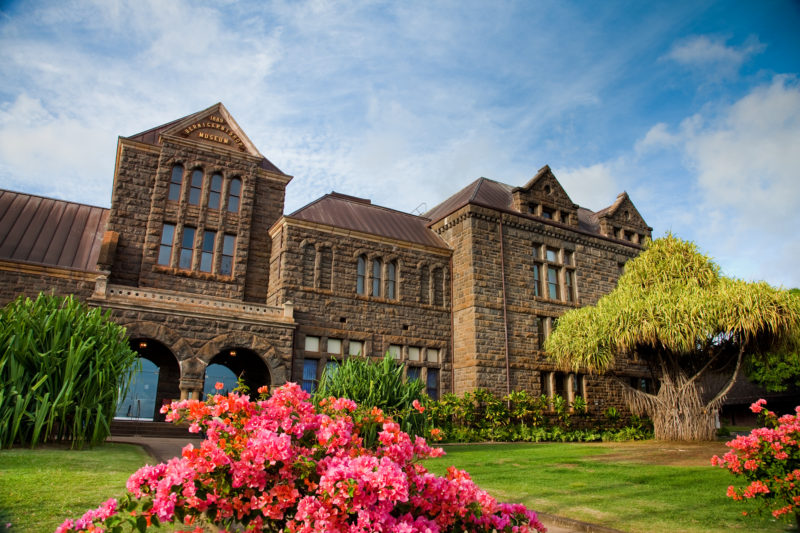 Spend the rest of your day at the lovely Bishop Museum. There are always several exhibits on display and the outside is just as lovely as the inside with native and tropical plants.
Local Tip: Pay the extra $2.95 for the planetarium visit – this is a look into the Hawaiian sky from the ancient Hawaiians point of view. General admission is $22.95, but there are discounts for seniors, students, children, military and kamaaina (residents).
For a simple dinner at less than $10, try the food over at Itchy Butt. Creative name, right? Honestly, the best part about discovering Oahu on a budget is that you get to visit the super local, hole-in-the-wall cheap eats! They really pack the food into your bowl and although there aren't any seats, there is a park right across the street. Or, just grab and go and take this to your hotel balcony.
Wednesday
Oahu Budget Day #4: Waterfall hike, botanical garden and fresh seafood.
Bring: A water bottle and shoes that love to get dirty.
Keep breakfast simple and save your money for lunch and dinner.
You'll want an early start to Manoa Falls since it can get hot and muggy on this hike later in the day (although the waterfall is absolutely refreshing!). This hike is popular for good reason. With a beautiful waterfall at the top and a mud trail the whole way through, everyone will have a bunch of fun on this slippery hike.
After returning to your hotel for a rest and shower, find lunch in Chinatown at Lucky Belly ($10 – $20). The food here is divine and will fill you right up.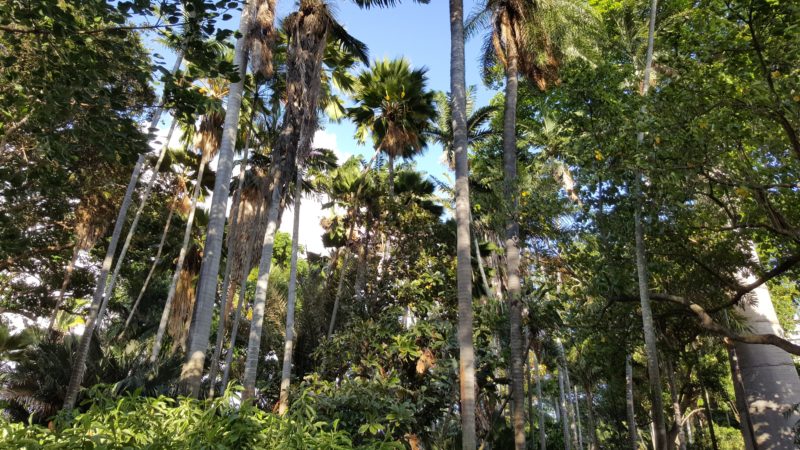 Take a 20 minute walk toward the Foster Botanical Garden to burn off lunch. It's only $5 to get in and is an oasis in the middle of downtown Honolulu. You'll be surrounded by huge trees, a peaceful breeze and a rare silence despite all the traffic noise right outside the perimeter of the garden. The orchid house is unique, especially since we use many orchids in our fresh flower leis.
Local Tip: It's easy to get lost here and there's a huge shady lawn that's perfect for a nap – I've done it myself!
If you have extra time and aren't hungry yet, a walk through Aloha Tower will have you visiting the small shops in this shopping plaza.
Around 5:30 PM, you'll be able to see the Star of Honolulu and the Majestic embark for their nightly sunset dinner cruise.
A dinner at Nico's at Pier 38 comes highly recommended from almost any local who knows Honolulu. The morning fish auction is held here so you can rest assured that Nico's fresh fish is excellent. The furikake ahi plate is always a hit! Plus, there's fresh poke right next door.
Thursday
Oahu Budget Day #5: Sandy beaches, pillbox hike and food trucks.
Bring: Towel, picnic mat, swimsuit and extra clothes.
Kailua has that hip, beach town vibe to it and there's certainly plenty to do here. Once you're here, look into bike rentals (about $25 for one day).
Take some time to pick out what you want for breakfast – Kailua is filled with several small stores so you're sure to find something that strikes your tastebuds. Also, stop at a grocery store and buy some sandwich materials for your lunch at the beach. Pack them in your bag and you're ready to go!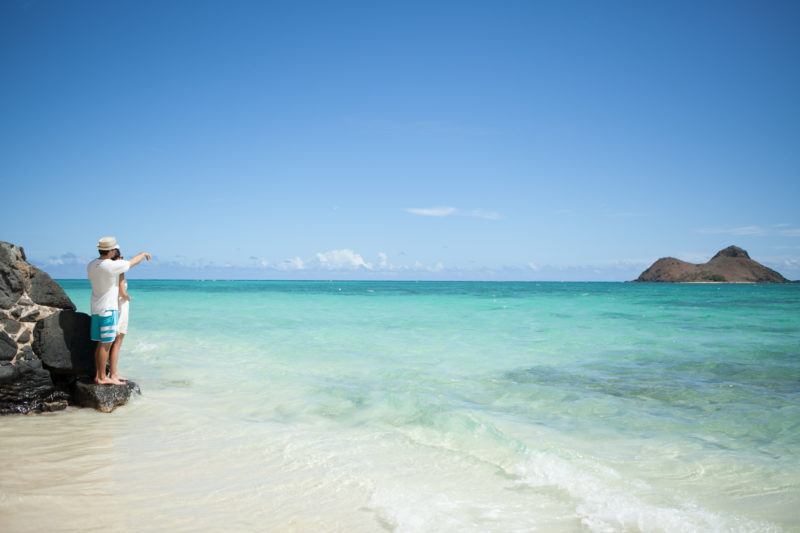 Lanikai and Kailua beaches are two world-famous beaches – famous for their clear ocean water and powdery white sand. It's every vacationer's tropical dream come true. It's easy to spend a whole day here, especially when you have snacks and drinks with you to chow down on between tanning sessions.
If you do get tired of the beach though, spend some time at the Lanikai pillbox hike. It's a short and easy hike with an incredible view that you're sure to love!
Local Tip: Most locals refer to this as just "Pillbox". Although in reality there are several pillbox hikes in Hawaii.
Return to Kailua and check out Kailua's farmers' market held on Thursday evenings. This one is unique because instead of produce, it's mostly dinner vendors that you'll find here. Most vendors give out samples for you to try. I recommend getting there early so that you can find a seat – space is limited.
Friday
Oahu Budget Day #6: Cheap and local eats, royal palace museum, free music performance and fireworks.
Bring: Towel, picnic mat, slippers and extra clothes.
Wear: shoes and swimsuit underneath.
For breakfast, Musubi Cafe Iyasume is where you can choose from dozens of musubi combinations – a truly local favorite food that's perfect for your first meal of the day. You'll drop about $2.50 for each musubi and the average person will usually scarf one or two down.
While you're there, buy a filling Japanese bento for lunch for $5.25 – another common local spread that we enjoy. These are super easy to pack and are made for easy transportation.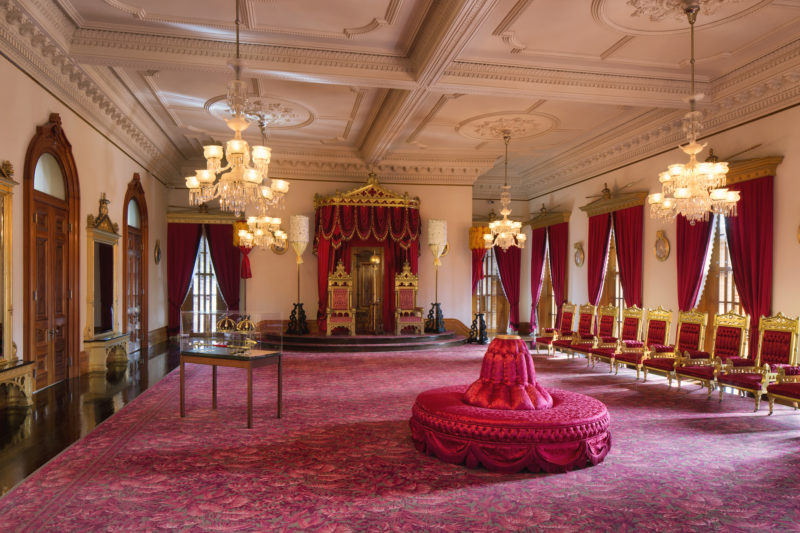 Once lunch is safely packed away, head to Iolani Palace – This is a must see because this is the only royal palace in the U.S. The architecture is a beautiful blend of Hawaiian and European tastes and on display is not just the history of Hawaii, but also the sad and tragic tale of Hawaii's beloved last queen, Queen Liliuokalani.
The self-guided tour is $14.75 and you can take your time to absorb all of the intricate details. Most people spend more than an hour here. The grounds are also lovely and every Friday, the Royal Hawaiian Band performs on the stage from 12 PM – 1 PM. A perfect picnic atmosphere! Pick a shady spot under a tree, pull out your lunch bentos and enjoy the view of Iolani Palace, the grounds and the magical melodies of the Royal Hawaiian Band. You can even take a well-deserved nap!
Once you're well rested and recovered, you're only about a 10 minute walk away from downtown, and right after that, Chinatown. This is a perfect time to explore and get lost.
Local Tip: Check out the Kamehameha statue, Aloha Tower and Maunakea Street, where all the lei shops are at. You'll get to see pro lei makers at top speed.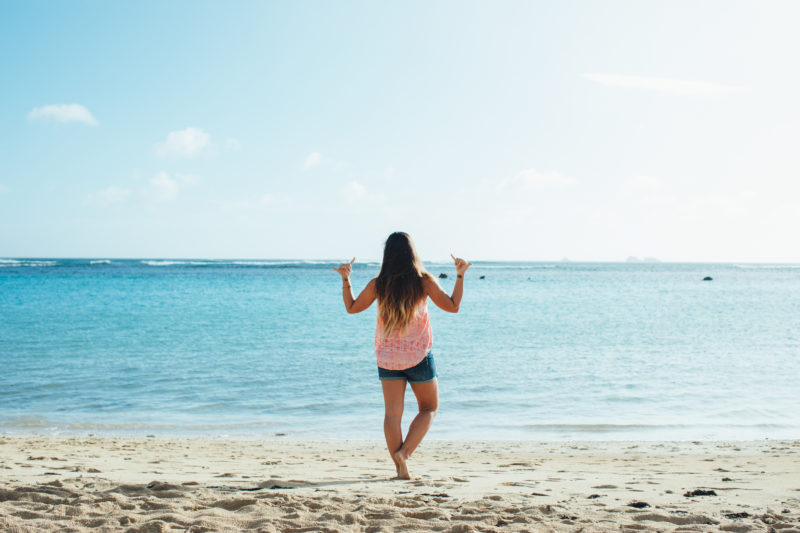 The next stop is Ala Moana beach park. This is a nice place for a dip into the ocean. The waters here are calm and there are plenty of showers.
For dinner, head to the local restaurant L&L Hawaiian Barbeque located near Magic Island. L&L is well known for their "plate lunch". They've partnered with the City & County of Honolulu to get this prime spot, which makes it so easy to have a good meal at the beach. I'd budget about $10 for most meals here.
Local Tip: Chicken katsu plate lunch – yum!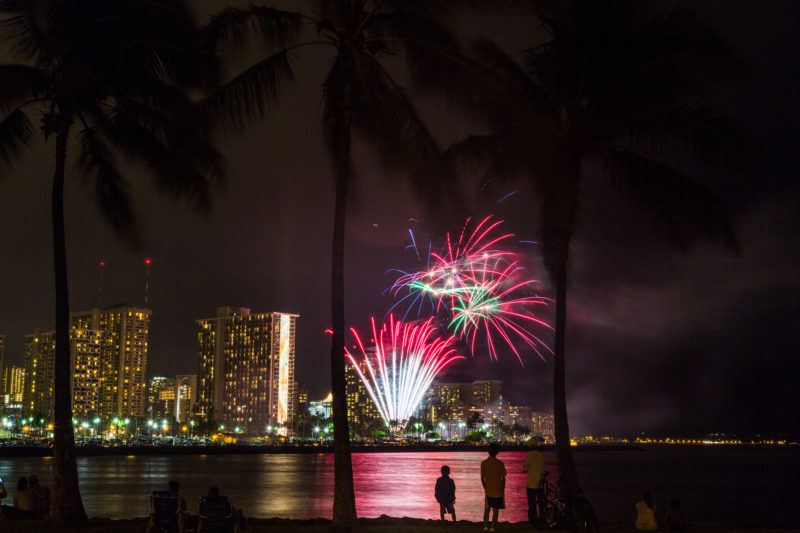 Fireworks are an excellent way to make your Oahu on a budget vacation awesome. Before 7:45 PM walk out to Magic Island and find a spot where you have a clear view of Waikiki. The Hilton Hawaiian Village will start their weekly Friday fireworks show at around 7:45 PM, which lasts for about 10 minutes.
Saturday
Oahu Budget Day #7: Farmers' market, local eats, hiking, art and shopping.
Bring: Good athletic shoes and a bottle of water.
Start your day off at the Kapiolani Community College Farmers' Market. On Saturdays, it officially begins at 7:30 AM, which is a perfect time to get your breakfast. Look for fresh juice, local fruits, breads and other healthy snacks to begin your day. Keep your breakfast at less than $10 since you'll be hiking next.
By 8:30 AM, begin your walk to Diamond Head – Hawaii's most famous hike! The view here is incredible and well worth it. This is one of the best hikes for an Oahu budget vacation. Diamond Head is very close to Waikiki so getting to and from will be a breeze.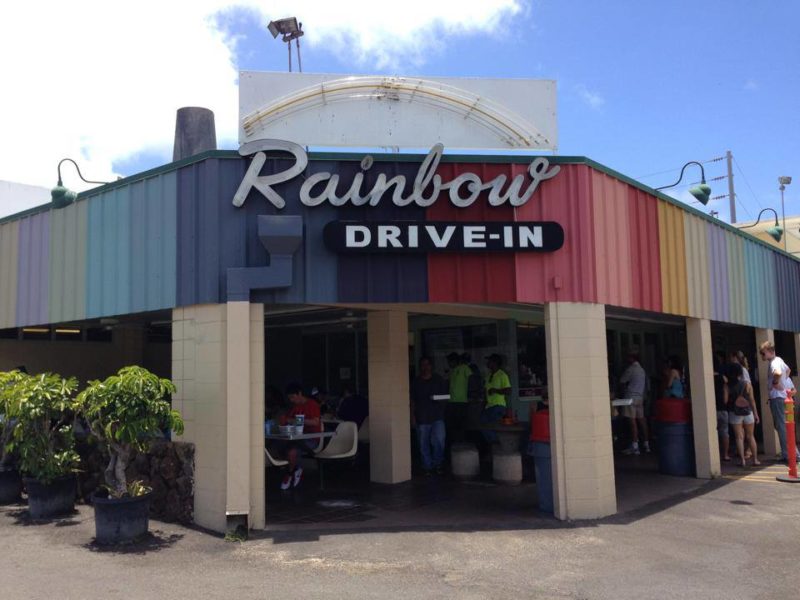 11 AM is the perfect time for lunch at Rainbow Drive-In, one of Oahu's oldest plate lunch restaurants. By noon this place will be packed (although that doesn't seem to slow down the crowd). I'd budget about $15 here for a plate lunch and a cold strawberry slush float.
Local Tip: If you have a car, get your meal to go and drive down to Kapiolani park, which will only take you a few minutes. There are plenty of picnic tables, a lot of shade and public restrooms for your comfort.
With lunch done and your belly satisfied, make your way down to the back of the Honolulu Zoo, where every Saturday and Sunday the Art on the Zoo Fence is held. This outdoor art gallery features beautiful works of art by local artists and gives you the chance to meet the painters, photographers and designers. They'll help you out with shipping so just ask if you end up purchasing something.
Since the Honolulu Zoo is located at one end of the Waikiki strip, this is the perfect time to walk the whole length of Waikiki without missing a thing. Start your stroll on the beach or through the stores and make a stop at your hotel to rest and freshen up from your morning workout. Head back out around 5:30 PM and make your way to Kuhio Beach Park for Waikiki's torch-lighting ceremony. You'll get to watch the conch shell blowing, more than 50 torches being lit along the strip and a fun hula show.
End your day with a classy meal with happy hour at the Top of Waikiki. They have a pretty good menu from 5 to 9:30 PM at the bar, and the ambiance is brilliant! And that view is nothing short of amazing.
Still in the planning stages for your Hawaii trip? Melissa from The Family Voyage has some great tips for you on how to save.
Oahu Budget Tips
Hawaii Activities is a budget-friendly place to book your Hawaii tours. They've hooked up with almost every single tour and activity out there and there are always special deals going on. From snorkel excursions to hiking guides, everyone will be able to find something to do within their budget.
For that one day that you plan to stay in Honolulu and Waikiki only, you can enhance your Oahu on a budget experience by using Honolulu's new bike system: Biki. Unlock bikes from Biki stops using your credit card or Biki pass and get everywhere faster. You won't be wasting precious money here! There are several Biki stops throughout the whole of Waikiki and downtown Honolulu so it's extremely convenient and affordable.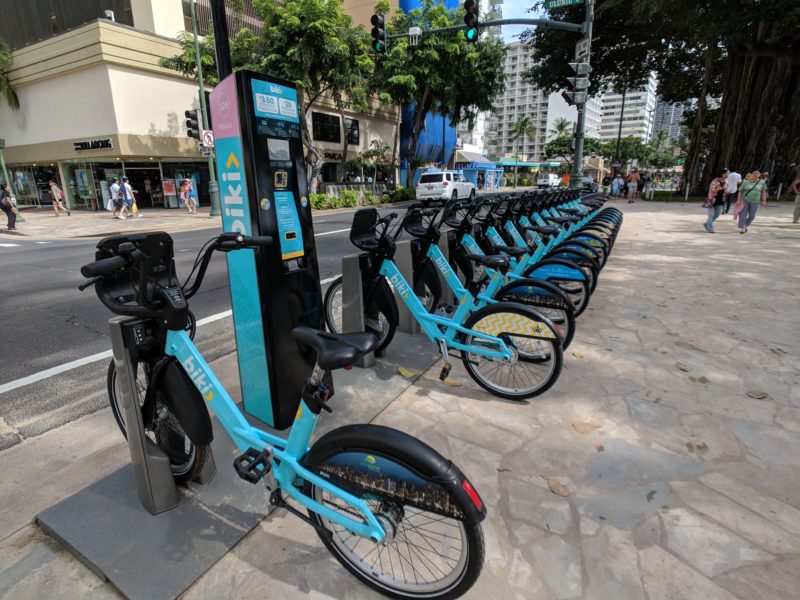 Check out my post on Oahu budget rental cars and how you can save time and money.
Michelle over at Harbor & Havens did a lovely 3-day trip on Oahu so if you need to budget your time, definitely check out her Oahu Itinerary for 3 Perfect Days post. It's an awesome read and you'll have a great idea of where you should go on your trip to Oahu.
And if you're really on a strict time schedule, check out Amy and David at Out Chasing Stars where they spent just 2 fun-filled days on Oahu.
Read More: Celeste over at Footsteps of a Dreamer has a thorough 5-day Oahu itinerary if you need more Oahu travel ideas.