This post may contain affiliate links, which means I'll earn a small commission if you purchase something through these links. You won't pay any extra; instead, you'll be helping Aloha With Love to thrive. Thank you! Learn more.
--
My friend from Thailand came over to visit me during the summer, which was perfect timing since my Molokai family reunion was coming up! I booked us a couple of tickets on Mokulele Airlines, which is a small airline company running interisland commuter planes.
I've been riding Mokulele Airlines to and from Molokai since I was a little girl, but this was all new to my friend which made it a grand adventure for the both of us! If you're on a budget, riding a commuter plane might be an option for you.
Aloha with love,
Amy
Departure Process From Honolulu To Molokai On Mokulele Airlines
Checking into Mokulele Airlines happens at Terminal 3 of the Honolulu International Airport, which is about a 5-minute drive from the main airport terminals 1 and 2. The entrance is between the Delta and United Cargo facilities and is basically a small airport complete with check-in counter, security area, some offices, a small parking lot and shuttle service.
Checking in for Mokulele's Molokai flight was quick and easy and didn't take more than 30 minutes. I suggest getting there an hour before your flight to give you enough time to check in and get settled before they start boarding.
Local Tip: If you're flying into Honolulu Airport and taking a connecting flight to Molokai with Mokulele Airlines, make sure you give yourself enough time to get to Terminal 3. At the very least 1.5 hours, 2 hours to be on the safe side. It can take quite a bit of time to get off the plane, out the airport and catch the shuttle.
How to get to Terminal 3 for your Molokai flight on Mokulele
There are a few ways to get to Terminal 3, Mokulele Airlines and the easiest way in my opinion is using the Honolulu International Airport's free shuttle service. The shuttle service travels in 20-minute intervals from Terminals 1, 2 and 3. Read the link below to find out how you can get to Terminal 3 and Mokulele Airlines.
Boarding And Riding Mokulele Airlines' Commuter Plane
The first thing you have to realize is that the pilot's word is law. Granted, the pilot's word is law on large planes, too, but we never see them during the flight. You'll see the Mokulele Airlines pilots from beginning to end and they'll even provide some commentary and safety instructions for you.
The pilots will dictate where your bags will go and where you'll sit (after guesstimating your weight). Just follow their instructions and the rest will follow through.
This is a commuter plane, so you will feel a tad bit more fragile than usual. The rumble of the wheels on the tarmac will vibrate your seat and you'll feel really strong winds on occasion. Be ready for a bumpy ride, but the gorgeous views and your own window seat more than makes up for it.
Local Tip: The cool thing about Molokai flights on Mokulele Airlines (compared to other interisland flights) is that passengers tend to be from Molokai. And with such a tiny population, everybody knows everybody. Be ready to pulled into a big communal discussion with lots of laughs and smiles.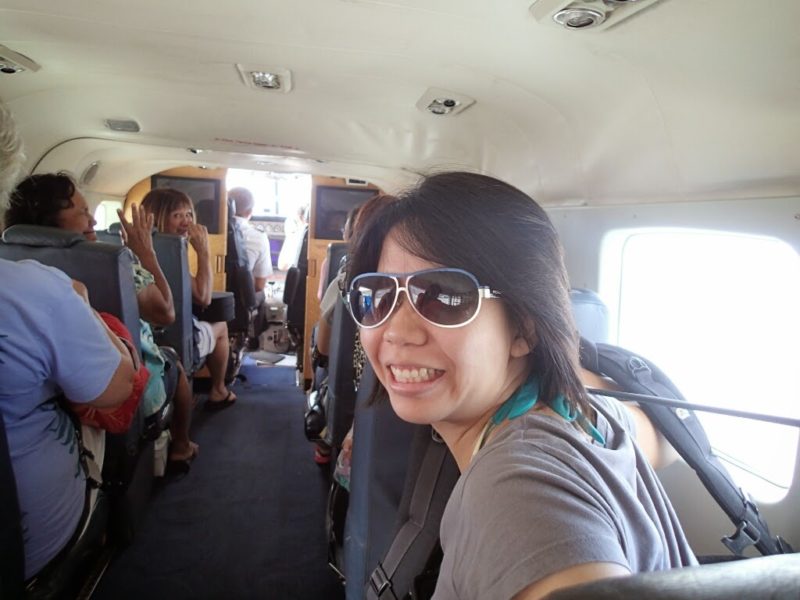 Tips About Riding Mokulele Airlines Or Any Interisland Commuter Plane
I do not recommend Mokulele Airlines or any small commuter flight for those who do not like to fly or who are easily-anxious. I have a family member who is a bit more jumpy than your average person and while she can and has ridden with Mokulele Airlines, she highly prefers larger planes. From a comfort standpoint, it's supposed to be a vacation and you want even your short airplane ride to be stress-free.
Another commuter airlines you can try is Makani Kai Air. I've always had good experiences flying with them as well. They are not located in Terminals 1, 2 or 3 so there is no free airport shuttle service.
Pay very close attention to bag policies. Weight is a big issue for these small planes and space is limited. You may have to squeeze your necessities into a carry-on instead. You can store baggage (and other common luggage items) at Baggage Storage Hawaii located in Terminal 2 of Honolulu International Airport.