This post may contain affiliate links, which means I'll earn a small commission if you purchase something through these links. You won't pay any extra; instead, you'll be helping Aloha With Love to thrive. Thank you! Learn more.
--
A visit to Waimea Valley is a great outdoor activity for any age. You'll have to pay an entrance fee to get in, but this is a neat gem that is part botanical garden and part outdoor Hawaiian museum. The roads are nicely paved and it's an easy walk to get to the highlight, the Waimea Valley waterfall.
My trip to Waimea Valley was a rainy one. I was cold, wet, and did not think to bring a jacket or umbrella – but it turns out that rainy days are the best for gorgeous waterfall shots! At the end of the day, it was a beautiful experience to be outdoors in the rain.
Aloha with love,
Amy
Local Tip: One of the best times to visit Waimea Valley to see a large waterfall is during the winter or our rainy season (around March or April). If it's been raining for the past few days, you're in for a treat!
Why A Rainy Day At Waimea Valley Is A Fantastic Day
I got to Waimea Valley at 9 AM, which is right when it opens. Waimea Valley does get busy especially with the smaller private tours so going early means you can see the Waimea Valley waterfall without a ton of tourists around.
Since there had been a small drizzle all morning, there was even less foot traffic than normal. At first I viewed this as a downer but walking through a forest is pretty magical when there's a light shower of rain. All of the leaves were greener and brighter and even the staff were surprised at how full the waterfall was because of the rainfall.
The birds had no complaints and were chirping like they were at a party. I will say that I did wish I brought a rain jacket because it got a tad chilly for me when we started our descent though.
Read More: Clothes For Hawaii That Should Already Be In Your Suitcase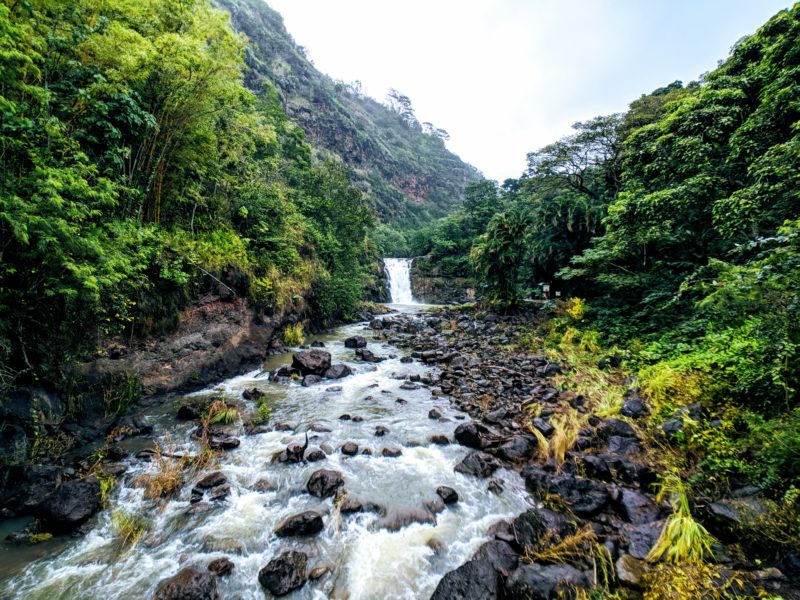 Activities at Waimea Valley
In general, Waimea Valley is great for families or large groups with different ages or physical abilities. I highly recommend this as an outdoor activity for anyone with young toddlers who may ask to be carried halfway. The walk to and from the waterfall is easy and pleasant enough to do with a toddler in tow.
The Waimea Valley walk is also great for those who want to get outside but have age-related or physical limitations. There are plenty of stops along the way and there's even a shuttle that can escort you up and down (for a fee). The hiking trail is actually a wide asphalt road so falling or twisting your ankle on a stray tree root or loose rock will be the least of your worries.
Swim at the Waimea Valley waterfall pool – Swimming at the waterfall pool is allowed and there are lifeguards on duty to watch over you. You don't have to pay extra to swim (it is included in your admission), but you will have to wear a life vest.
Local Tip: Swim in Hawaii's freshwater pools at your own risk. Make sure you know the signs for Leptospirosis. Do not go in if you have an open wound. Also, it's much easier to enter the pool from the far right rather than right in front of the lifeguard station.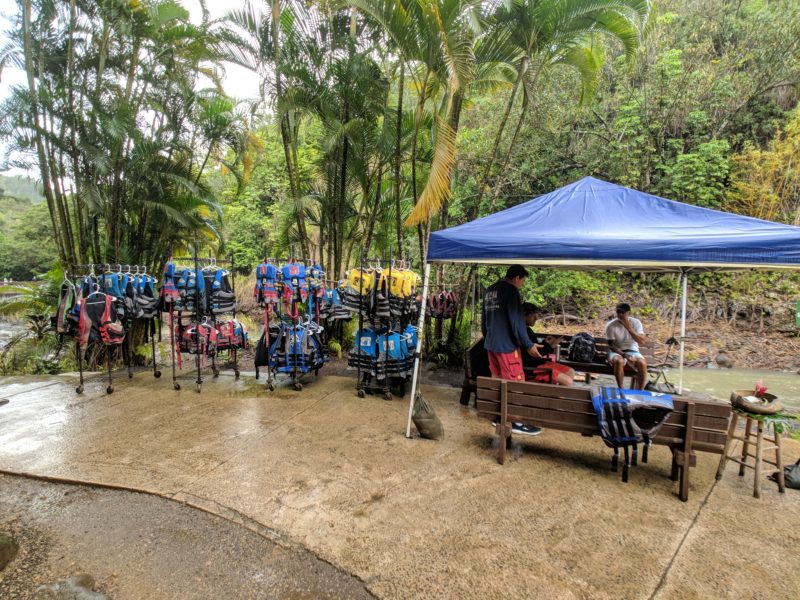 Explore the Hawaiian architecture – The sacred sites you'll see at Waimea Valley are not only used in cultural programs, but are also still used today by Hawaiians participating in traditional practices. Waimea Valley was in a prime location where natural resources were plentiful and this spot became a place of importance for the priests of Hawaii. Take your time to visit each structure because you'll learn so much about ancient Hawaiian communities.
Local Tip: A few present-day Hawaiian families use Waimea Valley as a part of their daily life. Show the same respect you'd show at someone else's home. Please be sensitive to the fact that this is both a place of traditional Hawaiian practices and a tourist attraction.
Study the plants and trees – Although Waimea Valley doesn't market itself as a botanical garden, it's such a lush area that it's hard not to stop and stare at strange flowers and alien trees as you walk the path.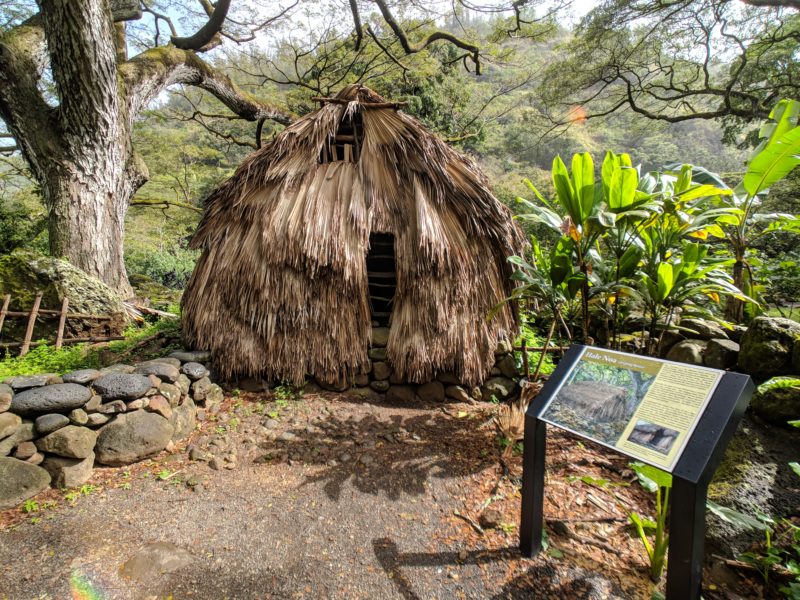 Should You Visit Waimea Valley?
A visit to Waimea Valley is a day well spent, but my biggest issue is the price. For an adult, general admission is $18 and if you choose to ride the shuttle one-way, it will cost you an extra $10 (on average it takes about 20 – 25 minutes to walk to the waterfall). For me personally, I have a difficult time paying someone $18 to go outside on a short waterfall hike when I know there are other free options out there.
However, Waimea Valley is perfect for certain people and depending on what you're looking for, Waimea Valley may just be the best choice that fits your itinerary. Here's who I think Waimea Valley is perfect for:
Budget isn't really an issue. If you have the money and you're looking for something to do, Waimea Valley is a good half-day trip.
Those who are out of shape or traveling with strollers, toddlers, elderly, wheelchairs or with disabilities. There aren't many hikes out there that are easy to walk, but Waimea Valley is perfect if you need a flat surface.
You're looking for an all-in-one experience. This is a small and easy hike where you can explore a botanical garden, learn about Hawaiian history and culture, swim in a freshwater pool with supervision, enjoy the wild birds (peacocks included) and see both native and invasive plants and animals. Plus, there are restrooms and refreshments nearby making Waimea Valley a very convenient stop on the North Shore.
Local Tip: If the price is too high for you. Consider bundling this trip with a North Shore tour. I went on an Oahu Photography Tour that took us into Waimea Valley and several other places for a flat fee. I didn't have to worry about admission fees after that and it was nice to get a photography lesson (with my smartphone) out of it. Another option is the Toa Luau, one of the most authentic luau experiences on Oahu that includes admission to Waimea Valley.
Read More: The Best Luaus In Oahu For Good Food, Good Fun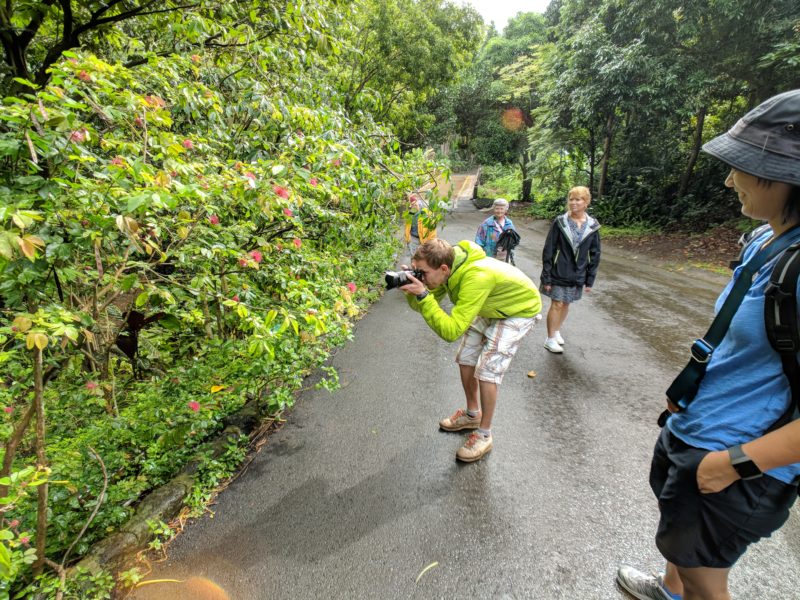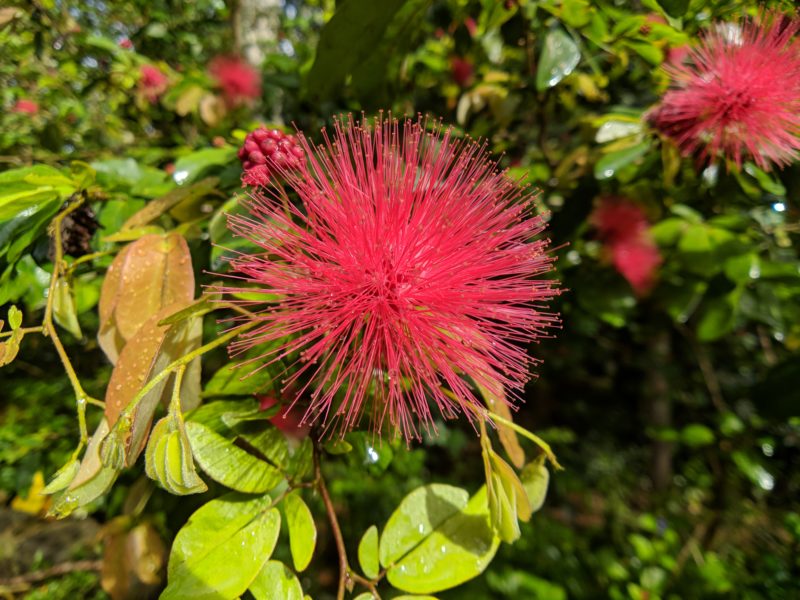 How To Get To Waimea Valley
If you're coming from the south, drive past Haleiwa, along the North Shore surf and right across the street from Waimea Bay Beach Park (the same Waimea Bay in the Beach Boys song) you'll see the entrance to Waimea Valley. You can't miss it. Turn into the driveway and it will take you to a spacious parking lot.
If you're coming from the north, Waimea Valley will be on your left soon after you pass Shark's Cove and Foodland. Again, you'll see Waimea Bay Beach Park with Waimea Valley right across of it.
Local Tip: Right next to Foodland is Pupukea Road. Turn up this road and take your first right and you'll arrive at Puu O Mahuka Heiau – Oahu's largest sacred Hawaiian temple. There is a beautiful view from the top and you can even see whales here during whale watching season. I bring visiting friends up here all the time and they love it.