This post may contain affiliate links, which means I'll earn a small commission if you purchase something through these links. You won't pay any extra; instead, you'll be helping Aloha With Love to thrive. Thank you! Learn more.
--
Imagine a Hawaiian theme park full of authentic dancing, coconut-cracking lessons and an outdoor walkthrough of traditional villages. Multiply that by 6 different islands and you've got the Polynesian Cultural Center and a jam-packed day of fun!
I've been here at least 7 times and I haven't gotten tired of it yet. Each time is fantastic and I'm always amazed at how much effort goes into putting on this all-day show everyday. There is ALWAYS a show, performance or activity going on, so you'll be busy as you explore this Polynesian theme park.
Have an awesome time there!
Aloha with love,
Amy
Cool fact: A huge number of Polynesian Cultural Center employees are students attending BYU-Hawaii, which is right next door. The profits fund the various scholarship programs, which help the students finish their education. It's a pretty amazing program that you have to applaud because of how successful they are!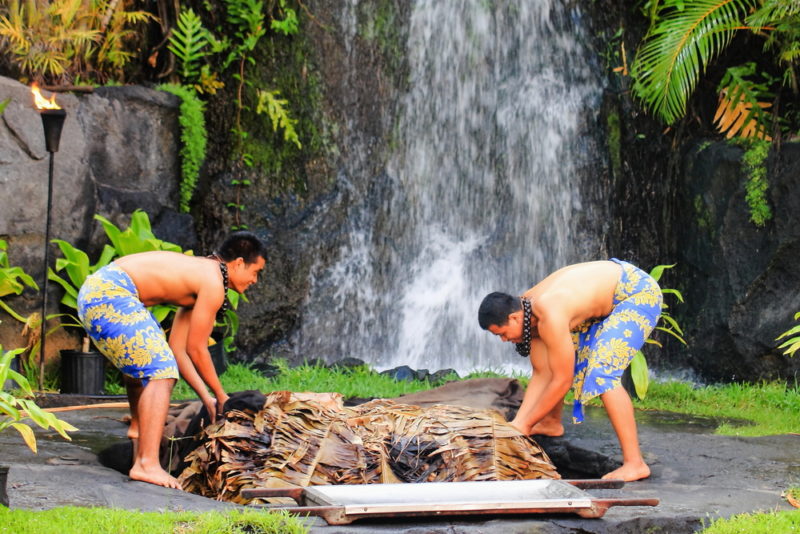 Where To Book Polynesian Cultural Center Tours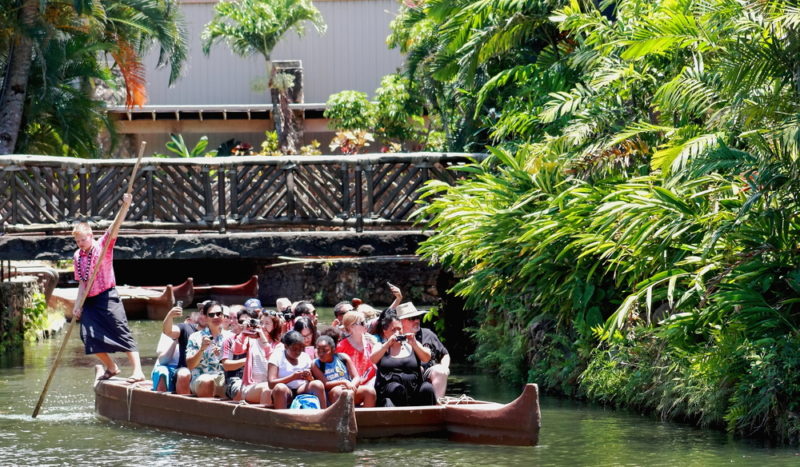 What To Expect At Polynesian Cultural Center And Why You Should Go
Here's Your Typical Day At The Polynesian Cultural Center:
If you arrive before 12:00 PM, explore the Hukilau marketplace.
Arrive at 12:00 PM, collect/purchase your tickets at the front desk.
Visit 2-3 islands, watch them dance, learn about their culture, participate in an activity, enjoy a tutorial, play traditional games, explore the culture's architecture, etc.
Watch the canoe pageant at 2:30 PM, the afternoon show where you listen to live music and enjoy a variety of Polynesian dances. Don't miss this!
Visit another 2-3 islands and explore your way through the traditional buildings. While walking around you'll find other attractions such as the missionary store – handmade Hawaiian quilts for sale, the canoe rides, the movie at the Pacific Theater (air conditioning!), and fun hands-on activities such as eating breadfruit cooked in a traditional oven or attempting to twirl poi balls simultaneously.
Eat dinner according to your time slot (depends on your ticket).
Watch the evening show at 7:30 PM.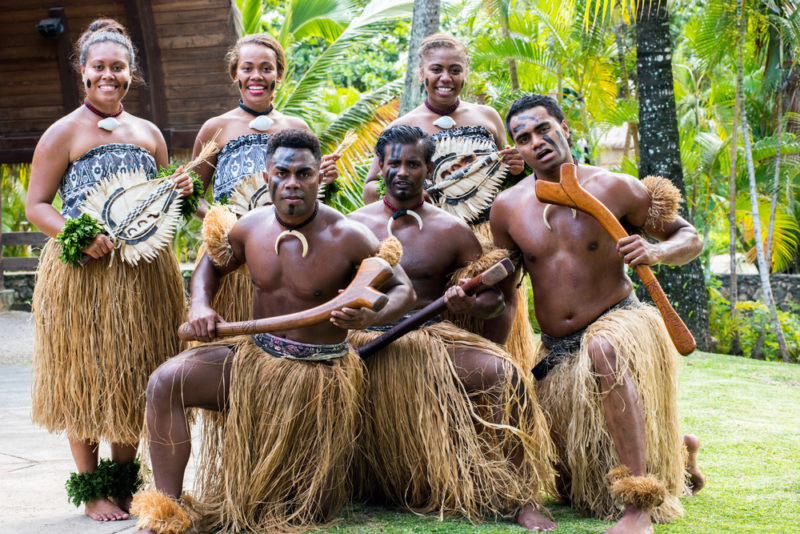 What To Expect
I would describe the Polynesian Cultural Center as a full day of interactive fun where you get to observe, participate (aka volunteer), and have your jaw drop as you watch men scale a coconut tree like a monkey or glare their meanest, war faces at you. Most of the time you'll be in the sun, so a hat and sunscreen are mandatory. And despite all the sitting you'll do at each island, you'll also spend plenty of time on your feet as you walk from island to island or try your hand at a traditional activity. Good and comfortable shoes are a must!
If you plan to visit all of the islands, participate in side activities and visit the small shops, be prepared for a strict schedule. It's actually really difficult to visit all of the islands in the allotted time because it's so easy to get sidetracked!
Many of the students and employees come from the island they are representing. I find this to be critically important to the Polynesian Cultural Center's success. The pride that each person has for their island home shows in each dance step, performance and question they answer – It's because of this enthusiasm for their home, visitors come away from the experience with a sense of awe and wonder.
Getting There
The Polynesian Cultural Center is in Laie and most likely far away from where you're staying. Plan to get here by 11:30 AM so that you can hit the ground running when they let you in at 12:00 PM. There are plenty of shops right outside (Hukilau Marketplace), so you can use the extra time to peruse the souvenirs. There are also a couple of restaurants here that are pretty good that you can take advantage of.
Booking a tour online means you can also book your transportation at the same time. Checking in for your bus pick up, Polynesian Cultural Center tickets and drop off will be seamless.
You can also book circle island tours along with your admission ticket. This is a great option for those who aren't renting a car and still want to make it out to this side of the island to do some exploring.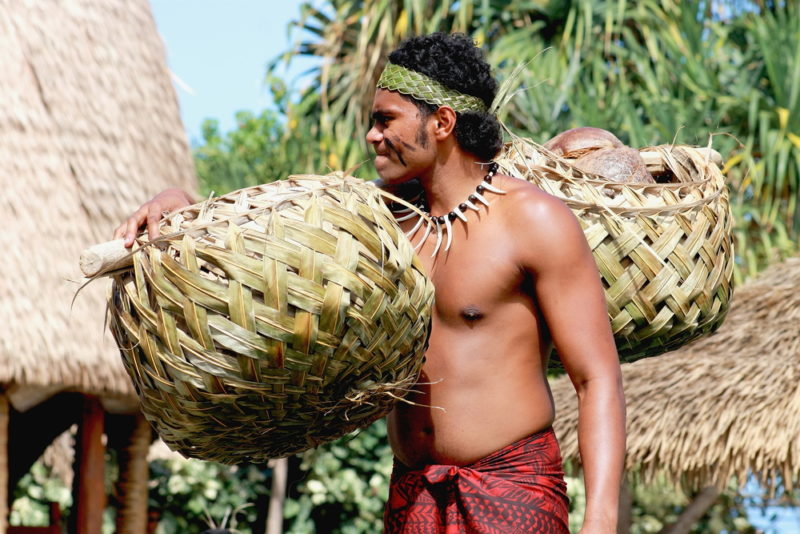 Manage Your Day Based On The People In Your Group
Truthfully, I believe anyone can attend the Polynesian Cultural Center and enjoy it. Young children will have no problem running from island to island as they explore. I'd highly suggest planning some break times if you know your children will get fussy later. The evening show is pretty spectacular and they won't want to miss it.
Older travelers who walk slower or are dependent on a wheelchair will also find themselves having a fantastic time. They may not get to visit every island, but the activities, architecture, structures and attractions between each island more than make up for what their missing. Also, once the performance at each island finishes, it doesn't mean you have to leave right away. Performers often remain to answer any and all questions you may have about their culture.
Polynesian Cultural Center Price Points And Choosing The Right Experience For You
As you can see from the Polynesian Cultural Center's website, they have a ton of options when it comes to tickets. In fact, it can get pretty confusing with all those Hawaiian words and what each package entails. The package I usually get is the cheapest one (hah!): Admission and show with free dinner. This is the most basic ticket. You'll get to come in at 12:00 PM, experience all the islands, enjoy a "free" buffet and watch the evening show.
The limitations to this ticket is that you won't get any of the extra tours, reserved seating, elaborate luau dinners, lei greetings or backstage passes. These, of course, all cost extra. Since I've never purchased the pricier packages, I can't speak for them. But I can say that I am always dead tired after a day at the Polynesian Cultural Center. I don't know how those with higher tickets survive all that extra stimulus!
I have at least twice upgraded my tickets to the next price point: Alii Luau Package. The difference being that your evening show seat selection is better. For me, sitting closer to the stage is absolutely worth it. Don't sit too close to the front though – the stage is big and dancers appear everywhere.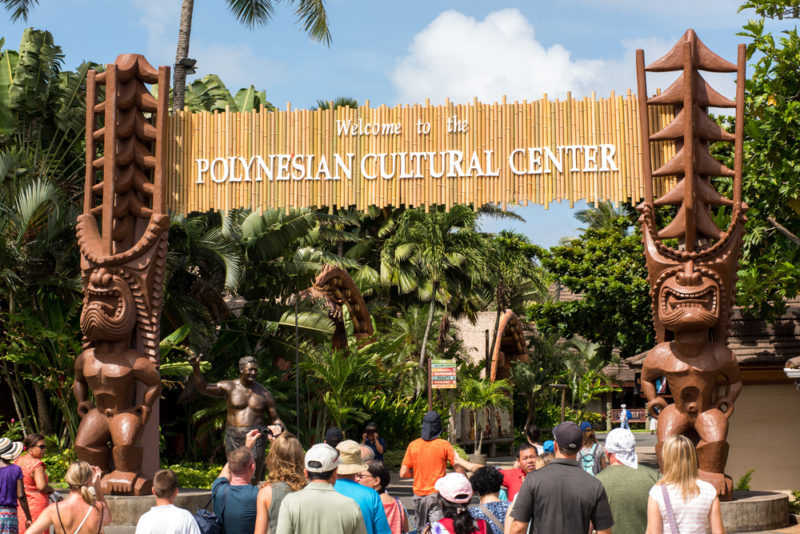 The Islands And Planning Your Day To Get The Most Out Of It
The difficult part of planning your day here is trying to see everything in just 1 day. If you have the time, consider spending a 2nd or 3rd day here in order to see everything without tiring yourself out. Each full day pass will get you into the Polynesian Cultural Center for 3 consecutive days total. Keep in mind that its perfectly OK for you to spend just a day here – most people do.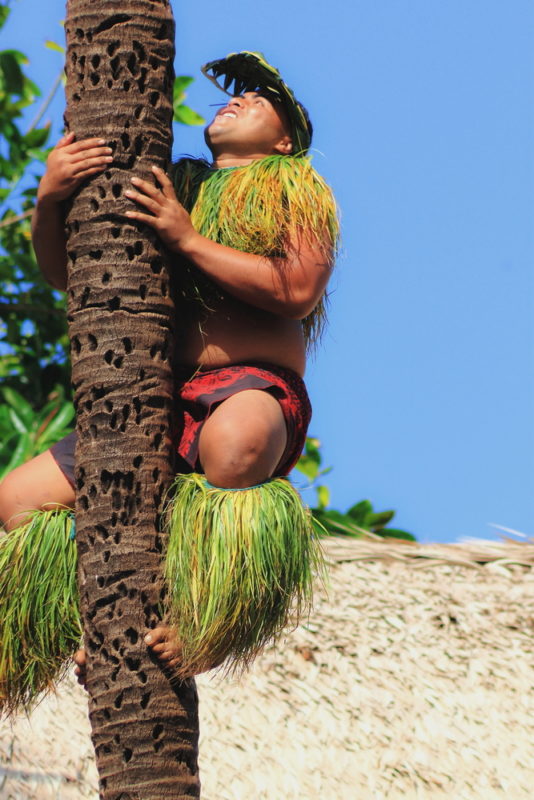 Tips For Visiting Each Island
Grab the pamphlet/brochure that they have at the ticketing desk. In fact, grab one for each person in your group. I've noticed that the Polynesian Cultural Center usually doesn't put these up for download. It's a wonderful brochure with an easy-to-read schedule of performance times and a map. You will be looking at this constantly to find out where you need to be and which show you'll be seeing next.
Study your plan of action in advance. The night before you should have your schedule set so you know where you're going. Also, make sure your group can handle your pace.
You need to visit Samoa and Tonga – the performances for these two are jaw-crackingly funny!
At 2:00 PM, head to the canal to find good seats for the canoe pageant. Sitting space is limited and shade even more so. My favorite spot to sit is on the Samoa side of the canal. There's more shade and some stone wall/stairs that act as seating.
Don't be too concerned if your party falls behind. After each island's performance, you're certainly welcome to stay and ask questions or participate in their side activity.
The more expensive your ticket was, the less planning you'll have to do since you'll have a private guide and reserved prime seating for you.
Samoa
Samoa is a really fun island to visit. This is where the coconut tree climbing, fire making and jokes happen. The performers love to poke fun at the crowd and pull a few laughs. They'll ask for a couple volunteers at some point so urge your child to go – they'll have fun!
The Samoan man pictured below is Kap Tafiti and is a local celebrity and ambassador. I remember him when I was a kid on a field trip and even then he made an impression. The last time I went he was still there going strong and he can often be found decorating the Polynesian Cultural Center bus advertisements. Keep an eye out for him because he's absolutely funny!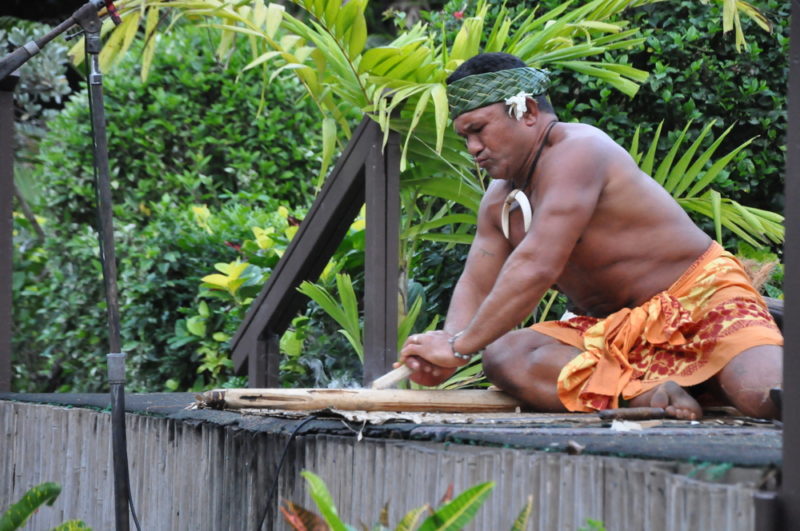 Aotearoa (New Zealand)
Aotearoa is a very unique stop. Their poi ball performance is different from any other island's and their side activities take up the whole lawn in their area. You can also get some cool tribal tattoos here, too!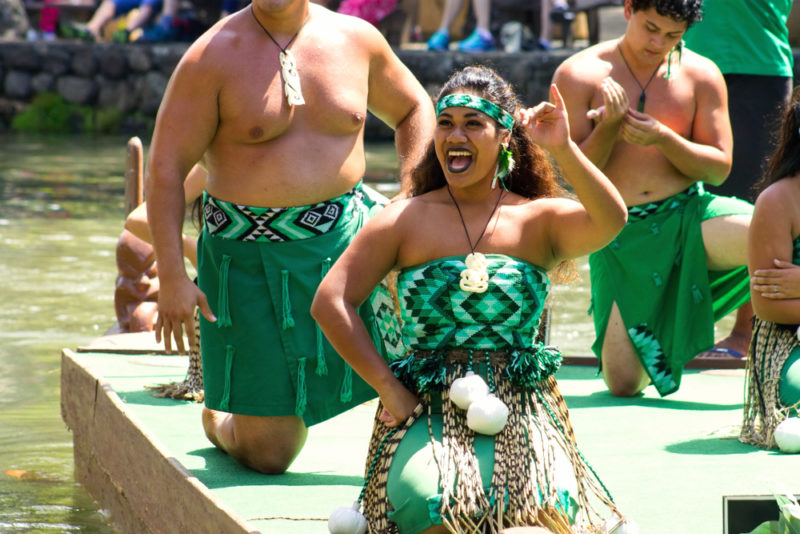 Fiji
The Fiji dancers, especially the men, are the most interesting to me. Their expressions while dancing can only be described as pure "manliness." When you think of tough ancient warriors, you'll think of the Fijian fighters.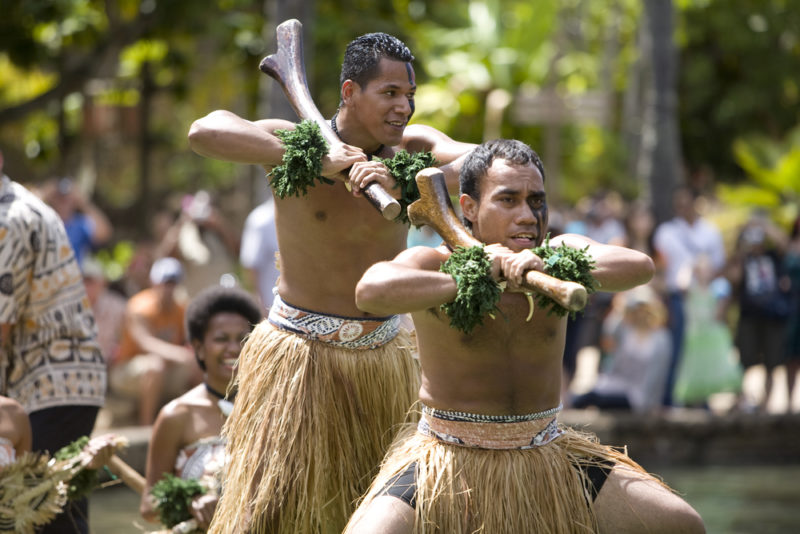 Hawaii
It's very interesting to learn what hula is and compare it to what you often see in tourist shows (usually Tahitian dancing). Hula dancing is very different from other Polynesian dances and you'll get to learn the differences here.
Local Tip: There are several free hula and Polynesian dance performances on Oahu. Check this post out.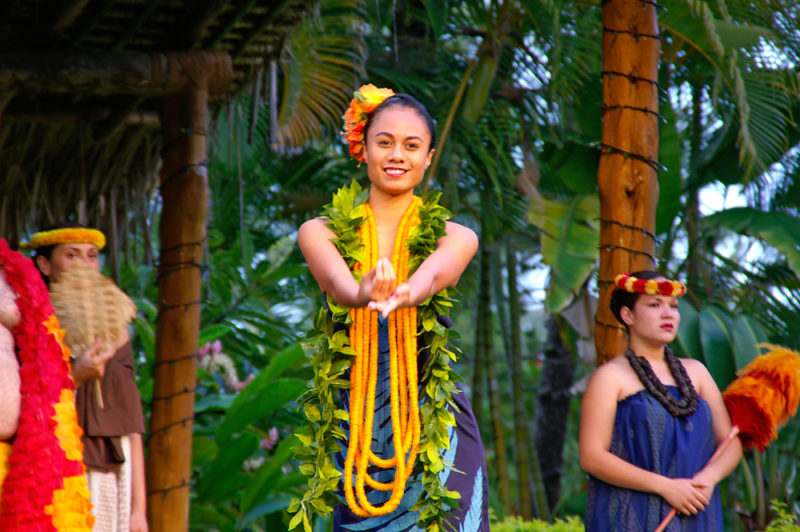 Tonga
The island of Tonga is another performance that shouldn't be missed. You'll hear the drums from afar just like Jumanji and it's amazing to hear how much louder these guys can yell! This is another show where they'll grab some volunteers. Hint: raise your husband's hand!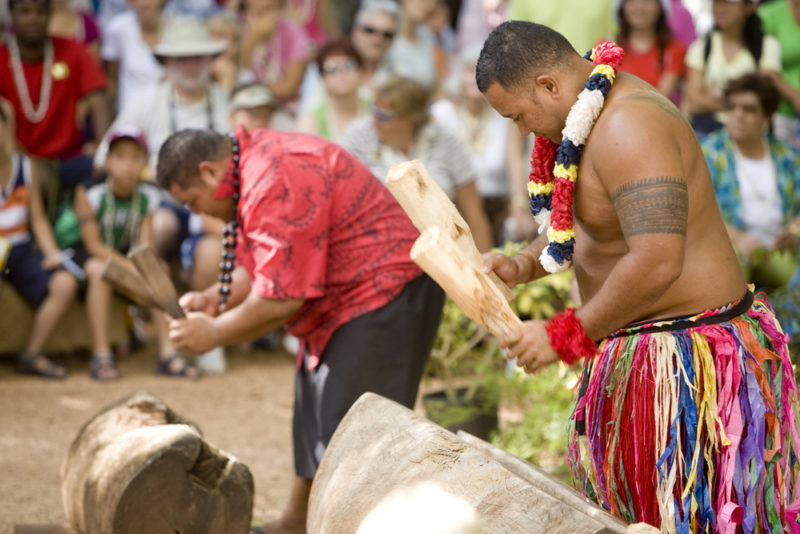 Tahiti
By now I'm sure you've seen the quick-hipped dancing of Tahiti in a hula show. Tahitian dancing is one of the most popular and for good reason! It's unbelievable just how fast they can move their hips!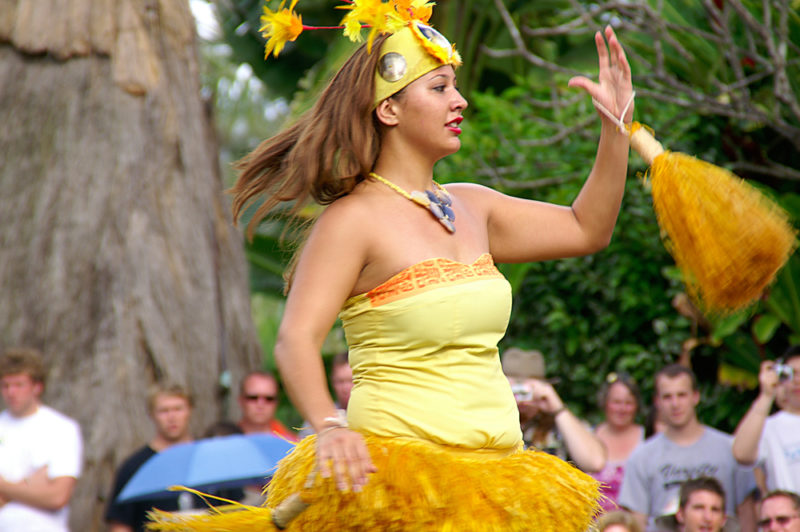 Extra Activities
Save the movie in the Pacific Theater for when your feet are sore. The air conditioning is strong in here so it's a delight when you get to sit and rest.
The missionary store has handmade quilts for sale. Hawaiian quilts have a very unique history and pattern and are still prized possessions even today.
The canoe rides are a fun way to cross the canal when you're tired. This will cost you an extra fee, but you'll get a nice informational tour along the way – not to mention that your feet will get a much needed rest.
There are plenty of "Go Native" activities where you'll get to do what the natives did many, many years ago.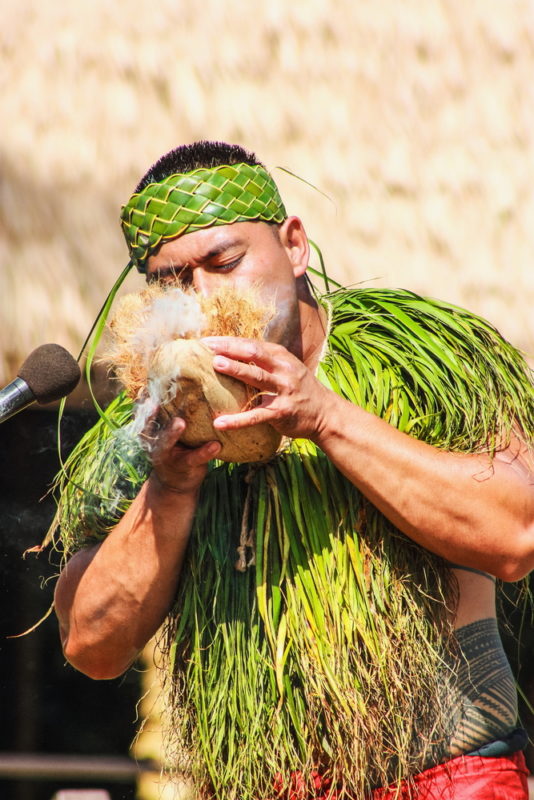 Polynesian Cultural Center Highlight – The Show!
Finally, the main event! I've seen the old show several times and the new one (Ha: Breath of Life) at least 3 times already. In my opinion it's even better now because the show now follows a story that the audience can relate to. All of the different types of dancing that you've seen throughout the day will have their moment and you'll be treated to highlights such as the fire dancing and heart-thumping drums.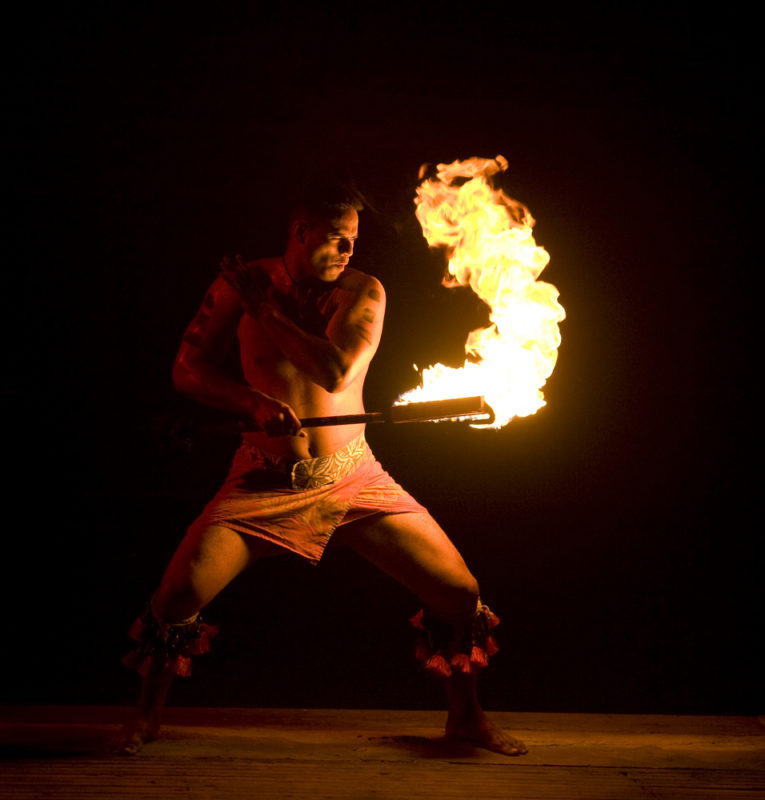 While central seating is the best, you won't really lose out even if you're on the side. You can still see the entire stage and the performers constantly move and shift to give you the best view. The stage is a large half circle and dancers even appear above stage in the background.
If you tire easily or don't feel like spending the day visiting the islands, consider buying tickets for just the evening show. The show is spectacular compared to any other hula or Polynesian dance show on the islands and makes for a nice evening out. Purchasing tickets just for the show isn't advertised on their site so you'll have to call or email them to set that up.
Fire Dancing – A Side Note
The fireknife dancing at Polynesian Cultural Center is some of the best that you'll ever see. The Center cultivates and invests in their students to a degree that not many other places in Hawaii are capable of. Below is a promo video for their annual fireknife dancing competition that showcases the range of talent this crew has.
Souvenirs, Photos, Stores
Before 12:00 PM or while waiting for dinner or the show, you can visit the many stores that sell an assortment of goods and souvenirs ranging from clothes to ukuleles. Plan some time to walk around (I usually find some extra time after dinner while waiting for the show) since many of the products here are exclusive to the Polynesian Cultural Center.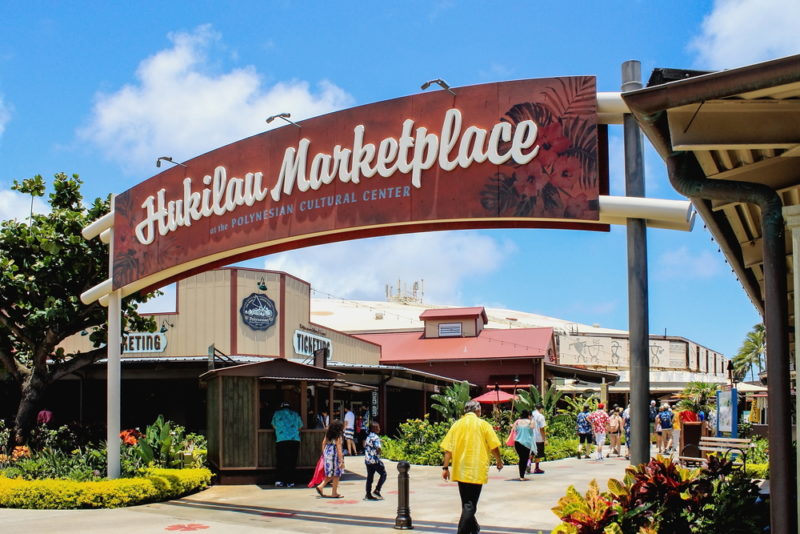 One perk if you volunteer for a show is that you'll get a photo op with the performers (as well as your picture taken while you help them out). At the end of the day, you'll be able to purchase these photos and keep them for an awesome memory.
Extra Tips For Polynesian Cultural Center
Eat lunch before you enter the Polynesian Cultural Center. The hour you spend eating inside means you'll miss 1-2 island performances. My top 2 favorite local places to chow down at are Hukilau Cafe and Papa Ole's Kitchen. They're only a mile away, too!
Need a place to stay that's close? If you can't find any suitable Airbnb accommodations, try the Marriott's Courtyard Oahu North Shore – it's very close to Polynesian Cultural Center and the beach is just a hop, skip, jump away.
All of the buffet options are great. While the menu options do overlap, the difference is that you'll be in different rooms (they're all pretty) and that the Alii Luau Buffet will have live entertainment.
Want a better seat for the evening show but aren't liking the price differences or extra perks? Get the ticket package you want and then call to upgrade your seating. It's so much cheaper! You can also change seats on the day of your admission at the front desk, but keep in mind that if it's a full house, they won't be able to move you anywhere.
Book A Tour: Visit the official Polynesian Cultural Center website to see their packages