This post may contain affiliate links, which means I'll earn a small commission if you purchase something through these links. You won't pay any extra; instead, you'll be helping Aloha With Love to thrive. Thank you! Learn more.
--
It's rare that my mom and all her sisters (let's call them the "aunties") are able to gather in one spot at the same time. So when everyone planned a trip to visit us in Hawaii, we took them all over the island including Waikiki's International Market Place.
At first glance, International Market Place is a high-end shopping mall. But there's plenty to do and see here and you may surprise yourself while exploring this unique outdoor shopping mall.
Aloha with love,
Amy
Local Tip: Lunch or dinner on the top floor at any of the restaurants in International Market Place is a good choice. The restaurants have a good vibe and there's a nice breeze up here.
A Brief History Of The Original International Market Place
The locals remember International Market Place as a local gem filled with kiosks, stalls and small shops filled with knick knacks. It was a place for good grub and a neat spot for visitors to shop for Hawaii souvenirs and trinkets.
Since its renovation in 2016, International Market Place has done a full turnaround. The shops are a mix of high-end brands and unique designs from fashion to skincare to souvenirs.
The neat thing about International Market Place is the huge banyan tree that marks this iconic spot. Back in the day, the shade was welcome among Waikiki's large cement buildings and harsh sun. The architects wanted to keep a part of the original International Market Place intact and have left this tree largely untouched. The tree is incorporated into the design and you can even walk among its branches like a tree house on the 2nd floor.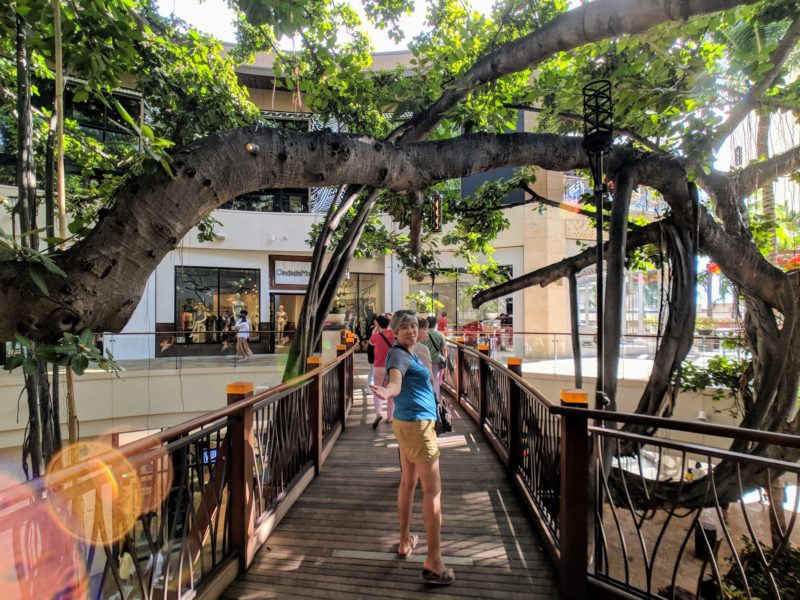 Even if you aren't a serious shopper, it's worth it to take a look around just for the banyan tree. Its size is magnificent and it's an amazing sight to see the branches that have formed several trunks and roots throughout its lifetime.
Local Tip: There are a couple of designated selfie spots that make for great Instagram posts. Also, don't miss the informational boards spread about the shopping center if you want to know more about the history of International Market Place.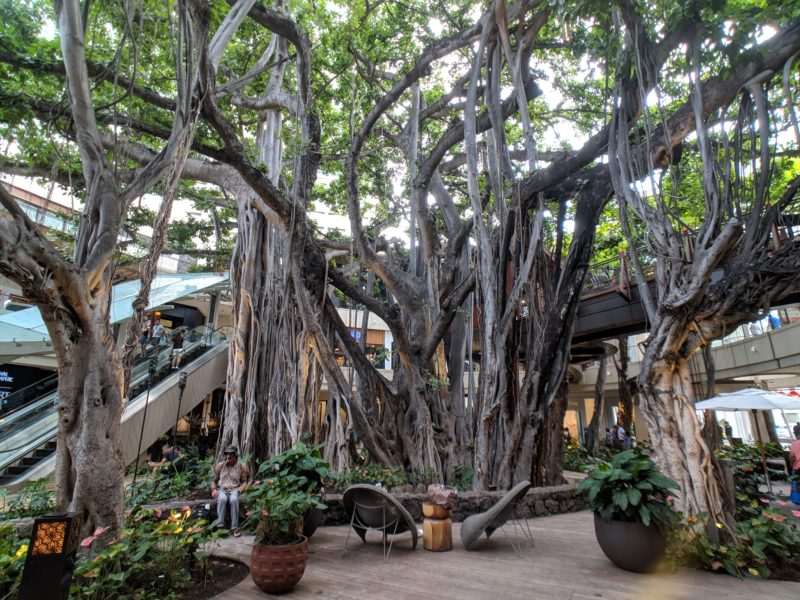 I love that there are so many places to sit in International Market Place. A problem I often run into while traveling is the lack of seating when I want to just sit, rest or enjoy the atmosphere. International Market Place provides a number of open seating and benches that are spread throughout the facility.
Local Tip: My favorite place to sit is on the second floor above the children's play area. There are a handful of large comfortable chairs and the foot traffic is minimal.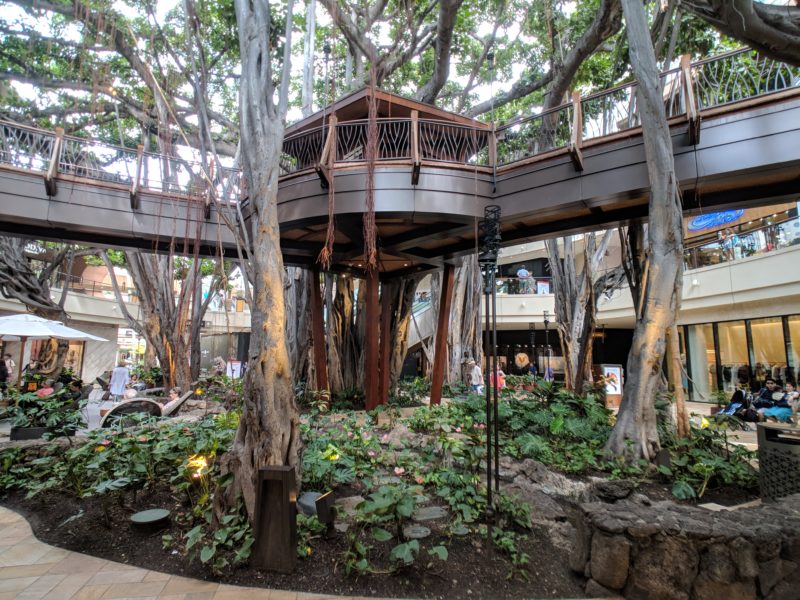 International Market Place Has A Fun And Free Water Area For Kids
One of the unique aspects of International Market Place is the play area they've set aside just for kids. There's plenty of space for parents and family members to sit and watch their children play in the water. Despite the crowd of people that Waikiki is known for, I find it amazing that this spot is never too crowded.
This spot is a good base point while everyone else explores and does some shopping. Family members can take turns watching the kids play and it's totally acceptable to make like you're having a picnic even though you're in the middle of a shopping center. The children can rest when they get tired and head back out into the water when they've recuperated.
Local Tip: International Market Place also hosts a lot of events, many of which are free to the public. Participate in a lei making class, yoga session or even Hawaiian and Polynesian storytelling performances.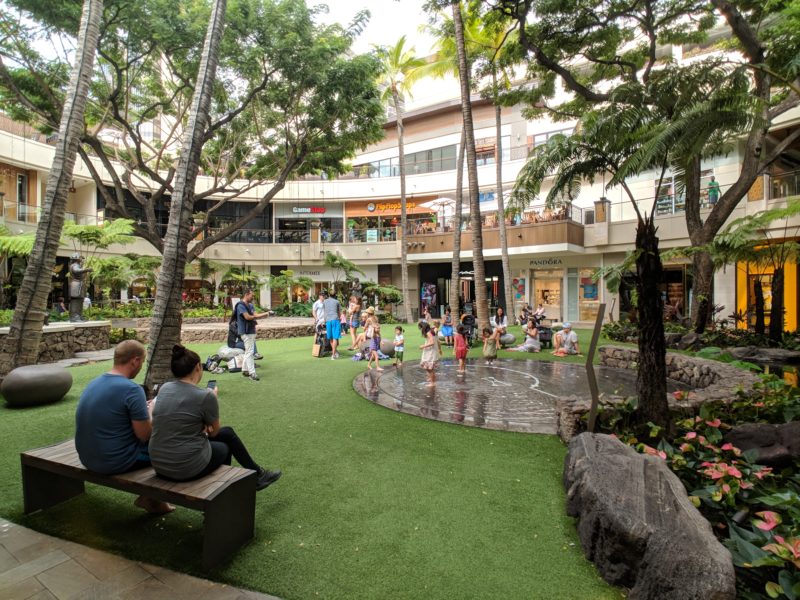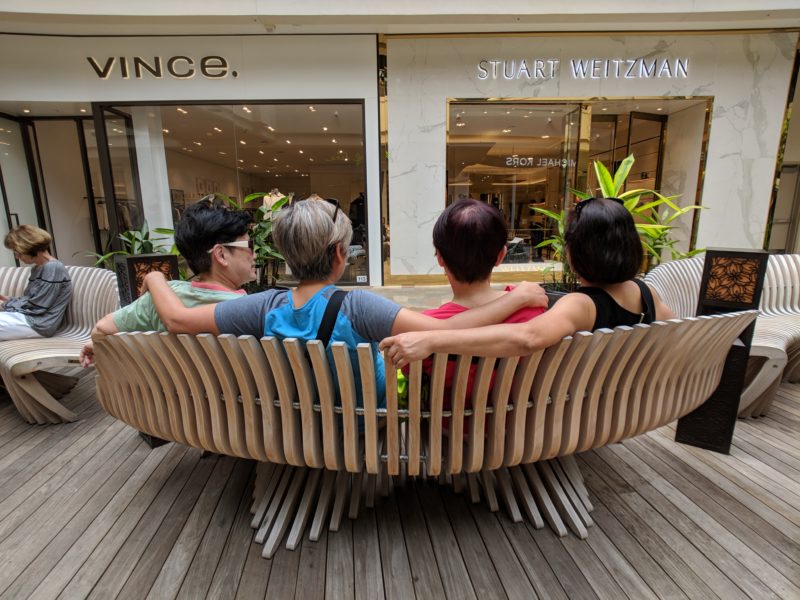 What Else Is At International Market Place?
Expensive shops aren't the only thing you'll find at International Market Place. There's some neat local gems, too! Here are a few of my favorites:
Crazy Shirts – A local shirt brand that has been around since 1964. Ask any local, we all know Crazy Shirts and their iconic cat shirts, kona coffee dyes and fun local designs.
Honolulu Cookie Company – Home of Hawaii's pineapple-shaped shortbread. If you rode on Hawaiian Airlines, you probably ate one on the flight!
Magnolia Ice Cream & Treats – If you're in the mood for ice cream, this is one place to try some local, fruity flavors. It's a bit pricier than your average ice cream, but they do a good halo halo (Filipino dessert) and I can get my ube ice cream fix here.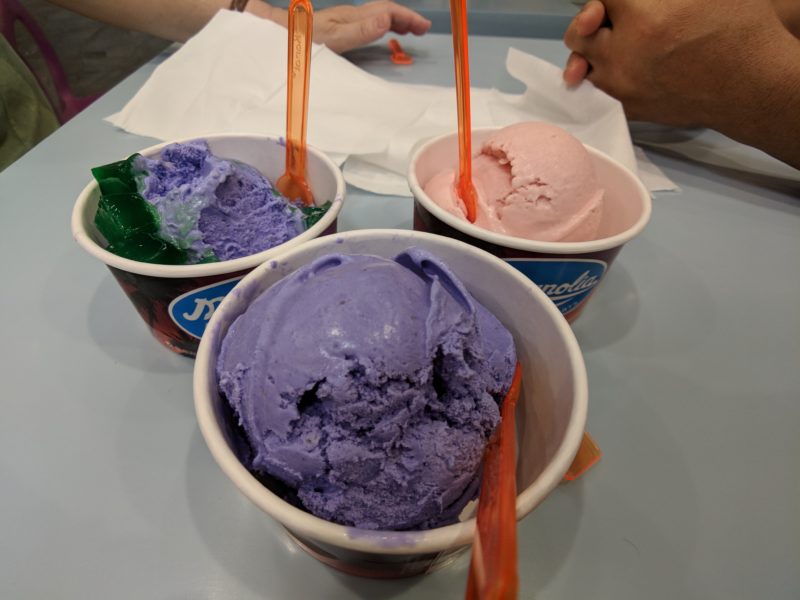 Martin & MacArthur – Known for their woodwork with koa wood. Koa is a very special type of wood from Hawaii and makes for beautiful wood pieces and decor. If you want something made from koa wood, Martin & MacArthur is one of the best places to check out.
National Geographic Fine Art Galleries – This art gallery is not local, but I enjoy coming in here because it's just like entering an art museum. You can walk through the whole gallery and enjoy each photograph one by one.
Mitsuwa Marketplace – I love this Japanese grocery store because it's packed with food and snacks popular among local palates. They even have a menu with plenty of seating inside. It's hidden deep in the back of International Market Place, but well worth a visit in my opinion.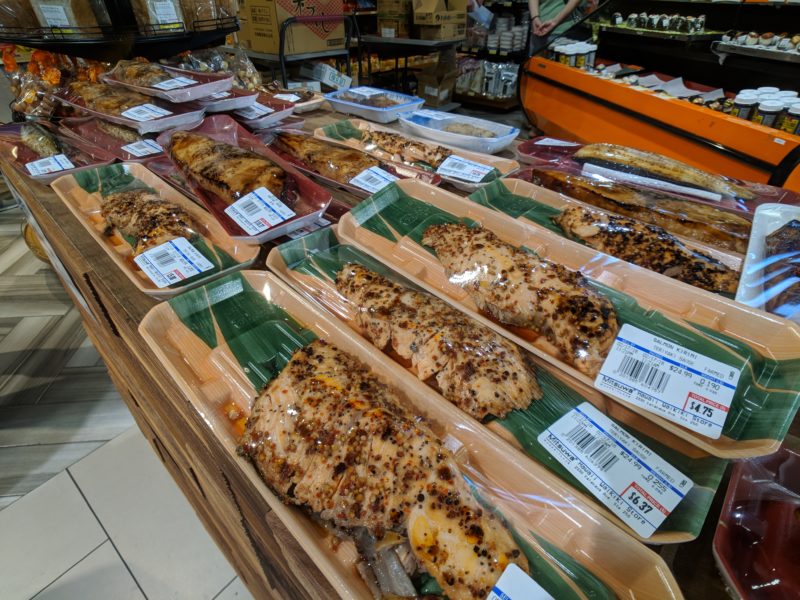 More food options at International Market Place
If you're looking for more to eat, try some lunch at the Street Food Hall by Michael Mina. There's a decent collection of restaurants arranged in a modern food court style. I also like the Eating House 1849 by Roy Yamaguchi and Goma Tei Ramen – a restaurant chain owned by two local brothers that have been slowly building their restaurant brand.
How To Get To International Market Place
International Market Place is located in the heart of Waikiki on Kalakaua Avenue, right across the street from the Outrigger Waikiki Beach Resort. It's open every day of the week from 10 AM to 10 PM.
There is a parking lot with parking validation available as long as you spend $10 at any International Market Place store or restaurant. You can enter the parking lot from the Kuhio Avenue and Walina Street intersection.
Local Tip: Apparently you can get a free gift if you find all the information plaques in International Market Place. I have no idea what the free gift would be, but it would be a fun game if you had to occupy your kids while shopping.