This post may contain affiliate links, which means I'll earn a small commission if you purchase something through these links. You won't pay any extra; instead, you'll be helping Aloha With Love to thrive. Thank you! Learn more.
--
COVID-19 has made meat prices go up so Mom has kept an eye out for good deals on meat. She found some local chicken from 50th State Poultry, Inc for $5 from our local supermarket and shared her fried chicken recipe with me. This chicken is noticeably smaller than mainland chicken, but it really doesn't matter since you can't beat the price. It's also less fatty, so Mom recommends leaving the skin on.
Mom's fried chicken recipe is fast. Unlike other fried chicken recipes that require certain spices and special rubs, Mom wants to make dinner quickly without making too much of a mess. Since there is very little seasoning in the batter, I like to dip the fried chicken in some rosemary salt for added flavor, while Dad and Michael like ketchup or barbecue sauce.
Since these chickens are on the smaller side, Mom used 2 whole chickens, which was enough to fill us up. Not bad for just $5 a chicken! Has anyone else tried out 50th State Poultry chicken? Let Mom and I know how it goes!
Aloha with love,
Amy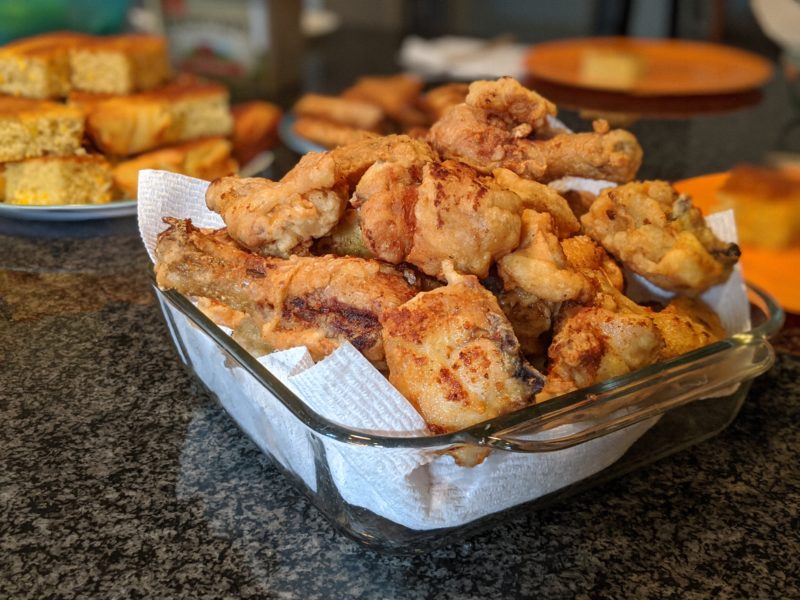 Ingredients
2

Whole chicken

50th State Poultry, Inc.

4

Egg yolk

2½

tsp

salt

1

c

cornstarch
Instructions
Give the chicken a quick rinse, and cut the chicken into smaller sections (wings, breasts, thighs, drumsticks). Soak in a bowl for 2 minutes.

Transfer the chicken to a colander and let it drain for 30 minutes.

Add egg yolks, salt, and cornstarch. Mix with gloves to avoid batter sticking to your hand.

Cover and refrigerate for 30 minutes. The batter will solidify as it cools down and will stick to the chicken when you deep fry it.

In a large pan, add cooking oil until it is 1 inch in height. Adjust the stove to high heat. Add the chicken and cook about 15 minutes.

Note: Wings and smaller pieces will cook faster. Drumsticks and thighs will take longer so cook these first.

During the first 15 minutes, you'll notice a few pieces will start to "bleed" from the top, uncooked side. When the blood flow begins to slow down is a good time to flip it. Cook for an additional 7 minutes, or until golden brown on both sides.

Remove from pan and lay chicken on newspaper and paper towel. Continue to cook the rest of the chicken.

Optional: Once all of the chicken has been deep-fried, set the stove to high heat and cook each piece a second time for 2 minutes. This will make the batter extra crispy.
Notes
I like to eat Mom's fried chicken by dipping it into a small side dish of sea salt. I'm currently working on a bottle of rosemary salt that is super fragrant and really brings out the chicken's juiciness with each bite.
Add any other spices you'd like to this basic recipe. This is just a starting template for you to refer to so you get a nice thick batter around the chicken. But this plain and simple recipe still rocks!