This post may contain affiliate links, which means I'll earn a small commission if you purchase something through these links. You won't pay any extra; instead, you'll be helping Aloha With Love to thrive. Thank you! Learn more.
--
When I lived in Japan, I ate a lot of donburi – Japanese rice bowls topped with meat and vegetables. But when you think of the "original" donburi, oyako don is what comes to mind. Oya meaning parent and ko meaning child, this Japanese dish is a mix of chicken and egg on top of a bowl of hot rice. Usually, Mom slices up a few pieces of chicken, but since she had made chicken katsu for dinner the night before, we decided to use the leftovers for our oyako don dinner.
You don't always have to use chicken for this recipe. In the past we've used pork, thin slices of beef, and even leftover pork katsu. If we go to a restaurant and can't finish our chicken katsu, pork katsu, or meat jun, the leftovers are saved to make donburi. Vegetarians will also find this a delicious and easy recipe by using tofu and vegetables as their topping. The tofu really absorbs that delicious shoyu flavor while it's cooking.
If you ever have the chance to visit Japan, I do recommend that you try an authentic (and affordable!) oyako donburi easily for 500 – 750 yen (about $5 – $8). Give the dish a try and I promise you'll be trying out this easy recipe at home for yourself.
Aloha with love,
Amy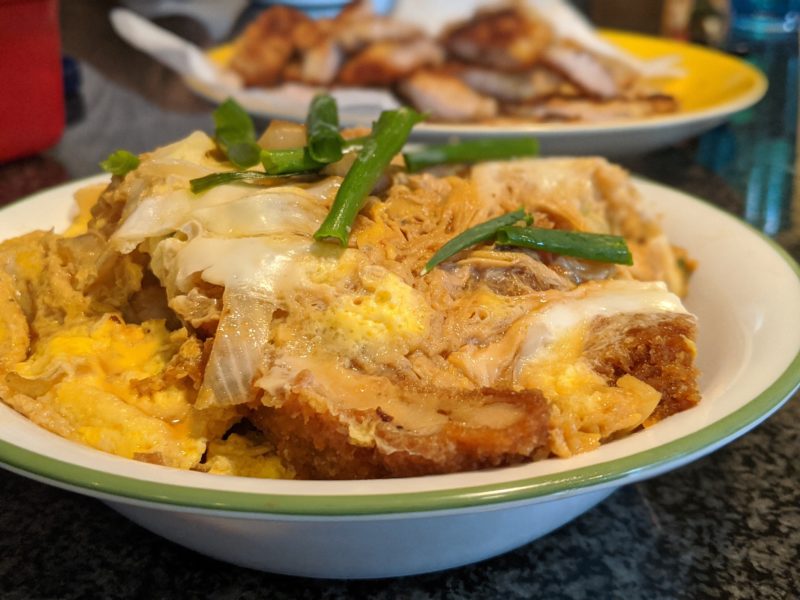 Ingredients
Shoyu base
½

c

shoyu

Soy sauce. Kikkoman.

1

c

water

¼

c

mirin

¼

c

sugar

Or 8 packets of Truvia.

1

packet

hondashi
Main ingredients
2

c

onion

Medium. Sliced.

2

c

Green cabbage

Same amount as the onions.

2

c

Chicken katsu

Or slices of chicken.
Instructions
To create the shoyu base, mix shoyu, water, sugar, mirin and a packet of hondashi together. This is the same shoyu base as Mom's cold somen noodle recipe; however, you don't have to bring it to a boil since you'll be cooking this sauce later.

Mom sliced ⅔ of a medium onion that we had leftover in the fridge and it was perfect to feed our family of four.

Slice the same amount of green cabbage along with a handful of green onions.

Traditionally, oyako donburi is served with chicken, but Mom used left over chicken katsu from the night before. Slice up as many as you'd like, but Mom put in about 8 – 10 pieces of chicken katsu per serving.

Begin with a small frying pan on high heat and pour in ¾ c shoyu base.

Add in a ½ c of onion and a ½ c of green cabbage.

On top of the vegetables, add the slices of chicken katsu.

Let the sauce come to a boil. In the meantime, scramble 2 eggs in a separate bowl.

Once the shoyu base begins to boil, very slowly pour the scrambled egg on top of vegetables and chicken katsu. The egg needs to cover the entire surface area so that everything sticks together and tops your bowl of rice in one piece.

One trick is to count to 15 while you pour the eggs. This will ensure an even layer of egg over the area. Cover and reduce the heat to low. The steam will cook the rest of the egg.

After 3 minutes, uncover and sprinkle a few slices of green onion on top for some nice color. Let this cook for another minute for the green onions to soften.

Press in on the egg from the outer edge to make sure it isn't sticking to the pan.

In a medium bowl, add some hot rice and slide the oyako on top. Enjoy!