This post may contain affiliate links, which means I'll earn a small commission if you purchase something through these links. You won't pay any extra; instead, you'll be helping Aloha With Love to thrive. Thank you! Learn more.
--
I needed a mental break from some recent life-changing events in my life so I decided a visit to Wahiawa Botanical Garden was necessary. The great thing about Wahiawa Botanical Garden is that it's the next town over from my house and only takes my 10 – 15 minutes to drive to.
It was a wonderful change of scenery and I loved that as a botanical garden featuring rainforest trees and plants, there was shade everywhere. I could walk around comfortably and it wasn't hot at all (although it was slightly more humid in the lower areas – but I barely broke a sweat).
Plus, I had heard rumors that the sakura (Japanese cherry blossoms) were blooming so it was a good a time as any to visit this awesome botanical garden!
Aloha with love,
Amy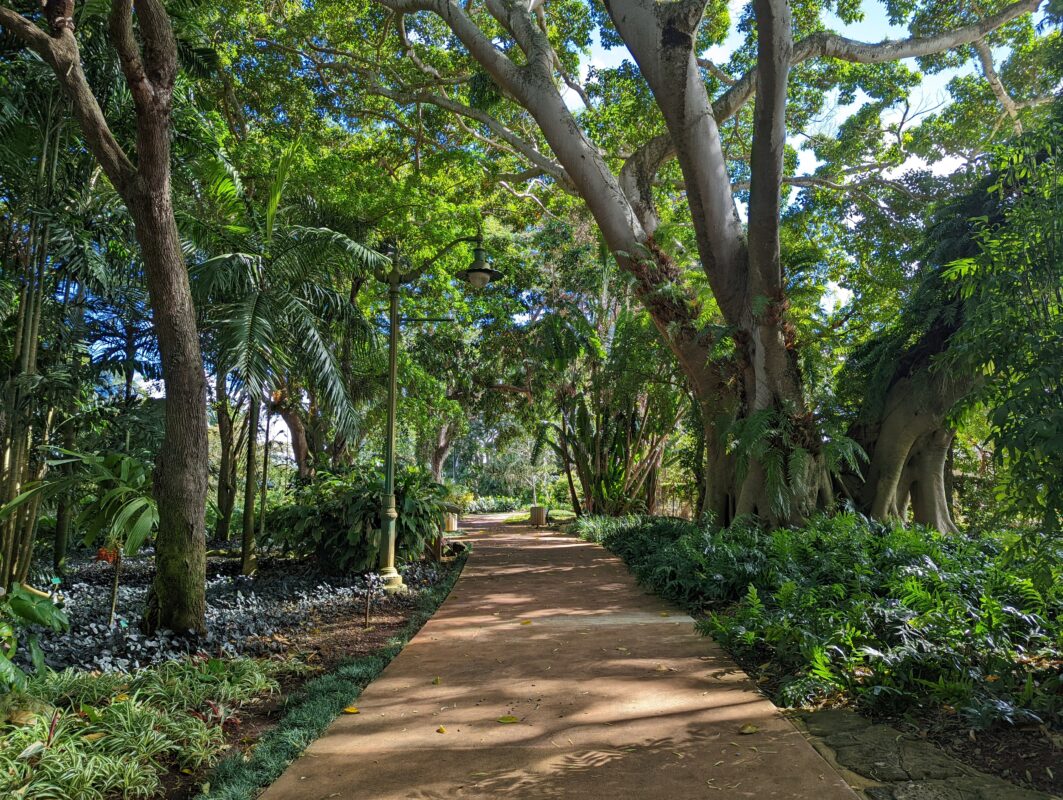 About Wahiawa Botanical Garden
Wahiawa Botanical Garden
1396 California Avenue
Wahiawa, HI 96786
The best part about Wahiawa Botanical Garden is that it's free! Weekends can be a little busy so I recommend planning your visit for a weekday if possible. The parking lot is on the small side and at 10 AM, there were only 2 parking spots left when I drove in on a Saturday.
Most people will typically spend 1 – 2 hours strolling the grounds, but if you feel like picnicking, your visit can easily stretch to 2 – 3 hours. Picnicking is welcomed and a handful of groups sat down under the shade on the large lawn to enjoy their meal under the surrounding trees. I saw several families bring in their rolling coolers, lay out their picnic mat and relax as they ate and enjoyed the view.
There was a hen with her chicks walking around looking for crumbs, but they didn't really bother any of the picnickers. I know some chickens can really get annoying if they know harassing you will get them free food, but these guys seemed calm and happily walked away when no food was thrown their away. Side note: don't feed them!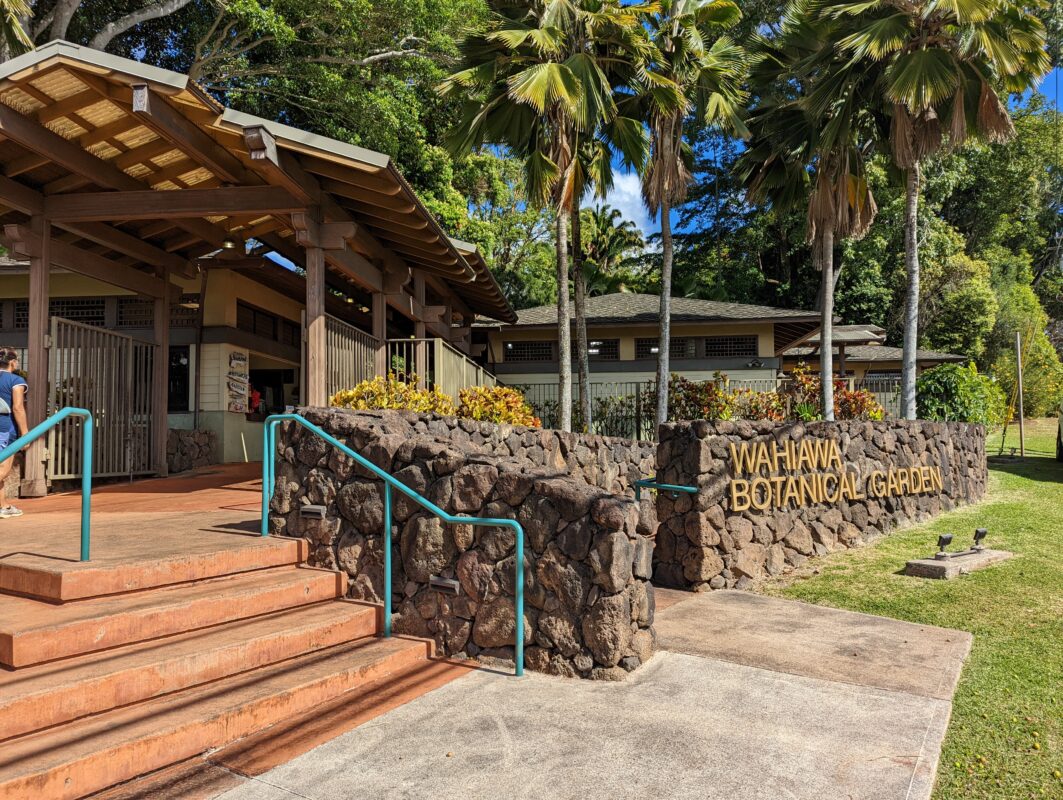 Walking and strolling
When you first enter Wahiawa Botanical Garden, stop at the front desk and grab the free pamphlet and bird checklist to guide you on your visit. The pamphlet is very informational and even includes a map so you can make sure you hit all of the different areas and plants. The garden is split into different sections, so it's a great way to explore as the types of trees and plants change as you walk further in.
The bird checklist is printed in color and is a wonderful keepsake for your visit. If you only plan on strolling, you might not see a lot of these birds as some of them like the Japanese White-Eye (Mejiro) are people shy and hard to spot. But if you have the time, there are plenty of secluded benches with less foot traffic and you can spend a good amount of time bird watching. My favorite is the white-rumped shama or shama thrush! They remind me of the mainland birds I've seen at national parks.
And yes, even the chickens have made the bird checklist.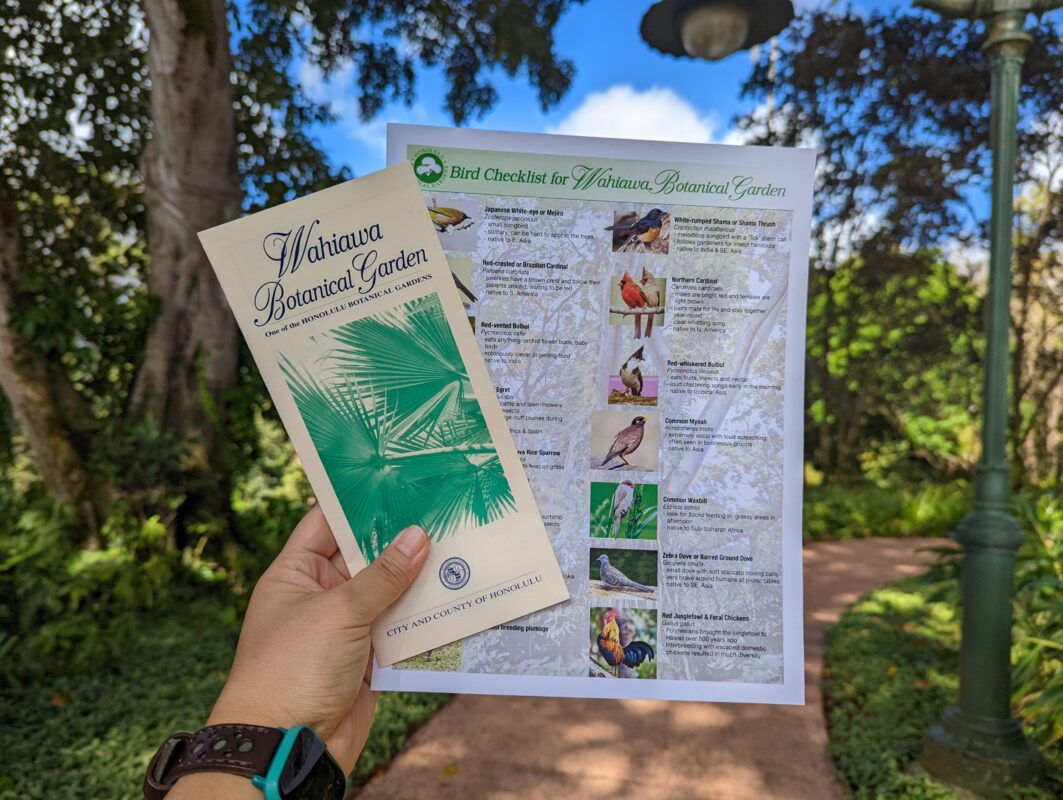 The garden features different sections and most have their own informational plaque where you can learn about the plants and history. They're each worth a read and because this botanical garden is so shady, the text is visible and easy to read. In Hawaii, sometimes our plaques are so sun-weathered they're illegible! But I have no complaint about these.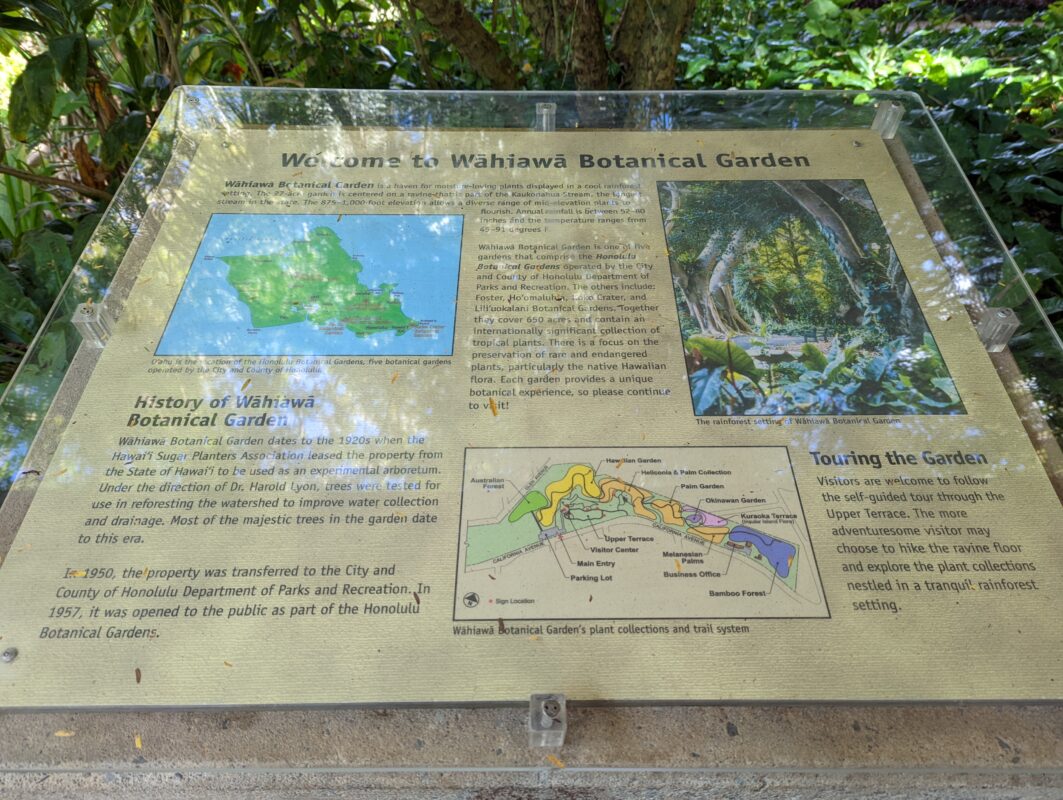 My favorite section is the small bamboo forest – you can't miss it because you'll walk past it as you go further into the garden. It's also right next to the big lawn where many people choose to picnic. It's such a neat sight to see and very different from any other rainforest that you would typically see in Hawaii.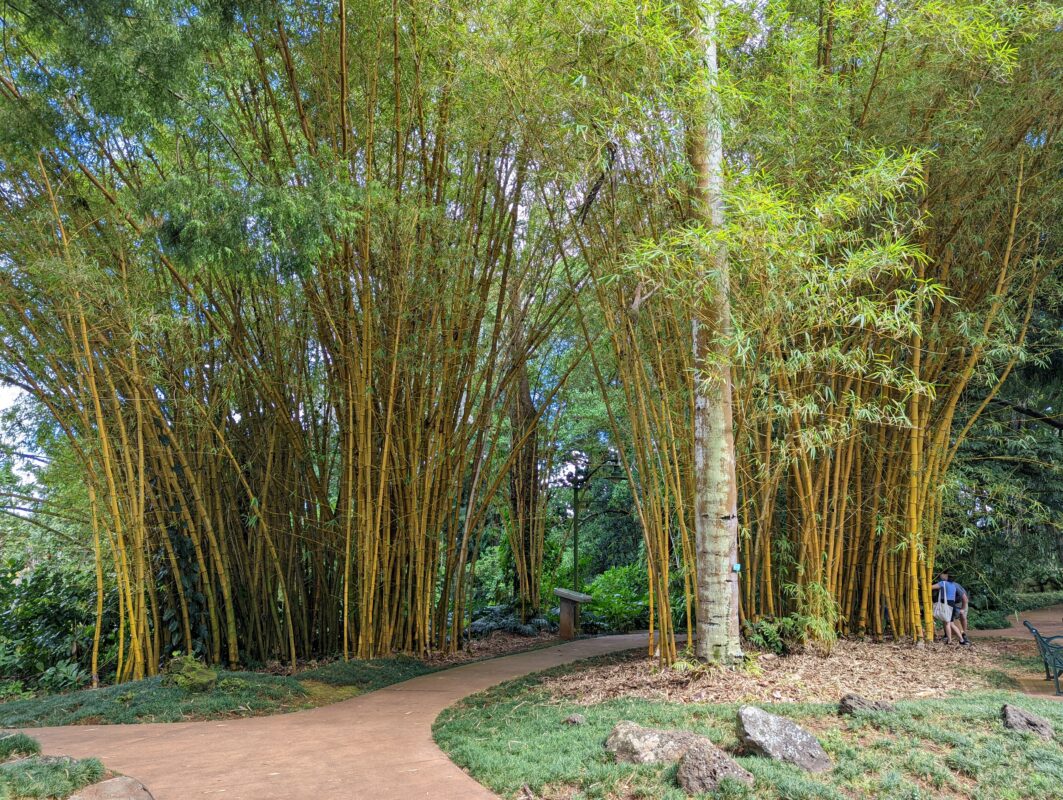 For the most part, Wahiawa Botanical Garden is lined with beautiful pathways that are smooth and easy to walk. But as you go further in, you can choose to go down into a rocky area that's a little more on the wild side. I don't recommend this area for those with bad balance, weak ankles, walking disabilities and young children. The rocks are loose and I can imagine someone getting hurt if they weren't paying attention to where they were stepping.
But the forest near this rocky path is beautiful and wild in its own way and if you can walk it, it's worth a look. There are a few stone steps going back up where you can get a good view, but these stairways don't reconnect with the original path so you'll have to backtrack to return. You will work up a bigger sweat here, though. It's a little warmer and the loose rocks will have you breathing just a tad harder, but it's nothing too drastic.
Other points of interest
One of my favorite sights was this cool "stump" on the rocky pathways. It was enormous and the picture just doesn't do it justice. I felt extremely tiny in comparison and wished I could have seen the original tree!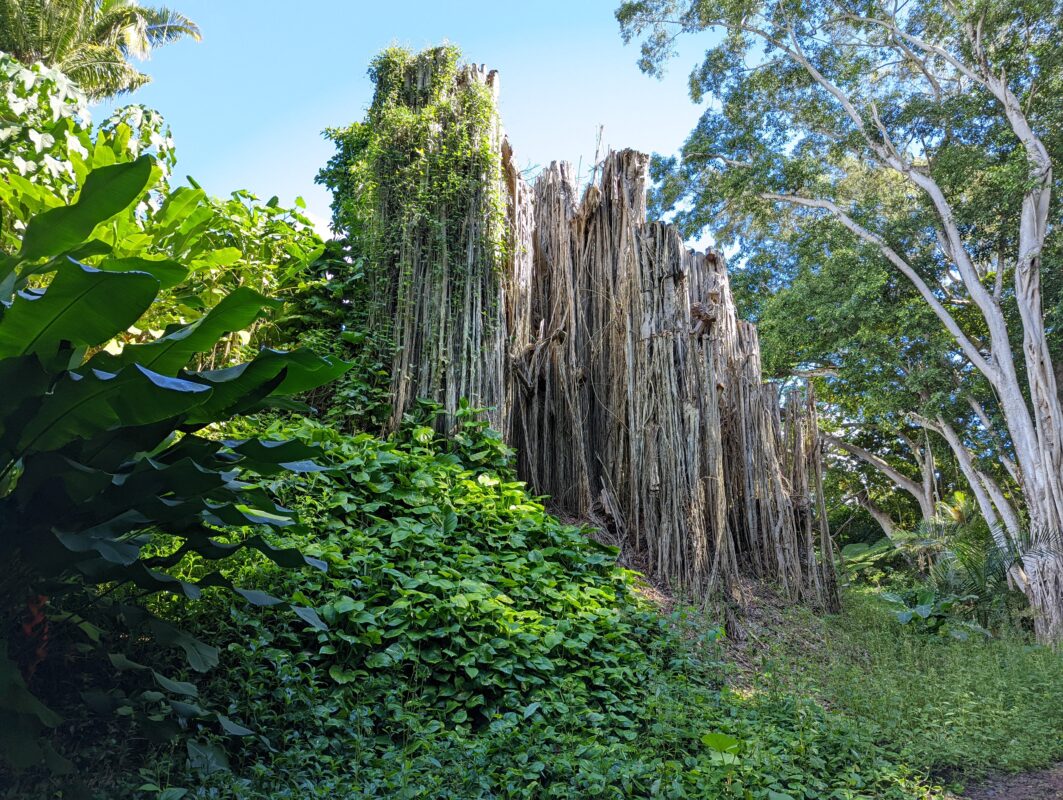 I had heard rumors that the Japanese cherry blossoms (sakura) were blooming in Wahiawa Heights, which was why I decided to visit Wahiawa Botanical Garden in the first place. The rumors were spot on and the blossoms were in full bloom throughout the entire Wahiawa Heights neighborhood! These blossoms are gorgeous and it was nice to be able to see them since I haven't gone to Japan since the pandemic began.
I thought I'd see more local photographers coming out to take pictures, but I only saw one couple with their fancy cameras and ladder. Other than that, the view belonged to me and I celebrated hanami (cherry blossom festival) without the big crowds and traffic!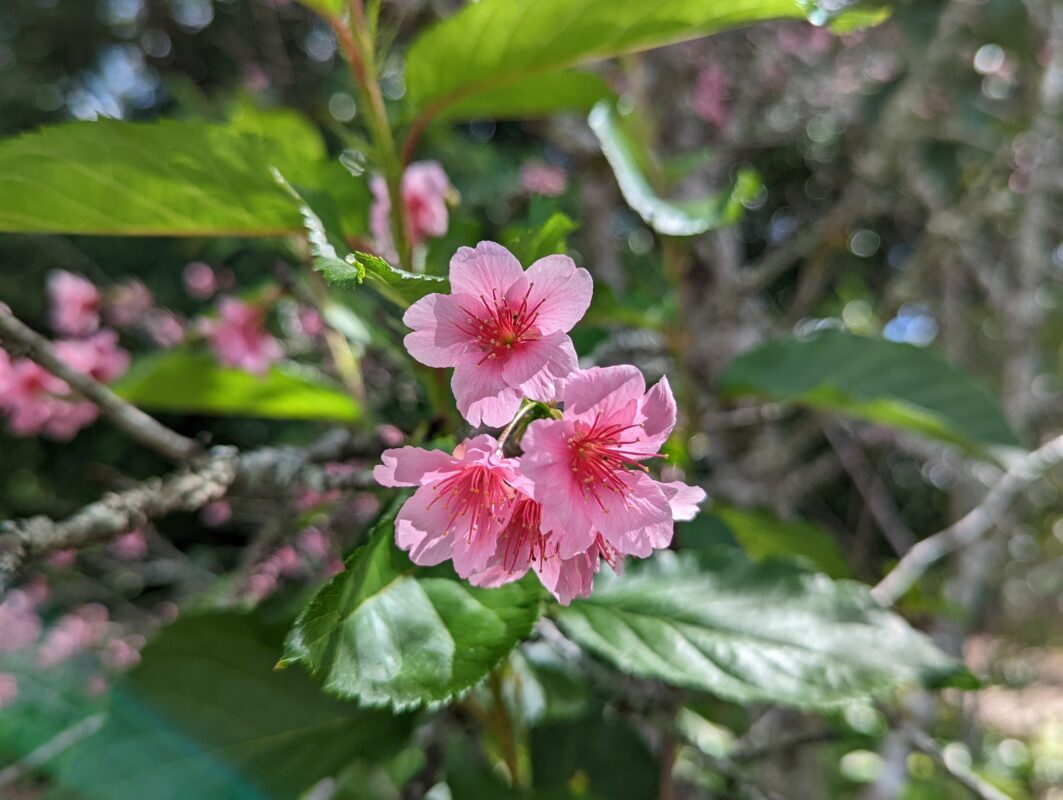 Tips for visiting Wahiawa Botanical Garden
You can't go wrong with bringing mosquito repellent. Rainforests are notorious as a mosquito breeding ground and Wahiawa Botanical Garden is no different. Spray some on your legs and arms and you should be good to go.
If you're just walking here, you'll only spend about an hour here. It's a lovely place to picnic so consider having a relaxing lunch here instead! Wahiawa has some great local eateries that most visitors end up passing by because they're on their way to the North Shore.
Wahiawa Botanical Garden is a great place to take young kids, the elderly, and those with walking disabilities or health issues. The smooth pathways are extremely easy to walk and a wheelchair will have no problem on the side sidwalks.
The big white bridge you'll see from the botanical garden is actually accessible from the parking lot and I recommend crossing it to get a lovely aerial view of the gardens.
Early spring when the weather is just beginning to warm up from winter is when the cherry blossoms start to bloom in Wahiawa. Cross the white bridge to see some of the trees up close, or continue to drive up Wahiawa Heights and you'll see plenty of cherry blossom trees scattered throughout the neighborhood.