This post may contain affiliate links, which means I'll earn a small commission if you purchase something through these links. You won't pay any extra; instead, you'll be helping Aloha With Love to thrive. Thank you! Learn more.
--
Locally known as Tantalus, Puu Ualakaa State Park is a gorgeous lookout in Honolulu that provides a fantastic break from the city buzz. There are a few tour companies that make their way up here, but the crowd doesn't get too heavy as the parking lot is small.
If you have the chance, bring a picnic mat and pack a few snacks! The view is lovely and you get a clear view of Honolulu against the backdrop of Diamond Head.
Aloha with love,
Amy
Visit Tantalus For A View Without The Busy Crowd
The great thing about Tantalus is that it's easy to get to and you expend almost no energy for a world-class view! Getting here is a cinch if you're staying in Honolulu and it makes for a great escape when you need a break.
Besides visiting during the day, the night view is also amazing. The city lights cast a soft glow over the entire island and I'm sure you'll be impressed by the sight. The park does close at 7:45 PM though, and although I've never seen the gates closed before, you can just as easily stop on the side of the road near the top and see the Honolulu city lights.
Local Tip: This area has a few Micronesian ginger flower bushes that smell lovely! These are the same flowers that are used to make the Micronesian ginger lei (you can often see this lei being made in Chinatown on Maunakea street).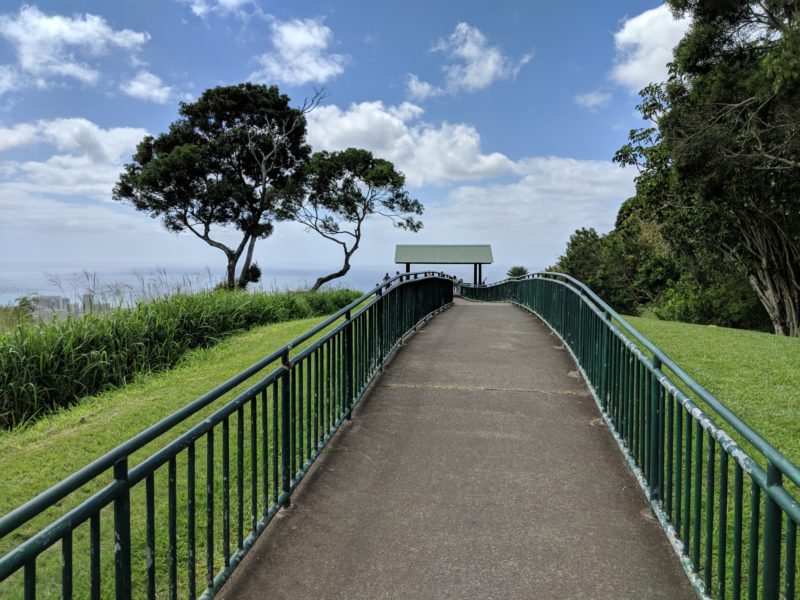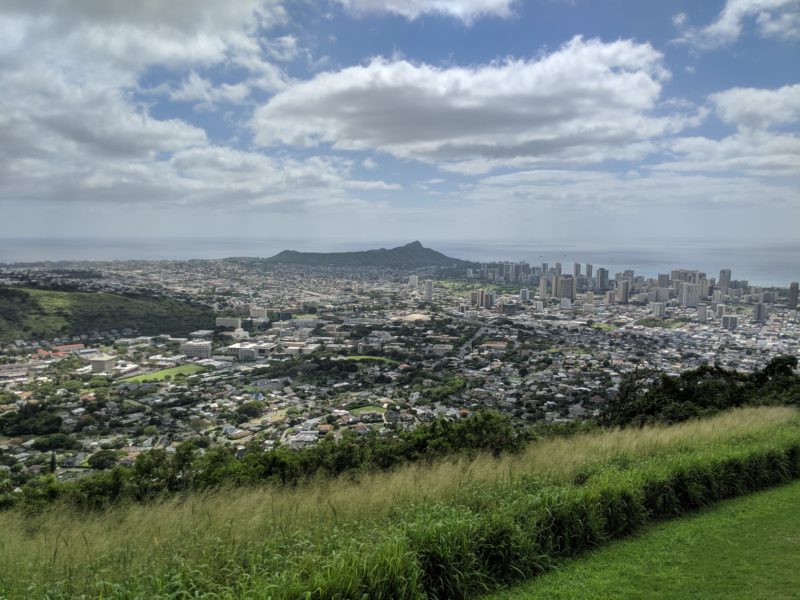 Hike (Walk) And Picnic At Tantalus
When you first enter Puu Ualakaa State Park, you can park in the first parking lot if you want to stretch your legs a bit. There's a restroom facility and the walk to the Tantalus viewpoint (and the second parking lot) will only take you 5 – 10 minutes. The walk itself is easy as you'll be on grass and dirt.
One of the best things you can do at the Tantalus viewpoint is to have a picnic! There's a picnic area near the first parking lot, but it's often taken especially on the weekends. You'll have to get there early if you want to reserve the spot. However, another option you have is to go right on the grass of Tantalus viewpoint and enjoy the sight of Honolulu and Diamond Head.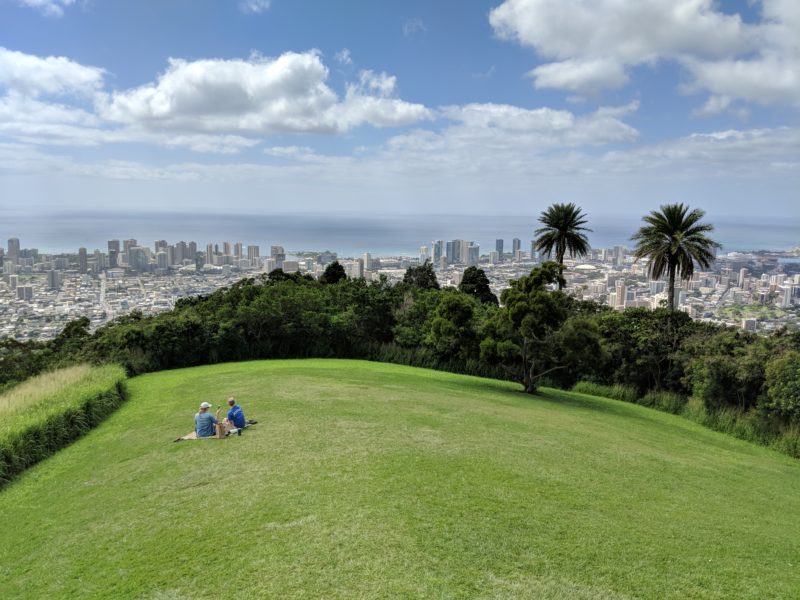 How To Get To Tantalus, Puu Ualakaa State Park
Getting to Tantalus is pretty easy. Set your GPS map to "Nutridge Street" and you should arrive without any problems. The entrance to the park is marked by an old, yellowish gate and the drive in is short. There are 2 small parking lots, but there should be enough space for you to park your car as most visitors tend to spend anywhere from 5 minutes to a half hour here.
While you could easily take an Uber or Lyft to Tantalus, I wouldn't recommend it as there aren't any other attractions near this area. However, if you're on a driving tour that starts off in Waikiki or Honolulu, you may find Tantalus as the first stop on your tour.
Local Tip: You can reach Tantalus from 2 directions. The short way is via Round Top Drive from downtown Honolulu. The scenic route is via Tantalus Drive, which is a long, winding road that could make you nauseous if you're prone to car sickness. The drive will roughly take an hour, but it's a beautiful drive through a shady forest and a nice escape from Honolulu. Depending on where you are, your GPS may automatically choose the longer route when Tantalus is actually just a 15 to 20-minute ride via Round Top Drive.