This post may contain affiliate links, which means I'll earn a small commission if you purchase something through these links. You won't pay any extra; instead, you'll be helping Aloha With Love to thrive. Thank you! Learn more.
--
Akaka Falls is one of the Big Island's most famous waterfalls measuring at over 400+ feet. If you're spending time on the Hilo side of the Big Island, you may want to put this on your list if you love waterfalls. The best time to visit is after a big rain because you may be able to catch a glimpse of the often forgotten and unseen Kahuna Falls.
Aloha with love,
Amy
Avoid The Tour Buses At Akaka Falls
Tours are great when you're on them, but not so great when you're enjoying a view with a sea of people. These large buses packed with travelers start pouring in around 11 AM until about 4 PM. If you want to enjoy Akaka Falls with few people (this place is a tourist hotspot so there's usually always at least a few people here), then head here early from 9 AM or closer to 6 PM.
Most people will spend about an hour here.
Park outside the parking lot to save a few bucks – the extra walk only adds a few minutes.
$5 per car to park in the parking lot, $1 entrance fee.
There's a fruit stand nearby if you're in the mood for a healthy snack.
Restroom facilities available.
Mosquito repellent isn't a must, but most people will come out with at least a few bites.
Local Tip: The top 2 waterfalls that's on everyone's list when visiting the Big Island is Akaka Falls and Rainbow Falls. If you're on a time constraint and want to see at least one of these, I recommend Akaka Falls.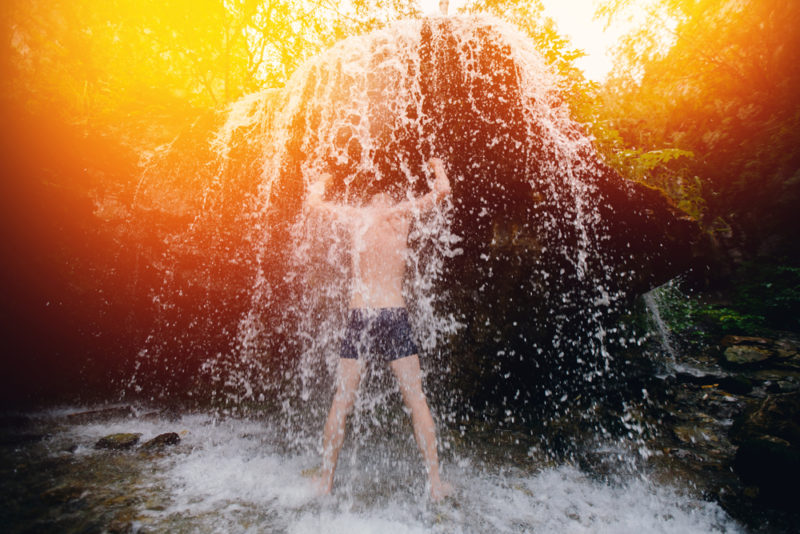 Things to do in Hawaii near Akaka Falls
Mauna Kea Cacao Farm: A local cacao farm with very personal farm tours for their visitors.
Mana's Aloha Fruit Stand: Fun stop where you can get papaya, sugarcane, pineapples, coconuts, and other fresh tropical fruits. It's a great place to stop after visiting Akaka Falls.