This post may contain affiliate links, which means I'll earn a small commission if you purchase something through these links. You won't pay any extra; instead, you'll be helping Aloha With Love to thrive. Thank you! Learn more.
--
There are 3 hikes that almost every tourist in Oahu tries to hit: Diamond Head, Makapuu Lighthouse and Manoa Falls. Diamond Head has that gorgeous view (and let's face it, it's pretty cool when you can say you were in a crater) while Makapuu is easy and a great place to see whales. But Manoa Falls is special because it's one of Oahu's prettiest waterfalls.
There are a few things to know before you begin your hike. Mud, the weather and your shoes all play a factor so here are some tips that will help you survive this hike.
Aloha with love,
Amy
A private tour with a guide is one of the best ways to hike Manoa Falls. This hike has been featured in Hollywood more than once and with such a close water source, there are a lot of unique plants, trees and animals to discover! Keep on the lookout for colorful frogs, jackson chameleons, and the bamboo forest.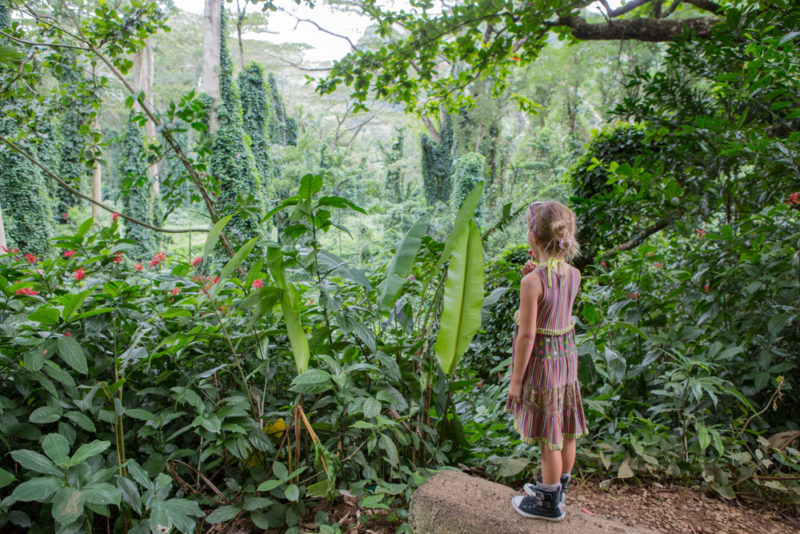 Manoa Falls – The Dangers
Rain And Weather
Avoid Manoa Falls if it's pouring rain.
I'm not talking about that light rain, or even on and off heavy rain. I mean that all day, nonstop rain that makes street gutters gurgle all day. Believe it or not, you'll hear adventurists and fun-seekers urging you to hike Manoa Falls because it's an amazing experience when it rains.
And I agree with them.
Manoa Falls is crazy beautiful when it's much more than a trickle and the pool is overflowing. But just be smart about it.
Local Tip: After a heavy rain, we often have "brown water advisories" that last for a day or two after it stops raining. So don't anticipate swimming in the ocean. You probably won't want to anyway since the ocean will look brown even to the human eye. Instead, sign up for a tour or activity that doesn't involve swimming.
Slipping, Sliding, Footwear And Mud
Before the Manoa Falls trail went under renovation a few years ago, many hikers would go barefoot in the mud. But since the renovation, a lot of gravel pathways have been added so I highly recommend wearing comfortable shoes. Otherwise you'll be wincing with each step.
I'd say there's now a lesser chance of losing your footing on the path since the renovation. With the gravel pathways and manmade stairs, any extra rain won't have too much of an impact. This doesn't mean that you should throw caution to the wind though. There have still been injuries, ambulances and emergency helicopters called to Manoa Falls – so watch your step.
Local Tip: About half of the trail is nice pathways, and the other half is made up of rocks, mud and roots. This is a great hike for kids because the rocks will provide just enough of a challenge without tiring them out. Not to mention it's also a great excuse to get dirty.
Expect to get muddy!
Wear clothes that you don't mind getting dirty and shoes that you're okay with scrubbing caked mud off of. The last time I went to Manoa Falls, I ended up blasting my shoes with a powerful hose and scrubbing with the oldest sponge I could find.
Parking, Transportation And Necessities
Paid parking: Pay $5 and park in the designated Manoa Falls parking lot. The visitor center is close and you'll have access to bathrooms, snacks and there's even a cool souvenir shop.
Free parking: Park for free in the neighborhood. Be courteous (especially in the mornings) and mindful of where you're parking.
By bus: It's only about a 30 minute ride from downtown Honolulu to Manoa Falls. It takes only about 5 minutes to walk from the bus stop to the trailhead. The #5 bus is the most popular coming from Ala Moana.
Things you should bring: 1 bottle of water, mosquito repellent, good old shoes, waterproof camera and some sunscreen. You can keep the hat and sunglasses at home – this hike is mostly in the shade!
2 birds, 1 stone: Planning on doing both Manoa Falls and Diamond Head in one day? Check out this shuttle bus exclusively for Hawaii visitors planning on doing exactly this.
The Beginning Of Manoa Falls
When you first start the Manoa Falls hike, you'll see a wide open area filled with greenery, trees and vines. The beginning of this hike is very open and it's a beautiful place to stop and see what's growing.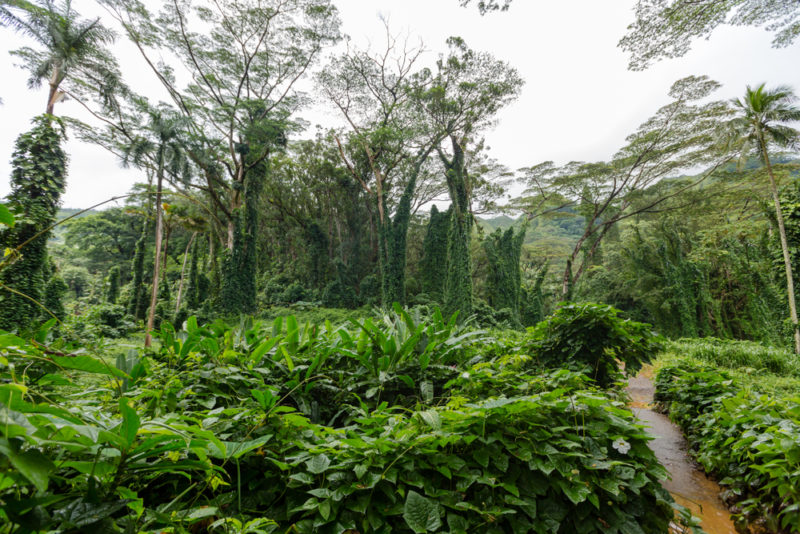 Generally, the ground is flat with a very low incline. Unless it's been raining heavily, there won't be many puddles or mud here (yet). The conditions of the pathways early on are a great indicator of what the rest of the hike will be like. Since you'll be hiking toward the waterfall, know that the wetter the beginning is, the more muddy it will be as you climb higher.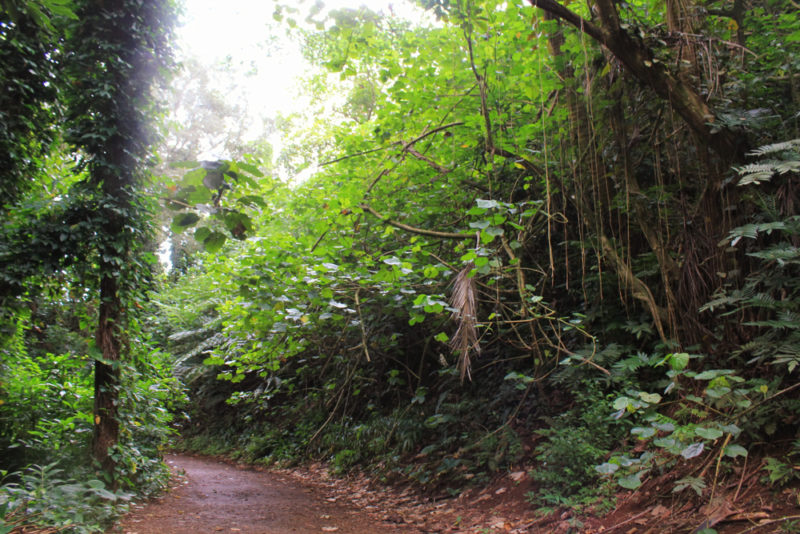 The first part of this hike is pretty much possible for almost anyone. However, since the final push is mostly stairs and large rocks, I'd recommend that those with knee and back problems take extra precaution. The last thing you'll want is going back down and jarring your joints with each step downhill.
Read Rasa's experience of hiking Manoa Falls barefoot after the renovation. Ouch!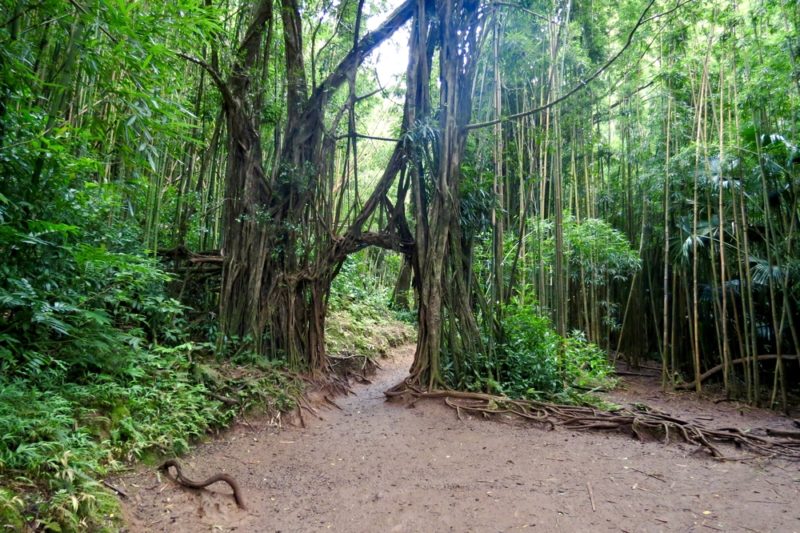 Reaching Manoa Falls
For most people it will take about 45 minutes to 1 hour going up. The waterfall is about 150 feet tall and you can almost always expect water to be falling (except during our hot and dry summer months – it's possible for it to be just a trickle if there hasn't been any rain in days). There is quite a bit of space at the base of the waterfall where there's a bunch of boulders surrounding the pool. Pack a lunch and cold drink and enjoy a picnic before you head on down.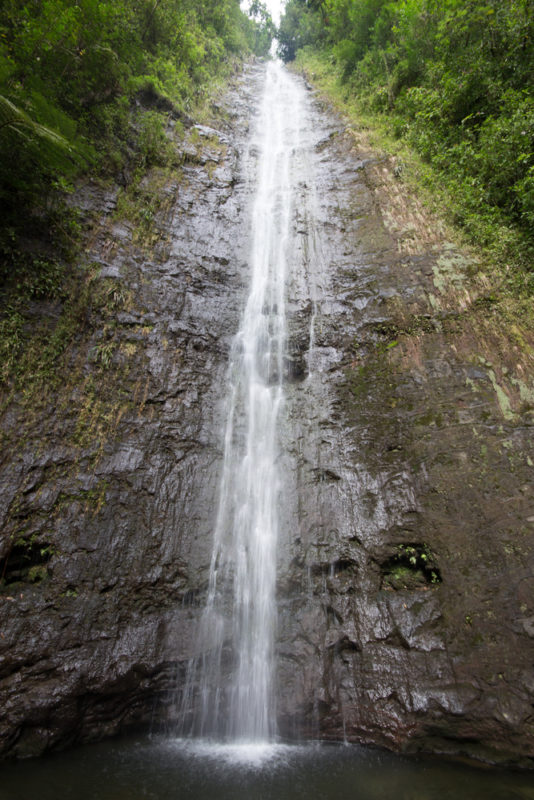 Swim With Caution
The last time I hiked Manoa Falls, it was a free-for-all in the pool. About 10 people were enjoying the cold water, while the rest of us took selfies. These days though, there seems to be a mixed consensus on whether or not you can go in the pool.
The waterfall and pool is currently roped off, which is a flimsy barrier at best since it hangs so low even children can easily step over it. In general, it really depends on who else is at the waterfall with you. If no one goes in the pool, everyone else follows and stays out. But once one person decides to take a dip, everyone else wants to jump in, too.
I will say though that the staff highly prefers that you not swim in here or go in the pool – that's all at your own risk.
Leptospirosis And Why You Shouldn't Swim In Freshwater Pools
Leptospirosis (Lepto for short) is a bacterial infection with big consequences. Trust me, you want to actively avoid swimming in Hawaii's freshwater pools or walk around barefoot in the mud. The warm and humid climates in Hawaii is a perfect breeding ground for the bacteria to multiply and thrive. Even more so near a waterfall where everything is moist.
Most people (even locals) know that Leptospira bacteria enters your body through cuts. But what they may not know is that the bacteria can also enter through the thin skin in your mouth, nose or ears. In other words, you don't have to have an open wound to get Leptospirosis.
Rocks And Boulders
The last section before you get to the waterfall has plenty of rocks and boulders that you'll have to clamber over. Be careful which path you take and always be on the lookout for falling rocks. In fact, most of the rocks surrounding the pool came from a massive rock slide. This means you should be constantly on the lookout for potential danger coming towards you.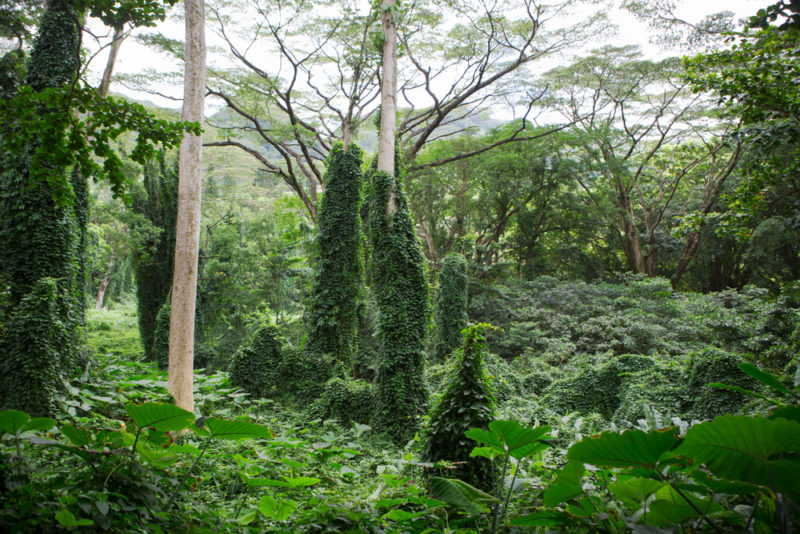 What You'll See At Manoa Falls
There is so much to see at Manoa Falls!
Because this area enjoys a deluge of rain, the plant and animal life here is abundant. The trees form the skeleton of this rainforest while vines, moss and other plants twirl and wind their way around filling ever single spot of dirt and crevice they can find.
Birdsong can be heard from tree to tree and you can catch dashes of color as they flit from tree to tree. If you haven't seen a mongoose running across the street yet, keep your eyes peeled for them here.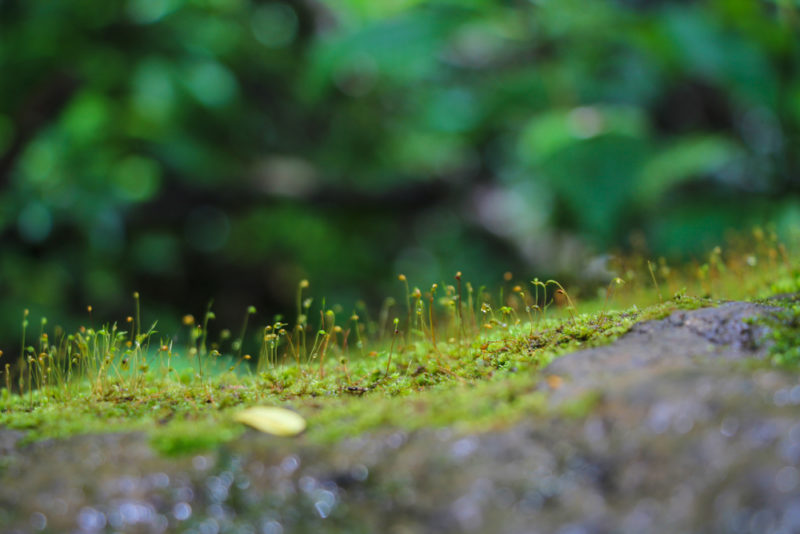 The Manoa Falls area is such a perfect breeding ground that you'll find both indigenous and foreign plant life here. This is another great reason to look into booking a personal guide for this particular hike. With so many more plants and animals here to call this rainforest home, the guides will have that much more to show you about nature.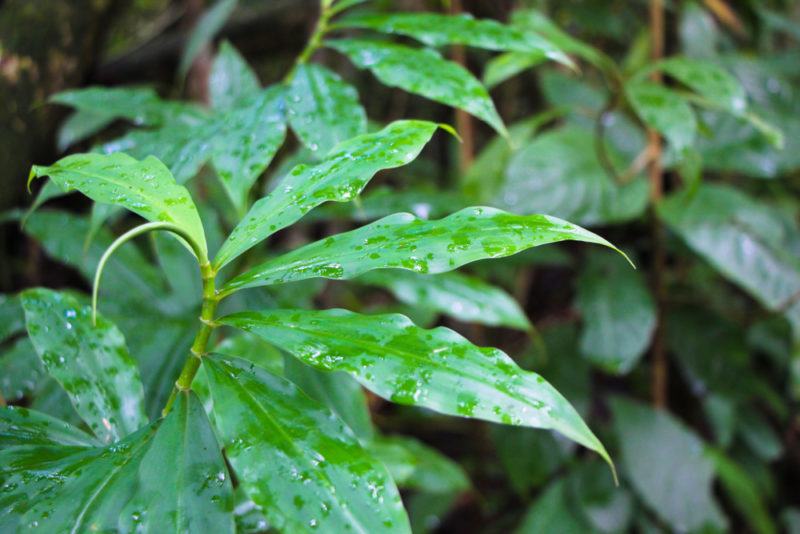 My favorite trees to keep a lookout for is the banyan tree tunnel and bamboo forest. The banyan tree roots have created a magnificent archway that you'll have to walk through on the hike. It's pretty extraordinary and a wonderful place to get that cool IG shot.
The bamboo forest is also a fun one. I've always equated bamboo forests with a sense of peace and this forest does not let me down.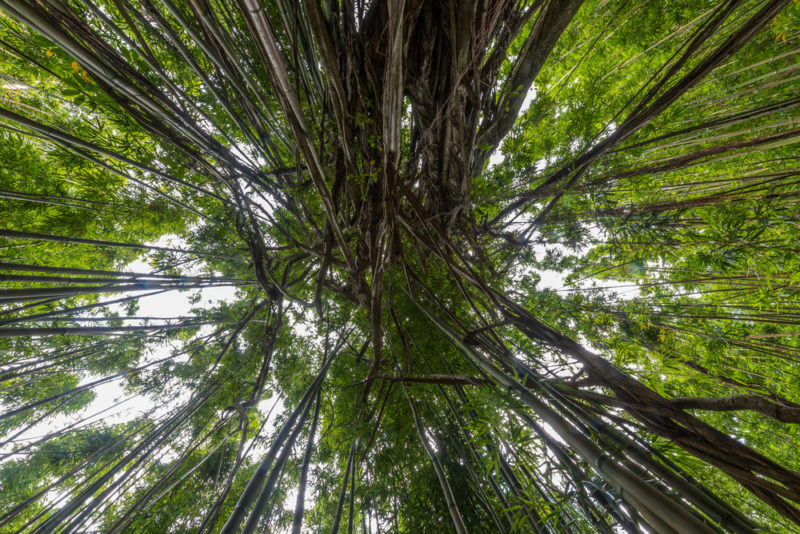 If you're hungry, snag a strawberry guava off a tree – totally edible! Just be careful of the seeds since they're super hard and crunchy. I've also heard a rumor of fig trees near the falls, but have yet to find it. If you know about these fig trees, let me know. I love figs!
The People And The Crowd
Yes it can get crowded. And yes, I know many people don't like it when there's too many people on a hike. So is this hike worth it?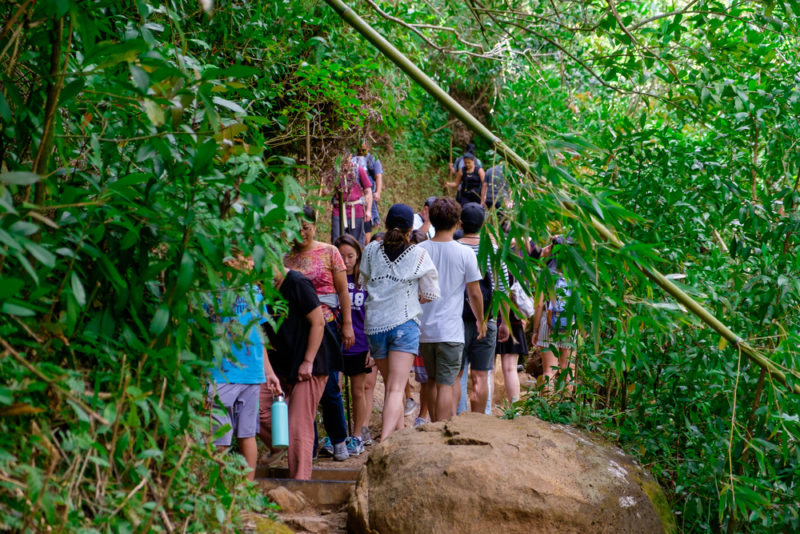 I would have to say yes.
You're free to choose what time of the day you begin your hike so if it's the crowd or competitive crowd that concerns you, come earlier or later to enjoy a more tranquil hike. I find that there aren't too many places where you get "stuck" waiting. And hiking at Manoa Falls doesn't always look like the picture above.
Oahu's Waterfall Hikes: Top Waterfall Hikes In Oahu By Fellow Local Girl Sarah From Borders And Bucket Lists
Headed To Manoa Falls?
Make A Stop At The Lyon Arboretum.
Next door to Manoa Falls is the Lyon Arboretum – a botanical garden that is managed by the University of Hawaii at Manoa. Entrance and parking is free and this place is a lovely find that most tourists miss. A total of 200 acres can be explored here.
The Lyon Arboretum also has a waterfall at the end, but it's not as nearly as impressive as Manoa Falls. But what I really love about this place is all of the labels on the trees and plants so that you know what you're looking at!