This post may contain affiliate links, which means I'll earn a small commission if you purchase something through these links. You won't pay any extra; instead, you'll be helping Aloha With Love to thrive. Thank you! Learn more.
--
It is incredibly difficult to choose the best Big Island hikes. Seriously, how do you choose? While the Big Island is probably the most famous for its volcanoes and lava, it's also a fantastic island for weeping waterfalls and its fresh rainforest scenery in Hilo.
Scenic hikes on the Big Island are plentiful, but don't forget that this island has some of Hawaii's most unique hikes. From petroglyphs to walking on lava, here are some of the best Big Island hikes out there to fill your Hawaii vacation days.
See you on Hawaii island!
Aloha with love,
Amy
Tips For The Best Big Island Hikes
Hands down, the best site on Big Island hikes is (you guessed it) BigIslandHikes.com. It's an online guide with loads of valuable information for anyone interested in doing any hiking on the Big Island. They also have a "best Big Island hikes" page that you can check out.
What you need to bring to the best Big Island hikes
Extra water. Bring more than what you think you'll need if you're exploring Kona and especially if you're headed out to see the lava, because it is hot!
Good shoes. Long hikes on hot and sharp rocks to see the lava will be hard on your shoes and feet. Sturdy hiking boots are a plus.
Mosquito repellant. For the rainforest hikes, it's more than likely that you'll be bitten by a mosquito or two.
Sunscreen, sunglasses, hat. Always protect yourself from the sun – especially if you're walking around where there are no trees.
Food. You can't go wrong carrying sustenance with you.
Proper clothing. Some of the best Big Island hikes range from very hot to very cold (think snow!).
Flashlight. Viewing the lava at night is a popular activity on the Big Island. Make sure you have a good one so you aren't walking in the dark.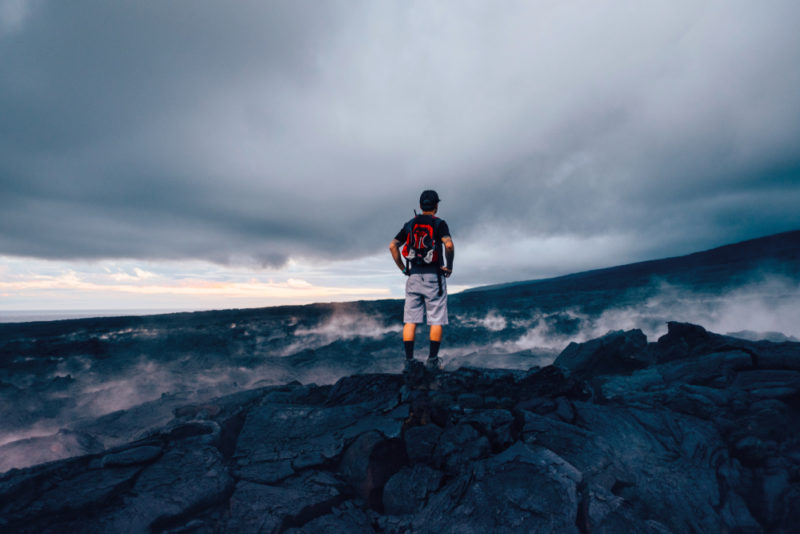 Some of the best Big Island hikes happen underground. Read more about the best Big Island hikes in lava tubes. Perfect for those who love geology and crawling around caves!
Kaawaloa Trail (AKA Captain Cook Monument or Kealakekua Bay Hike)
One of the best Big Island hikes has got to be the Kealekekua bay hike because you'll get to a fantastic snorkeling spot! Think loads of colorful reef fish, huge sea urchins, hiding eels and other neat ocean creatures. And the best part is that it only takes about 20 to 30 minutes to get here. You'll even pass the stone remains of a heiau (religious temple) as you walk your way down. The water is flat in the bay so this is a neat place for children to explore and float. Just look at how clear that water is!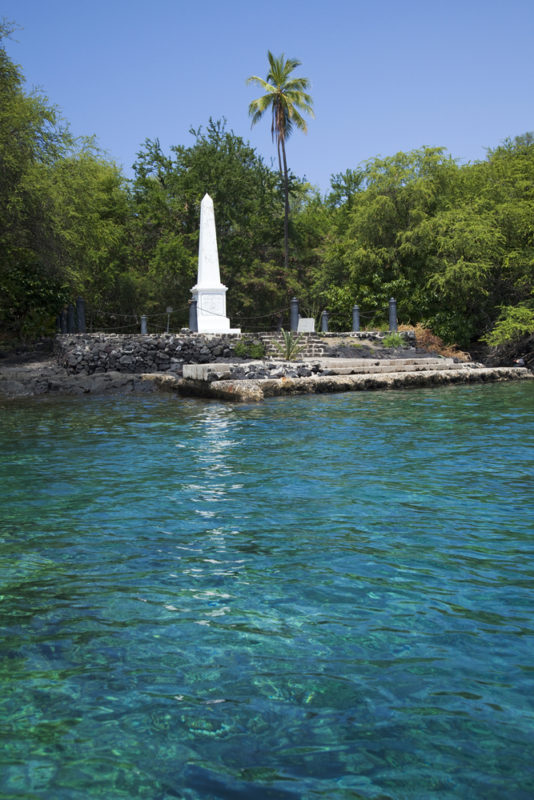 The Captain Cook monument is also a big moment in Hawaiian history so it's pretty cool to make it out here and stand where Cook first met the Hawaiians. Not to mention that the white monument makes for a pretty Instagram photo with all that forest greenery and blue ocean water in the picture.
Creepy fun fact: When you look out the bay, you'll see the Forbidden Cliffs of Keoua, where the bones of important people were hidden (i.e. Hawaiian chiefs). One lucky volunteer would be lowered down to hide the bones and the rope would be cut ensuring that the location of the bones remained forever a secret.
This is a great hike/snorkel for kids. The walk isn't too tiring so you can bring your floats and snorkel gear and paddle around with your children. If you're looking for more kid-friendly Big Island activities, check out what Susie did with her family at PhotoJeepers.
Waimanu Valley
Hiking Waimanu valley is one of the most difficult and dangerous hikes, but oh so rewarding. Just look at that view! Waterfalls falling from the mountain and no other people in sight. But this hike comes with its own set of worries and the biggest problem is timing. One reason why hiking here is such a hassle is because you'll be crossing rivers and streams that can become flash floods at a moment's notice.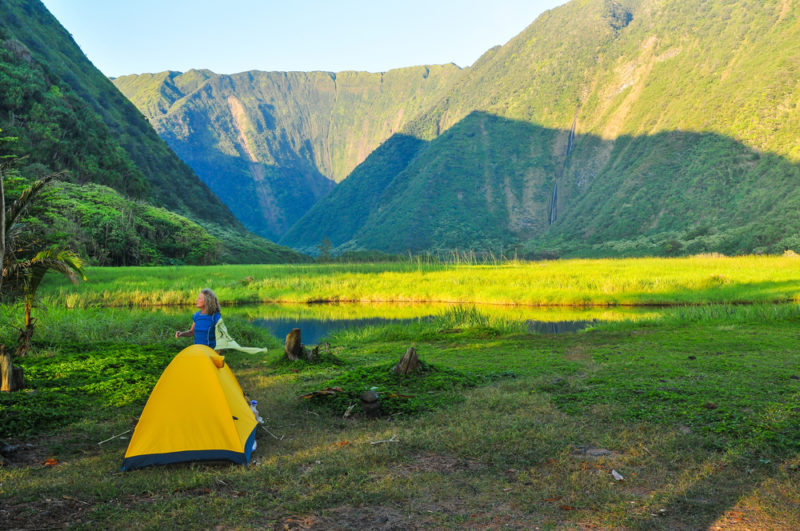 With all the water around, the ground becomes slippery and you'll notice the mosquito population becoming overly friendly with your skin. You can choose to do this hike as a day hike or camp in the valley overnight. Note that if you plan on camping, you'll need to get a camping permit.
Puu Loa Petroglyphs
The Puu Loa hike earns it right to be in the best Big Island hikes list because the largest known collection of petroglyphs reside here. With about 23,000 petroglyphs in this area, Puu Loa is a fantastic place to really get into the history and culture of the Hawaiians of ancient times. It only takes about 30 minutes to get to the main clusters of petroglyphs, but you'll be walking on 500 year old uneven lava rock so make sure you're wearing proper footwear.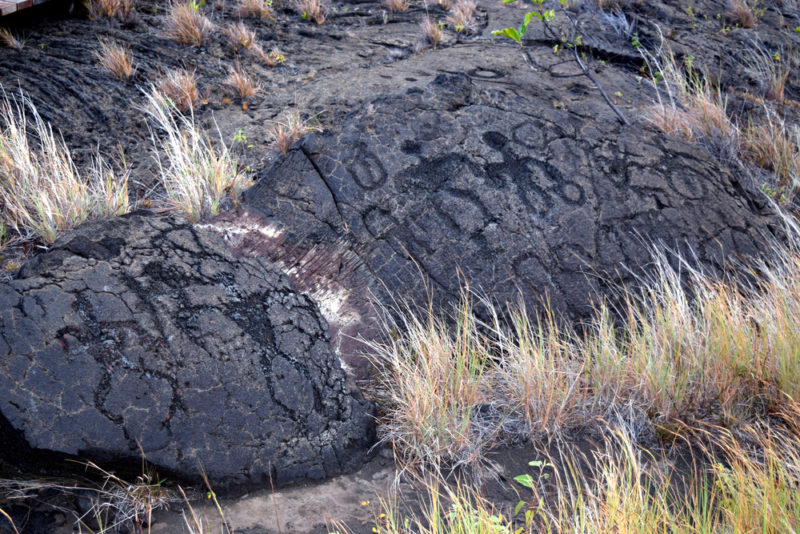 Eventually you'll reach a boardwalk where most of the petroglyphs are. While this protects the petroglyphs from visitors stepping on and damaging these artifacts from ancient times, it also stops you from getting a really close look at these intriguing pictures. I highly recommend bringing binoculars so you can get a really close look at the details.
Want to learn more about the petroglyphs themselves? Visit the Puu Loa page in the Hawaii Volcanoes National Park site.
Hiking To Running Lava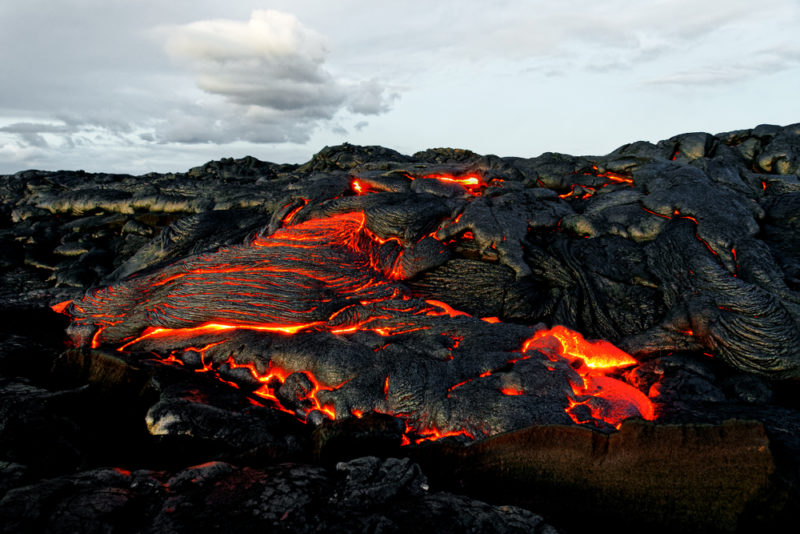 Seeing lava is the usual highlight to anyone's trip to the Big Island. Nothing compares to seeing that glowing red mass crawl along the ground. But what you may not know is that despite this being one of the best Big Island hikes, it's also dangerous since we can't really dictate where the lava flow will spread to. The best and recommended way to see this is on a guided hike even if you're an experienced hiker (because how much experience do you have hiking on a lava field?).
Puuhonua O Honaunau
If culture and history is a huge plus for you, then Puuhonua O Honaunau will be one of the best Big Island hikes for you. It also doesn't hurt that it's pretty easy and well-maintained. A neat fact you'll learn right away about this place is that it also goes by the name "city of refuge," where those in ancient Hawaii who broke the law could escape death if they could get here in time. Even warriors or people defeated in battle could make their way here in hopes of safety. Makes me wonder just how many actually made it here!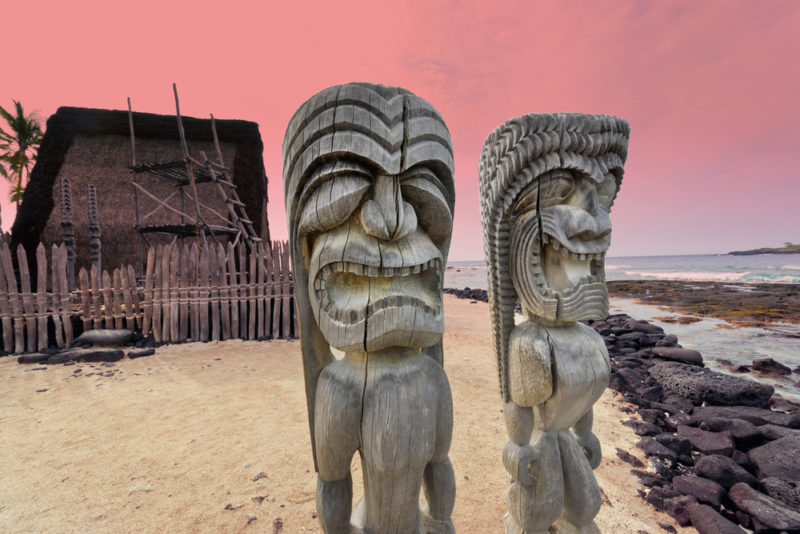 In addition to walking through this cultural trail, you'll also see coastal views and easily keep your footing on the flat pathway. Keep an eye out for the royal fishponds and ancient temples, too. There is an entrance fee, but don't let that change your mind about coming here – from the wealth of information provided and all the things you'll get to see, it's well worth it.
Extra Tip: There are free scheduled daily ranger talks that will fill you in on what part this sacred place played in history – don't miss it because there is plenty to learn.
Kilauea Iki Trail
Personally, if you only have time for one hike on the Big Island, I'd really recommend the Kilauea Iki Trail. You'll walk through a rainforest, the Thurston lava tube and see some beautiful plants and flowers in this area, but the best part has got to be walking inside the mile-long crater where it still steams! It's almost surreal since you'll get to see firsthand the slow back-and-forth game that nature plays – it doesn't get any better than young trees full of life growing on cracked rock.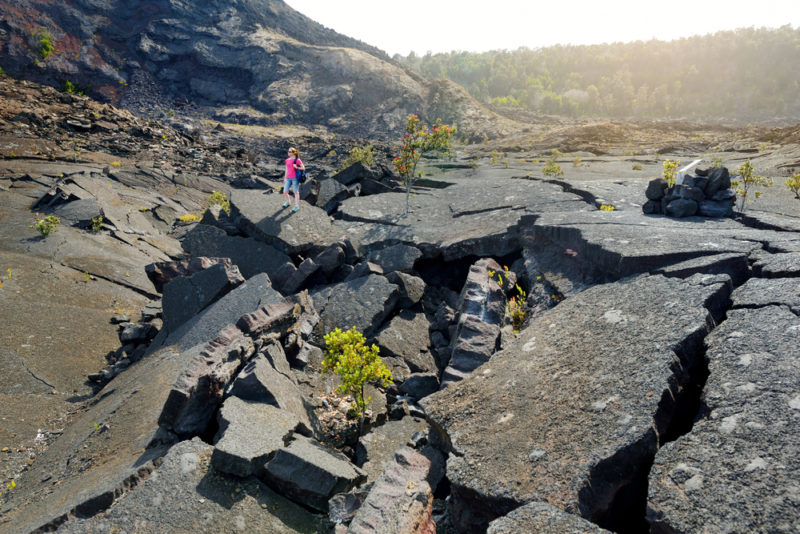 Kilauea Iki is one of the more popular trails so you'll see your fair share of other tourists walking this trail. But don't let that bother you (just make sure you get a parking spot). Even with all of the extra people walking around, it's still one of the best Big Island hikes because it's got so much space! Everyone eventually spreads out and goes at their own pace.
Kekaha Kai State Park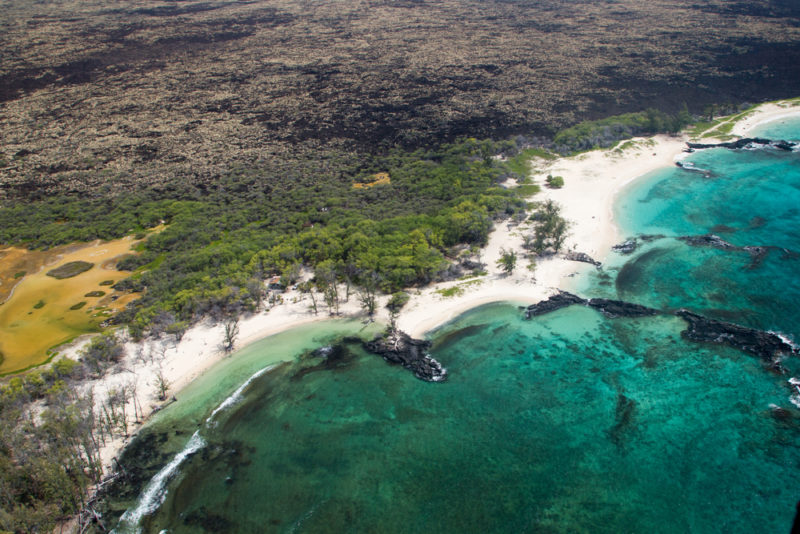 Kekaha Kai State Park may have three beautiful white sand beaches, but it also has some gorgeous coastal trails where you'll get to see Kona's only black sand beach, a red shrimp pond, and even a 342-foot cinder cone with a spectacular view. Spend the day at Kua Bay (Maniniowali Beach), Makalawena Beach, or Mahaiula Beach or discover them by foot!
Papakolea Green Sand Beach
Papakolea Beach is one of four green sand beaches in the entire world. It's kind of amazing that the Big Island is home to one of them.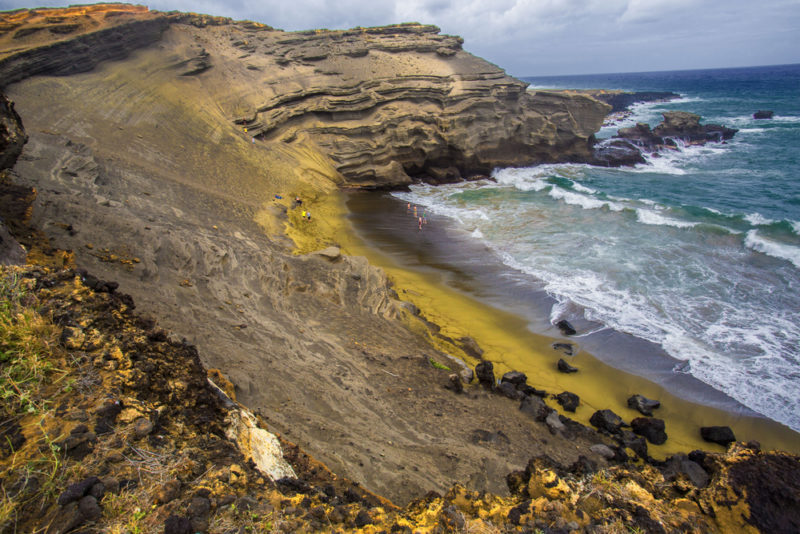 Located near Ka Lae (South Point), Papakolea requires a 1-hour hike along the southern coast of the Big Island. The views are gorgeous and you can see some cool remnants of the ancient Hawaiian village that used to exist at Ka Lae (South Point).
Hike to Papakolea: Papakolea Is One Of Four Green Sand Beaches In The World
Local tip: If you do decide to hike here, please know that some local residents will offer to drive you over for a fee. This is illegal, but unfortunately not enforced. I do ask my Aloha With Love readers to please be mindful and respect the rules because this is a historically and culturally-sensitive area. The overuse of vehicles has already created deep tracks, some several feet deep, and has increased the erosion of this magical place.
Big Island's Best Guided Adventure Tours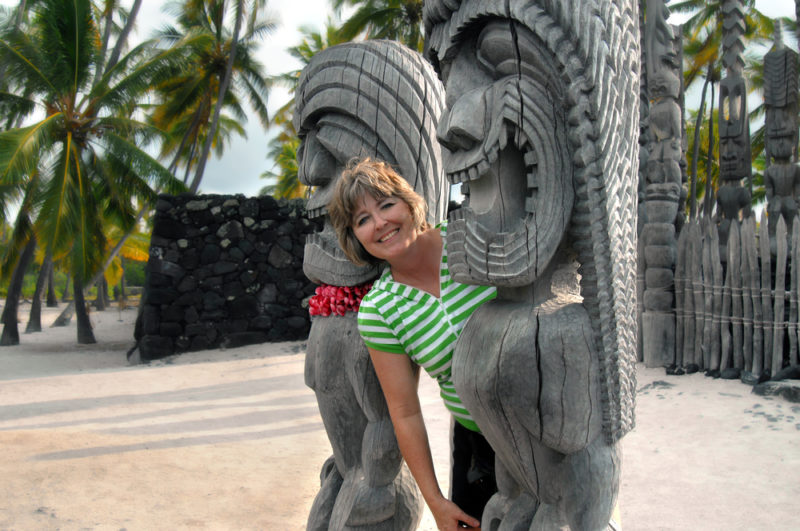 If you want to be a little more adventurous, these guided tours are a lot of fun.