This post may contain affiliate links, which means I'll earn a small commission if you purchase something through these links. You won't pay any extra; instead, you'll be helping Aloha With Love to thrive. Thank you! Learn more.
--
Every Friday night at approximately 7:45 PM, the Hilton Hawaiian Village shoots a beautiful display of colorful fireworks above Waikiki beach for all to see. This is a great way to end (or begin!) your Friday night in Honolulu and you can see it from almost anywhere on Waikiki beach. In fact, one of my favorite things to do is dig myself a reclining chair into the sand, lay down and enjoy the view. Once the show is over, a night swim in the calm waters will feel great!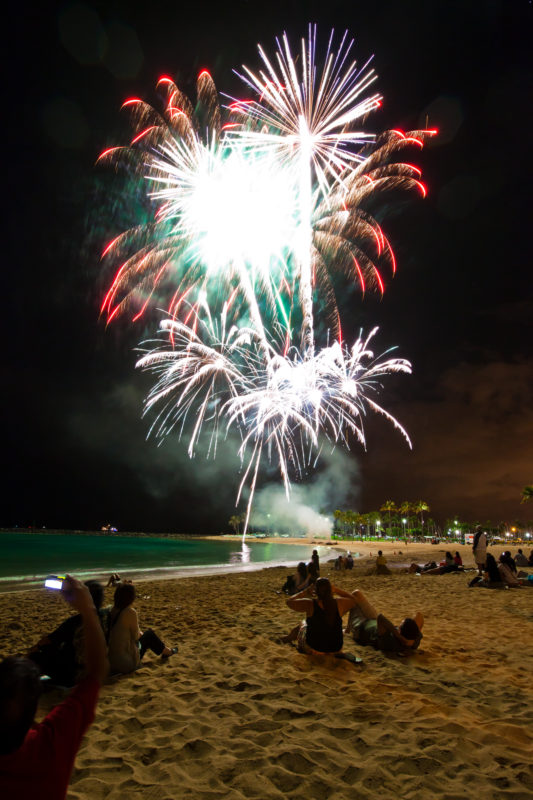 If you're close to the Hilton Hawaiian Village, don't miss their show from 7:00 PM – 7:45 PM at the Super Pool right before the fireworks. You can buy a ticket in advance to reserve prime seating with a great view of the show, but if you don't mind standing and rubbing shoulders with other budget-minded travelers and the stray local, there's a perfectly nice view in the back. Once the show is over, follow the crowd out to the beach and enjoy the fireworks close up.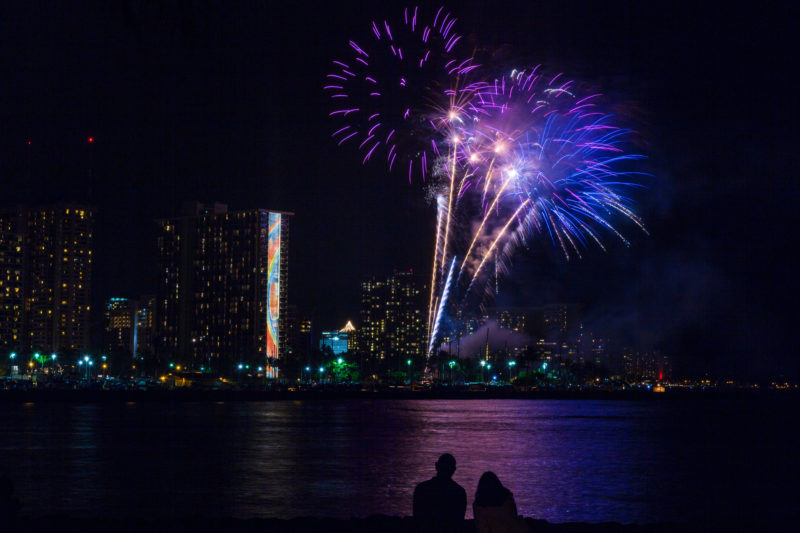 Another favorite spot of mine to enjoy the fireworks is at Magic Island, which is between Ala Moana beach park and Waikiki beach. There will be a lot more open space and you'll get to enjoy the Honolulu city lights as a backdrop. I highly recommend bringing your picnic materials so that you can enjoy a peaceful dinner, watch the sunset and enjoy the fireworks without moving.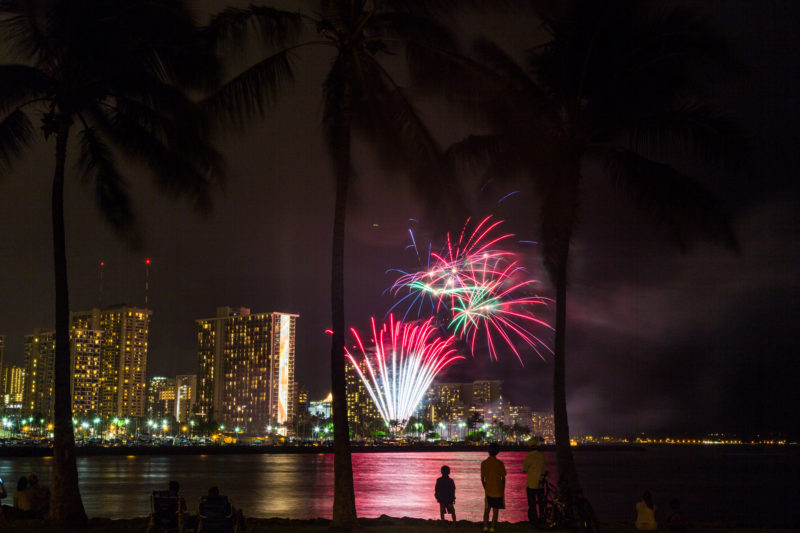 Things To Do
If you're really looking for something special, there are a number of restaurants to choose from and even your own hotel room if you have an ocean-view balcony. But I recommend looking into a sunset dinner cruise. On Fridays, all sunset dinner cruises along the Waikiki coast will stay out a little longer than the rest of the week just for the fireworks. The best part is that the price stays the same!
The Star of Honolulu has an amazing sunset cruise with lovely food (especially if you buy the pricier tickets) and the Majestic (originally Navatek) has an updated ship, entertainment and food with a beautiful bar and viewing level to see the fireworks from. Remember, choose a Friday to see the fireworks show!