This post may contain affiliate links, which means I'll earn a small commission if you purchase something through these links. You won't pay any extra; instead, you'll be helping Aloha With Love to thrive. Thank you! Learn more.
COVID-19 has affected many of Hawaii's businesses and events. Please double check their dates and times before you go or make plans. Visit HawaiiCOVID19.com for more information.
--
Local Food in our Local Family Restaurant
Zippy's is like our Denny's. This 24/7 local chain restaurant serves up beloved comfort food just the way we like it here on the islands. They are the most famous for their chili, saimin and ox-tail soup, but also have many other menu items that are sure to squelch your hunger and give you a taste for our simple local cuisine.
Zippy's also runs the terrific Napoleon Bakery that excels in the best apple napples, cakes and haupia desserts. In addition to these commonly-ordered menu items, here are a few more that also make my list for best Zippy's menu selections.
Zip pac – A mixed plate lunch squeezed into a portable "pack" that you can take to the beach with you. Whenever we go on a fishing trip, we always make a quick stop at Zippy's for their zip pacs! Easily fits into coolers without taking up precious space.
Portugese bean soup – It's becoming less common to see this extremely local dish in restaurants these days and most of my local friends only get the chance to eat it at home. But Zippy's continues to serve this thick and rich soup for those of us who crave it often. Break up the soda crackers and mix it in your soup like you would clam chowder, yum!
Loco moco – Believe it or not, Zippy's does a good job on their loco mocos! You'll see some high-class restaurants in Hawaii advertising loco mocos, but stick to the cheaper restaurants for this dish. Loco mocos aren't meant to look pretty. They're meant to fill you up with all that gravy, hamburger and runny egg on rice.
Any breakfast with Portugese sausage – Breakfast is served 24/7 here and sometimes breakfast is exactly what you need at 11 PM at night. We locals love our Portugese sausage (can't you tell from our Portugese bean soup?)!
Napoleon's Bakery – This bakery lives in every Zippy's restaurant and is a great place to curb your sugar addiction with popular local desserts. Make sure you leave some room for the haupia cake, long john, andagi (Okinawan donut) and my favorite, the apple napple.
Extra tip – Ask your server to warm up the apple napple and serve with a scoop of ice cream. Apple napple ala mode is meltingly wonderful.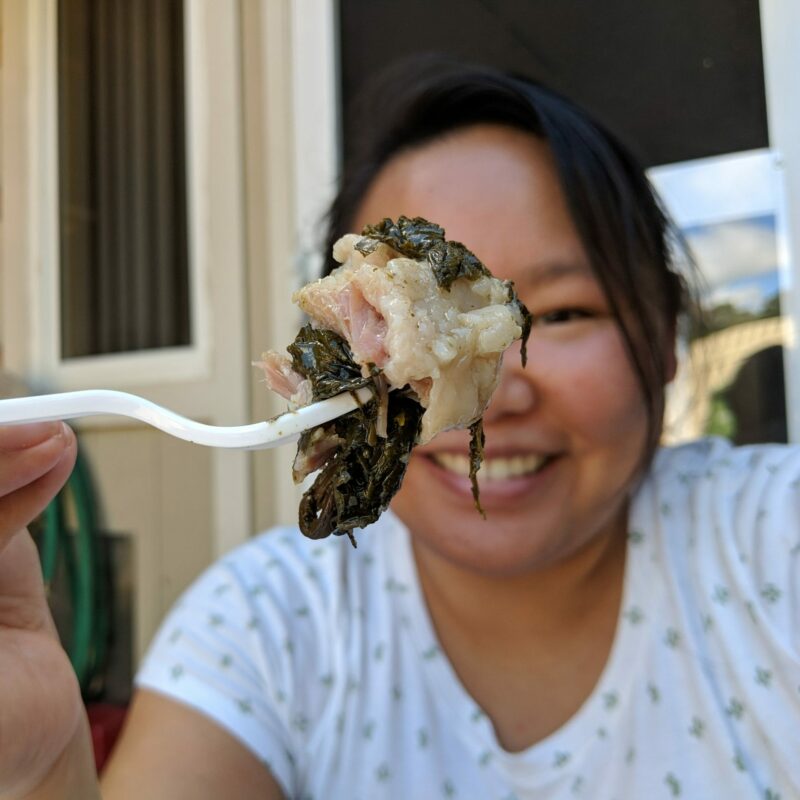 Discover more restaurants, bars, cheap eats, and mom-n-pop shops in Hawaii!