This post may contain affiliate links, which means I'll earn a small commission if you purchase something through these links. You won't pay any extra; instead, you'll be helping Aloha With Love to thrive. Thank you! Learn more.
COVID-19 has affected many of Hawaii's businesses and events. Please double check their dates and times before you go or make plans. Visit HawaiiCOVID19.com for more information.
--
I was invited to a birthday party at White Plains beach, which is known for being a great surf spot for beginner surfers. White Plains gets its name because the water looks like a wide field of rolling white waves when you scan from side to side.
There's plenty of space to surf (or boogie board) and since it's filled with beginners, the rules of surfing aren't as strict and in general surfers are more accepting of newbie mistakes here.
There's a MWR rental facility right in the beach park so if you have a valid military ID, you can rent their boards and even get a surf lesson at an affordable price. I brought my Mom and Aunty (her first visit to the beach!) and they had a blast.
Aloha with love,
Amy
Surfing At White Plains As A Beginner Surfer
If you have a valid military ID, the MWR on the lawn of White Plains Beach has some great prices. I don't have a military ID, but my friend did and rented one for anyone in our large group who wanted to learn how to surf. I prefer boogie boarding myself, but still paddled out on the surfboard for a lesson.
I was surprised at how affordable the rental prices were. We paid $5 an hour for the surfboard, which was great especially since our group shared the board and didn't have to worry about high rental fees. There were also several group surfing lessons provided by the MWR. While it was my friend who gave us free lessons, the surfing lessons by the MWR were only $35 per person. Not bad at all considering most surfing lessons in Oahu range from $80 to $150.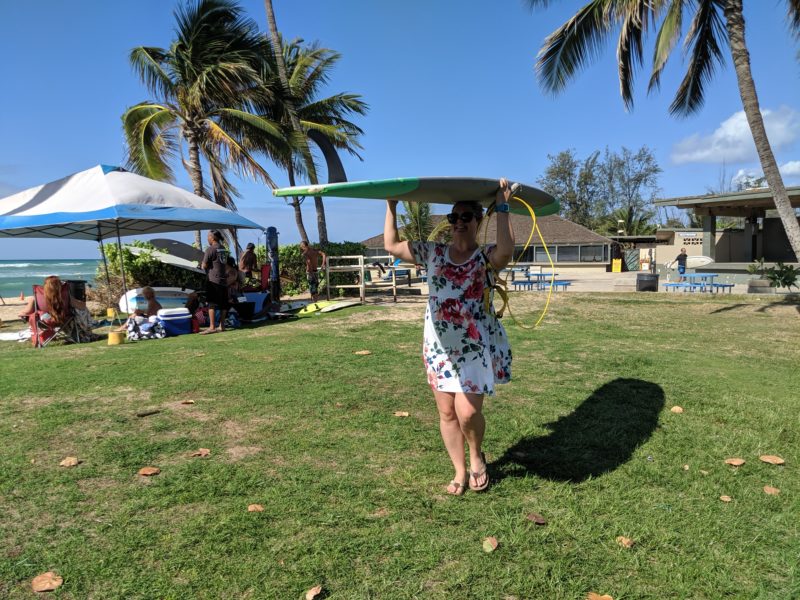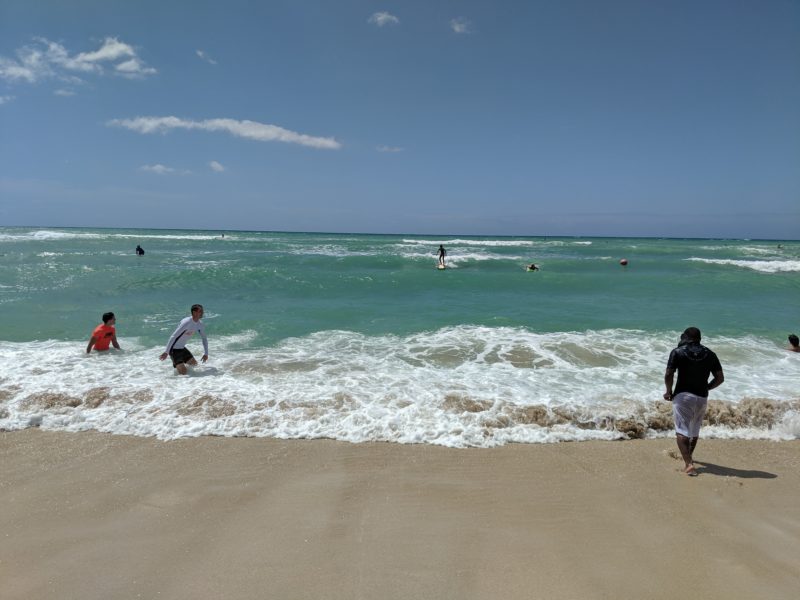 Unfortunately, I did not catch a wave. The more advanced surfers were fine, but this day was exceptionally windy and as a result the waves were choppy. After about 30 minutes struggling with the waves and wind, I came back from my lesson excited to spend the rest of the day relaxing, eating and floating in the water.
Local Tip: If you're a beginner surfer and are considering a lesson here, choose a day where the wind isn't too strong. Otherwise, your $35 will be spent floundering against the wind.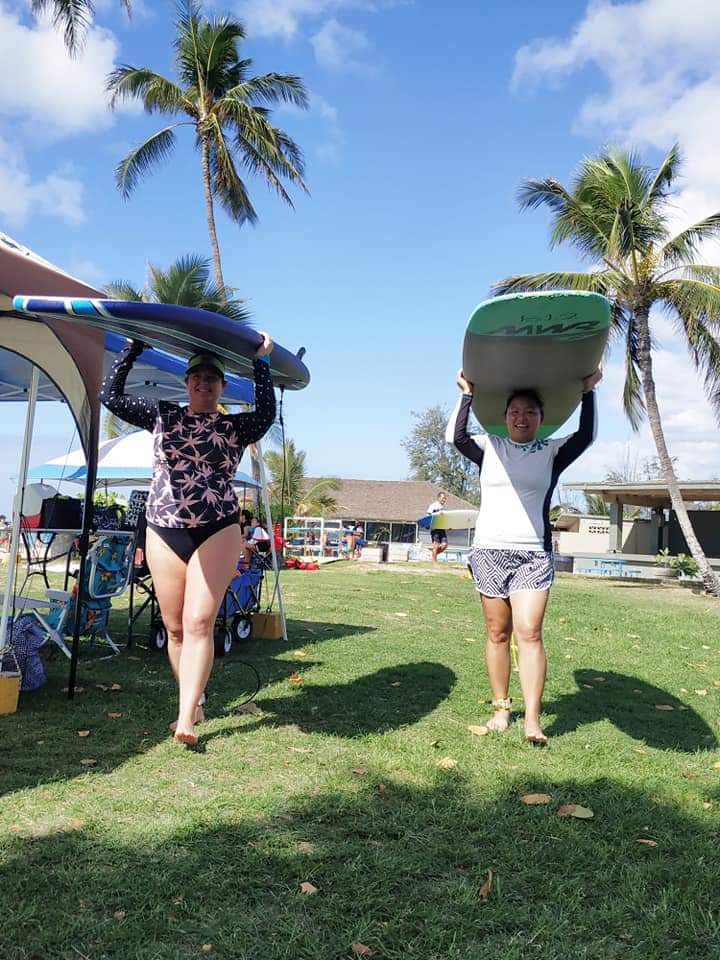 Partying At White Plains Beach
Things you need to know about setting up at White Plains Beach
There's a large tree on the lawn that provides shade in the morning and late afternoon, but you'll still need a tent if you plan to spend the whole day at White Plains. We had 3 tents, which was enough for our party of 10 – 15 people.
There are several signs that say you cannot stake your tents into the ground. This is due to the shallow irrigation lines and any damage you cause you'll have to cover. The park does have cement blocks scattered about so if you come in the morning, you can use these to hold your tents down. One of the late arrivals brought a couple of heavy dumbbells for their tent which worked well.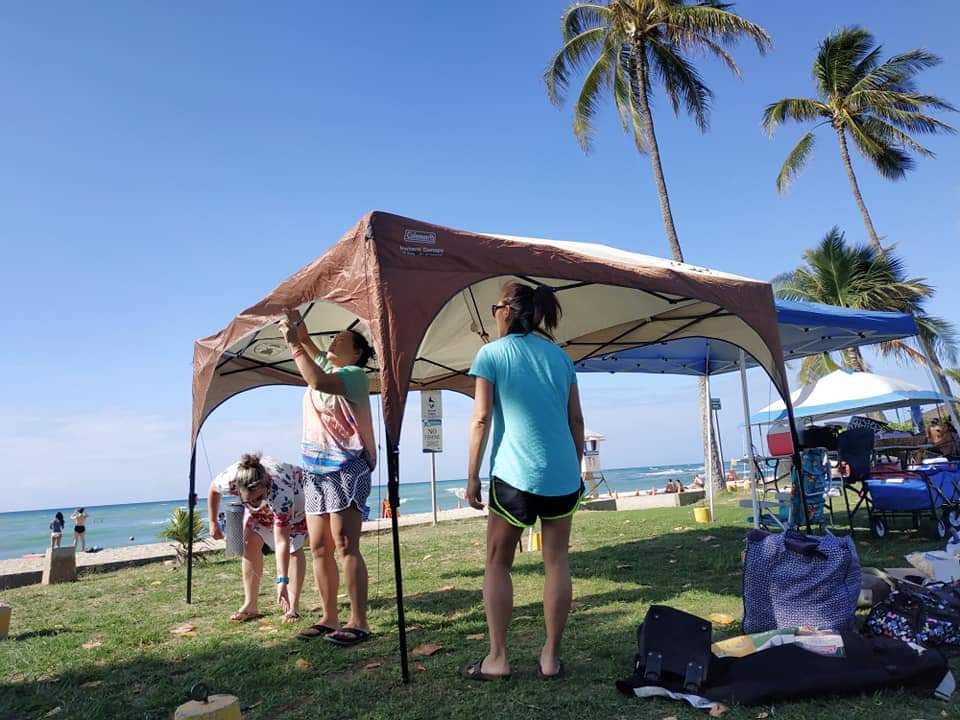 More things to know about White Plains
Dogs are not allowed.
There are plenty of waves here because of the shallow coral. Don't kick when you fall off your board or you may cut your foot. Instead, stay level, get back on your board and paddle out.
There's a designated swim area (no boards allowed) right in front of the lifeguards. The area is marked by 2 signs on the sand and 2 floaters anchored in the water.
There are clean bathrooms and working outdoor showers. Each shower has a stand where you can place your board or other gear to rinse off.
Once in a while Hawaiian monk seals will pull themselves onto the sand. Keep a fair distance away from them as they are endangered and wild.
Music is allowed, but loud, disrespectful or derogatory music isn't.
Local Tip: White Plains Beach is not a great place for non-swimmers and young children when the wind is strong. The water gets deep really fast and it's easy for someone unfamiliar with the strength of the waves to panic. However, one good thing is that the "safe" swim area is directly in front of the lifeguards.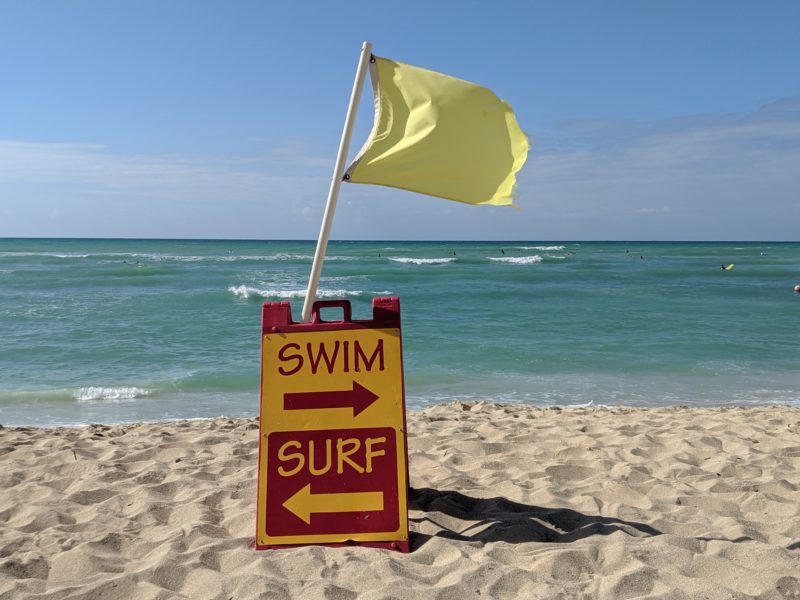 How Was White Plains Beach?
I had a great time at White Plains Beach. It was a perfect place for a potluck party where we could surf, boogie board and swim. We got there at 8:00 AM and stayed until 2:00 PM and really enjoyed our day.
The crowd really started to pour in from about 11:00 AM (on a Sunday). In fact, even when we left some people were just arriving and lugging their coolers and food to their tents. It's worth it to come a little early, set up your tent where you want it (and grab those cement blocks) and laze about the rest of the day.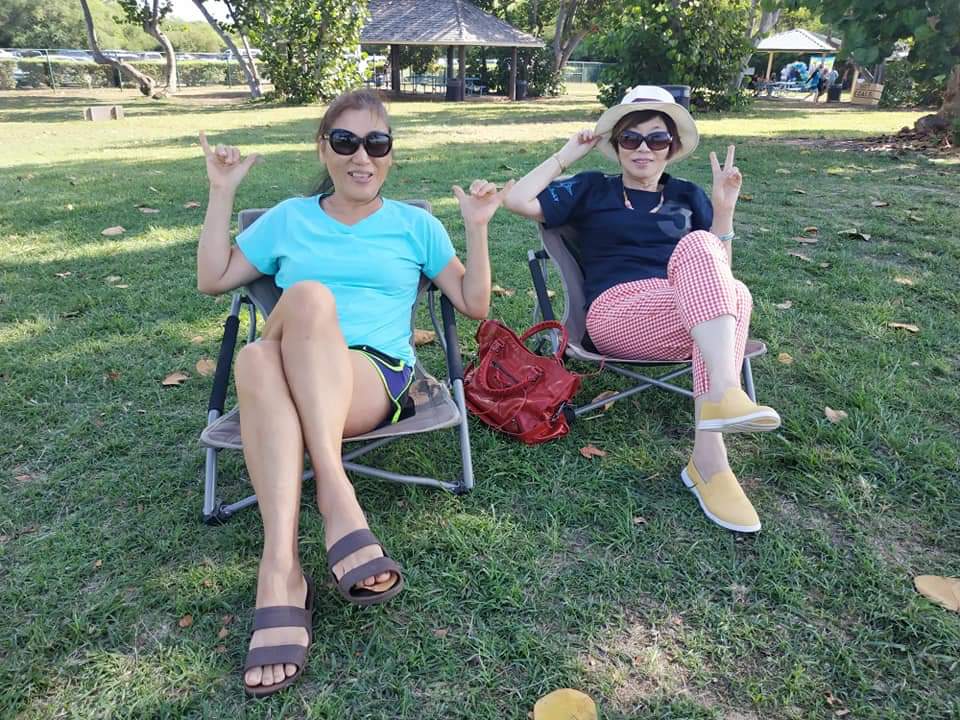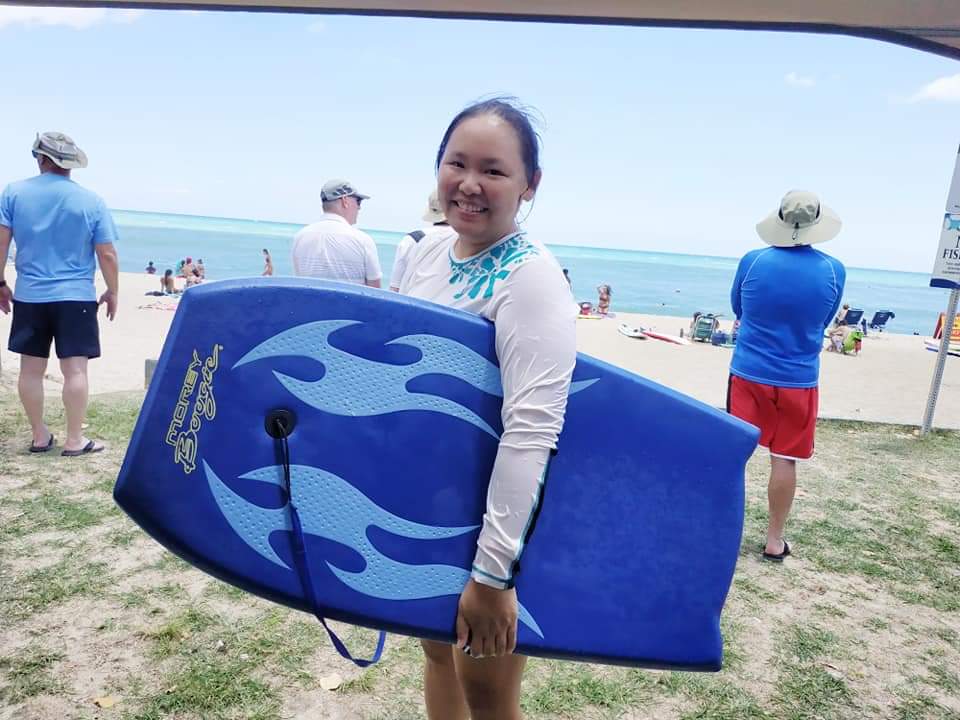 More beaches on Oahu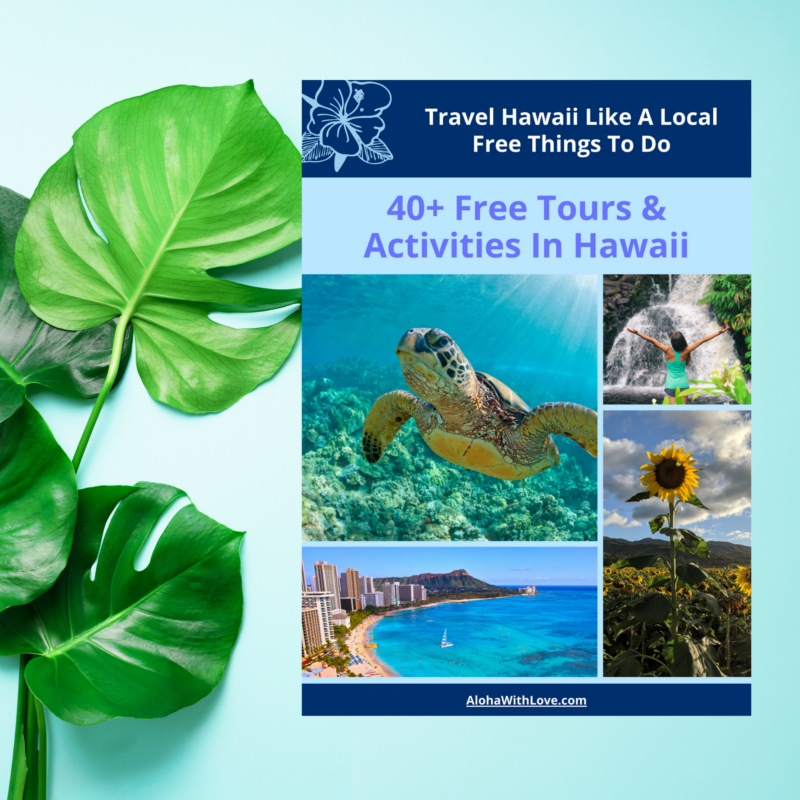 Want to go on a free tour in Hawaii?