This post may contain affiliate links, which means I'll earn a small commission if you purchase something through these links. You won't pay any extra; instead, you'll be helping Aloha With Love to thrive. Thank you! Learn more.
COVID-19 has affected many of Hawaii's businesses and events. Please double check their dates and times before you go or make plans. Visit HawaiiCOVID19.com for more information.
--
If you've got a sunny spot and live in Hawaii, you're ready to grow! But where's the best place to get seeds from? Hawaii may be ideal for growing year round, but it also has its own pests, fungus, and other gardening worries that you may not have to deal with in cooler climates. Plus, depending on where you live in Hawaii, you may have to pay extra attention to which vegetables and fruits will do well in your area. Believe it or not, not everywhere in Hawaii has year-round perfect weather. I'll be using my own location (Mililani Town in Oahu) to share my experience in which seeds have worked us. So keep that in mind as Mililani has a rather neutral climate. Keep on growing!
Aloha with love,
Amy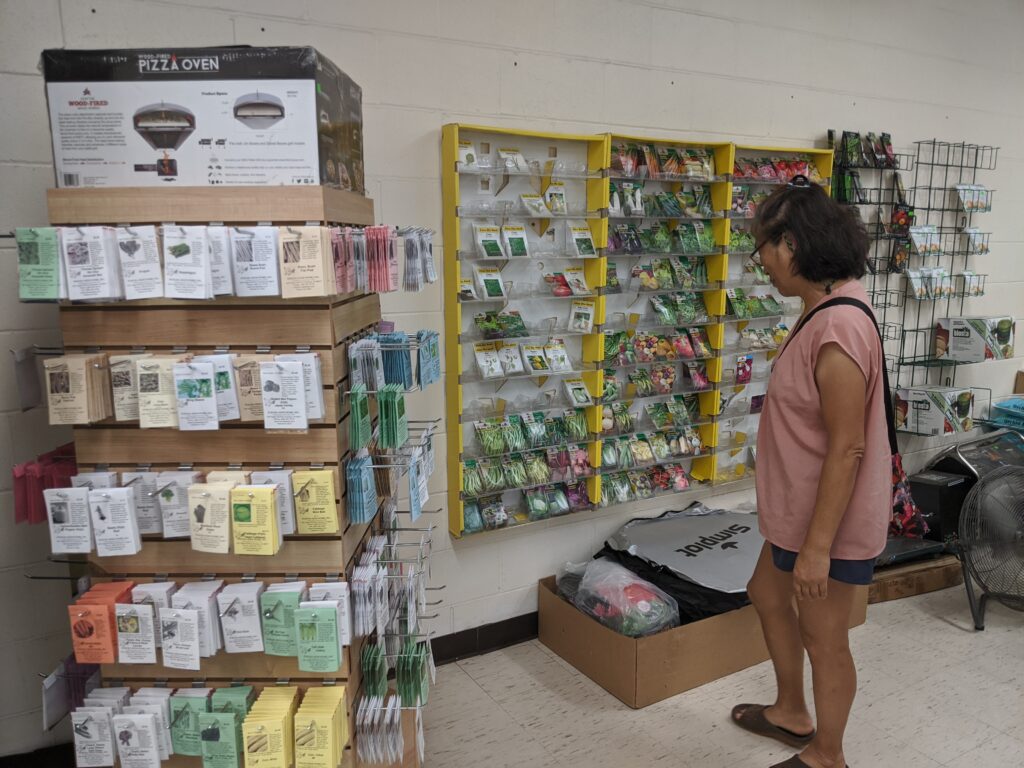 University of Hawaii seeds
One of the best places for seeds is from the Agricultural Diagnostic Service Center's Seed Program of the University of Hawaii at Manoa. These seeds are in high demand and many of them will sell out immediately when they come in stock. Many of the seeds here are resistant to a lot of common pests in Hawaii and grow very well. Unfortunately, the website is super old school and payment is done by cash, check, or money order. You have to print and fill out your order, then mail it in. The easiest way was to drive in and order in person, but since the pandemic again, this service has yet to resume.
The manoa lettuce is always a nice one to purchase and a lot of people in Hawaii like the flavor. I grow a lot of manoa lettuce as it's great for aquaponic and hydroponic setups. It does bolt when it gets warm so if you are doing NFT channels for your hydroponic systems, make sure they're getting cold water from your reservoir. I've also heard really great things about the kahala soy beans and manoa sugar peas so I'll get my hands on them one of these days. The downside to these UH seeds is that sometimes they'll discontinue or pause certain seeds. So if you really like how a certain vegetable turned out, I suggest letting a few grow out to seed so you can continue to grow and harvest them in the future.
Local seed brands
If you can, you always want to buy local seeds because you know the plants have proven themselves to withstand your local temperature, climate, and pests. Hawaii is no different as the warm weather brings its own case of worries. Here are the local seed brands I use and what I like about them.
Fukuda Seed Store: Fukuda Seeds has been around for a long time (more than a 100 years and counting!). They used to have a seed store in Kalihi that you could shop at, but that closed down in April of 2021. Luckily, they're still doing business online so you can still order your seeds online and get them shipped to you. If you prefer to shop in person, they also supply their seeds to several nurseries and garden centers on Oahu. I've noticed that busier locations such as City Mill will actually sell out (my local City Mill sold out in the beginning of the pandemic).
The prices are great at less than $5 a pack and I've experienced a great germination rate overall for everything I've tried: lettuce, broccoli, beans, peppers, choi sum, parsley, cucumber, eggplant, tomato, cabbage, pea, papaya, and shiso. Personally, Fukuda Seeds is my go-to for bok choy. They have a large variety of bok choy to choose from and they're feeding me very well in my aquaponics systems.
Read more: Growing Bok Choy In My Aquaponic System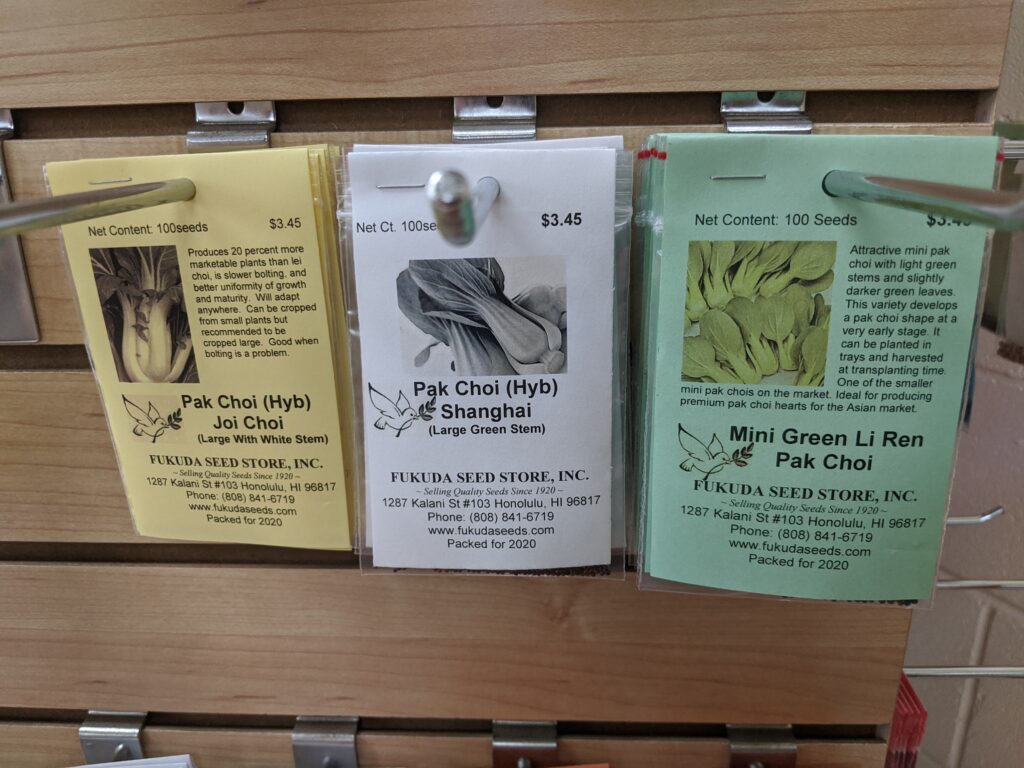 Aina Ola Seed: The other local seed brand that I see often at stores are the Aina Ola Seeds. These seeds are from a Big Island company called the Hamakua Seed & Supply Co. This brand has a big presence in many local stores and their prices are even better than Fukuda Seed Store. In fact, they're even in my local Walmart and have a bigger section than the mainland seeds! Unfortunately, there's no website (that I can find) and very little information of them at all online. Because of this, I prefer to purchase Fukuda Seeds first, then go for the Aina Ola seeds.
Aina Ola Seeds has a huge selection and you'll even be able to find the coveted UH Seed Lab seeds sold in their packaging. I've gotten my Manoa lettuces from Aina Ola Seeds before and the germination rates have been fine.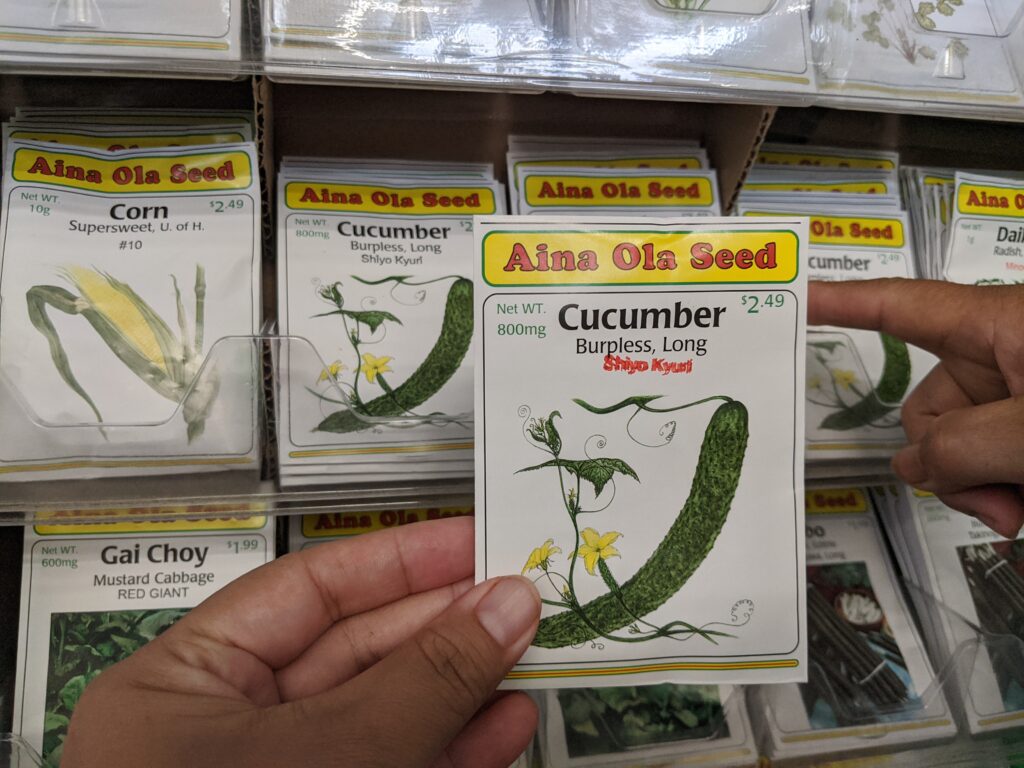 Hawaii Seed Growers Network: I haven't had a chance to try this platform yet as they're rather new (2017), but I'm excited to give some of their seeds a chance. I love that their website includes bios of their seed growers so you can get to know them and do your own research. When you purchase the seeds, there's a ton of information about the plant's growth on the product page (much more than you could fit on the back of any seed packet), so you really know what to expect from the seeds you're buying.
The product info also provides detailed gardening, harvesting, and even eating tips. It's all super helpful information and gives me so much more confidence in their product. Their seeds are a bit more pricey though at $5.00 a packet, with each packet having about 25 – 60 seeds. It's more than double the price compared to Aina Ola and Fukuda seeds, but you're getting a lot more information, consumer confidence, and very interesting strains and varieties proven to grow successfully in Hawaii.
Palama Market
While you can find daikon seeds (Japanese white radish) locally, Korean daikon seeds are a bit more difficult. If you want to grow your own Korean white radishes, head to Palama Market – the largest Korean supermarket in Hawaii. I have no idea what the seed packets say, but these have grown well for me both in the dirt and in my aquaponics systems. My Mom and I always bought the packet on the left, but we learned from one of the Korean aunties shopping there that the packet in the middle has the best leaves for cooking. We immediately grabbed the packet and I can agree that the leaves are on the tender side.
Read more: Pickled Daikon Leaves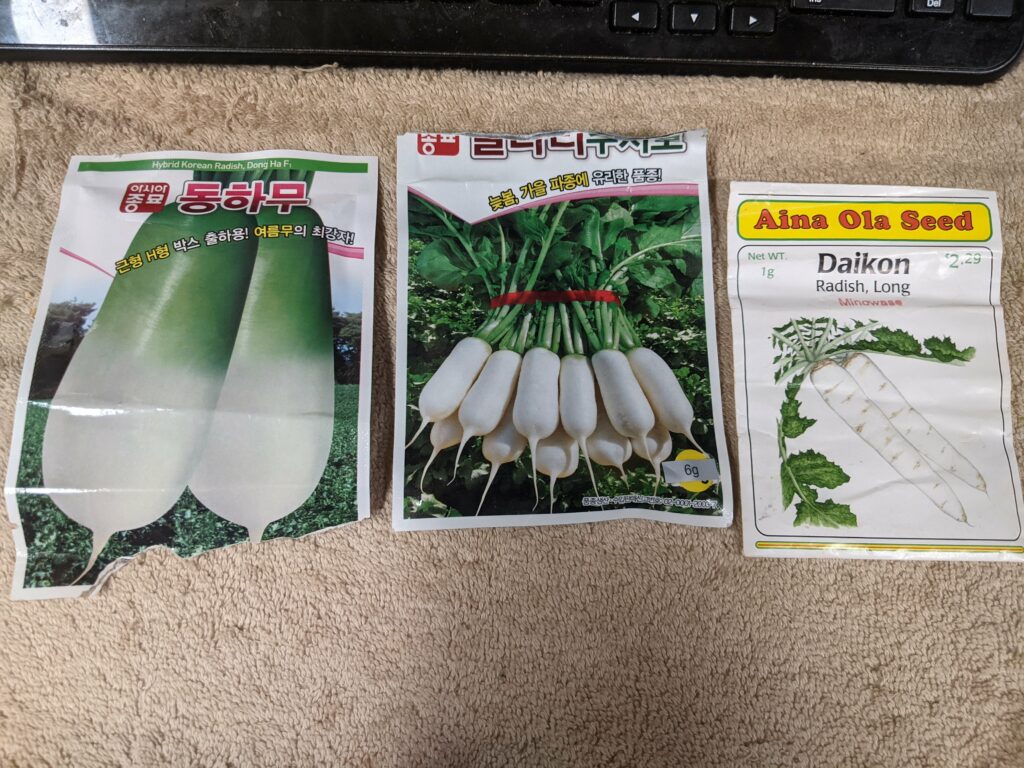 Mainland seeds
Places like Home Depot, Lowe's, and Walmart will have garden centers that sell what I call "mainland" seeds. These are your generic seeds that you'll find in most stores that have a gardening department. For these seeds, keep in mind that Hawaii is warm, most residential areas won't get cold enough for a frost season, and some of them just won't grow well in Hawaii's climate conditions. But that doesn't mean all of them won't work. It's a lot of trial and error and you'll have to figure it out as you go.
What's really worked for me is staying away from vegetables that bolt early. Especially if you're in a really warm area in Hawaii, you want slow bolting plants so you have a chance to harvest and enjoy your crops. I also typically stay away from seeds that need a frost. Although, I know some people get around this by storing their seeds in the freezer for a few days. I've even planted seeds from Amazon (heirloom vegetables from Rebel Gardens), which have all done well for the most part.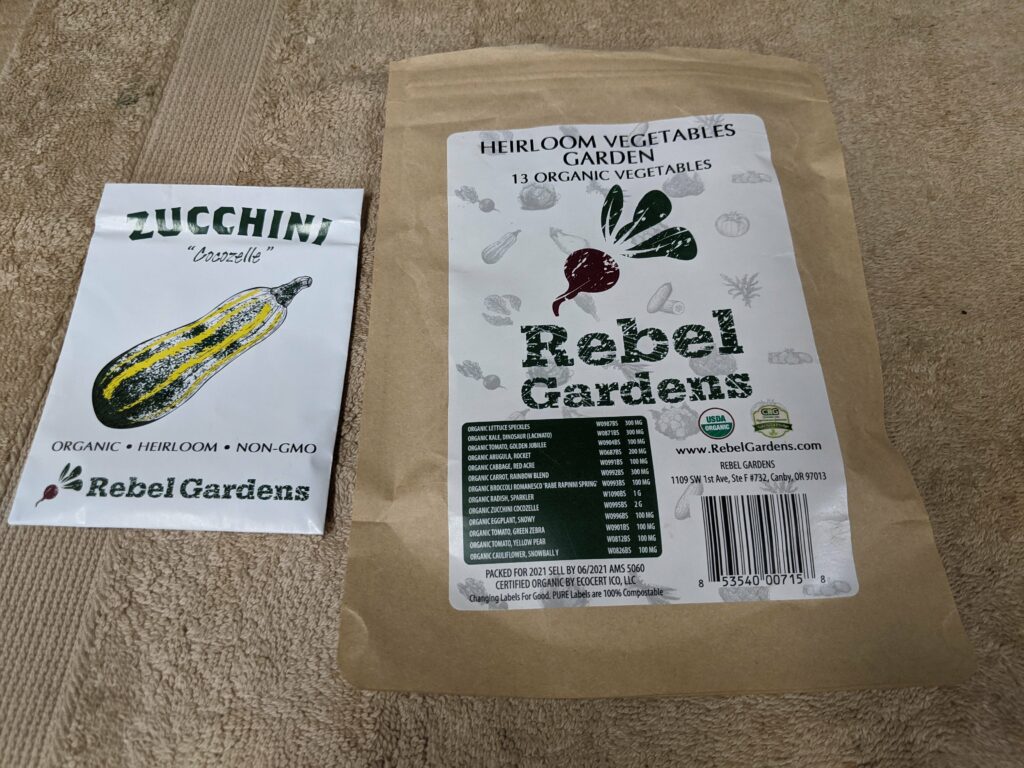 Asian-influence seeds
On a side note, I wanted to mention that many of the vegetable seeds you'll see locally are Japanese and Chinese, which dates back to our plantation days when Hawaii had many Asian immigrants who came to work the plantation fields. Many of the locals today are of Japanese and Chinese descent (myself included), so you'll see seeds and vegetables such as Japanese cucumbers, Japanese eggplant, Chinese broccoli, tat soi, ung choi, etc. often in the seed departments. If you're coming from the mainland, you won't see these too often so take advantage and learn some recipes while you're here!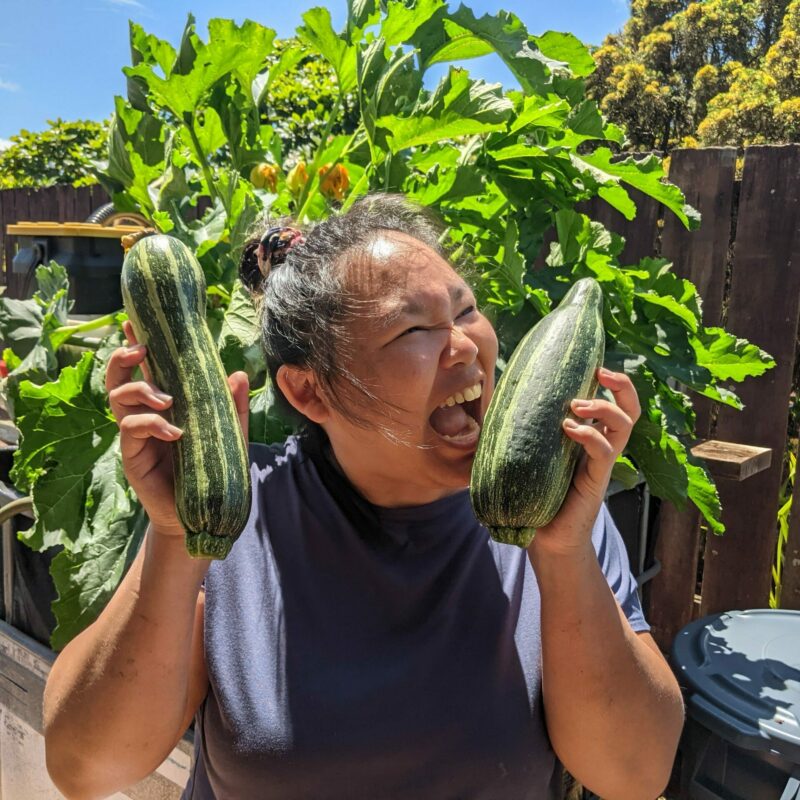 Learn more about living in Hawaii!