This post may contain affiliate links, which means I'll earn a small commission if you purchase something through these links. You won't pay any extra; instead, you'll be helping Aloha With Love to thrive. Thank you! Learn more.
COVID-19 has affected many of Hawaii's businesses and events. Please double check their dates and times before you go or make plans. Visit HawaiiCOVID19.com for more information.
--
My friend Sarah volunteers with the Kapolei Rotary and since she knew I needed a break from being cooped up in the house, she invited me to join their End Polio Now walk along the four Ko Olina lagoons. It's a beautiful walk out here and the pathways are quite a popular spot for both walkers and joggers alike. I enjoyed some spectacular views and will certainly be visiting the Ko Olina Lagoons soon.
Aloha with love,
Amy
Learn more about ending Polio: I learned on this walk that Afghanistan and Pakistan are the only 2 countries that reported polio this past year with only 1 case each! If the world can make that 0 cases for 3 years in a row, polio will have been eradicated. We're so close!
About Ko Olina
When someone mentions Ko Olina, the first thing that comes to mind are the Ko Olina resorts: Four Seasons Resort Oahu at Ko Olina, Aulani, A Disney Resort & Spa, Beach Villas at Ko Olina, and Marriott's Ko Olina Beach Club. All are great resorts with Aulani probably being the most well-known among local residents. A staycation here is quite popular and many of my friends have enjoyed a weekend or two with Mickey and Minnie Mouse.
The next big attraction are the Ko Olina Lagoons. There are 4 lagoons (north to south): Lagoon 1 (Kohola), Lagoon 2 (Honu), Lagoon 3 (Naia), Lagoon 4 (Ulua). These four lagoons are incredibly beautiful and a superb spot for families especially if you have little children…if you can grab a parking spot.
The lagoons themselves are gorgeous. All four of them are flat, safe for small kids, picturesque, and come with nice sand, showers, and restrooms. With the four resorts fronting the lagoons, you'll feel like you're on vacation!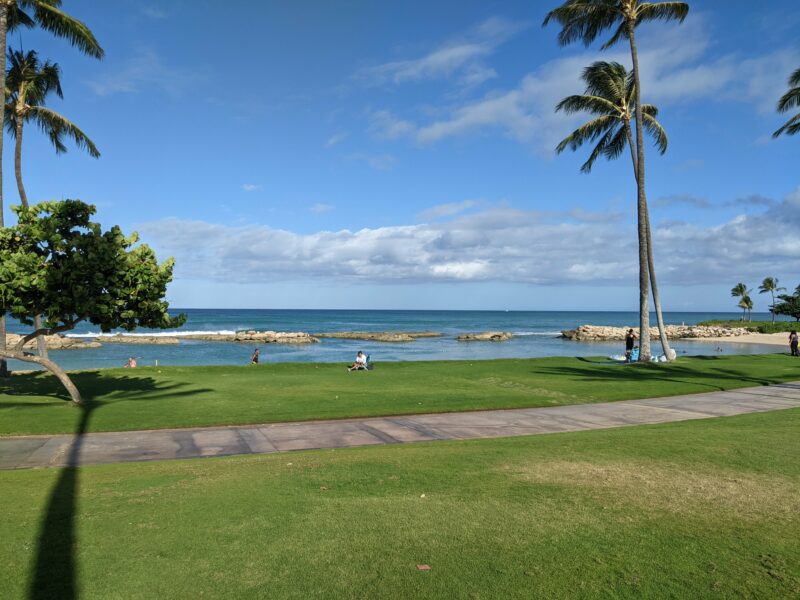 Meeting at Lagoon 4
For our End Polio Now walk, I met my friend and the rest of the Kapolei Rotary group in the parking lot of Lagoon 4. Knowing that it was a Saturday and May 1 (Lei Day here in Hawaii), I arrived a little early at 7:33 AM and grabbed the third to the last spot. The parking lot was completely filled up by 7:40 AM.
My friend Sarah drove into the parking lot close to 7:50 AM and there were no parking stalls left. It was by pure coincidence that someone happened to pull out after their early morning exercise just as she was closing it at the end of the lot.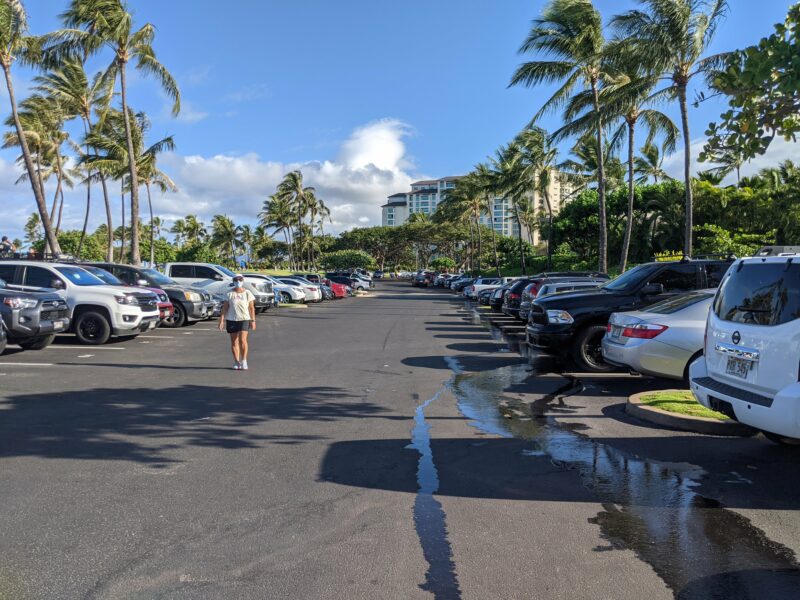 Parking lot tips
Weekends are busy, holidays are busier. If you can, I'd recommend trying to come to the Ko Olina Lagoons on the weekdays just so you don't have to stress about parking your car.
Interestingly enough, at about 8:15 AM, at least 10 parking spots opened up all of a sudden. It's my guess that these are the walkers and joggers who come here at 7 AM and leave at 8 AM. So you might want to try your luck a little after 8 AM to see if any stalls open up.
Lagoon 4 is a great place to park if you plan on walking or jogging the pathways since it's at the end. While you could park at Lagoon 1, the parking lot is significantly smaller (it's literally called Teeny Tiny Public Lot on Google Maps) and it's not quite near the very end of the path.
Lagoon 2 and 3 also have parking lots, but 2 is very small and both are a tad farther away from the pathways/ocean.
Your last resort is to park at the Ko Olina Marina parking lot (right next to the public parking lot for Lagoon 4, which will cost you $10 per vehicle for the day. FYI, when you drive toward Lagoon 4, the public parking entrance is on the right (closer to the ocean) and the marina parking is on the left.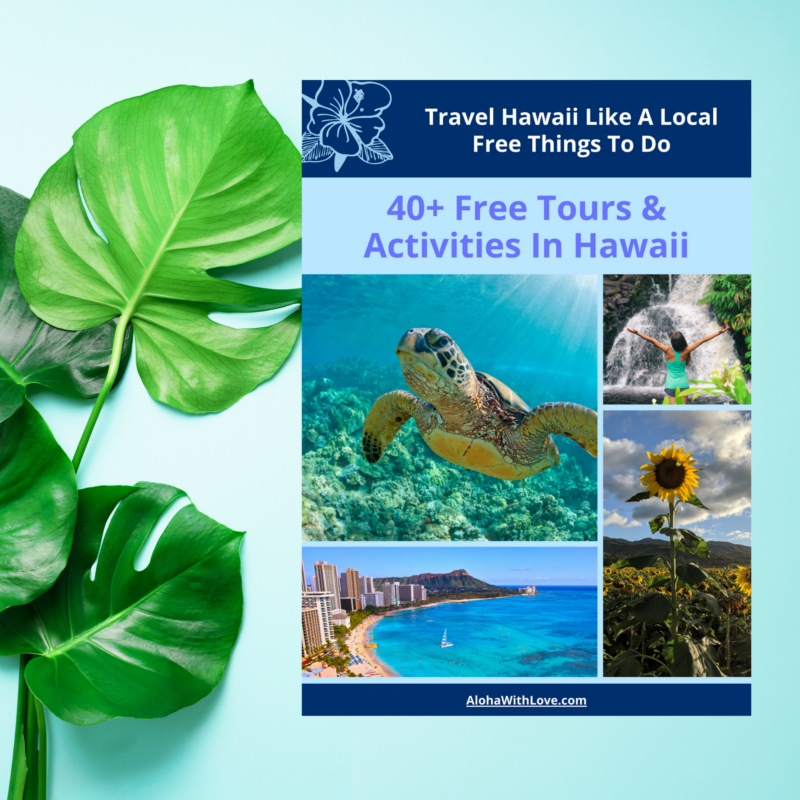 Want to go on a free tour in Hawaii?
Ko Olina Lagoons
All four lagoons are relatively similar and it's hard to tell the difference if you haven't been to any of them before. I usually recommend Lagoon 4 to visiting friends and family purely because it doesn't have a hotel sitting right behind the sand. Plus, it also has the largest public parking area, so it makes it a winner in my eyes if you're looking for that sandy beach experience.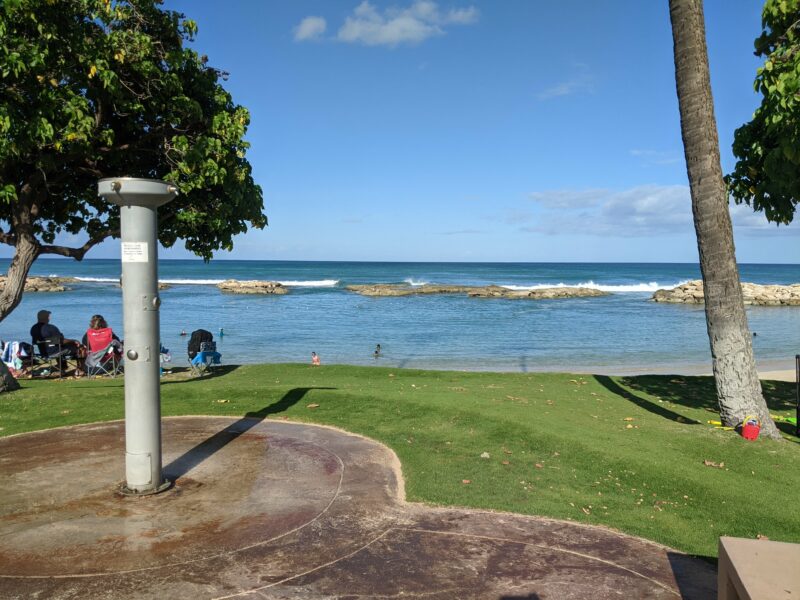 That's not to say that the hotels are an eyesore (they aren't). They're actually pleasant to look at and their architecture (especially Disney's) is interesting and provides some fun sightseeing if you choose to stroll along the walkways or sand. You will have to share the beach with tourists and local residents alike no matter which beach you choose though. All of the Ko Olina Lagoons are very popular in Oahu and are a common destination for beaches on the west side.
What are the lagoons like?
Each lagoon is a crescent-shaped beach backed by a large and grassy lawn with a few trees offering some pleasant shade. When you look out toward the ocean, you'll see a barrier of large rocks dotting the mouth of the lagoon, which lets in some of the waves but not enough to make the waters rough on shore.
Despite it being early May, which is known for calmer currents, on this particular day the waves were surprisingly rough. However, even the big waves we were seeing weren't making it pass the rock barrier in the lagoons so all of the small children in the shallow waters still had the time of their lives.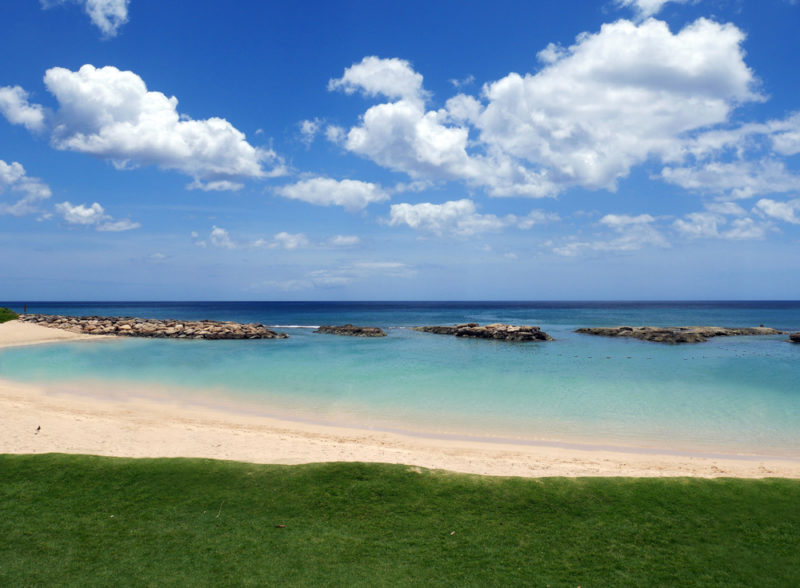 Can you snorkel?
While you won't have a snorkel experience like Electric Beach down the road or Shark's Cove on the North Shore, you can see some fish in the lagoons. So this might be a good place for small children and beginners to get their heads wet and practice getting used to their mask and snorkel.
Lifeguard: The only thing that's missing is a lifeguard on duty at these lagoons. However, as long as you keep an eye on your kids, they should be fine. The outer rock wall does a really good job keeping the waves out of the lagoon and the shoreline waters calm and flat.
Prohibited: There's a long list of prohibited items that aren't allowed on the Ko Olina Lagoons including surfboards, scuba gear, and even toys such as balls or frisbees. Make sure you check the prohibited list at the official Ko Olina website.
Relaxing
At Lagoons 1 and 3, there are chairs and cabanas available, but you'll have to rent them from the hotel staff. If you're on a budget, I suggest coming early to reserve a spot under a tree so you'll have some shade for the rest of the day. Umbrellas aren't allowed on any of the lagoons, so take that into consideration as you plan out your beach day here.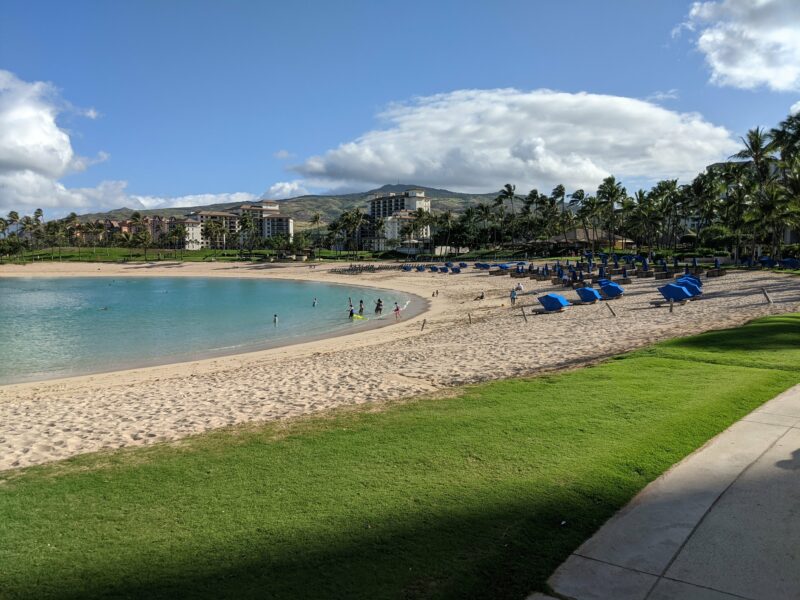 Exercising
This is a beautiful place for activities such as walking, jogging, and yoga. The wide pathway runs along the shore connecting each of the lagoons to one another. You'll see the incredible beaches on one side and the pretty ocean-facing grounds of the resorts on the other.
The pathways are nice and wide so joggers can easily pass by without you having to squeeze to one side. My walk began at Lagoon 4 and we walked to the very end past Lagoon 1 and back. At our pace we completed the entire walk in a little less than an hour. I noticed a few joggers completing this cycle more than once to get their exercise in.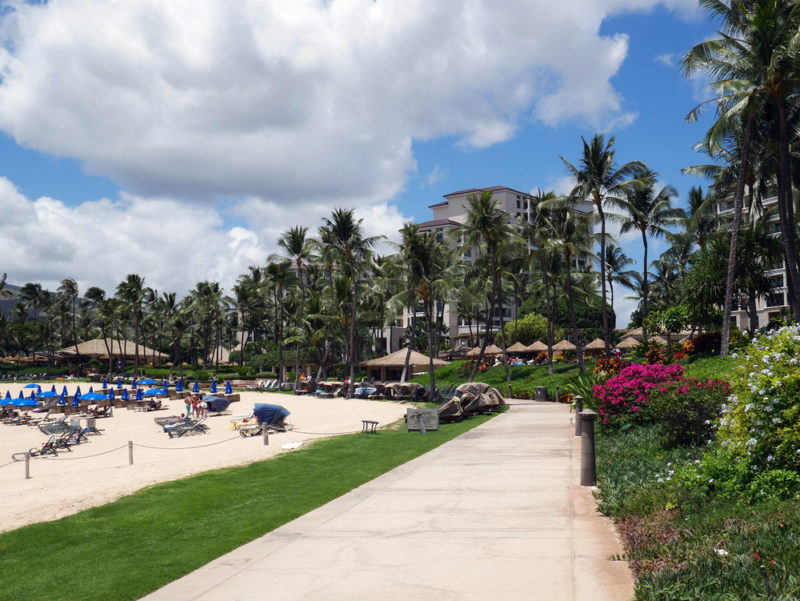 Keep in mind that things like rollerblades, skateboards, and bikes aren't allowed on the Ko Olina Lagoon pathways. From my experience, the Ko Olina management really want to ensure that their hotel guests have an excellent time on their lagoons. Anything that could intrude into their paradise (kites, loud music, fishing, etc.) is not allowed.
Near Lagoon 1 is when the path became significantly narrower. Some of the regulars turned away before they reached this point, but our group continued on because the view and grounds are so pretty. You'll get very close to the ocean on this path, so it's well worth the effort if you haven't walked this area before.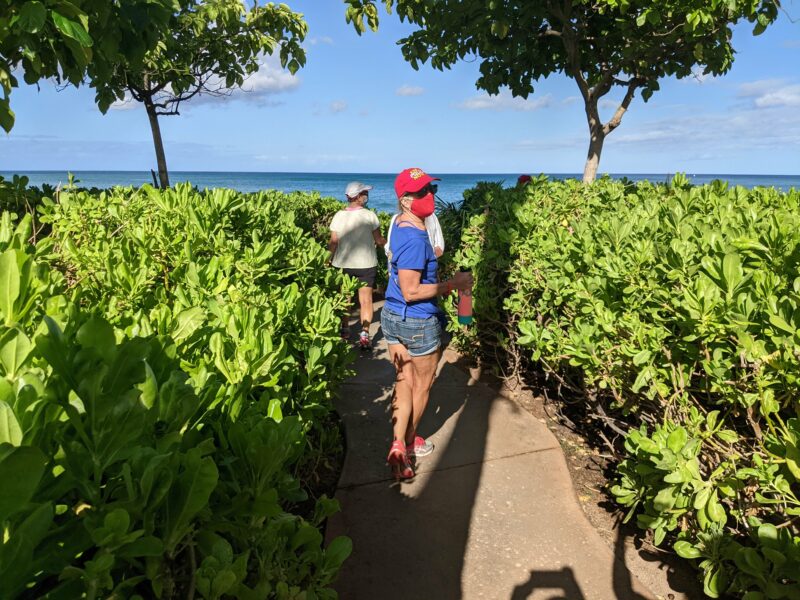 When you reach the end of the path, there's a cut out in the bushes near the Government Property sign. If you choose to continue on, be careful because it's very rocky and there's no walkway. Walk for a few minutes and you'll reach Secret Beach where there are some tidepools to discover and a small area to dip into the water if you feel like a swim.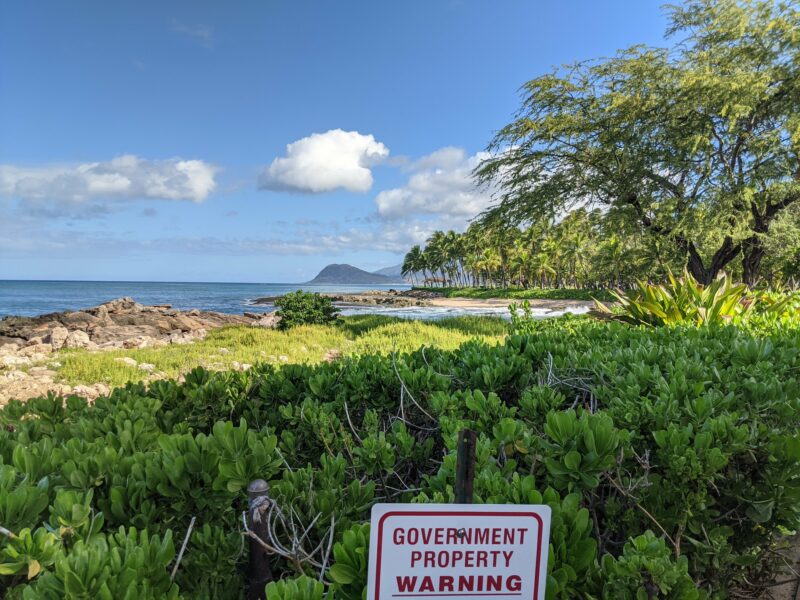 My Ko Olina Lagoons experience
I always enjoy visiting the Ko Olina Lagoons. Parking can be a pain, but as long as you plan for it (get there early or time it well), you should have no problems. This was my first time going to the Ko Olina Lagoons for a walk though, and I have to say I was bummed that I didn't bring my swimsuit! But the walk was still enjoyable and you really can't beat the view of the west coast on Oahu.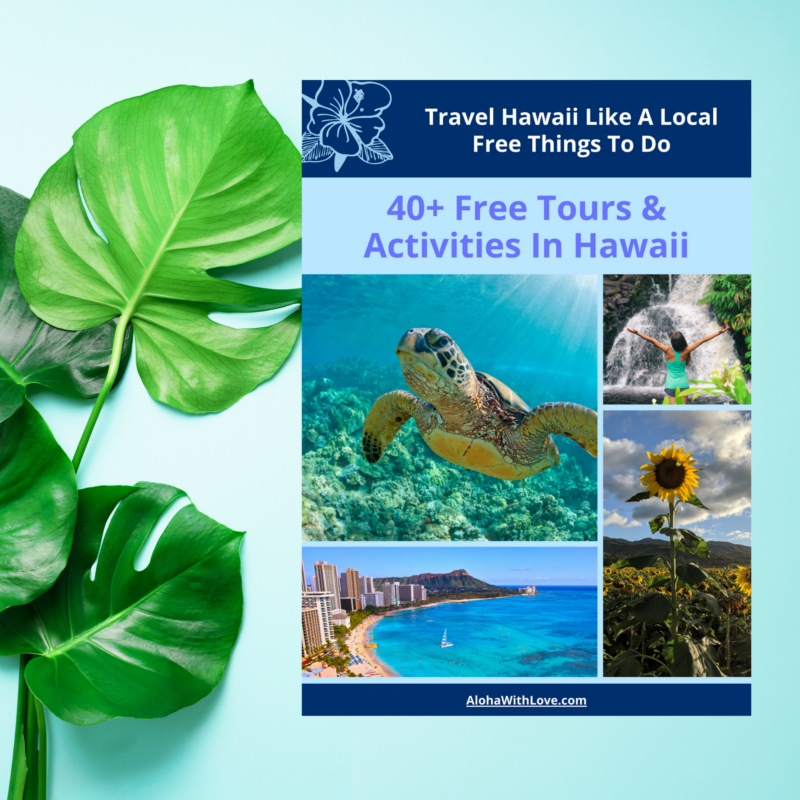 Want to go on a free tour in Hawaii?