This post may contain affiliate links, which means I'll earn a small commission if you purchase something through these links. You won't pay any extra; instead, you'll be helping Aloha With Love to thrive. Thank you! Learn more.
COVID-19 has affected many of Hawaii's businesses and events. Please double check their dates and times before you go or make plans. Visit HawaiiCOVID19.com for more information.
--
When my friends and I decide to go to the North Shore for a beach day, Waimea Bay is pretty close to the top of the list. The view is gorgeous, the water is an enchanting blue, and it's incredibly relaxing to just sit on the sand or bob in the water.
One neat thing about Waimea Bay is that the Waimea River feeds into the ocean from Waimea Valley. If you're lucky, you can watch local residents dig and prep the sand before they hop on for some awesome rides.
The History of Waimea Bay
For those of you who love the Beach Boys: Yes. This is the Waimea Bay that appears in their song "Surfin' USA". (Although horribly mispronounced, it's still a great tune to listen to!)
Nevertheless, Waimea Bay does deserve to be included in their Surfin' Safari album. Local surfing legend Eddie Aikau surfed these waves. Big wave surfing became a thing here starting in the 1950s. In more recent history, "The Eddie" surf tournament is held here when the swell reaches at least 60 feet.
First contact with Captain Cook's crew
Here's an interesting fact about Waimea Bay: it's the first place where the Hawaiians on Oahu had contact with foreigners. After Captain Cook's death in the Big Island's Kealakekua Bay, his two ships the Resolution and the Discovery stopped in Waimea Bay for fresh water.
Waimea Bay the sandalwood capital
Not many people know this about Hawaii, but before the pineapple and sugarcane plantations, there was the sandalwood industry. Trade ships would dock in Waimea Bay to load Hawaiian sandalwood aboard. Unfortunately, the trade of sandalwood from Hawaii was short-lived. Once Kamehameha I passed away, the sandalwood trees were quickly wiped out. While he was alive, it was illegal to harvest young sandalwood trees.
Eddie Aikau and big wave surfing
Eddie Aikau is a local legend here in Hawaii. He became Waimea Bay's first lifeguard and saved over 500 people. A great feat since Waimea Bay is a dangerous place to be especially during the winter swells.
Although Waimea Bay's big waves have been surfed dating back to the 50s, Eddie Aikau is often remembered for surfing here. His memorial on the beach park commemorates his bravery when he sacrificed his life and paddled to Lanai on his surfboard when the voyaging canoe Hokulea capsized.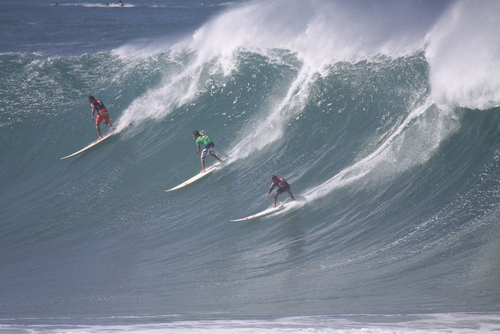 "The Eddie" is not an annual event. It's an invitational surf tournament that is held only when the swells at Waimea Bay have reached a minimum of at least 60 feet.
Unfortunately, in recent years the organizers of The Eddie have had difficulty in keeping the event going. You can still stop by Waimea Bay during the winter to witness the big waves yourself. The sheer power is mind-blowing and you may still get to see big wave surfers carving the waves with skill.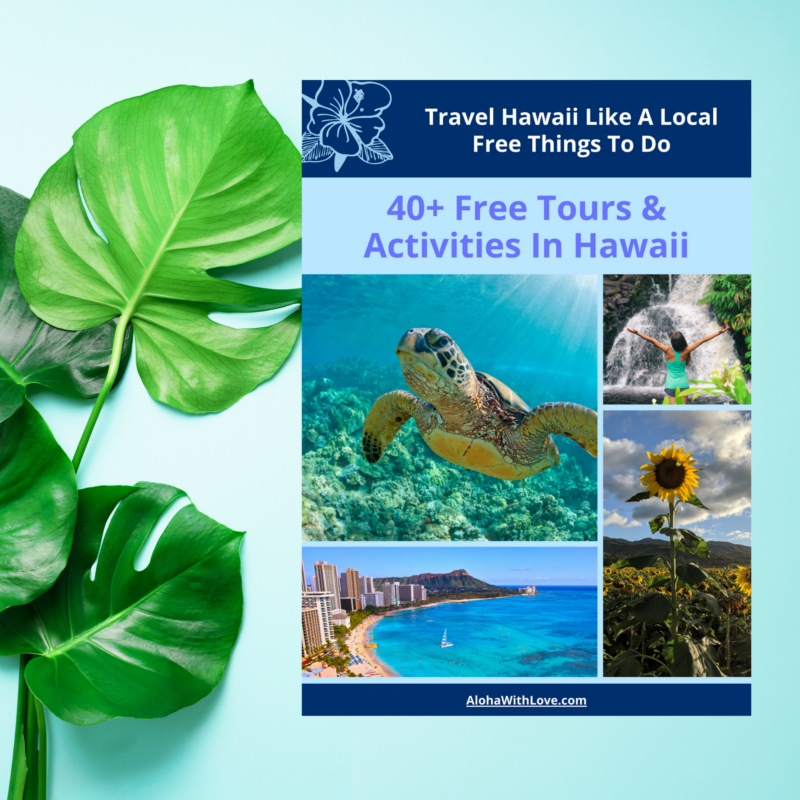 Want to go on a free tour in Hawaii?
About Waimea Bay
Waimea Bay is a fantastic beach for any age. As long as you avoid the strong winter swells, the waters are gentle, there's plenty of beautiful sand for you to spread out on, and the jumping rock is a huge attraction for adventure seekers.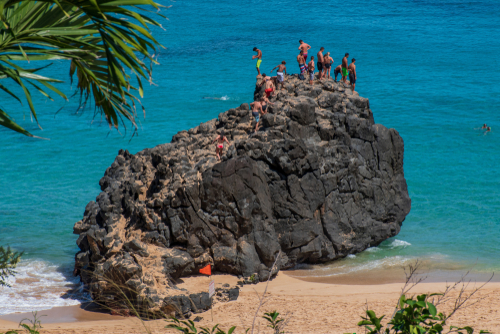 When is it safe?
Waimea Bay is almost always safe except during the winter months. Giant swells hit the entire North Shore and world-renowned surfers fly into Oahu to challenge the big waves here.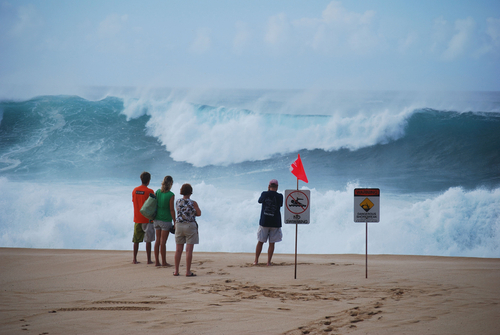 Other than winter, the rest of the year leaves Waimea Bay as a calm sanctuary. The waves are gentle and young kids will have a fun time playing in the water. Lifeguards will be on alert at Waimea Bay and in case of injury, you can always ask them for help.
How to get to Waimea Bay
Waimea Bay is so gorgeous that you can't miss it. From either direction, you'll drive inland in the shape of a "U" and you'll catch a postcard-perfect glimpse of Waimea Bay as you drive downhill. The entrance to Waimea Bay is at the bottom of the "U", practically right across the entrance to Waimea Valley.
Parking at Waimea Bay
The parking lot at Waimea Bay has only one entrance with a limited number of parking stalls. If there's just one tip I can give you, it's to get there early. Once you miss out on the parking lot, you'll have to park out on the street and it will take you at least 15 minutes by foot to reach the sand (if you're lucky).
The closest street parking is on the south side of the bay with room to fit only a small handful of cars. The last option is to park on the north side of the bay near Shark's Cove, which also has its own problems with parking.
What to eat
If you're going to spend the day at Waimea Bay, then I recommend bringing your own food. It's easy enough to pack a cooler of food and drinks along with your towel and beach chairs.
But even if you decide to not bring refreshments, it's highly likely that there will be at least 1 or 2 food trucks in the parking lot. Unless there's severely bad weather, food trucks like parking at Waimea Bay because of the steady flow of customers. In fact, every time I've gone to Waimea Bay I've seen at least 1 lunch truck and a shave ice or ice cream truck that really hits the spot on those hot, sunny days.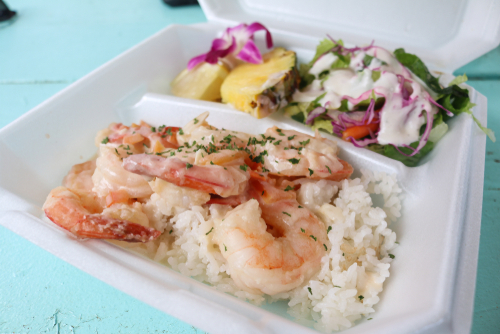 You can also drive out and look for a meal outside of Waimea Bay. Try the food trucks across of Shark's Cove, Ted's Bakery, or head back to Haleiwa to try one of the many local restaurants.
Local Tip: I really like Kono's North Shore in Haleiwa Town. They have a really great kalua pork burger.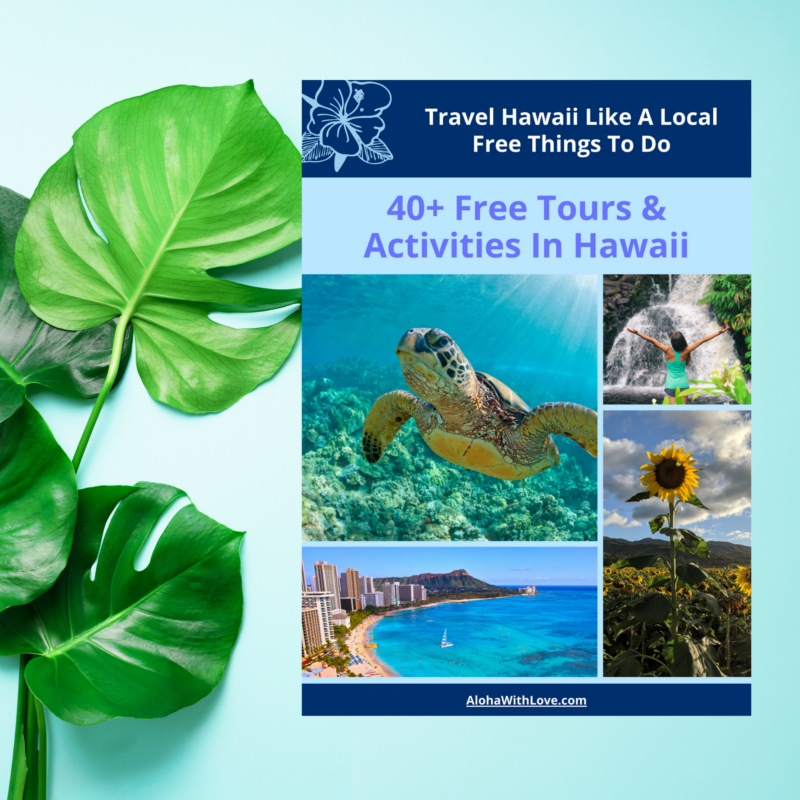 Want to go on a free tour in Hawaii?
Things to do at Waimea Bay
Waimea Bay is unique since it has a river that occasionally flows out into it. There are plenty of videos and social media posts of people river surfing as the water rushes out. If you like kayaking, you can even take your kayak up Waimea River to explore the outer area of Waimea Valley.
Snorkeling
Most of Waimea Bay is not suitable for snorkeling, although you can see the occasional turtle floating around. The only place where you'll find fish are at the two outer ends. But take extra caution – the waves tend to be rougher here so I encourage you to snorkel with a buddy.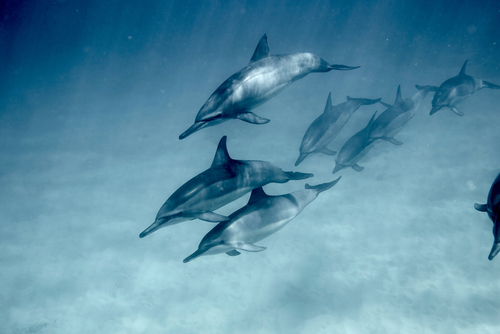 A really cool sight are the Hawaiian spinner dolphins that occasionally rest in the middle of Waimea Bay during the summer. If you're lucky enough to see this pod, you can snorkel and watch them – but don't get too close. Not only will the lifeguards shout at you with a megaphone, but it's illegal to harass these creatures.
Bouldering
I learned about this rock wall from one of my visiting friends! He specifically wanted to go to Waimea Bay to boulder – which at the time I had never heard of before. But what a fun activity he introduced me too!
From the parking lot, head out to the bay and you'll see the jumping rock to your left. Head toward the jumping rock and you should see the wide and flat basalt walls on your left.
It's a really neat gem if you're into rock climbing. For more information on bouldering in Waimea Bay, check out the Bouldering Hawaii website! It's a fantastic local site that has all the information you need on bouldering in Hawaii.
Jumping off the rock
The most famous part of Waimea Bay is "the rock". You'll know it when you see it. As you enter the bay from the parking lot, the rock will be out on your left and you'll learn quickly why it's so popular.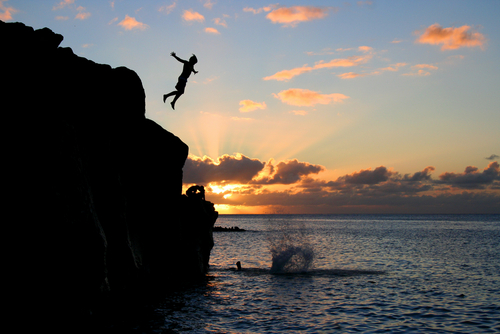 People of all ages climb up and jump off the rock – some do flips and turns, while others land loud belly flops. It's a lot of fun to do at least once – just make sure the tide is high enough and that you don't land on your head. The lifeguards will warn you when it's too dangerous to jump.
Overall, Waimea Bay is a fantastic place for a beach day. The view is gorgeous, there are lifeguards to keep watch (a rare sight on the North Shore), it's family friendly, and the chance to see dolphins is a big lure.
I hope you have fun at this beach like I always do. It holds special memories of nostalgia for many local residents because many of us have spent our childhood playing at Waimea Bay.
Aloha with love,
Amy
More about Oahu beaches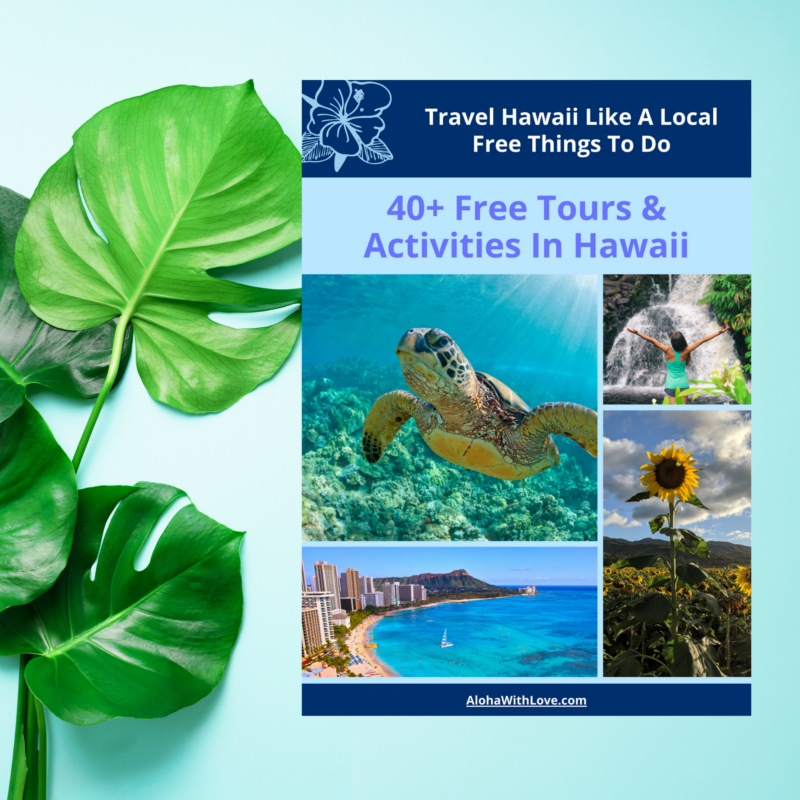 Want to go on a free tour in Hawaii?