This post may contain affiliate links, which means I'll earn a small commission if you purchase something through these links. You won't pay any extra; instead, you'll be helping Aloha With Love to thrive. Thank you! Learn more.
COVID-19 has affected many of Hawaii's businesses and events. Please double check their dates and times before you go or make plans. Visit HawaiiCOVID19.com for more information.
--
As the largest and busiest tourist hub in Hawaii, Waikiki wins when it comes to convenience when you're on a vacation in Oahu. Everything is within your reach from extravagant shopping trips to unbelievable outdoor hikes. It's so easy to arrange tours and activities; plus, transportation is a breeze even if you don't have a car.
This Waikiki guide will help you get your bearings about Waikiki. You'll learn what to expect, the pros and cons to staying in Waikiki, how to navigate your way around and how you can make the most of your stay in this magical part of Honolulu, Hawaii.
Aloha with love,
Amy
An Introduction To Waikiki
A brief history of Waikiki
Waikiki has gone through many changes over the course of time. But what it has always been known for are its perfect surfing waves. In the 1800s, Hawaiian royalty would spend time on the Waikiki waters with their longboards in search of that perfect wave.
Duke Kahanamoku, a famous surfer of Hawaiian descent who competed in the Olympics, grew up in the waters of Waikiki and with his fame brought Waikiki into the spotlight. There are still plenty of surfing tournaments held in Waikiki today and if you want to learn how to surf, Waikiki is one of the best places to learn.
What is Waikiki?
Waikiki is the main tourist hub of Hawaii and is located in Honolulu, Oahu Island. It occupies a small section along Oahu's southern shore and is well known for all the hotels, restaurants, activities and tourists. The great thing about Waikiki is that you won't run out of things to do. There are plenty of things to discover and they're all just a short walk away. Plus, the beach is literally right outside!
Read More: A Local's Guide To Waikiki Hotels And Why You'll Love It (Or Hate It)
The main road in Waikiki is Kalakaua Avenue and if it's within your budget, an oceanside hotel on Kalakaua Avenue cannot be beat. You'll find an endless supply of entertainment here from shopping to excellent restaurants to fun activities. The second main road is Kuhio Avenue, which is one block inland. The hotels on this road tend to be cheaper, but it's still close enough to central Waikiki.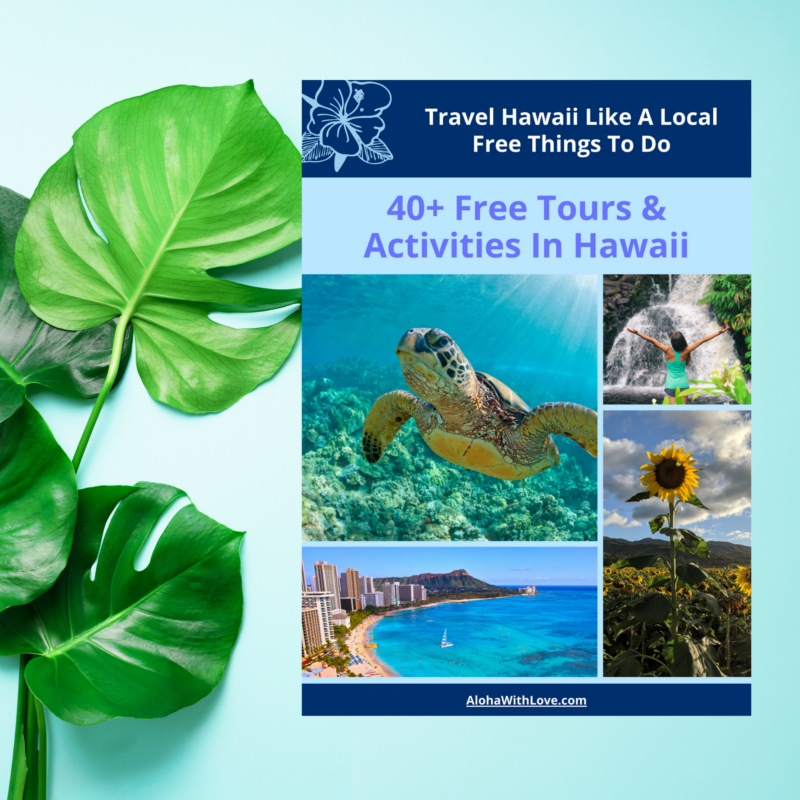 Want to go on a free tour in Hawaii?
Seasons, Weather And Ocean Safety In Waikiki
Seasonal changes in Waikiki
Despite Hawaii being thought of as a tropical paradise where summer never ends, we still have seasons to replace the lack of snow and red autumn leaves. Hurricane season runs from June 1 thru November 30, while our wettest time period is November thru March. Unlike higher elevations, it never gets too cold in the winter and you can make do with a light jacket.
Read More: Clothes For Hawaii That Should Already Be In Your Suitcase
What's the weather like in Waikiki?
The weather in Waikiki is relatively tame with winter temperatures ranging from mid 60s to low 80s degrees fahrenheit, and summer temperatures ranging from low 70s to high 80s degrees fahrenheit. Waikiki ocean temperatures generally hover above mid 70s degrees fahrenheit, making any day at the beach a pleasant one.
Local Tip: What's really pleasant about the weather are the trade winds. Almost year round, cool wind blows nonstop and feels fantastic on your skin. However, we do have Kona winds periodically, which blow in the opposite direction. Kona winds make the day muggy and humid, but luckily these don't happen too often.
Ocean safety in Waikiki
The waters surrounding Waikiki are pretty tame all year round. Even in the winter when we have our big surfing tournaments on the North Shore, the south shore remains relatively unchanged, making Waikiki a great place for beginner surfers.
A big plus to any of the beaches in Waikiki are the lifeguards. They line the whole Waikiki shore so any injuries can be treated right away and you'll hear about any potential dangers immediately. Beaches in Waikiki are sometimes also designated surf, boogie board and swim spots, which is another added bonus for everyone's safety.
Local Tip: Waikiki is sometimes affected by the jellyfish swarms that hit Hawaii once a month. When conditions are right, jellyfish swarms will typically hit the Hawaiian Islands 8 days after a full moon and remain for 3 – 5 days.
Read More: Don't Pee On A Jellyfish Sting In Hawaii, It's An Old Wive's Tale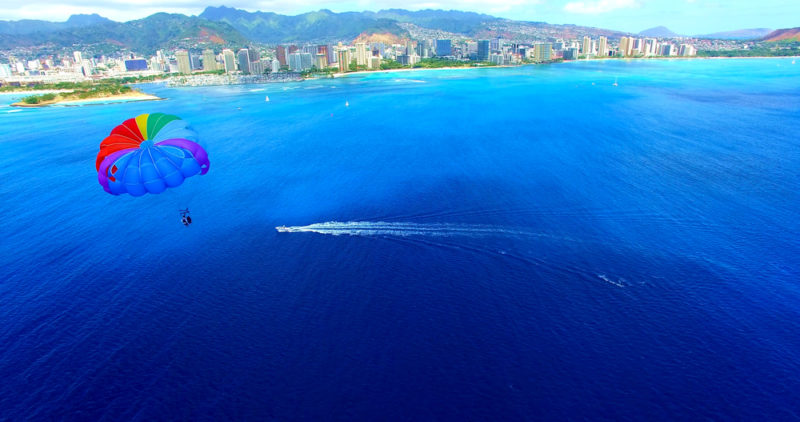 Waikiki Beaches
Waikiki actually has 8 distinct beaches, each catering to different people and activities. Some are great for surfers and boogie boarders, while others are perfect for small children. I've listed the beaches in order from west to east (from Hilton Hawaiian Village to Diamond Head).
Kahanamoku Beach – aka Duke Kahanamoku Beach or Crescent Beach. Kahanamoku Beach is right outside the Hilton Hawaiian Village and has a gorgeous view of the Waikiki stretch with Diamond Head in the backdrop. The sand is more rocky here in comparison, but it's a good spot for children. Plus, the Hilton Hawaiian Village lagoon is right behind you, which is an excellent spot to play with infants and toddlers.
Local Tip: Every Friday evening, the Hilton Hawaiian Village shoots up fireworks. Kahanamoku Beach is a great spot to view the display.
Fort DeRussy Beach – There's a lovely beach park with restrooms, showers, ocean rentals and picnic tables. The sand on this beach is soft and you can play beach volleyball and racquetball here, too. This is one of my favorite beaches in Waikiki because there tends to be less people in comparison to central Waikiki.
Local Tip: The cheapest place to rent umbrella and beach chairs in Waikiki even if you're not a hotel guest is at Fort DeRussy Beach. Check out Waikiki Shore Beach Services for their prices, early bird specials and military discounts. Plus, they even have a free beach wheelchair rental, too!
Gray's Beach – aka Halekulani Beach. Located right in front of the Halekulani Hotel, most of the sand here is gone so don't plan on getting your suntan here. There are significantly less people here though, so this is a fantastic place for a swim.
Royal Moana Beach – aka Royal Hawaiian Beach or Waikiki Beach. One of the busiest beaches in Waikiki. This beach sits between two of Waikiki's oldest hotels: The Royal Hawaiian and the Moana Surfrider. There are plenty of rental facilities, the sand is smooth and the water is ideal for outrigger canoe rides and surf lessons.
Kuhio Beach – aka Prince Kuhio Beach, Kuhio Ponds. Kuhio Beach can give Royal Moana Beach a run for its money when it comes to most crowded beach. However, this is a great beach for kids. There are 2 outer walls blocking the waves, making this section of Waikiki Beach resemble a calm pond, hence the nickname.
Local Tip: It's fun to walk on the wall as the waves come in, but take extra care in minding your step and the strength of the waves as the rocks can be slippery.
Queen Kapiolani Beach – aka Kapiolani Beach, Walls. If you're a boogie boarder like me, Walls is the place to be. The waves are usually consistent and boogie boarders flock to this section to catch the nonstop waves. There's a boogie board rental shop on the sand you can't miss if you don't have the gear with you.
Local Tip: In my opinion, summer is the best time for good waves in Waikiki. The consistency is great and you'll spend a lot more time catching rather than searching for that perfect wave.
Kaimana Beach – aka San Souci Beach. The quieter end of Waikiki Beaches begins here as the large hotels stop at Queen Kapiolani Beach. There's a large grassy area right behind the sand and the reef allows for some pretty good snorkeling. This is an especially popular spot among locals as it's close to several metered parking stalls and free street parking.
Outrigger Canoe Club Beach – aka Colony Beach. The last Waikiki beach on the eastern end of Waikiki. This beach remains relatively quiet and not many tourists make it out here. There's a private feel to this beach since it's so far from the main Waikiki area, making this a great spot if you want to avoid the crowd.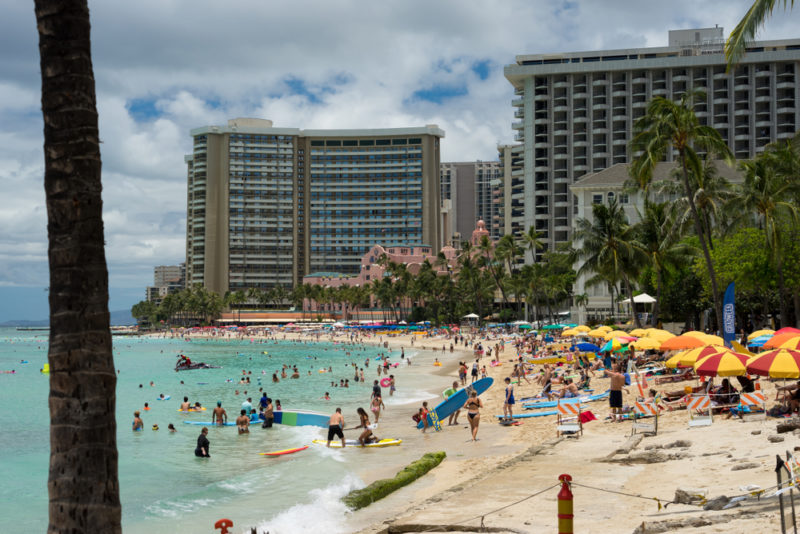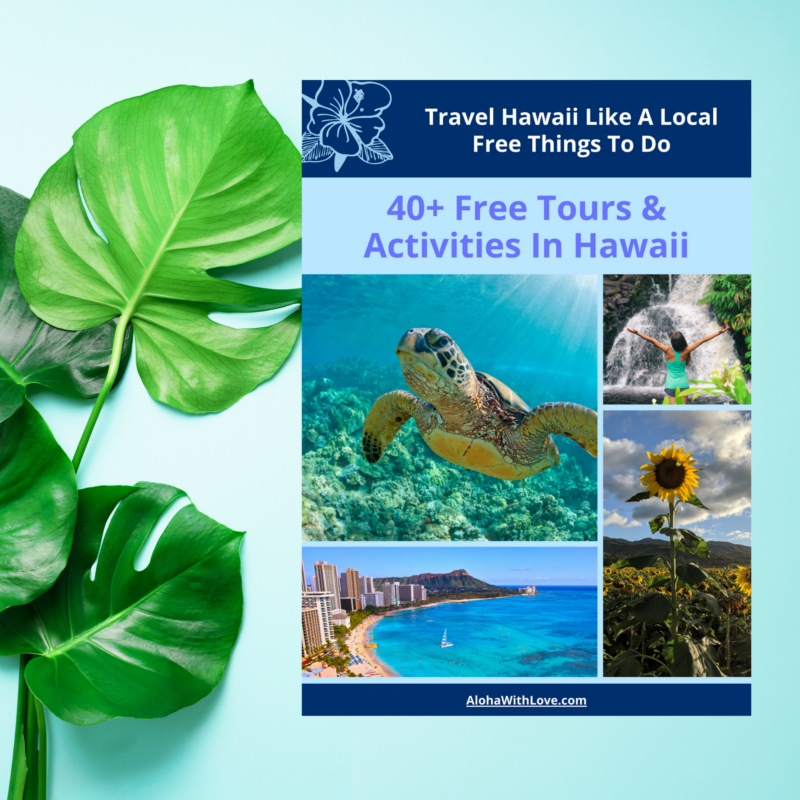 Want to go on a free tour in Hawaii?
Activities And Attractions In Waikiki
There are so many things to do in Waikiki, it will make your head spin. With so many hotels, concierge services, activity desks and tour operators, your biggest problem will be narrowing down your bucket list.
Popular ocean activities
Learn to surf in Waikiki – One of the top things to do in Hawaii is to learn how to surf and Waikiki is one of the best places to learn. It's safe, the waves are consistent and not overpowering, and the instructors are experienced.
Outrigger canoe ride – This is a lot of fun and extremely stable because of the outrigger setup.
Sunset cruise – You may have to go outside of Waikiki to board your ship, but the view of Waikiki is incredible. Do your research in advance as each cruise offers something a little different (cocktail cruises, dinner cruises, whale watch cruises, etc.)
Read More: The Majestic Whale Watching Cruise By Atlantis Adventures
Shopping in Waikiki
Shopping in Waikiki is a blast if you like to shop 'til you drop. There are so many stores to discover from high-end brands to boutique shops. Here are a few of my favorites:
Ala Moana Center – A huge outdoor mall with plenty of unique stores to discover. The architecture is also very well done and even non-shoppers will enjoy walking through Ala Moana. Check out the food court, Shirokiya and Foodland if you're a foodie.
Read More: Ala Moana Center Is A Shopper's Paradise
International Market Place – The old International Market Place used to be a venue for kiosks and small vendors, but these days it sports a classy look with plenty of interesting shops to explore. I love how they've incorporated a huge banyan tree from the days of old into the architecture.
Local Tip: The National Geographic art gallery is more like a museum. You can easily spend an hour here looking at the huge photographs and feel like you're up close and personal with a tiger, eagle or polar bear.
Kalakaua Avenue – The Waikiki Strip. Step out of your hotel and you can shop and eat your way down the length of Waikiki. There are also plenty of side streets where the shopping continues. Waikiki Beach Walk and Waikiki Shopping Plaza are very popular.
T Galleria by DFS – Duty Free Shopping for luxury brands.
Royal Hawaiian Center – Located in front of the Royal Hawaiian Hotel and Sheraton Waikiki, you'll see this large shopping mall as you walk on the ocean side of Kalakaua Avenue. In addition to all the shops and restaurants, a lot of entertainment and free activities are held at the Royal Hawaiian Center.
Read More: Free Waikiki Classes That Are Hands On
Waikiki's points of interests
Things to do near Waikiki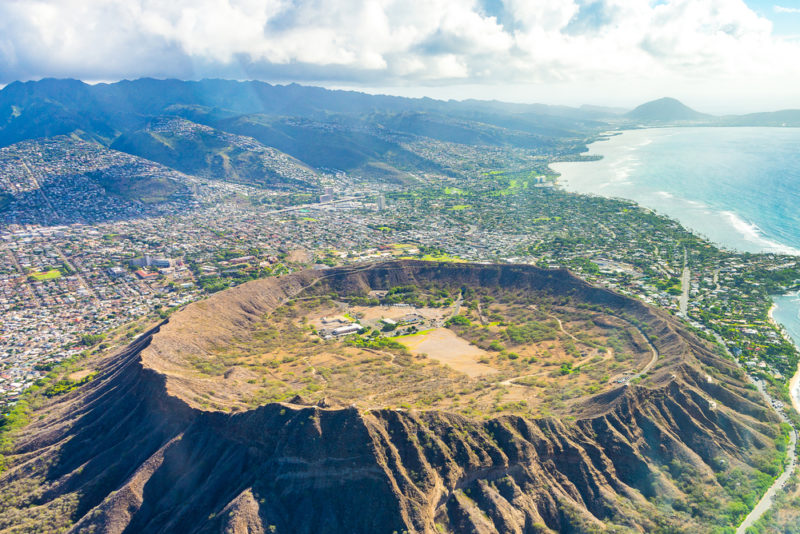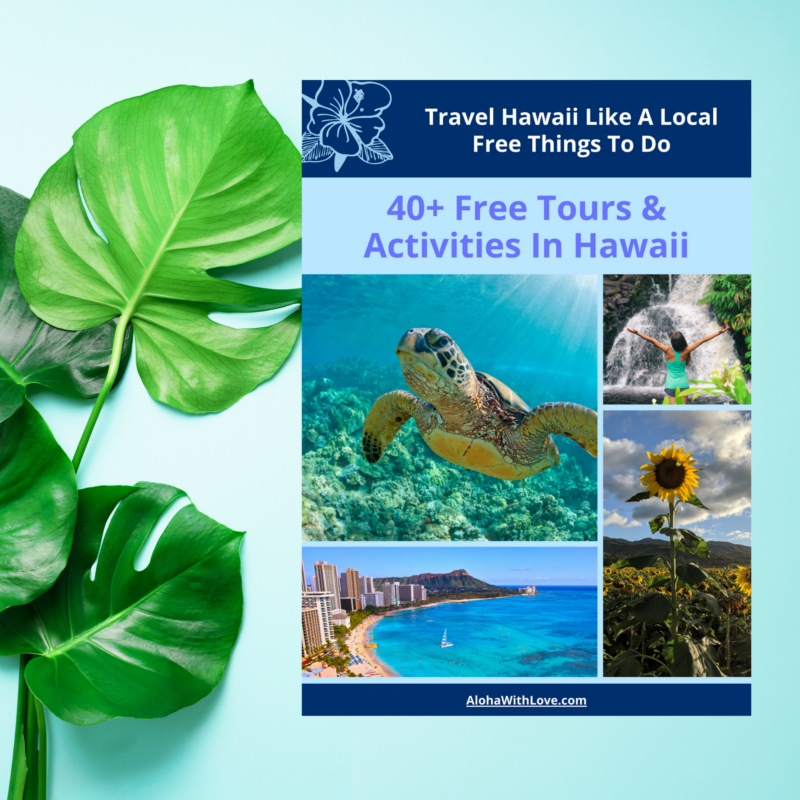 Want to go on a free tour in Hawaii?
Eating And Drinking In Waikiki
What I'm going to eat and drink is so important to me whenever and wherever I travel. My stomach dictates where I'll go because I want to eat anything and everything that I won't be able to try when I go back home. I'm sure you're thinking to do the same! Here are a few of my favorites, suggestions and popular hotspots that should go on your gastronomy list.
Popular restaurants in Waikiki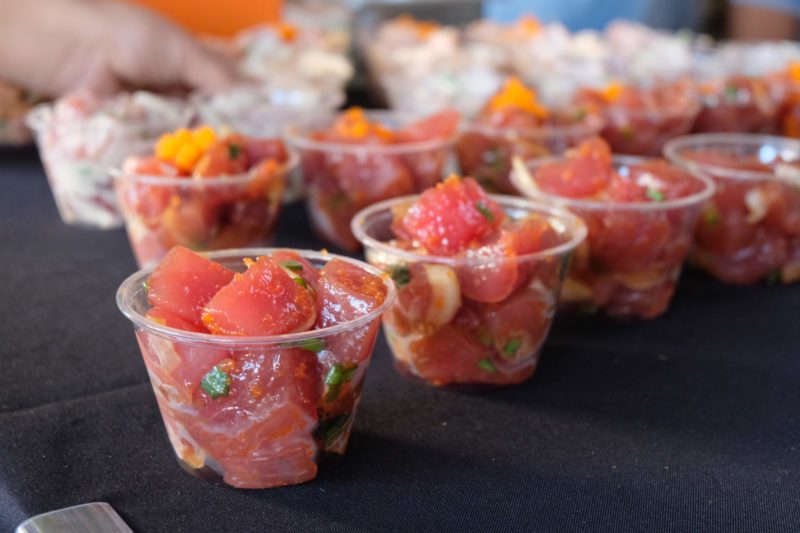 Transportation In And Out Of Waikiki
How to get around in Waikiki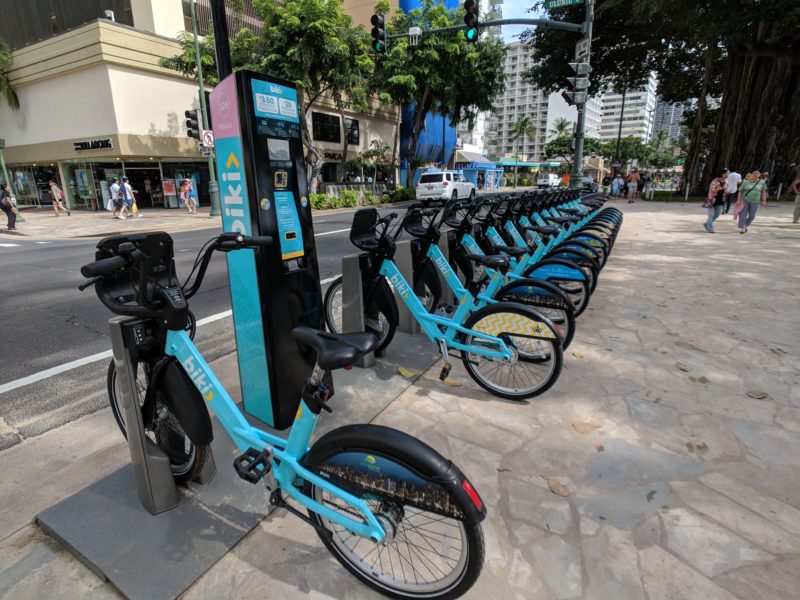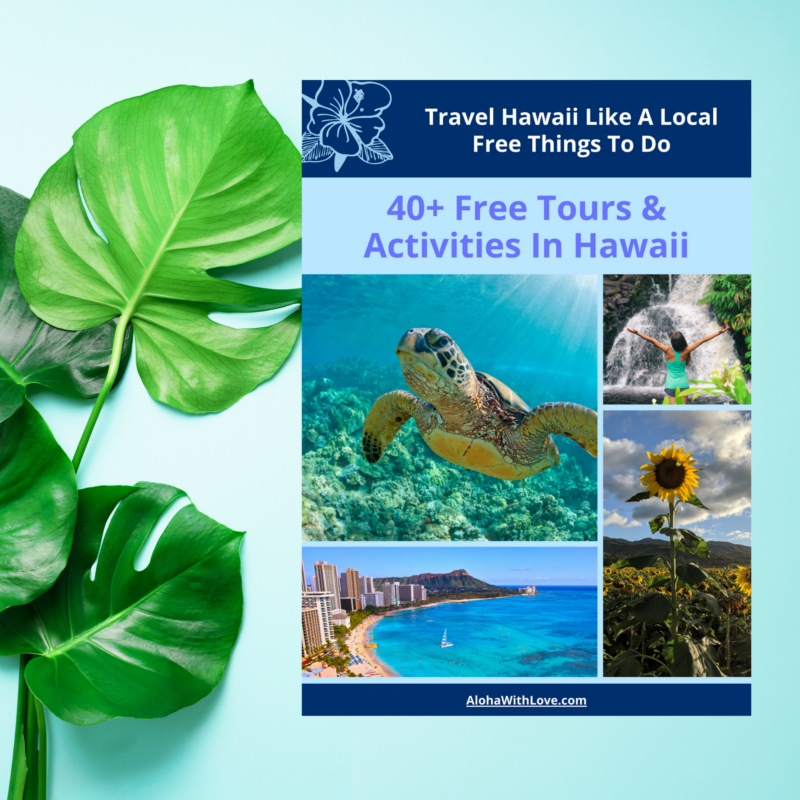 Want to go on a free tour in Hawaii?