The North Shore on Oahu is a huge attraction for visitors to Hawaii. With the enormous winter swells, big wave surfing competitions, gorgeous sandy beaches, fantastic snorkeling and sunbathing sea turtles, the North Shore has a little something for everyone.
But while most people head towards Haleiwa town and continue to drive along the coast, I recommend hanging a left before Haleiwa and driving the North Shore coast in the opposite direction.
You'll end up in one of my favorite spots on Oahu. Where the mountains really do meet the sea.

Follow the signs for Mokuleia and you'll find yourself on Farrington Highway. With the Waianae mountain range on your left and the Pacific ocean on your right, there's almost no way you can get lost and you'll get to enjoy a lot less traffic, cars and people!
Local Tip: This area is littered with great hikes that give you a terrific view of the North Shore. My favorite is the Kealia Trail – an easy switchback good for all ages.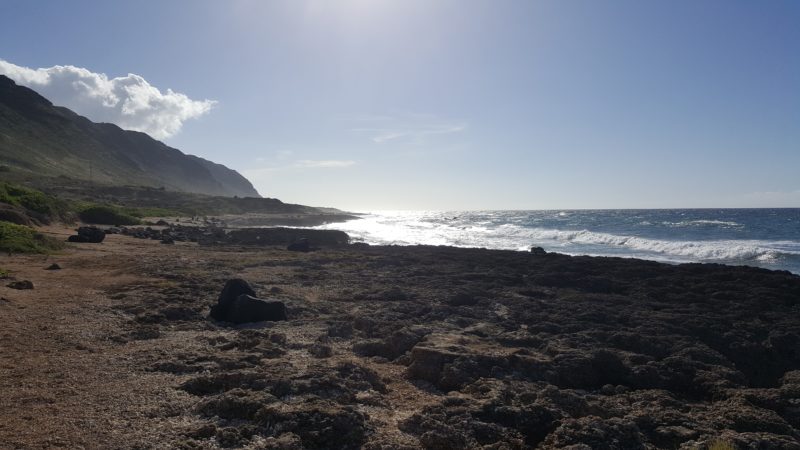 Right about here is the farthest your vehicle can go. There is a small lot designated for cars to the left of this photo, which is also the entrance for the Kaena Point Trail (which I recommend for monk seal and bird lovers).
You're free to walk all around this area and check out the tide pools, watch the surf and just soak up the moment and fresh air. The wind here is strong with that salty flavor and the view is spectacular. The ocean spray will cool your skin if you stand too close and you'll even be able to see the faraway windmills that my camera couldn't really capture in the background. 
Almost every time I've come here there has rarely been more than ten people wandering around. In fact, on this visit I was with my friend, another couple explored far away from us and one local family of three looked like they had passed the whole day away fishing off the rocks.
Local Tip: The North Shore is filled with plenty of fun for all. While most people spend the day here visiting the beaches, many people opt for other activities such as sky diving or flying. There's an air field here because the wind is so strong in this area!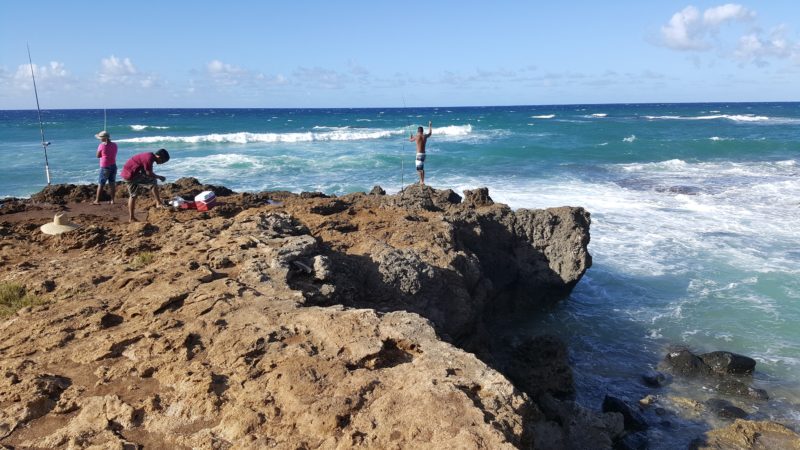 If you need a bit more convincing, check out this short video where I'm just turning around with the camera to capture the scenery all around me. Just listen to that wind!