This post may contain affiliate links, which means I'll earn a small commission if you purchase something through these links. You won't pay any extra; instead, you'll be helping Aloha With Love to thrive. Thank you! Learn more.
COVID-19 has affected many of Hawaii's businesses and events. Please double check their dates and times before you go or make plans. Visit HawaiiCOVID19.com for more information.
--
Swimming with turtles in Hawaii is amazing! My heartbeat kicks up but at the same time I feel so calm. There's a sense of peace in me when I see them drift from rock to rock, relying on the ocean's waves to move their mass.
This guide is all about how you can swim with green sea turtles in Hawaii, where they hang out, and how you should (and shouldn't) interact with them.
Aloha with love,
Amy
DO NOT TOUCH
Please Read: As a local resident, I ask that you respect these wild animals by keeping your distance and not touching them. Both the Hawaiian green sea turtles and hawksbill turtles are endangered species, which means it is a federal crime to harass, feed, or touch them. It is recommended by NOAA and DLNR that you stay 10 feet away from any turtles you find.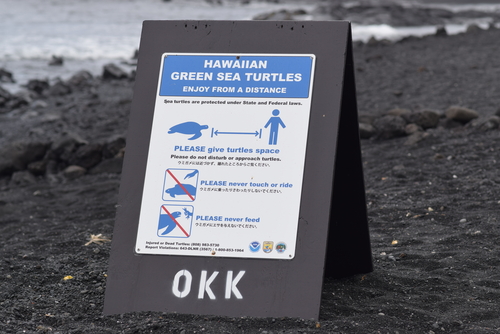 Where to swim with turtles in Hawaii
In general, it's pretty easy to swim with turtles in Hawaii. First of all, you don't need to sign up for a snorkeling tour or pay a fee (although snorkeling tours are awesome). Turtles in Hawaii are quite common – you'll probably run into the Hawaiian green sea turtle the most. On the rare occasion you might even see the hawksbill turtle.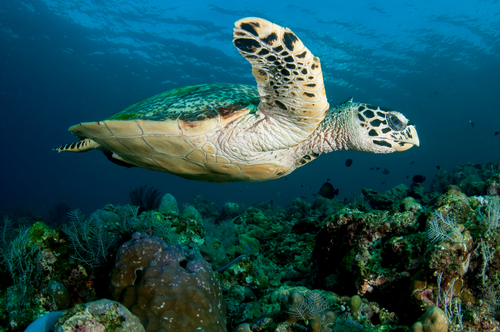 Oahu
Although Oahu has the highest population (both local residents and tourists), don't think you won't have a chance to swim with turtles while you're here. They're actually very easy to spot once you know what to look for and after seeing your first one, it will be hard to not see the next one! My favorite place is Oahu's North Shore, Hawaii's surfing mecca packed with beautiful sandy beaches.
With that said, if you want to swim with turtles in Oahu, there are some beaches where they like to hang out at:
Laniakea Beach in Oahu's North Shore is by far the most famous among tourists. Even tour buses will shuttle their passengers here!
Papailoa Beach has a tiny beach access road that's harder to find, but in my opinion, there's less people here.
Kailua Beach in Windward Oahu (east side) is also a good place to swim with turtles in Hawaii. Plus this beach is absolutely gorgeous with stunning, powdery white sand.
Several Oahu snorkel tours will take you out to known turtle "cleaning stations" where you can swim with turtles.
Read the complete guide: Where To Snorkel With Turtles On Oahu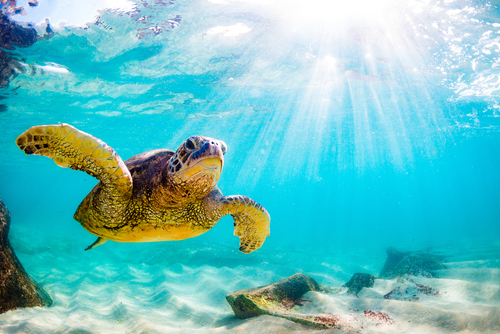 Maui
If you think it's easy to swim with turtles in Oahu, wait until you get to Maui! I've had even more success swimming with turtles here and they aren't too shy about being around humans since they see us around all the time.
Some of my favorite places to swim with turtles in Maui are:
Turtle Town in Maui is fantastic. There are plenty of underwater lava rock formations that they like to hang out in.
Kaanapali Black Rock Beach is on the north end of Kaanapali Beach where there's an excellent opportunity to swim with turtles. Plus the view of Lanai off in the distance is spectacular.
Hookipa Beach is more famous as Maui's windsurfing beach and isn't a great place to swim with turtles – but it needs to be mentioned because the turtles LOVE pulling up onto the sand to get some rays or settle down for the night to sleep.
Maui snorkeling tours are usually packed with turtles especially if they take you to Turtle Town. However, Molokini Crater does not have many turtles so make sure you know where your Maui snorkeling guide will take you.
Read the complete guide: Turtles On Maui And Where To Find Them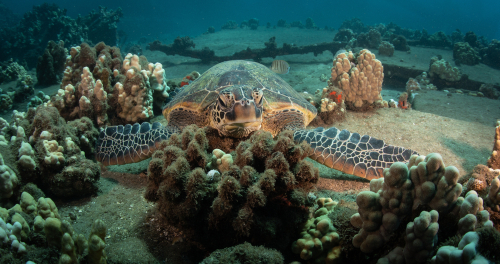 Big Island
If you want to swim with turtles on Hawaii Island (Big Island), you don't have to look far. The Big Island has the most black sand beaches in all of the Hawaiian Islands because of the active volcanoes that are continuously erupting and pouring more lava into the ocean. All that lava cools into black lava rock and breaks down over time to form the lovely black sand beaches such as Punaluu Beach – a famous spot to see turtles sunbathing on the black sands.
The Big Island also has some spectacular snorkel spots where you can swim with turtles.
Punaluu Black Sand Beach is not just a great beach to see turtles, but it's also considered to be the most beautiful black sand beaches on the Big Island (and in Hawaii).
Kiholo Bay is probably my favorite place to swim with turtles on the Big Island. You'll have walk along the coast to get to the main swim area, but it's a lovely walk that I highly recommend.
Kahaluu Beach is one of the more popular places to snorkel on the Big Island and your chances of swimming with a turtle are good here.
Honaunau Bay (Two Step or City of Refuge) fronts Puuhonua O Honaunau National Historical Park and the waters here are great for snorkeling. You may even see the dolphins that like to hang out further out in the bay.
Read the complete guide: Do You Really Want To See Turtles On The Big Island?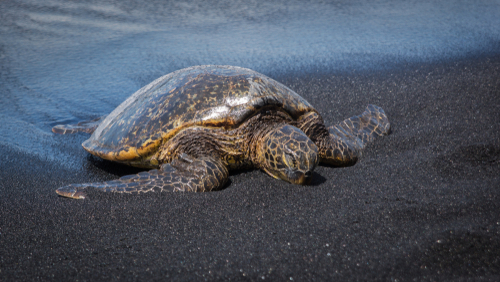 Kauai
What's special about Kauai is that a few of the turtles choose to nest here! From the end of May thru September, female turtles will lay over a hundred eggs every 2 weeks. Kauai's entire South Shore is great for turtle viewing. However, the waves are usually rough and the beaches here aren't suitable for swimming with turtles (or snorkeling).
Poipu Beach is a fantastic place for kids to swim with turtles in Hawaii. The waves are gentle and even if you don't want to get wet, the turtles come in so close that you can still see them from the shore.
Anini Beach on the North Shore of Kauai is one of the best snorkel spots during the calm summer season (winter brings rough waters to the North Shore). There's a very good chance you'll get to swim with turtles here.
Lawai Beach is probably the best chance you'll have at swimming with turtles on the South Shore. Just be mindful of how far you go out.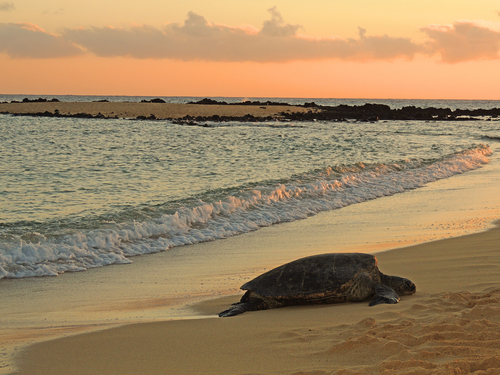 Molokai and Lanai
Molokai and Lanai are two smaller islands that only have a few tourists come and visit for an extended stay. There are few attractions here and instead of staying for a long vacation, tourists will come out to Molokai and Lanai for day trips instead.
With less people here, the snorkeling spots are beautiful and clear especially on those calm days. If you want to swim with turtles on Molokai and Lanai, I recommend booking one of these snorkeling tours: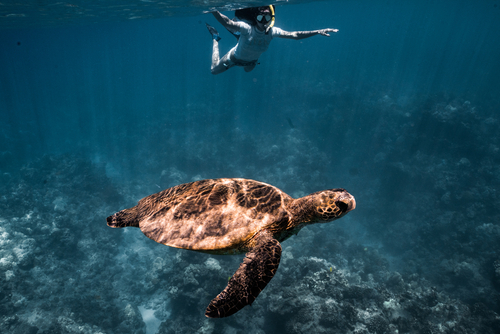 ---
Pin this post: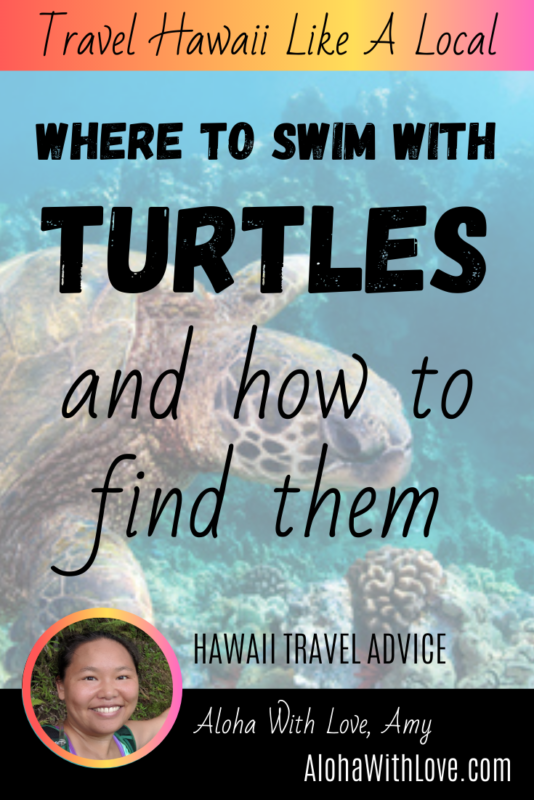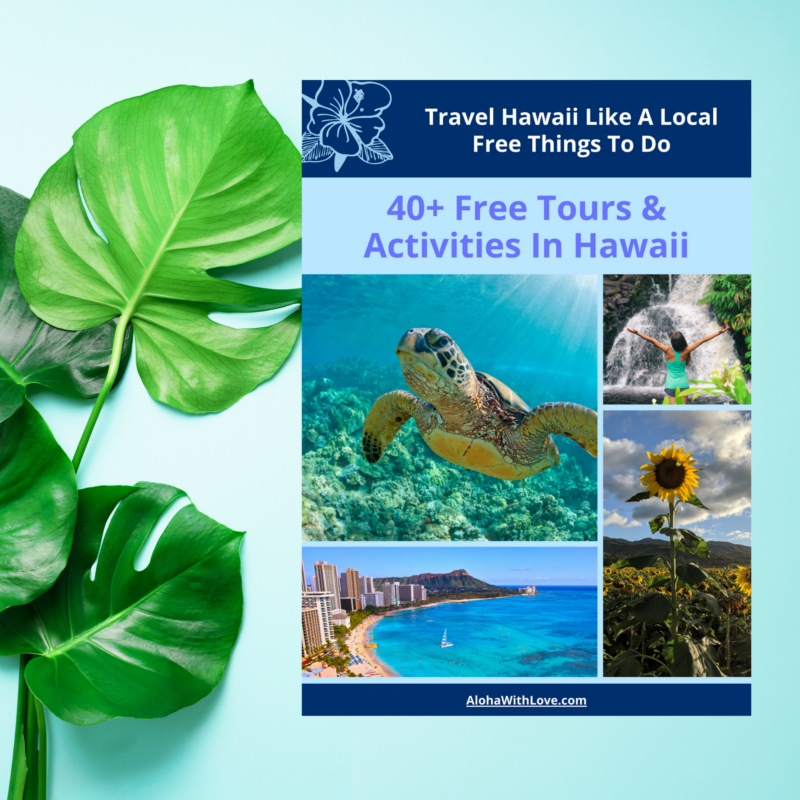 Want to go on a free tour in Hawaii?