This post may contain affiliate links, which means I'll earn a small commission if you purchase something through these links. You won't pay any extra; instead, you'll be helping Aloha With Love to thrive. Thank you! Learn more.
COVID-19 has affected many of Hawaii's businesses and events. Please double check their dates and times before you go or make plans. Visit HawaiiCOVID19.com for more information.
--
If you truly want an authentic experience of what Oahu has to offer, Dan is your man. As the owner of The Real Hawaii, he will be your private tour guide from start to finish and will customize an amazing tour of Oahu just for you. If you're worried about the hassle of renting a car, finding parking and getting lost, The Real Hawaii easily scratches this off your list, leaving you free to sightsee and explore.
You'll have a TON of fun with Dan touring Oahu for sure!
Aloha with love,
Amy
My day with Dan was spectacular! Plus, me being a local girl did not phase him one bit. Dan was still able to create a tour for me full of beautiful surprises and cool historical facts (trust me, you learn A LOT from this guy!). We started off heading to Tantalus, which is one of my favorite Honolulu lookouts. From there, we explored small trails, abandoned buildings with its walls covered in tree roots, and even headed to a cool Buddhist temple where a traditional ceremony was being held on beautiful grounds.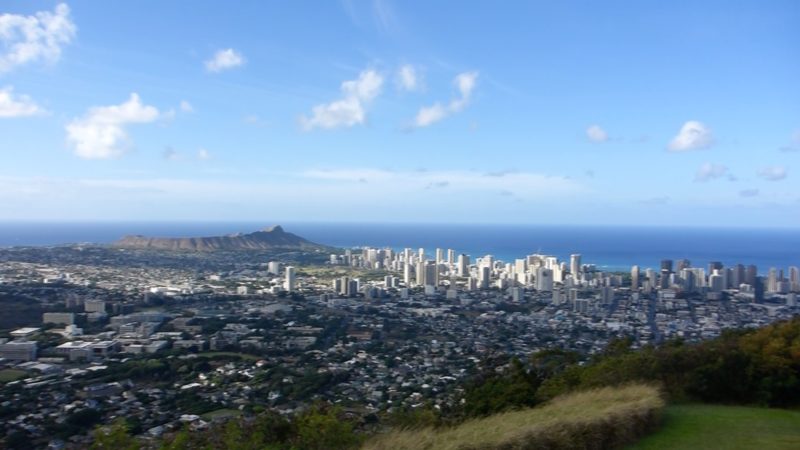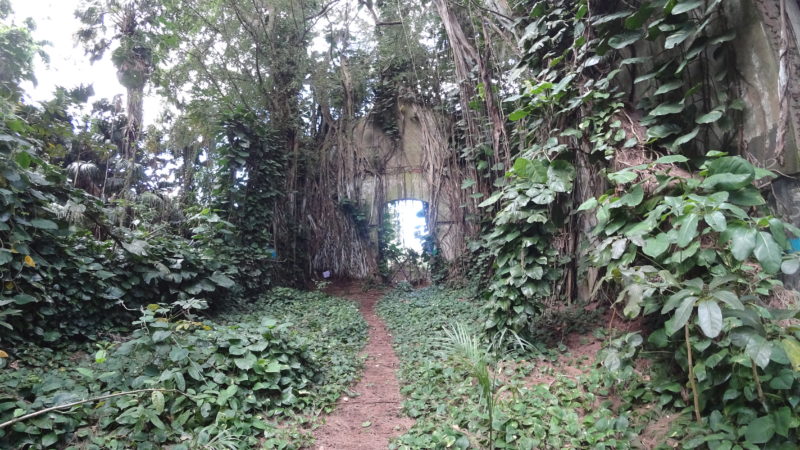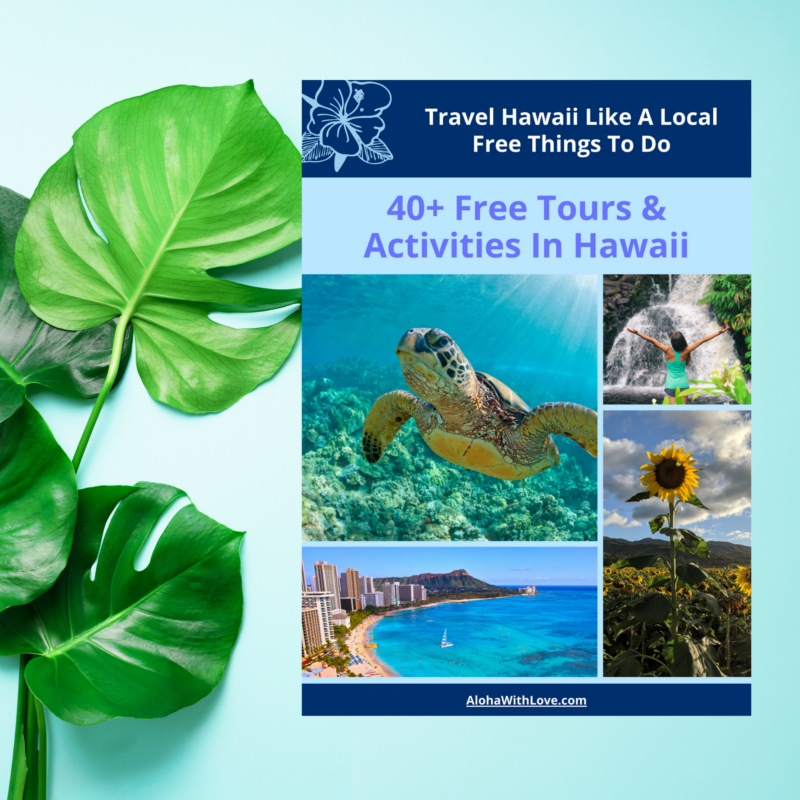 Want to go on a free tour in Hawaii?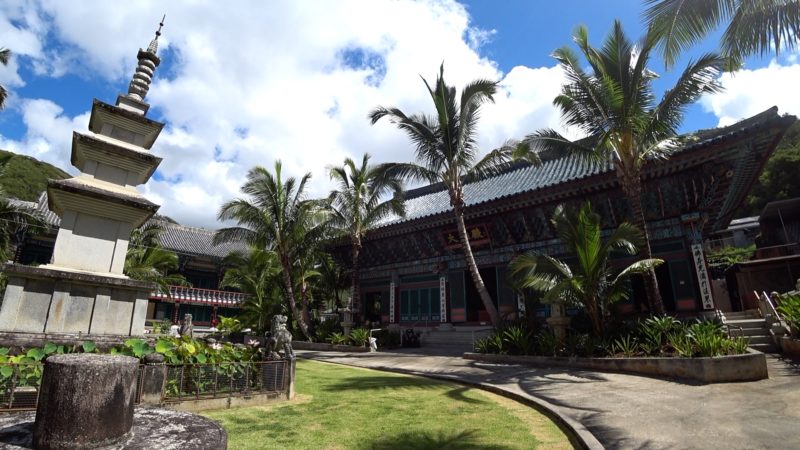 One of the highlights of this tour with The Real Hawaii has got to be our stop at the Spitting Caves. The landscape here is unbelievably gorgeous. Incredibly blue skies and panoramic ocean views make you feel like you're looking out of an extra large fishbowl. We saw a couple of turtles floating in the waves and I'm sure this is a great spot during whale watch season. We had to twist and turn our way up through a maze of several neighborhood streets, but Dan found his way easily.
Local Tip: You may find people jumping off into the ocean here – Please Do Not! – Many people have drowned and died here – both tourists and locals.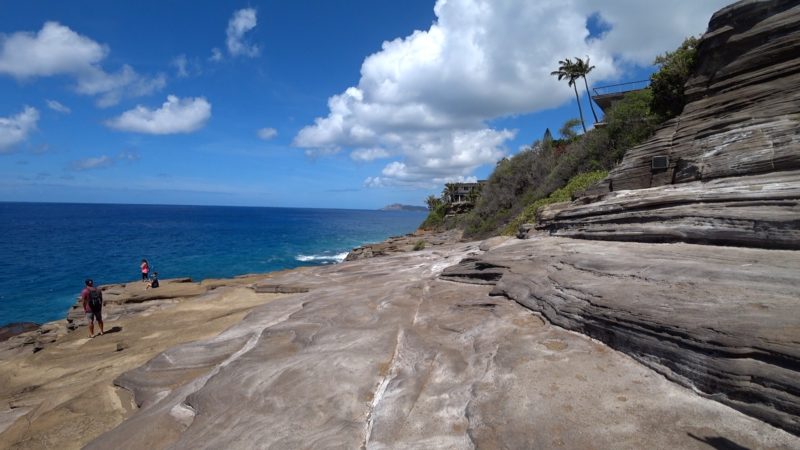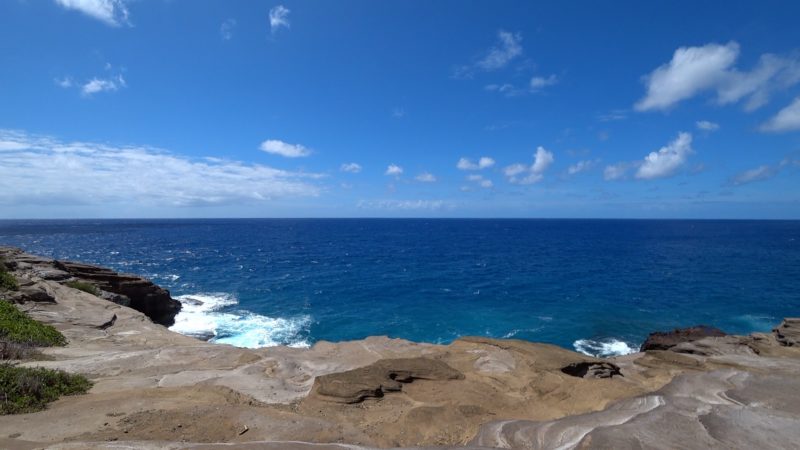 We also made a stop at Kapena Falls, which I loved. We were the only ones here at this beautiful oasis and I couldn't believe that we were actually right next to the Pali Highway! I could barely hear the cars whizzing by. The neat thing about this spot is that it's incredibly accessible and super short. Dan had a ton of neat stories about this little treasure trove. It was also awesome to discover the authentic petroglyphs here, which I got to see firsthand as soon as we entered the forest.
Local Tip: You may find people jumping off this rock as well, which both Dan and I don't recommend – many people have died here, too.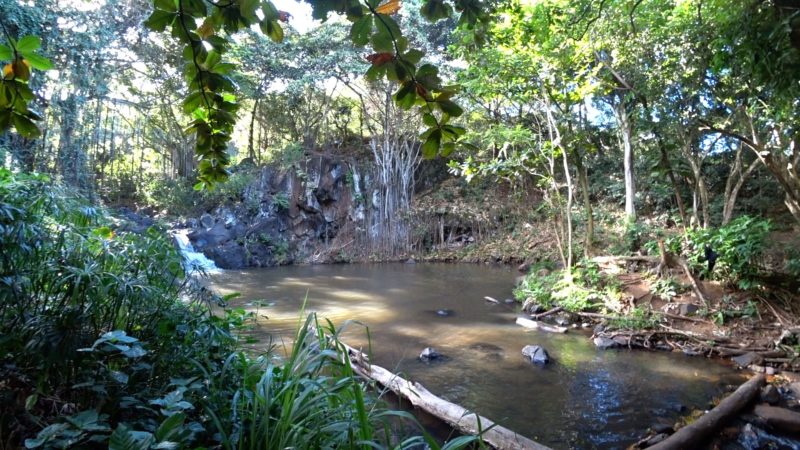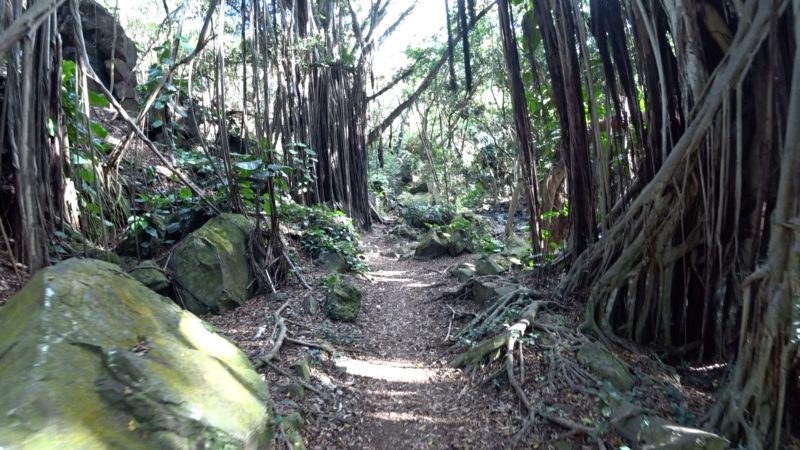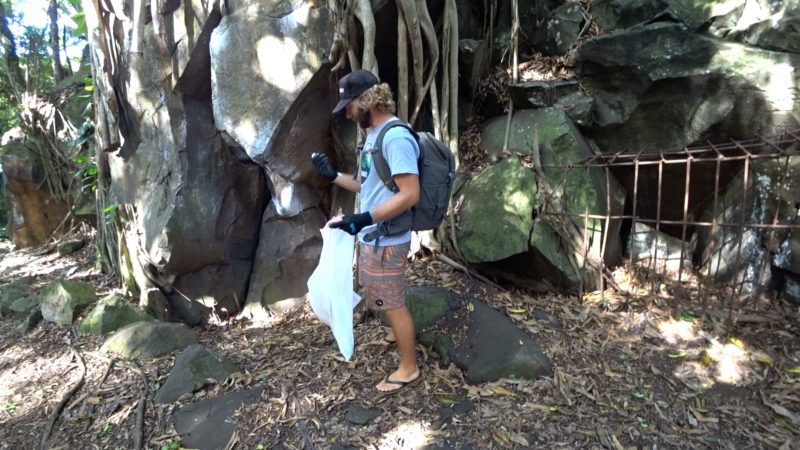 Dan is also a big believer of giving back to the community. He recently visited Kapena Falls and found that this gem was covered in trash and graffiti. He reached out to Michael David Loftin of 808 Cleanups and together they organized a cleanup day, which was a huge success. While we were there, Dan continued to keep this place clean by picking up what trash he could on our way out. The reverence he has for each place that we visited is awe-inspiring.
The thing about doing a tour with Dan is that you can tell just how much he loves Hawaii. The whole tour experience is so much more interesting because of how invested he is in these islands. He's incredibly witty, funny and entertaining, and will point out all sorts of cultural and historical facts that tie in to everywhere he takes you.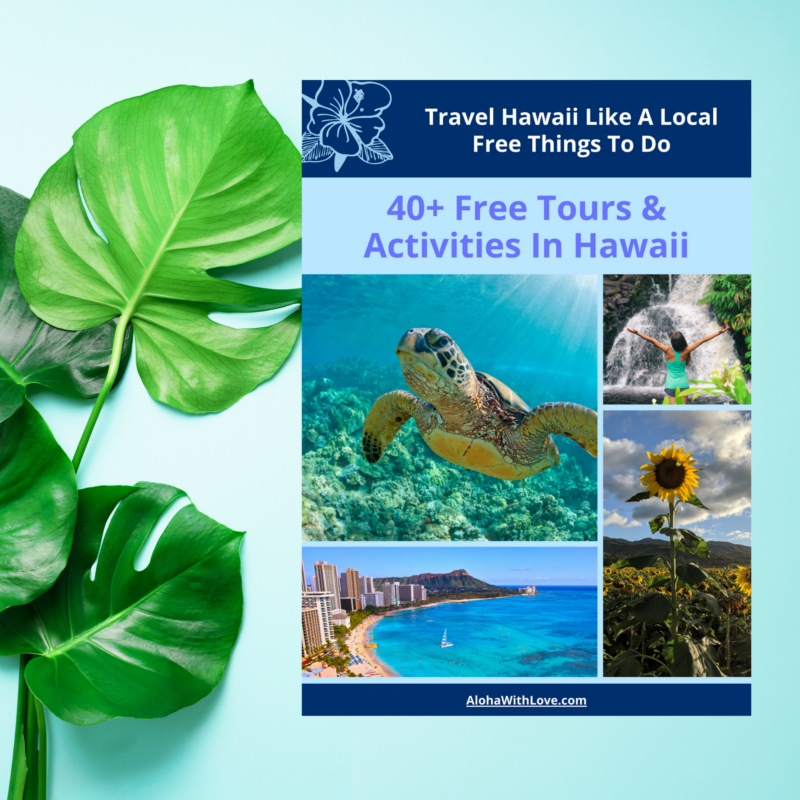 Want to go on a free tour in Hawaii?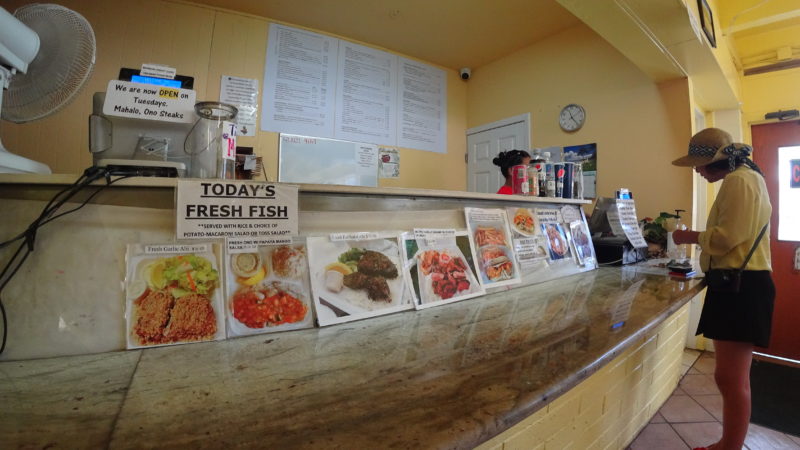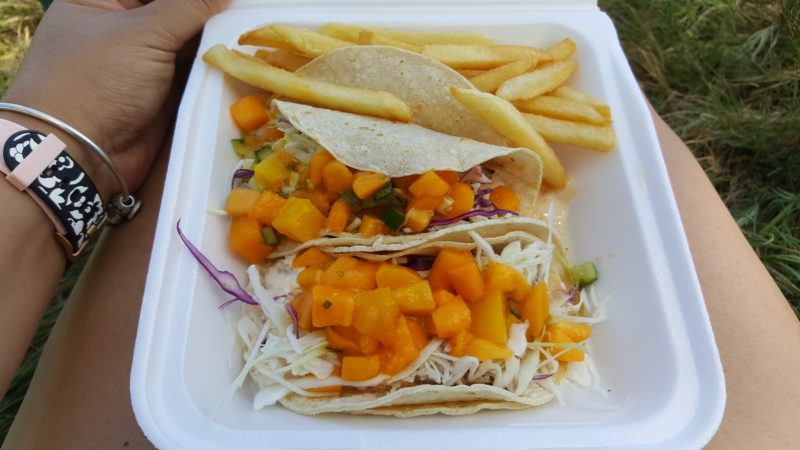 Our next stop was lunch and we headed off to one of his favorite dives, the Ono Steaks and Shrimp Shack in Waimanalo. I decided to go with the fish tacos topped with diced mangos (suggested by Dan), which was so good that I eventually ignored him and just concentrated on scarfing the tacos down. Ono for sure!
Sitting inside the Ono Shack wasn't enough for Dan – he took me down the road (a 2 minute walk) where we got to enjoy this incredible panoramic view of Waimanalo beach. That powder-white sand, bright blue water and clear skies with small islands in the background made this a Hawaiian lunch to remember.
Local Tip: If you want to set up a romantic lunch or dinner someplace incredibly special, let Dan know! The spots he chooses are so romantic!!!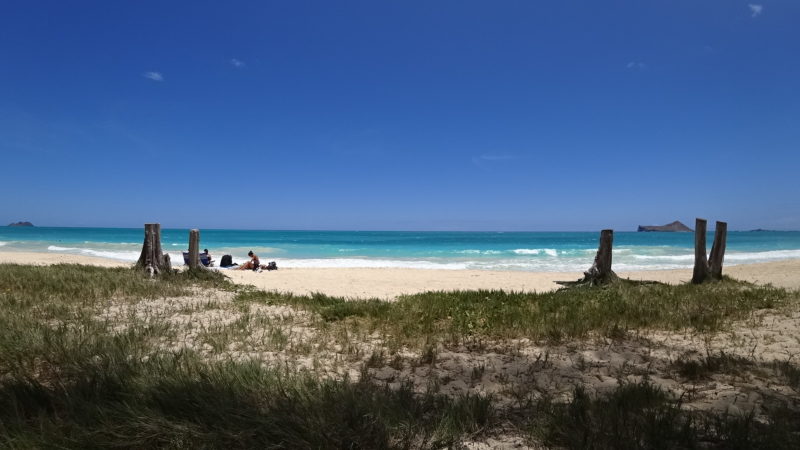 Our last and final stop was the gigantic Hoomaluhia Botanical Garden. This was the perfect way to end my private tour of Oahu. The majestic Koolau mountains surrounded me wherever I looked and there were all sorts of beautiful trees, plants and flowers that I had to stop and take a picture of. I didn't realize that this garden stretches so far and wide! There are several small parking lots with picnic tables, restrooms and wide open space for visitors to enjoy. You can even go camping here!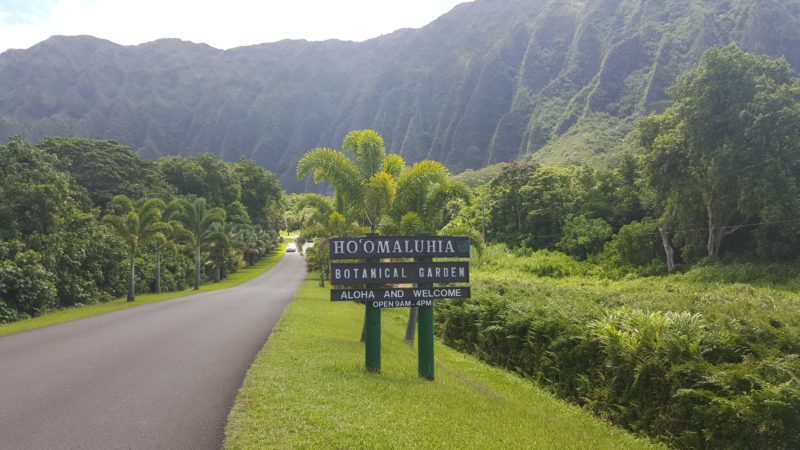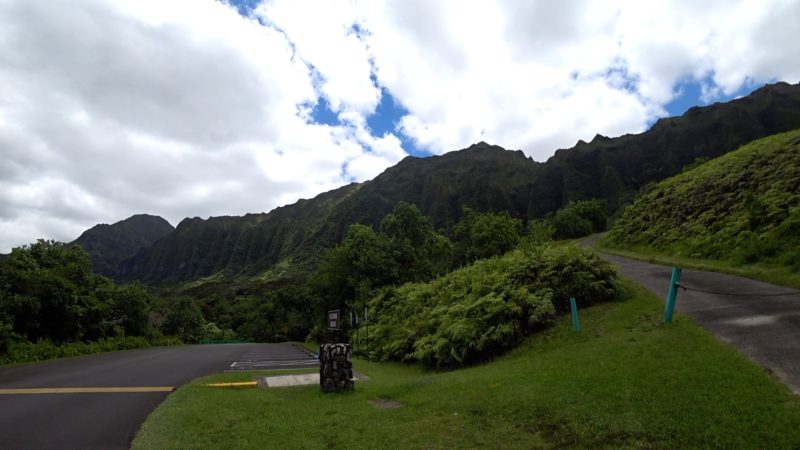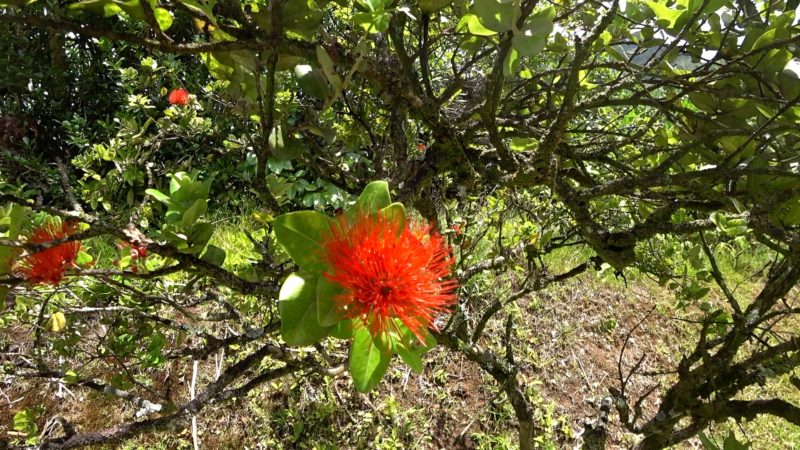 If you're planning on doing a few tours on Oahu, I highly recommend going with Dan and The Real Hawaii. His tours are private and customized for you, which means he goes at your pace and listens to what you're interested in – something you won't get on your average tour bus/mini van/group tour. I loved that I could talk to him like a local friend, ask him whatever questions popped into my head and even joke around with him.
My Recommendations
Dan has several tour packages that you can choose from and what I really recommend is his South Shore Tour. This side of the island is done best in a car and not in a tour bus simply because of the vast variety there is to do and see here. The views are incredible and you'll find out quickly that having a personal guide for you, your family and friends is such a luxury. If you plan on not renting a car (which is certainly possible on Oahu), then take a look at Dan's Multi-Day Tour. With two or more days to explore outside of your resort, there is enough time to delve deeper into the culture, complete an amazing local hike without tiring yourself out and exploring Oahu in its entirety (because one day is certainly not enough!).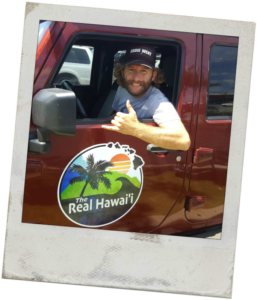 Give Dan and The Real Hawaii a try because you'll love it! I definitely enjoyed myself and can't wait to hit the road with Dan again!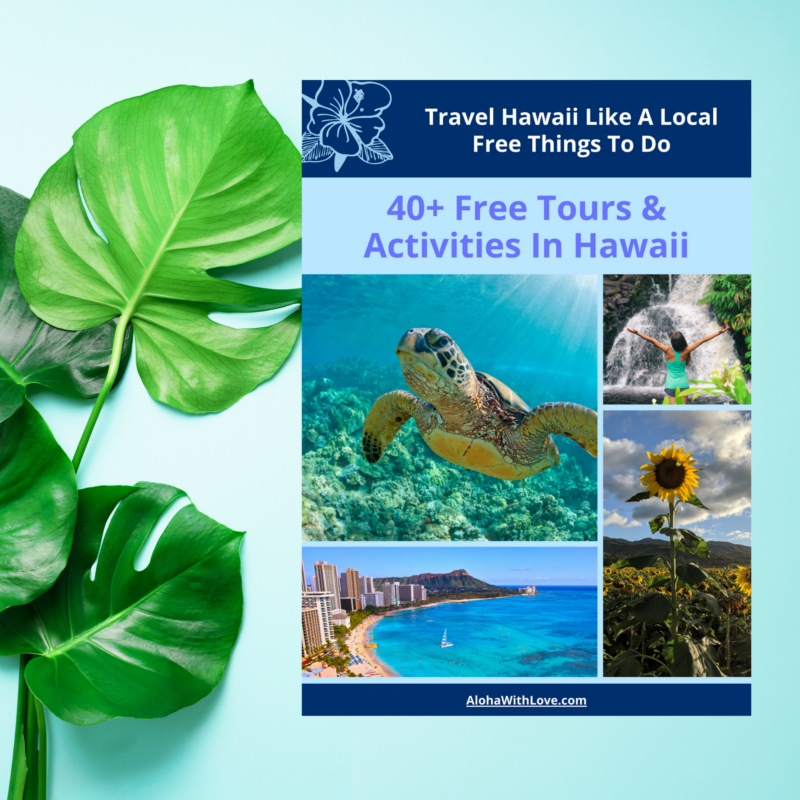 Want to go on a free tour in Hawaii?