This post may contain affiliate links, which means I'll earn a small commission if you purchase something through these links. You won't pay any extra; instead, you'll be helping Aloha With Love to thrive. Thank you! Learn more.
COVID-19 has affected many of Hawaii's businesses and events. Please double check their dates and times before you go or make plans. Visit HawaiiCOVID19.com for more information.
--
Road trips aren't usually associated with Hawaii because you can drive around each island in less than a day. Even the Big Island will take you only 8 hours to drive full circle. The island I live on, Oahu, only takes about 4 hours to drive around. However, there are road trips in Hawaii that offer fantastic scenic views with fun attractions and eateries along the way. Usually these are self-guided and can take the entire day because you're stopping the car to hike, sightsee, eat a local treat or do some shopping.
Aloha with love,
Amy
About road trips in Hawaii
Road trips in Hawaii are more like set scenic routes that you can drive. Some are long drives with beautiful views, while others are best enjoyed with several stops so you can walk and explore. Each island has its own list of routes and I've gathered them here with some helpful tips and information so you can enjoy some of the best road trips in Hawaii.
There are 2 common types of road trips in Hawaii: Circle island and coastal. These are pretty self-explanatory. Circle island goes around the island and usually runs along the coast. On the other hand, coastal road trips are normally shorter and feature extraordinary views or amazing sightseeing spots and attractions along the way.
What you should bring
Snacks and refreshments: Some of the longer drives will take you into the countryside where there are few restaurants and refreshment stands along the way. If there's a chance that you might not make it to the restaurant on time, or you'll be forced to wait a long time just to get a seat, it might be better to bring your own food and drinks. Stock up in town on snacks and meals that keep well in the car or bring a small cooler to keep everything fresh.
Beach gear: Coastal road trips in Hawaii means you might want to stop at a beach and enjoy the weather and waves. You'll be happy you packed a towel, beach chairs, snorkel gear, and even a change of clothes. Some of the more popular beaches in Hawaii have fresh water showers so use them to your advantage to rinse off all that salt before you get back in the car.
Local Tip: If you plan on cooling off in the waves, bring reef-safe sunscreen with you to protect our coral reefs. Look for sunscreen that doesn't have the harmful chemicals: oxybenzone and octinoxate.
Cash: Always carry cash with you especially if you're road trip is taking you away from town. A lot of small businesses, lunch wagons, and roadside vendors still only accept cash despite this technological age. The last thing you want happening is no cash in the "middle of nowhere".
Planning your road trip
Bathrooms: Road trips in Hawaii that take you on long roads with no towns in between tend to have fewer bathrooms. Know in advance where the bathrooms are so you aren't squirming on the side of the road. Beach parks tend to have some kind of bathroom facility if you're doing a coastal drive. You might also have some luck at popular hikes.
Be prepared: It's quite possible that you'll pass many trailheads as you drive. If you decide to stop the car and go on an impromptu hike, you'll want to wear good hiking shoes and maybe even bring a towel and a jug of water so you can rinse off any mud off your legs. Sunscreen, a hat, and mosquito repellent are always a smart idea in Hawaii especially if you'll be in a shaded or forested area. I also highly recommend that you do some research on things to see and do before your road trip starts because you'll be stuck if it turns out you have bad cell reception.
Best road trips In Oahu
Click the top left icon to toggle between the different Oahu road trip maps I created. Keep in mind that these routes are general guidelines. The stops I chose made it easier for the map to be automatically created.
Circle Island Tour
If you decide to book a tour where a tour guide takes you around the island, you'll notice that a lot of Oahu tour companies will offer a "Circle Island Tour" or "Grand Circle Island Tour". This is the route they'll most likely take you on. You can expect the tour to take you at least 6 hours, but don't be surprised if it lasts a full 8 hours! Some popular stops along the way are:
North Shore Coast
Windward Coast
Makapuʻu Lighthouse
Halona Blowhole and Lanai Lookout
Back to Waikiki
My recommendation: If you are considering to do at least one driving tour on Oahu, I would recommend the circle island tour. Most of the popular and famous sights are on this route and you get a nice sampling of beaches, views, attractions and food options on the way.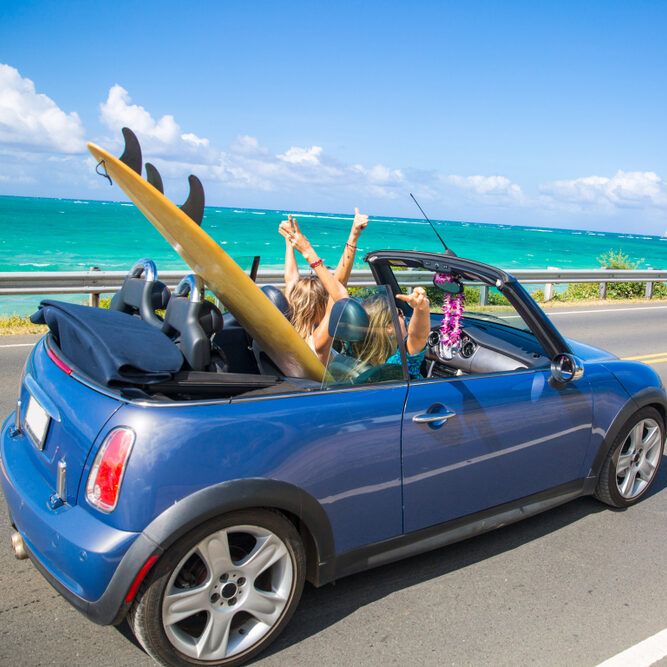 OAHU DRIVING TOURS
Explore Oahu with a local tour guide who will show you the sights, breathtaking stops and major places of interest.
North Shore Scenic Route
The North Shore on Oahu is famous for awesome surf and beautiful beaches. Rather than driving this from end to end, it's a lot more convenient to go in one direction and save the other side for another day. As you travel south on this route (where G, H, I, and J are), the North Shore morphs to what we call Windward Oahu (eastern shore), which is a good place to "stop" the tour. From Waikiki or Downtown Honolulu, you can easily drive back to Windward Oahu via the freeway or Kamehameha Highway.
Local Tip: You can't drive past Point A. It's actually a trailhead for Kaena Point where there's a bird sanctuary and an awesome view of the ocean. It's also a great place to see Hawaiian Monk Seals (please keep your distance and do not touch as they're critically endangered), dolphins, and whales during whale watching season.
West Oahu Scenic Route
A less traveled Oahu road trip is along the western coast from Ko Olina headed north toward Kaʻena Point. This part of Oahu is marked by it's gorgeous beaches and views and it's a unique drive that holds its own against Waikiki, Waimanalo and even the North Shore.
The drive doesn't take that long, but I recommend snorkeling at Kahe Point (Electric Beach), hiking up to the Maili Pink Pillbox, and hiking out to Kaʻena Point via the Makaha trailhead. Just those three will keep you busy for the entire day, and the beautiful views is just icing on the cake. There are also some really low-key eateries here (think local mom-n-pop stops). I'm always searching for someplace new to try when I make the drive out here.
Driving Oahu road trips by yourself
Whenever I have friends over, I take them on an island tour in my car and we explore the popular beaches, restaurants, snack shops, stores, waterfalls, hikes, and cultural stops on the way. It's loads of fun and it's a wonderfully freeing experience to be able to go at your own pace and discover for yourself the wild side of Oahu.
However, it's important to note that I am a local and know the ins and outs, dangerous spots, and what to look out for. So do your due diligence and research in advance so you don't fall into trouble later. I highly recommend the Shaka Guide Oahu App to really make your Oahu driving experience the best. The driving tours are just $20 and they cover everyone in the car since you only need the app on one phone.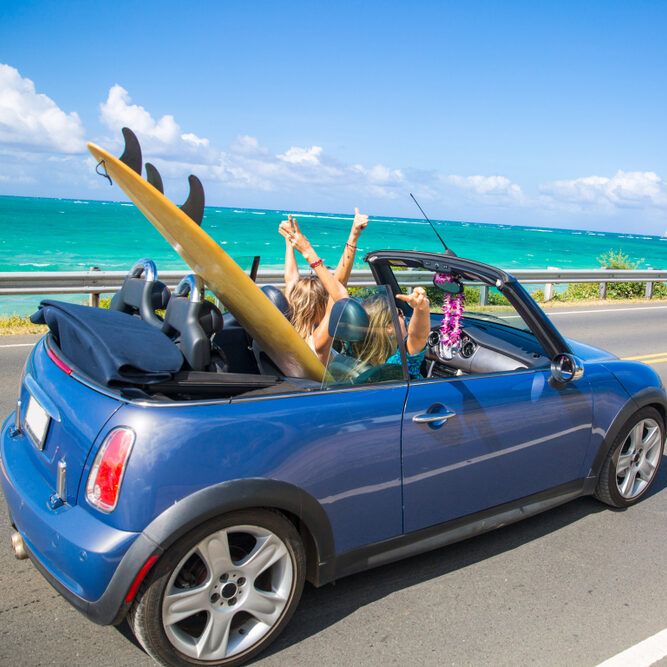 SHAKA GUIDE OAHU APP
Download the Shaka Guide App for Oahu and get a budget-friendly tour guide experience from your phone!
Best road trip on Maui
One of the most famous road trips in Hawaii is the Road to Hana. Most visitors will spend a full day driving this coastal road from Paia to Hana, but if you can, I recommend exploring the Road to Hana over the course of at least 2 or more days. That's because there are so many wonderful things to see and do on the Road to Hana!
Click the top left icon to toggle between the stops and the route for the Road to Hana.
About the Road to Hana
Rather than a drive, think of the Road to Hana as a "stop-n-go" experience. There are botanical gardens to explore, hot and fresh banana breads to sample, cultural Hawaiian sites to see, and even black sand beaches to marvel at. While the Road to Hana has many short stops with scenic views, it also has many outdoor attractions that will take you at least 1-2 hours to discover.
Get a very early start especially if you're driving to Hana and back in just a day. I'd say leave by 7 AM and skip Paia Town (the first stop) since you can always visit another a day. The Road to Hana will most definitely require a car or a guided tour. Read up on my Maui transportation guide to find out how this will affect your trip to Maui.
Driving etiquette
In the wild jungle of the internet, you'll come across some articles that make Maui's Road to Hana seem dangerous. It's true, it's made those "most dangerous roads" lists and people have died or gotten into major accidents on this road. But for the most part, these accidents happen at night or in the early morning. The Road to Hana does not have streetlights so driving in the dark is not a good idea, even for locals.
In my opinion, it's not a particularly difficult road. Following the signs, driving defensively, and common courtesy should get you there and back without any major problems. During the day, the road is busy with tourists and major stops will have inevitable traffic so speed isn't really an issue. However, you should keep an eye out for locals behind your vehicle. If a car creeps up behind you, pull to the side of the road and let them pass – they're probably trying to get to work and making this drive every day is not particularly fun behind a sightseeing tourist.
Road to Hana sights and stops
Here are just a few of the longer stops where I recommend spending at least a couple of hours to explore at a leisurely pace. As you can see, the Road to Hana will require more than a day if you plan to give it the time it deserves.
Paia Town: A lovely, quaint town with boutique shopping, local eateries, and a colorful atmosphere.
Twin Falls at Wailele Farm: Hike to a twin waterfall where there's even a pool to swim at.
Garden of Eden Arboretum: Absolutely gorgeous botanical garden started by Alan Bradbury, Maui's first ISA certified arborist.
Upper Waikani Falls: Short, but moderately challenging hike with a beautiful waterfalls and a pool.
Waiʻānapanapa State Park: Maui's famous black sand beach. Reservations are required and run out fast so book them early.
Hana Town: The main destination for the Road to Hana, but not the end.
Hamoa Beach: My favorite Maui beach with a gorgeous view and a wonderful place for a swim.
Pipiwai Trail: If you can only do one trail, I recommend this one. It's a part of Haleakala National Park (Kipahulu District) so plan ahead so you aren't paying the entrance fee twice.
Road to Hana tours
There are several reasons why one would not want to drive the Road to Hana yourself. The biggest reason in my opinion would be that you just want to sit back and enjoy the view. The Road to Hana is gorgeous all the way through and it can almost seem wasteful to be sitting in the driver's seat trying to pay attention to the cars, signs, and directions.
In that case, booking a Maui tour for the Road to Hana is a spectacular idea. Everyone gets to enjoy the view and an in-person guide sharing the area's history and stories. Plus, your tour guide will be able to point out things that no map or direction will be able to show you.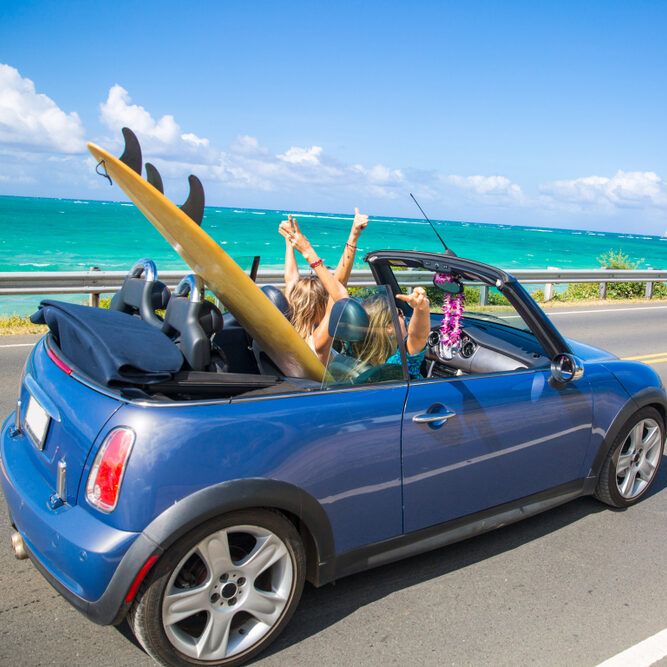 ROAD TO HANA TOURS
Explore Maui's Road to Hana with a local tour guide who will show you the sights, breathtaking stops and beaches.
Driving the Road to Hana by yourself
This is certainly possible and I've done it myself. It's a lot of fun and I usually toss my passengers the map and let them choose where we'll stop for the day. But if you're looking for a Road to Hana guide that's informative, detailed, and a lot of fun, check out the Shaka Guide Maui App. They've got several driving tours on Maui for only $20 each – and that covers everyone in your car!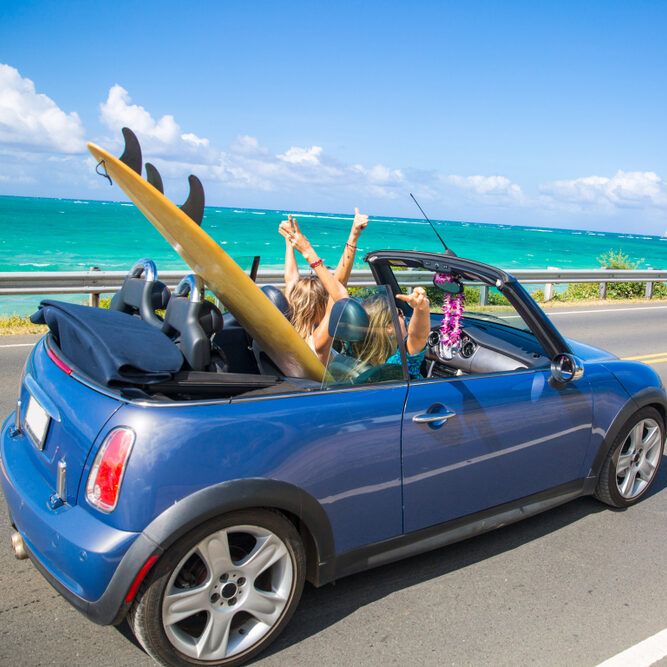 SHAKA GUIDE MAUI APP
Download the Shaka Guide App for Maui and get a budget-friendly tour guide experience from your phone!
Best road trips in Kauai
Since the island of Kauai is on the smaller side, I believe it is best done in bite-sized pieces. Spend the day in a certain area and explore until you're ready to move on to the next. But one trip that requires a car and gives you that "road trip" feeling is a drive to explore Waimea Canyon.
About Waimea Canyon
The drive through Waimea Canyon gives you an outdoorsy experience with amazing viewpoints and hikes. Besides Waimea Canyon, you'll also get a chance to see Kōkeʻe State Park and the Na Pali Coast. Dubbed the "Grand Canyon of the Pacific", Waimea Canyon is a massive testament to Kauai's age. As the oldest of the Hawaiian Islands, its had a lot of time to carve out those signature valleys and cliffs that have come to represent iconic Kauai.
Kauai is known for rain and this area gets a lot of it. But not to worry. You can still see a fantastic view and usually the rain and clouds can clear up pretty quick. Come prepared though – ponchos are the best since they'll allow you to walk unhindered. I almost recommend wearing good hiking shoes because this area has a ton of awesome hikes. Even if you're not interested in hiking, you can still walk just the beginning of it to get some fantastic views.
Waimea Canyon State Park is managed by the Department of Land and Natural Resources (DLNR). There is an entrance fee for non-residents: $5 per person and $10 per vehicle.
Waimea Canyon tours
Standard guided tours of Waimea Canyon typically last the entire day where you'll stop at all the Waimea Canyon viewpoints, make your way up to to Kōkeʻe Natural HIstory Museum, and do a hike or two. You'll also probably stop at Hanapepe Town and Kauai Coffee Plantation as both are on the south side of Kauai and quite close to Poipu and Koloa (where most tourists stay in South Kauai).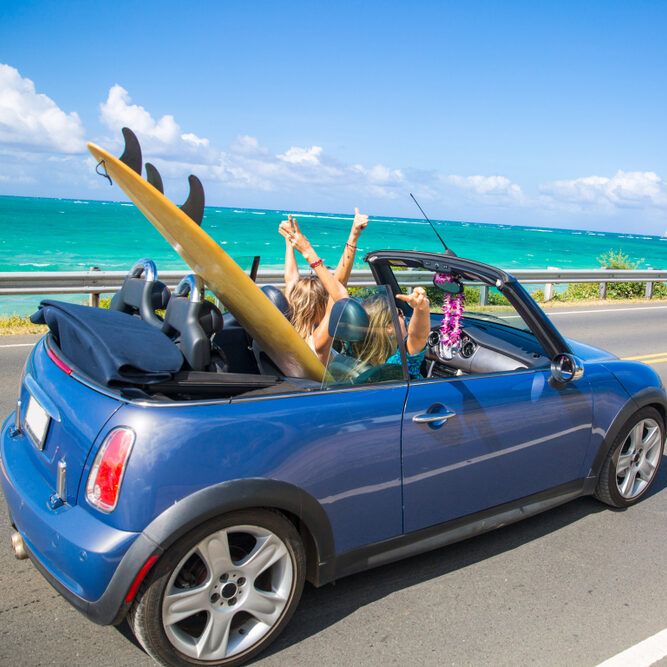 KAUAI DRIVING TOURS
Explore Kauai with a local tour guide who will show you the best sights, stops and attractions.
Driving Waimea Canyon by yourself
Guided tours with an in-person guide can become quite expensive especially if you're traveling with a group. For the most part, you're looking at more than $100 per person at the very least. If you don't have that kind of budget and would rather save all that money for something else, consider driving Waimea Canyon yourself. It's a nice and easy road to navigate.
If you want a Waimea Canyon tour that's entertaining and informational, check out Shaka Guide's App for Kauai driving tours. Each tour is packed with loads of history and interesting facts. The tours are extremely budget friendly at just $20 and I think you'll be pleasantly surprised at how fun they are!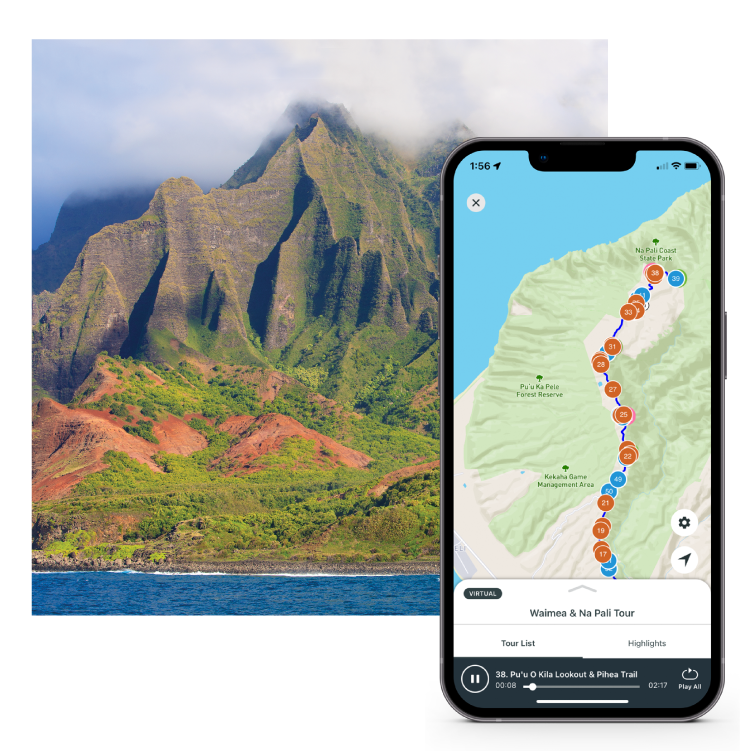 SHAKA GUIDE KAUAI APP
Download the Shaka Guide App for Kauai and get a budget-friendly tour guide experience from your phone!
Best road trips on the Big Island
The Big Island has some of the best road trips in Hawaii. The long roads and unique climates make for some really cool drives up volcanoes and along the coast. The entire island is incredibly scenic so make sure you pack some snacks and enjoy the ride!
Crater Rim Drive
There are 2 drives you need to do at Hawaii Volcanoes National Park and the Crater Rim Drive is the first. The road takes you around the caldera of Kilauea where you'll see views, craters, a lava tube, steam and sulfur. Begin your drive at the Kilauea Overlook and work your way around clockwise. The drive takes most people about 2 hours round trip, but budget more time if you end up exploring longer around the area.
Chain of Craters Road
The second drive at Hawaii Volcanoes National Park is the Chain of Craters Road. This Big Island road trip takes most people about 2.5 hours to complete. You'll drive all the way down to the ocean to Holei Sea Arch. If you have to choose between the two, I recommend Chain of Craters because it is visually a very stunning drive. But both are worth your time and can be done right after another since they both connect to Kilauea Visitor Center.
Hamakua Coast
One of the absolute best road trips in Hawaii has got to be the Hamakua Coast. Also called the Hilo Hamakua Heritage Coast, it's an incredibly scenic drive with stunning ocean views. Along the way, you'll see gorgeous waterfalls and lush jungle slopes. There are a few places to eat along the way, but it wouldn't hurt to bring a few snacks especially if you plan on doing some hikes.
At the very least, I recommend hiking the Onomea Bay Trail, visiting the Hawaii Tropical Bioreserve & Garden (also called Hawaii Tropical Botanical Garden), and stopping at Akaka Falls State Park, Waipio Valley Overlook, and Laupahoehoe Point for some excellent sightseeing.
Big Island driving tours
In comparison to the rest of the Hawaiian Islands, the Big Island is gigantic! Its long roads were made to drive and explore behind the wheel. Like Oahu, many of the Big Island tour companies also market a "Circle Island Tour". These tours take you to all the major stops and attractions around the island. It's a long day, but well worth it if you want to see as much as possible in a short amount of time.
The most common Big Island driving itineraries will include a visit to Hawaii Volcanoes National Park, sightseeing waterfalls, and visiting a farm to taste some samples and learn about the operations in a tropical setting. You'll also probably stop at Punaluʻu Beach (the Big Island's most famous black sand beach) – a major stop for many driving tours.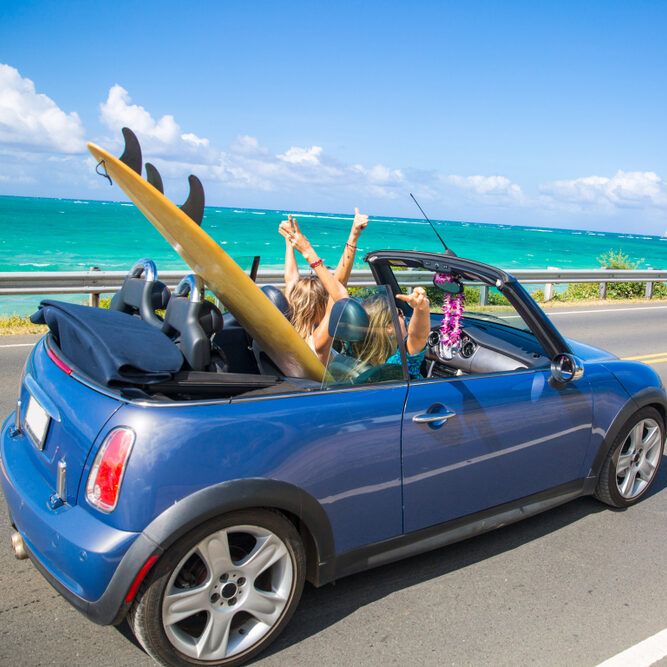 KAUAI WAIMEA CANYON TOURS
Explore Kauai with a local tour guide who will show you the amazing sights of Waimea Canyon and Na Pali Cliffs.
Driving the Big Island by yourself
Because the Big Island is so massive, many guided tours gloss over the smaller attractions. You miss out on lesser known, but equally impressive stops such as botanical gardens, off-the-beaten-path scenic viewpoints, and the small eateries and shops you would naturally discover along the way.
The Big Island Shaka Guide App is a great alternative that will help you save a lot of money while providing you with all of the little details of where to stop and what's coming up. You can choose your own destination and skip what you want as you follow the driving route. The storytelling is superb and the entertaining tour guide will give you history, legends, and the backstory for each stop.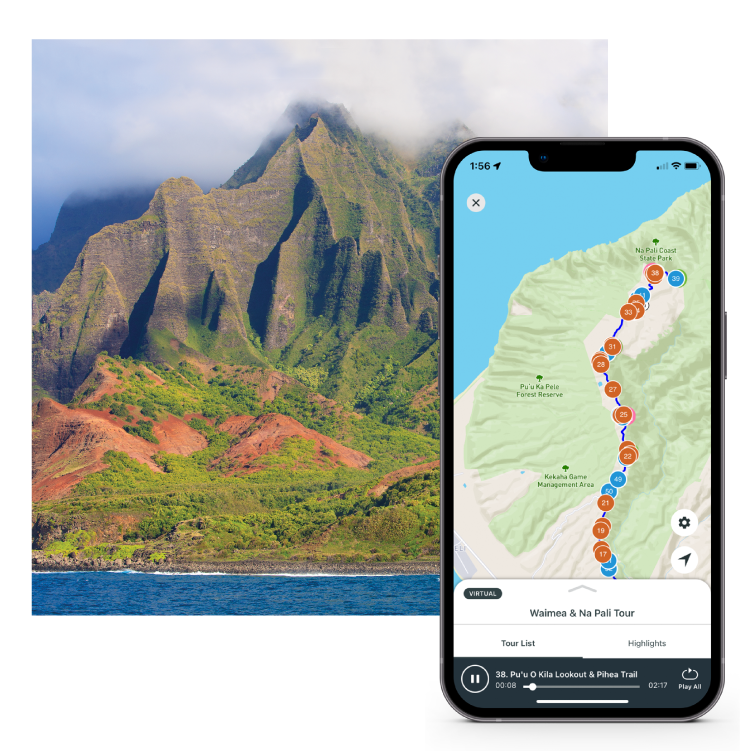 SHAKA GUIDE BIG ISLAND APP
Download the Shaka Guide App for the Big Island and get a budget-friendly tour guide experience from your phone!
Molokai and Lanai road trips
Molokai and Lanai are the smaller islands of Hawaii and less populated. They both get significantly less tourists and while Lanai is marketed as a "rich man's playground", Molokai has zero hotels. However, there are a couple of nice drives that you can do on these islands if you happen to visit.
On Lanai, you'll probably want to rent a 4WD jeep so you can access some of Lanai's more off-road attractions. Finding your way around is really easy and you can visit all of the popular sightseeing spots in just a few hours.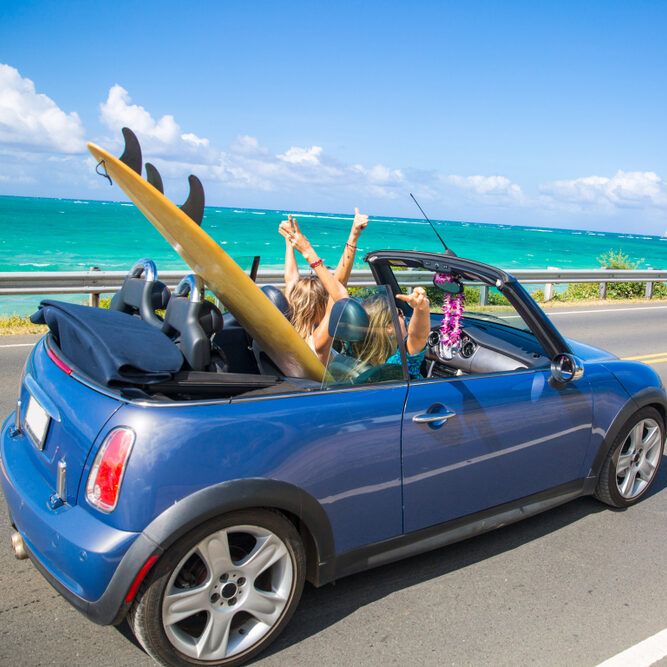 LANAI FERRY AND TOURS
Book your reservation for the Lanai Ferry that travels between Manele Bay Harbor on Lanai and Lahaina Harbor on Maui.
Molokai on the other hand is a long and skinny island. It's relatively easy to find your way from west end to east end. The drive from one end to the other takes a few hours, especially if you decide to stop and explore.
Transportation and road trips in Hawaii
As you plan your routes and road trips in Hawaii, here are some helpful links and resources to help you out: