This post may contain affiliate links, which means I'll earn a small commission if you purchase something through these links. You won't pay any extra; instead, you'll be helping Aloha With Love to thrive. Thank you! Learn more.
COVID-19 has affected many of Hawaii's businesses and events. Please double check their dates and times before you go or make plans. Visit HawaiiCOVID19.com for more information.
--
Like teriyaki BBQ chicken, teriyaki BBQ pork is fast and easy. It does take a little extra time to thin out the meat, but it's a minor step especially since cooking even a large batch goes by fast. On the first day Mom will slice this up hot and we'll eat it as is. But as leftovers we'll include it in tacos and burritos, stir-fry dishes, sandwiches, and sometimes we'll even eat it cold right out the fridge.
Aloha with love,
Amy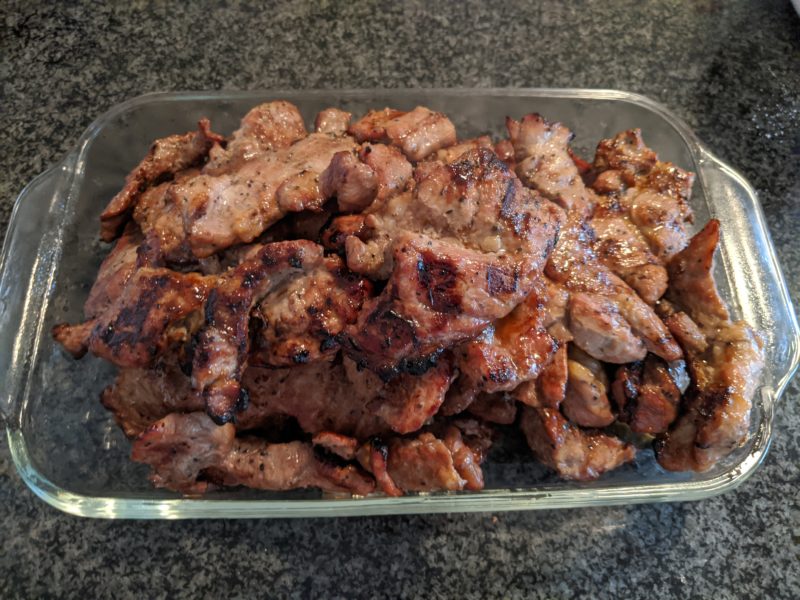 Ingredients
4½

lbs

pork

2

cloves

garlic

Ginger

Same amount as garlic.

1½

tbsp

pepper

1

tbsp

rice wine

Optional.

½

c

Aloha shoyu

Soy sauce. Mom used ½ c and 2 tbsp.

⅓

c

brown sugar

3

tbsp

oyster sauce

Optional, but recommended.
Instructions
Cut the pork into thin ½ cm. thick pieces that are about the same surface area as the palm of your hand.

To tenderize and flatten the pork, hit the pork with the blunt edge of a large knife. Turn the pork 90° and repeat so that you see a criss-cross pattern.

Turn the knife to its side and hit the pork so that the criss-cross patterns disappear and it becomes flatter.

Note: You can use a meat tenderizer to do this, but this is the way my Mom has been doing it since she was a child.

Some of the pork may have a white lining on it that isn't fat on the outer edge. Cut a small incision to "break" this lining. If you don't do this, the pork will curl up when cooking.

If the white lining is really long, make another incision so that it stays flat when cooking.

Add in garlic, ginger, pepper, rice wine (optional), Aloha shoyu, brown sugar and oyster sauce (optional).

Mix everything together so that the marinade is touching all of the pork.

Put the pork and leftover marinade into a Ziploc bag or tupperware. Store in the fridge for at least 1 hour. The longer the better.

Cook the pork on the grill. Since the pork is thin, this should only take a few minutes on each side especially if the grill is hot.

Take the pork off when it's darkened on both sides and has more of a reddish coloring.
Notes
For shoyu-based marinades, Mom prefers to use a tastier shoyu like Aloha shoyu because it's more of a dipping shoyu. She normally uses Kikkoman shoyu for cooking on the stove because it has a stronger, saltier flavor that's better for flavoring dishes.
Make the marinade in a separate bowl so you can taste test this and know what a good teriyaki marinade tastes like. Mom has been doing this so long that she just pours it right onto the chicken and goes by scent.
If some parts of the pork are especially thick, butterfly it first so that the thickness is uniform before hitting it with the knife.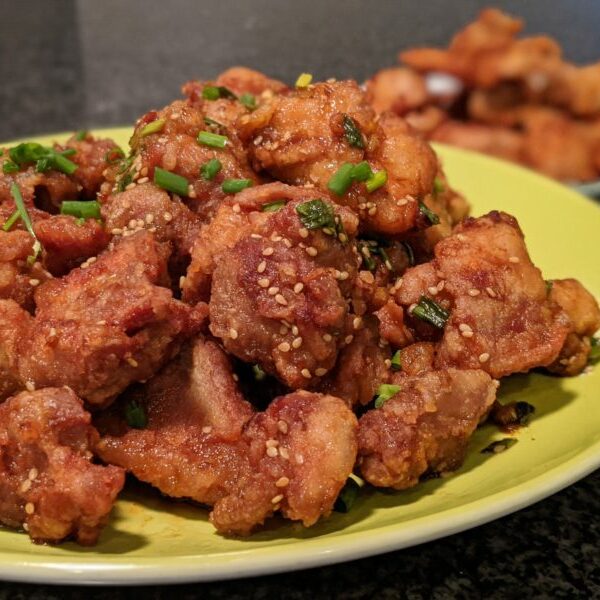 Get my latest recipes with a spoonful of aloha!