This post may contain affiliate links, which means I'll earn a small commission if you purchase something through these links. You won't pay any extra; instead, you'll be helping Aloha With Love to thrive. Thank you! Learn more.
COVID-19 has affected many of Hawaii's businesses and events. Please double check their dates and times before you go or make plans. Visit HawaiiCOVID19.com for more information.
--
We had a whole bag of frozen Pacific cod in the freezer so Mom brought out the tempura flour and she went all out making batter-fried fish, calamari, and fried onions. These are wonderfully hot and crispy and batter-fried anything tastes so good when you have the freedom to gorge. Plus, tempura batter makes it easy and it's affordable if you have access to an Asian market. Mom also made some quick tartar sauce on the side and although we didn't have any malt vinegar, we did have a bottle of shoyu and vinegar and a bottle of chili pepper water to use.
I've included Mom's easy tartar sauce recipe (only 3 ingredients!) down at the bottom. But I also couldn't resist some good ol' ketchup with the batter-fried onions. In addition to all of this tempura batter-fried fish, calamari, and onions, Mom also served up some handmade jiaozi (potstickers) on the side. Needless to say, we were stuffed!
Aloha with love,
Amy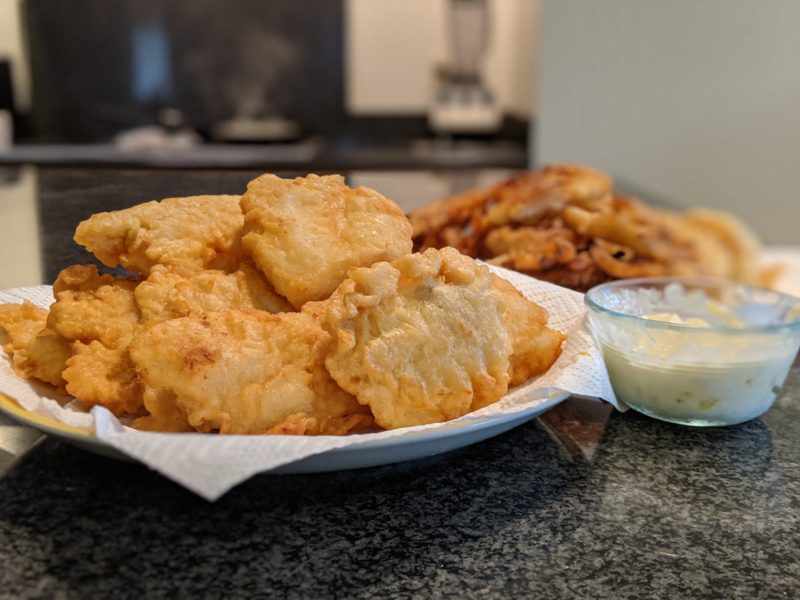 Ingredients
8

frozen fillets of white fish

Pacific cod and halibut are good options.

2

c

tempura flour

2

c

ice water with ice cubes

Vegetable oil

Do not use olive oil to deep fry.
Other ingredients we fried:
2

squid

Optional

½

round onion
Instructions
Preparation
Defrost the frozen fish. Mom left this in the sink for 3 hours inside the bag. Some parts were still frozen but it was easy to cut through.

You don't want the fish fillets to be too thick or it will be difficult to cook them thoroughly. Cut them diagonally at a 45° angle. Continue to drain the fish (and squid) in a colander as it is still very wet from being frozen.

On the stove, fill up a medium pan with vegetable oil (olive oil won't work) about ¾ in. high. Adjust the temperature to high heat and let the oil get hot.

Next to the stove, set up some newspapers with paper towels on top. Place the cooked fish here to soak up any excess oil and to crisp up.

Set up 3 tempura flour stations: 1½ c in a tray by itself (to cover the fish with before you dip it in the batter), 2 c in a large bowl for the batter, and ½ c of tempura flour on the side to be added to the batter later when the ice melts.
Tempura batter
Prepare 2 c ice water with ice cubes.

Pour in 1 c ice water with ice cubes into the bowl of 2 c of tempura flour. Mix. The batter should be thick and lumpy.

Pour in the second cup of ice water with ice cubes and mix. The batter should now be smoother but still soupy with a few lumps here and there.
Cook
Begin by covering the fish all over with loose tempura flour (the tray with 1½ c tempura flour). This will allow the batter to stick on the fish instead of sliding right off.

Check to see if the oil on the stove is ready by dropping a tiny bit of batter into the oil. If it's ready, it will immediately rise to the surface and bubble. If it's not ready, wait a few minutes and run the batter test again.

Dip the floured fish into the batter until the whole surface area is covered. Carefully lift it and put it gently into the oil. Do not drop it into the oil; otherwise, it will splatter.

Note: Mom uses chopsticks because she always uses chopsticks, but I find that chopsticks also cause the least interference in the batter. If this is your first time with chopsticks or deep frying, I'd recommend using large tongs for safety reasons due to the hot oil.

Collect any loose batter that happens to be floating around as you cook. If you don't, these will eventually burn and will affect the flavor. They can also cause the oil to pop and splatter as you deep fry.

Start flipping each fish as the batter begins to turn a slight shade of yellow. It's important to flip them over at least once before the fish touch each other. Otherwise, they will get stuck together and be hard to flip.

Adjust the temperature between medium-high to high as you cook. Altogether, Mom cooked each fish for about 5 minutes and flipped each one about 6 or 7 times to get an even golden shade.

Transfer the fish to the newspaper and paper towels to let them air dry.

For each following batch, add a little more tempura flour to help thicken it up because the ice has melted during this time. For this second batch, Mom added ¼ c of tempura flour.

Optional but recommended: After cooking all of the fish (squid and onions, too), it's a good idea to deep fry the fish a second time for about 30 seconds to a minute. This step is not necessary for the squid and onions since they have less water in them to begin with.
Optional: Squid
Optional: Slice the squid across the body to make calamari loops. If you have tentacles, cut them into about 4-inch lengths. Like the fish, flour each squid piece then dip each one into the batter.

Transfer to the hot oil. Flip and cook just like the fish. Transfer to the paper towel when done.
Optional: Onions
If you have extra batter like we did (or love onion rings like I do), slice up some round onions. Mom had an extra ¼ of an onion in the fridge so we used it here. Sweet round onions are even better, but even this normal round onion tasted great.

Like the fish and squid, cover the onions with the tempura flour. Mix the onions in the remaining batter and make sure everything is coated. Grab a small handful of the onions and place it in the pan.

Within a few seconds each handful will cook together in one clump. Flip and cook until they are golden brown.
Notes
Do not use olive oil to deep fry. We used vegetable oil.
Consider wearing a tight long-sleeved shirt and/or gloves. You also might want to use a long pair of tongs to cook with because the oil will splatter. Mom is very used to deep-frying so she just did her normal routine: a regular t-shirt and chopsticks.

Mom highly recommends deep frying the fish twice because they have a lot of water due to being frozen. Not only will this get rid of the extra water and any sogginess in the batter, but it will also crisp up the outside of the batter to give it that nice crunch.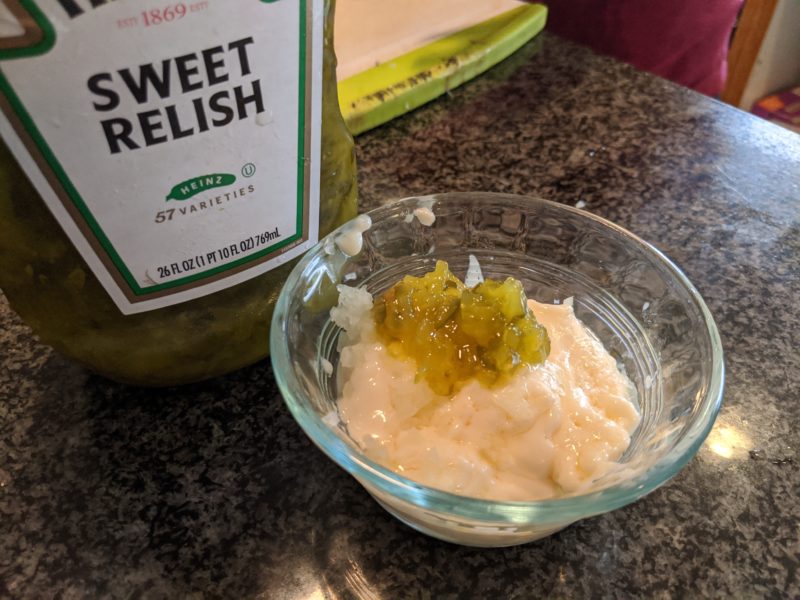 Ingredients
½

c

mayonnaise

1

tsp

finely chopped onion

1½

tbsp

relish
Instructions
In a small dish or bowl add the mayonnaise, onion, and relish. Mix and adjust to your taste.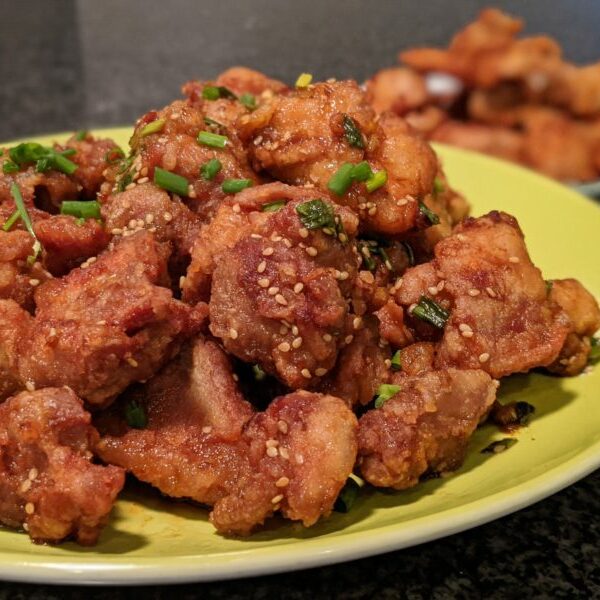 Get my latest recipes with a spoonful of aloha!