This post may contain affiliate links, which means I'll earn a small commission if you purchase something through these links. You won't pay any extra; instead, you'll be helping Aloha With Love to thrive. Thank you! Learn more.
COVID-19 has affected many of Hawaii's businesses and events. Please double check their dates and times before you go or make plans. Visit HawaiiCOVID19.com for more information.
--
Burgers may not be on the top of your foodie list when you come to Hawaii, but don't scratch Teddy's Bigger Burgers off just yet. Their burgers got their start way back in 1998 right near iconic Diamond Head and they've since been building a burger empire focusing on quality burgers (rather than fast food burgers).
You can expect Teddy's Bigger Burgers to take several savory mouthfuls to finish. And burgers aren't the only thing they serve. Fat and crispy french fries, thick shakes that inch up your straw, and a bunch of side orders that will make you drool!
Aloha with love,
Amy
Teddy's Bigger Burgers Deserves Their Name.
When you first take a look at the Teddy's Bigger Burgers' menu, the first 3 basic options you'll see are BIG, BIGGER, and BIGGEST (1/3 lb, 1/2 lb, 1 lb respectively). There's no such thing as a small or mini at Teddy's so come hungry and ready to chow down.
Local Tip: I usually get the Big, which is Teddy's smallest burger, but will in no way leave you wanting for more. It's the cheapest burger deal you can get here ($12 for a combo deal).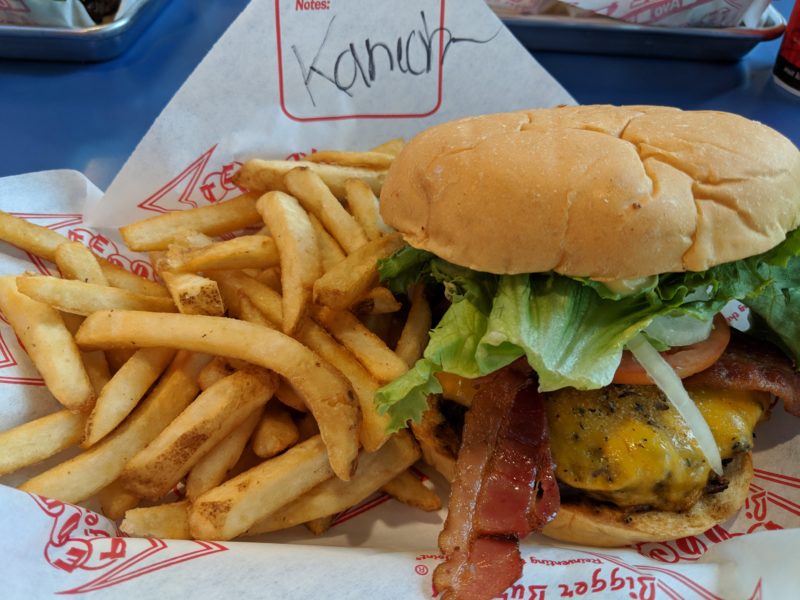 While ordering the Big might be my usual, that does not stop me from ordering the Teddy's Bigger Burgers' specialty burgers from time to time. My last visit here was with 2 visiting friends from Japan and I decided to splurge for the Kaneohe – a fantastic garlic burger with bacon and my favorite cheddar cheese.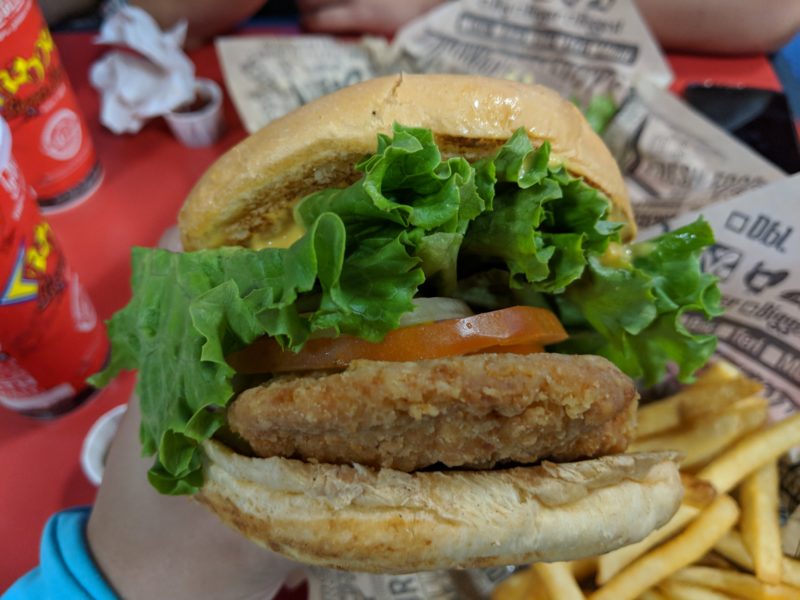 I also love crispy chicken sandwiches – they're usually my go to at any burger or sandwich joint and Teddy's Bigger Burgers does a number on this one, too. The chicken patty is tender all the way through and is usually larger than the bun, which is a huge plus. Patties that are smaller than the bun are just disappointing, aren't they?
The Ordering Experience: The "Teddy's Is Not Fast Food" Mantra.
You'll see the Teddy's mantra throughout the restaurant and it shows in the ordering process. Rare is the burger joint that allows you to choose how pink you want your beef patty. It's pretty safe to go with how you like your steak. I'm a medium rare kind of girl and am always satisfied with what I receive.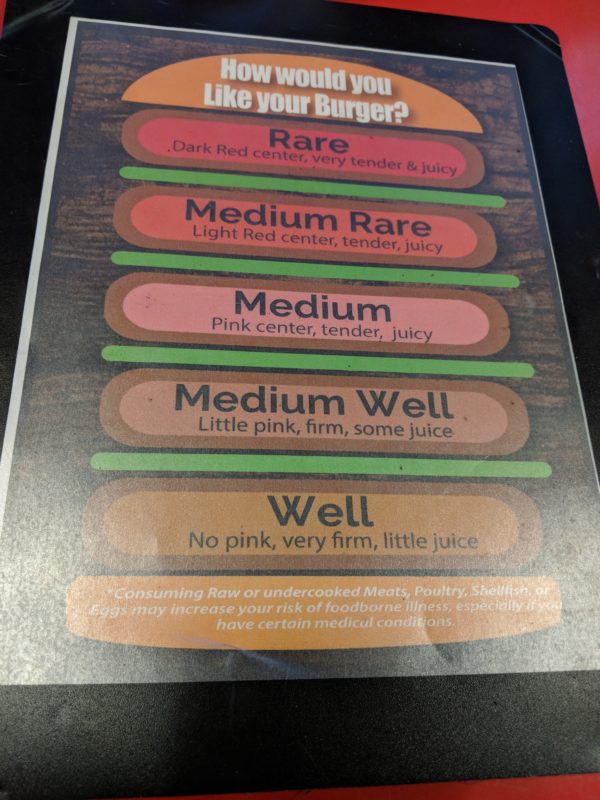 Teddy's Bigger Burgers has a great ordering system. Despite the fact that they take longer to get your burger out to you, the process is so streamlined that you only wait about 5 – 10 minutes for your food. Even the lunch and dinner crowd doesn't seem to phase the Teddy's staff.
Local Tip: Teddy's is not just known for quality burgers, but also for quality customer service. During your meal, you can expect someone to come on by to check up on you and pass out wet napkins to wipe your fingers with if you haven't popped them in your mouth yet to clean them.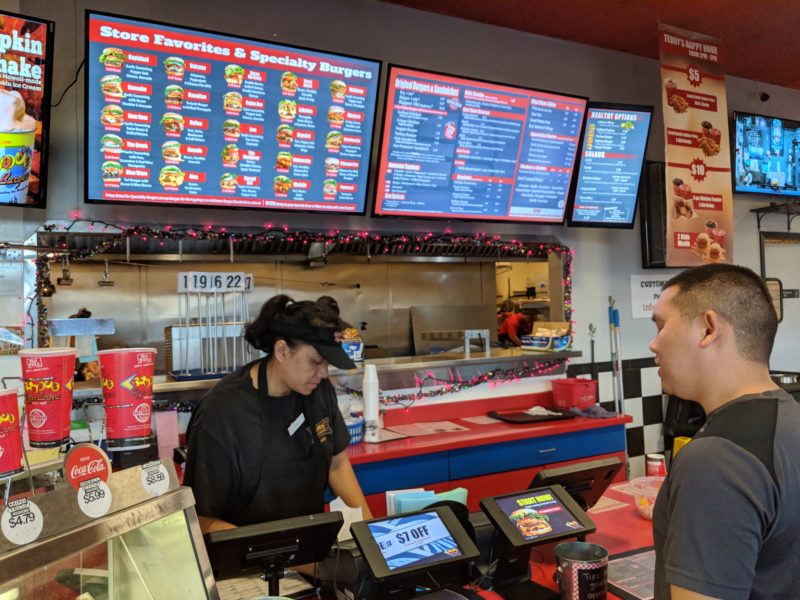 Teddy's Side Orders Are Just Icing On The Cake.
One of my friends is a lover of buffalo wings, so of course he had to put in an order for these guys. These were perfect examples of that ninja spiciness that will sneak up on you and take you down.
Local Tip: There are several chicken options at Teddy's Bigger Burgers, including garlic chicken for all those garlic fans out there. These have some lovely parmesan and parsley on top as well.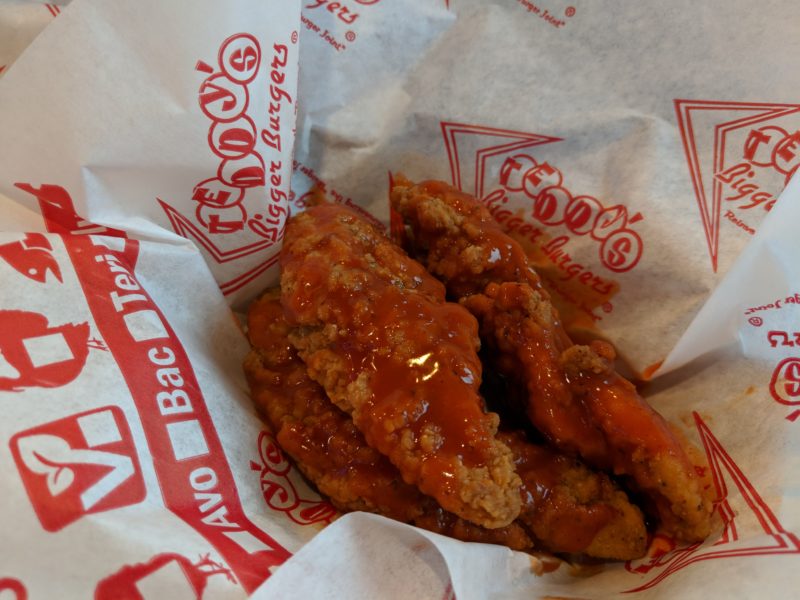 And I can't talk about Teddy's burgers, without mentioning their french fries. Their fries are just the way I like them. Thickly cut with the skins still on, they've got a light smattering of salt and there's enough in a combo to do damage to your daily carb intake.
Local Tip: If you like sweet potato fries, consider trying out Teddy's version. They're prepared the same way (I'm pretty sure), but that extra sweetness from the sweet potatoes really makes them shine.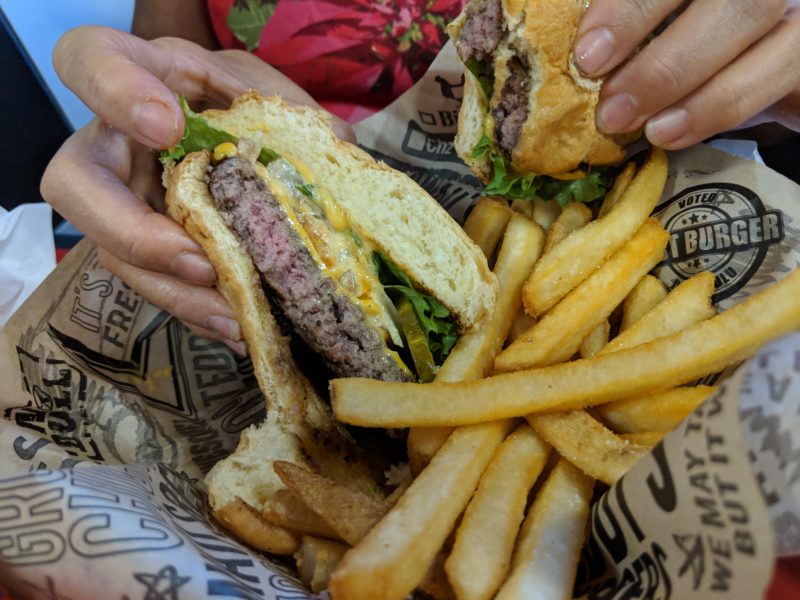 Teddy's also does a fantastic job on their shakes. For me, a great shake is when that 1st suck on your straw just begins to make your face go red. But the best part of their shakes is that they've formed a partnership with Dave's Ice Cream – a local ice cream shop that has been in Hawaii when my Dad was a kid. Think homemade ice cream with local flavors!
Find A Teddy's Near You Even If You Aren't In Hawaii.
Teddy's Bigger Burgers may have gotten their start in Hawaii, but they've grown at a fast pace due to their success. They now have plenty of stores on the U.S. mainland and internationally! Definitely take a look to see if one is near you – you'll never know until you check!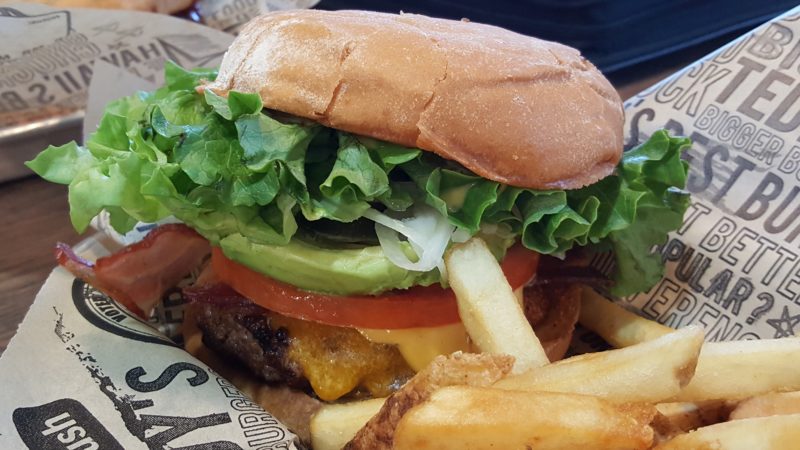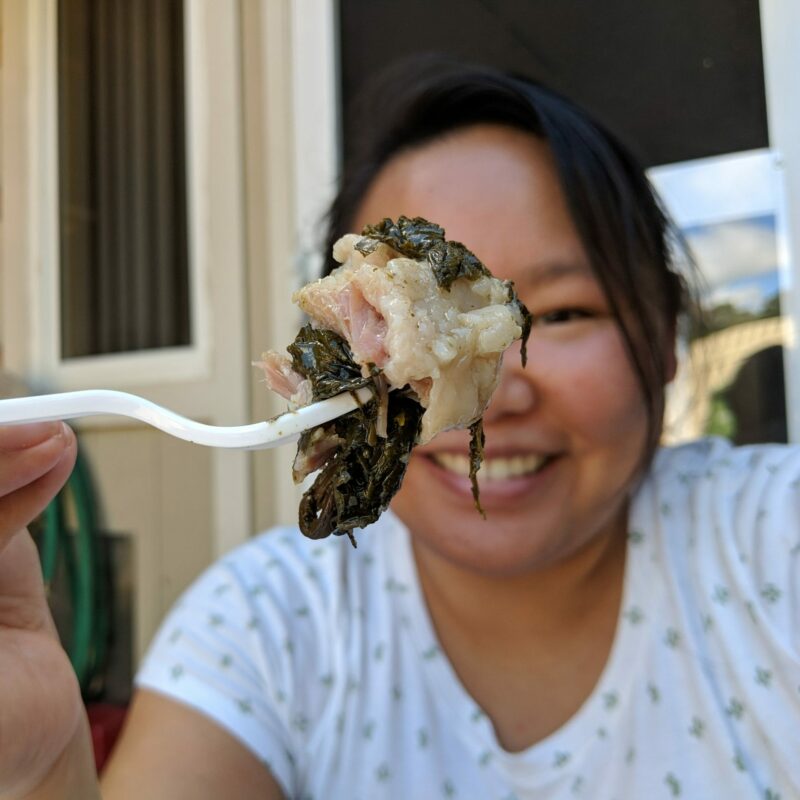 Discover more restaurants, bars, cheap eats, and mom-n-pop shops in Hawaii!