This post may contain affiliate links, which means I'll earn a small commission if you purchase something through these links. You won't pay any extra; instead, you'll be helping Aloha With Love to thrive. Thank you! Learn more.
COVID-19 has affected many of Hawaii's businesses and events. Please double check their dates and times before you go or make plans. Visit HawaiiCOVID19.com for more information.
--
It's really hard to beat Sunset Beach when you talk about the best beach in North Shore, Oahu. The waves are calm especially toward the end of summer and the 2-mile stretch of golden sand makes you feel like the beach extends as far as the eye can see. But come winter the scene changes to a surfer's paradise complete with big waves and never-ending sets.
When you drive past Sunset Beach on Kamehameha Highway, it's almost impossible to keep your eyes on the road. I promise you'll be sneaking glances to the side because looking out at Sunset Beach is just like looking at a postcard come to life.
Aloha with love,
Amy
About Sunset Beach
Driving northeast on Kamehameha Highway, Sunset Beach follows right after Ehukai Beach Park – a very small park with a small parking lot, bathroom and shower facilities, and a handful of picnic benches.
If you plan on parking in the Ehukai Beach Park parking lot and walking over to Sunset Beach, you'll have to turn into Ke Nui Road, a small residential road that sits between the beach access and Kamehameha Highway.
Sunset Beach history
Like most of Hawaii's beaches, Sunset Beach is not this beach's original name. Back in the 20s, a marketing campaign for the houses in this area promoted the beautiful sunsets in this area and the name stuck.
The original Hawaiian name is Paumalu, meaning "taken by surprise". The story goes that a woman skilled in catching octopus went over the limit and suffered a shark attack that took off her legs. With an ancient legend like this, you can see why the marketing team decided to go with "sunsets".
Beach access through the neighborhood
About 80% of Sunset Beach is "blocked" by residential homes, which means from Kamehameha Highway you'll have to turn into Ke Nui Drive and find some street parking. There are a few public beach access roads (often marked with a blue sign that says "public right of way to beach") that you can park near and walk in to Sunset Beach.
Parking, showers, and bathrooms
A better way to park and enter Sunset Beach (and what most people end up doing) is going to the northern section where there are no homes between the sand and Kamehameha Highway.
There's limited street parking along the shore. The road pulls out and the area can get crowded with tour buses and shuttles.
Across the street is the main Sunset Beach parking labeled with a small blue street sign as Sunset Beach Support Park (at the time of writing this post this park still doesn't show up on Google Maps). There are only a few picnic tables – only one of them in the shade so if you nab it you're very lucky considering Sunset Beach's popularity.
What to expect
Unfortunately, there's not much shade at Sunset Beach. If you're lucky, you can find the occasional tree or maybe sit in front of house if you're in the residential area, but more than likely you'll end up working on your tan.
Local tip: One thing to look for on Sunset Beach is the crooked palm tree. Take a picture with this Sunset Beach icon to impress your friends and family. You should be able to find it in front of the larger parking lot pull out.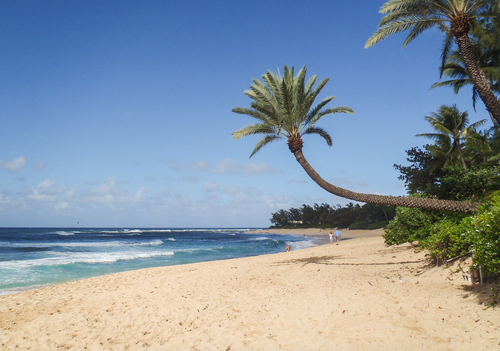 Snorkeling at Sunset Beach: People do snorkel here, but the underwater scene won't blow you away like Shark's Cove further down the road or Electric Beach in Kapolei.
The safer area to snorkel in is right in front of the lifeguard station. You'll find some fish swimming about so it's a good place for beginner snorkelers especially during the calm summer months.
The other area you can snorkel in is on the far north side (right) of Sunset Beach (a little past the crooked palm tree). However, I only recommend this on really calm days. There's a break here and you'll want to avoid rough waves and surfboards hitting your head.
Stand up paddleboarding (SUP): Something else that Sunset Beach is locally popular for is stand up paddleboarding. When the waves are non-existent especially during the late summer months, Sunset Beach is a really great place for SUP. The water is flat and you can paddle quite far before turning around.
Safety
If you feel more comfortable with lifeguards around, then stick to the more visible part of Sunset Beach with the parking lot pull outs. There are 2 lifeguard stations here on either side of this open section to keep watch over you.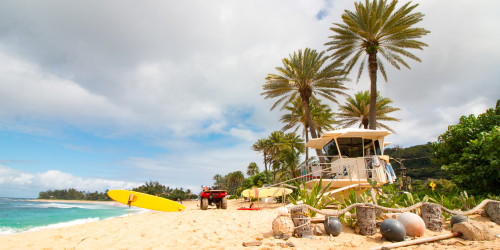 Every year around the same time as when the surfing tournaments are held, the local news stations will report on the drastic reduction of sand compared to years before. Unfortunately, due to climate change, Hawaii's trade winds have changed and have ultimately caused the sand and rock below the oceanside homes to erode.
Take caution if you choose to set up your beach chairs right in front of these homes. You'll see some danger signs warning you to be careful.
Seasonal information
Look out for big winter swells from October thru April. Sunset Beach is famous for its big surf, so naturally there's a wider window of caution here.
Sunset Beach's calmest period is usually during the late summer, which is perfect even for little kids playing at the shoreline.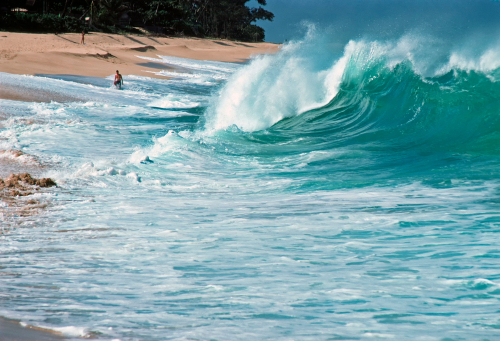 Sunset Beach and surfing
When you think of surfing in the north shore, Sunset Beach is one of the first beaches to come to mind. Even if spending a beach day here isn't on your list of things to do, it's still worth it to stop by and see the surfers in action.
Surfing year round
Although winter is when the big swells and skilled surfers come out to play, you can almost always find surfers at Sunset Beach all year round.
The sets may be smaller than in the winter, but that means it's easier for beginners to learn how to surf. If you're a complete rookie, I don't recommend you coming out yourself. Either book yourself a North Shore surfing lesson or come out with a buddy who can teach you about the different breakpoints and wave patters at Sunset Beach.
Surf tournaments
There are several surf tournaments held at Sunset Beach for all ages, but the one that draws the crowd is the Vans World Cup of Surfing held sometime late November thru early December. The World Cup of Surfing is one of four Hawaii surf tournaments that make up the elite Vans Triple Crown of Surfing:
Vans Pro (qualifying event, formerly HIC Pro) – Sunset Beach
Hawaiian Pro – Haleiwa (Haleiwa Alii Beach Park)
Vans World Cup of Surfing – Sunset Beach
Billabong Pipe Masters – Banzai Pipeline (Ehukai Beach Park)
If you decide to go and watch these surf tournaments, bring your best telephoto lens if you're into serious photography. Binoculars are also great to have on hand if you want to see the surfers.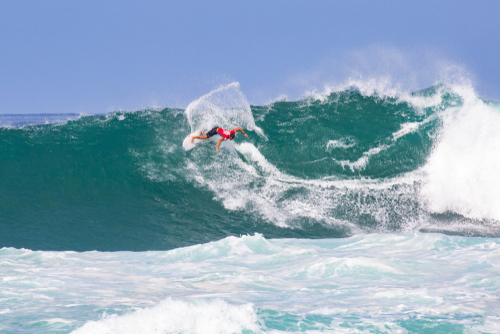 Other attractions nearby
If you're in the mood for a hike, right across the street is the trailhead to the Ehukai Pillbox. It's a short, but steep hike with a panoramic view of Sunset Beach and the North Shore.
Drive north past sunset beach for another 30 seconds and you'll see the nondescript Ted's Bakery – famous in the North Shore for their pies (try the chocolate haupia). But if you can't make it to Ted's Bakery, just check out any local Safeway's dessert section!
If you're looking for more food options, head back to Haleiwa Town for both restaurants and food trucks. Or, keep going until you reach the shrimp trucks in Kahuku – a popular favorite among Hawaii visitors.
Learn More: The Beach Bum's Guide To Beaches On Oahu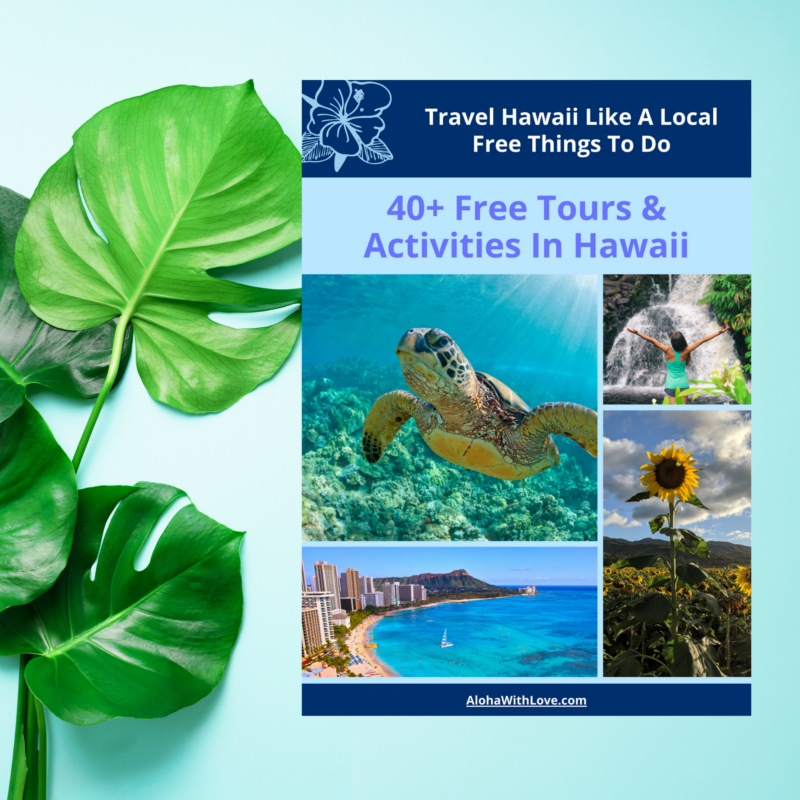 Want to go on a free tour in Hawaii?