This post may contain affiliate links, which means I'll earn a small commission if you purchase something through these links. You won't pay any extra; instead, you'll be helping Aloha With Love to thrive. Thank you! Learn more.
COVID-19 has affected many of Hawaii's businesses and events. Please double check their dates and times before you go or make plans. Visit HawaiiCOVID19.com for more information.
--
July in Oahu means sunflower season in Waialua! Over the years, the sunflower fields at Corteva Agriscience have grown in popularity. Locals and tourists alike flock to the sunflower fields for 10 days to stage their selfies, take cosplay pictures, and practice their photography skills on a beautiful backdrop of the Waianae mountains.
By chance my friend and I found out that the sunflower fields would be open for a one-night-only sunset viewing from 6 PM – 8 PM. The lighting was perfect and we got some beautiful shots (with our smartphones!).
Aloha with love,
Amy
Local Tip: Please don't touch the sunflowers no matter how tempting. This is a nonprofit event and the sunflowers still need to be harvested. Respect the sunflowers so that we can continue to have this cool Waialua sunflower field event for many years to come!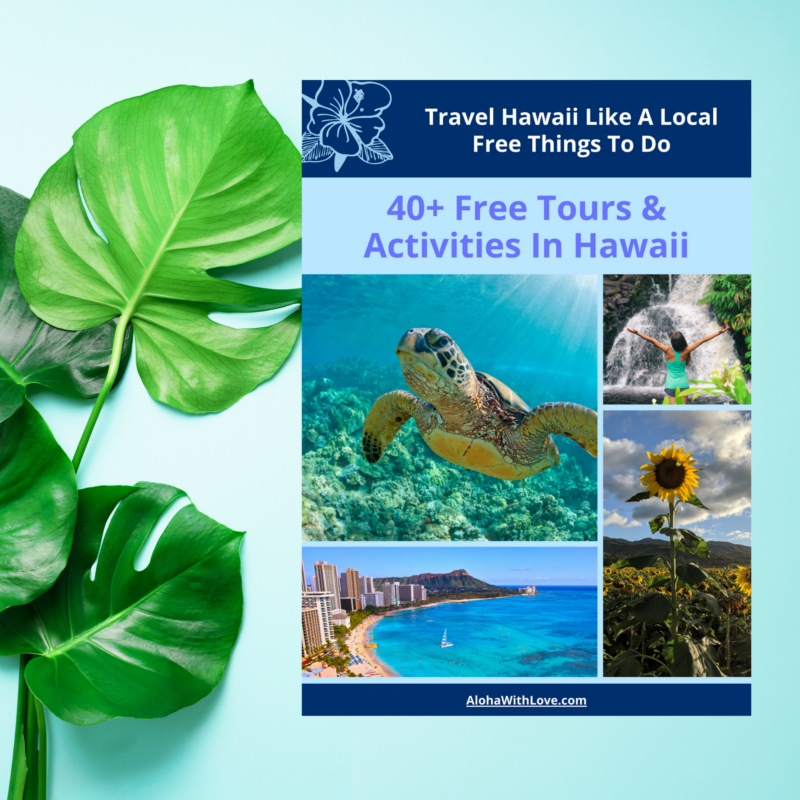 Want to go on a free tour in Hawaii?
The Waialua Sunflower Fields Are A Photographer's Dream
The entire event that Corteva Agriscience puts up is lovely. All of the staff from the parking attendants to the farmhands had smiles on their faces and I could tell everyone was just happy to be there. It was a great way to be welcomed.
Local Tip: The awesome thing about the Waialua sunflower fields is that they donate the proceeds of the event to Waialua nonprofits such as the rotary club, Waialua High School and Waialua Elementary School. It's a great way for them to give back to their local community and it makes you feel good about the entrance fee.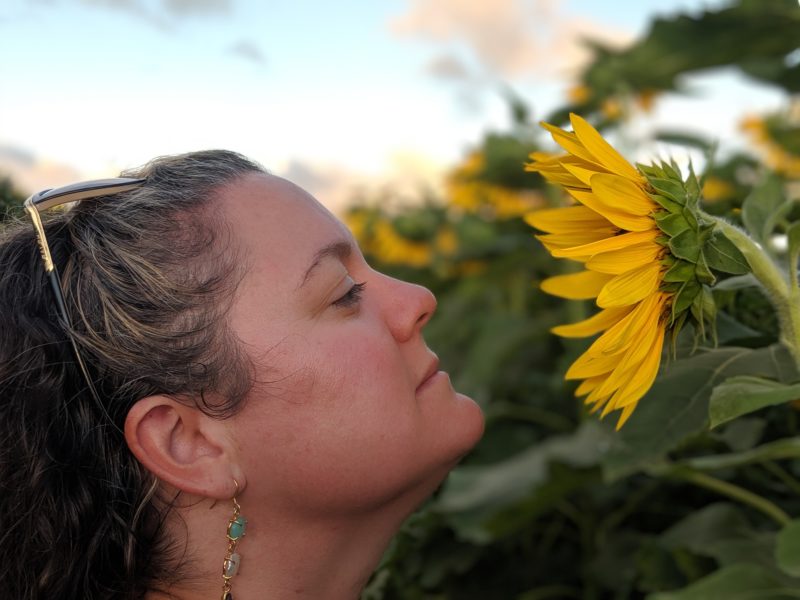 The sunflower fields spread far and wide and although the parking lot was crowded, I did not feel hemmed in while walking around in the fields. Occasionally, people would get into my shots or I'd have to wait for them to walk away, but it wasn't a hassle.
There is so much space and so many sunflowers that it's possible to stage a shot where it feels like you're the only one there. Of course, with so many sunflowers, we had plenty of opportunities to take some comedic shots, too. With the natural droop of the sunflowers, we had plenty of "conversations" with them.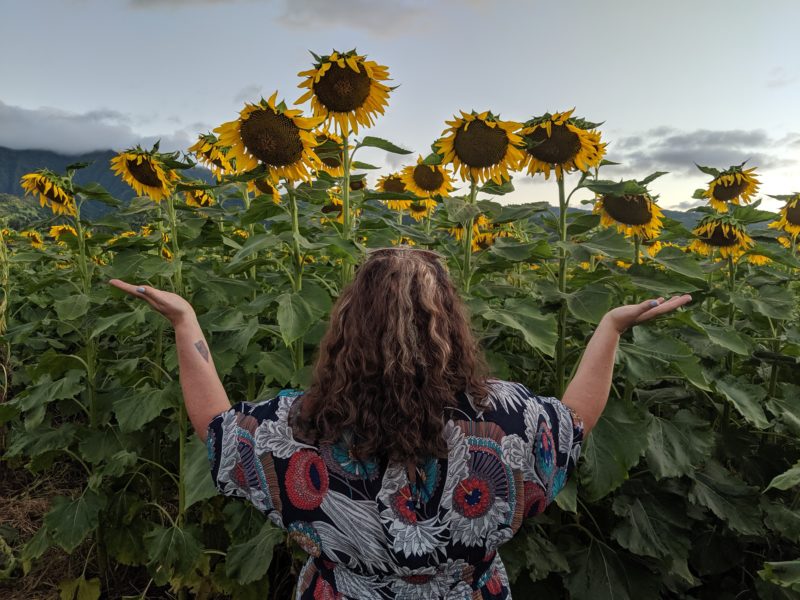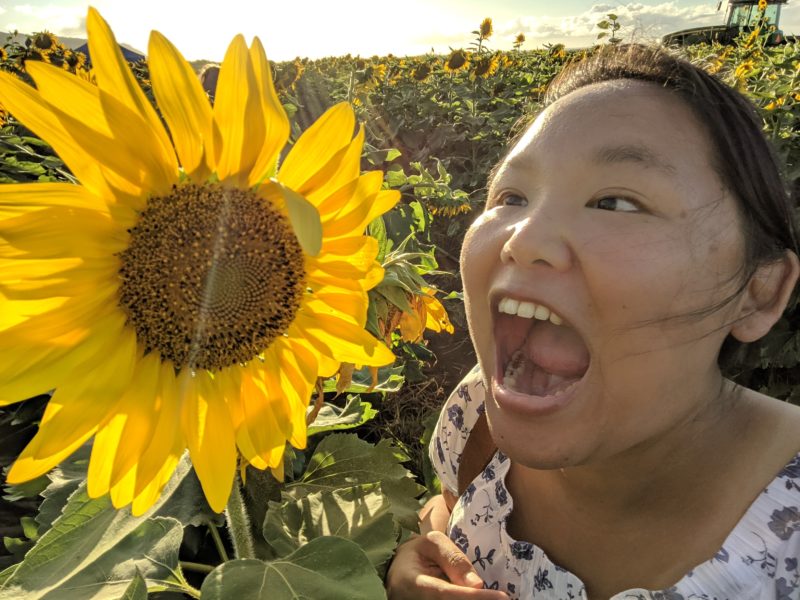 Walking around in the sunflower fields isn't the only thing you can do at this Waialua farm. There are a few other crops that you can ask questions about and the view of the Waianae mountains is excellent! It's not often where I get to have an unadulterated path straight to this mountain range. Usually there are some houses, farms or structures in the way – so seeing this view made my day.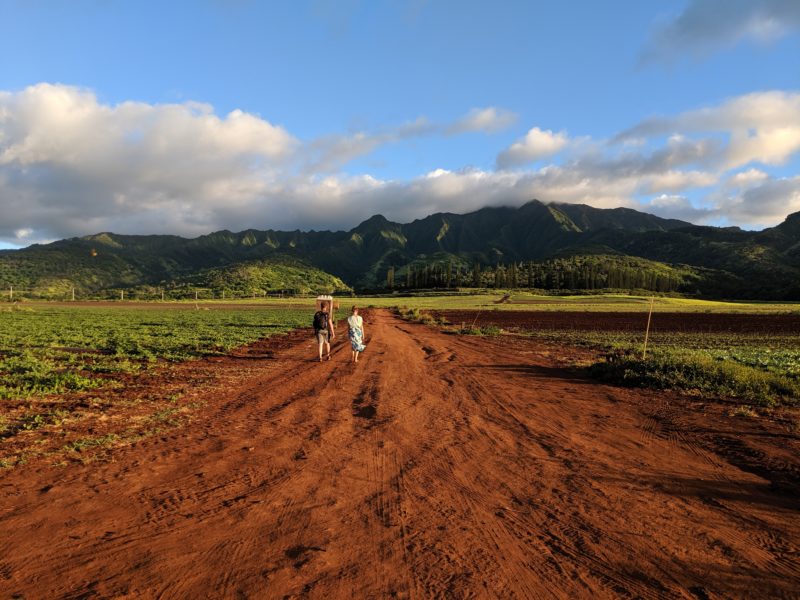 How The Waialua Sunflower Fields Benefit The Local Community
The Waialua area is mostly farmland. There are pockets of residential areas, but mostly when I think of Waialua, I think of Waialua coffee, the Old Waialua Sugar Mill and Paalaa Kai Bakery. In fact, the town before Waialua is Wahiawa, historically known as a plantation town. The town after Waialua is Haleiwa, a surf town. So this side of Oahu is very much "country".
While this is a beautiful spot to explore as a traveler, it means there isn't much opportunity here for the local community – and that includes children.
In the past, proceeds from the Waialua sunflower fields events have gone to local nonprofits, neighborhood sport leagues for boys and girls (baseball, softball, football), and local Waialua schools (elementary and high schools) – which is fantastic! You can never go wrong investing in children. In 2017's event (2018 was cancelled due to weather) $52,000 was raised!
Entrance fee to the Waialua Sunflower Fields
For 2019, the event lasted from Thursday, July 11 thru Saturday, July 20. On weekdays, tours ran from 12 PM to 2 PM. On weekends, tours ran from 10 AM to 2 PM. Parking was $5.
The event I went to was a one-night-only sunset viewing held on Tuesday, July 16. Admission was $15 per person. This sunset viewing is worth it because of the better natural lighting.
Local Tip: Bring cash. The staff can process credit cards, but as you can imagine, the line is long and slow since this isn't a regular thing for them. To avoid the long credit card line and get in right away, bring the bills.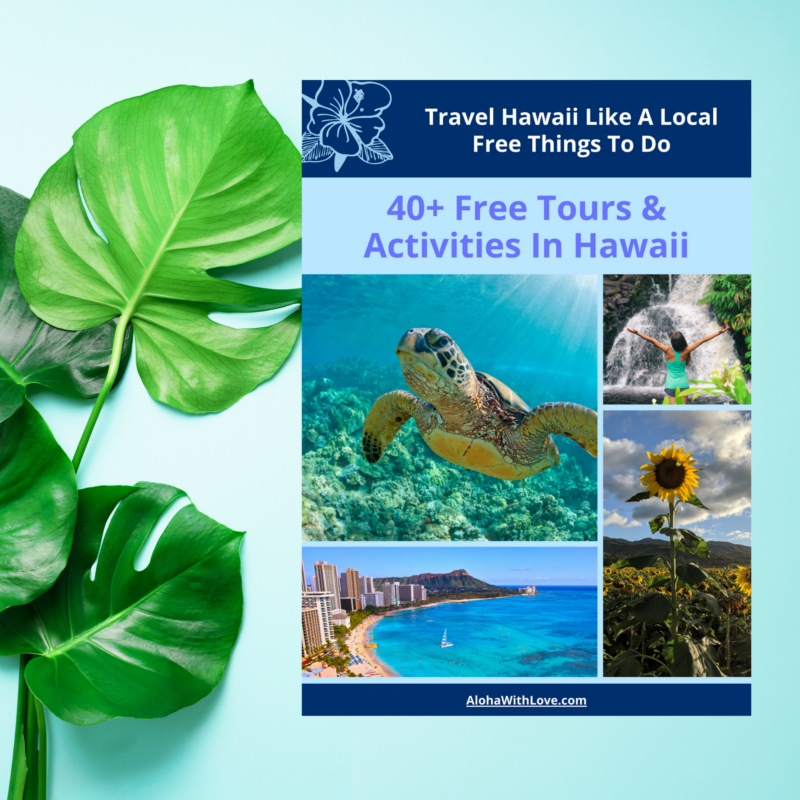 Want to go on a free tour in Hawaii?
What To Bring To The Waialua Sunflower Fields
You'd be surprised at how much people equipment people brought to the Waialua sunflower fields (I was). But here are the essentials:
Some kind of camera – even smartphones are OK. All the photos in this post were taken with my smartphone and many came out fantastic!
Sunscreen, water, hat – Be prepared for lots of sun especially if you go in the afternoon. We did not bring sunscreen for the sunset viewing and were fine.
Closed-toe shoes – The dirt ground is uneven so athletic shoes would be best. If it's been raining, your shoes could get muddy fast. If you plan to wear fancy shoes for a photoshoot, I recommend bringing them along and changing just before the photos.
Medication (especially if you're allergic to bees) – I saw maybe 3 or 4 bees hanging around on the sunflowers and I'm sure a few were buzzing overhead. Corteva Agriscience recommends bringing your epipen on their site as well.
If you're a serious photographer or you're coming to the Waialua sunflower fields for a specific purpose, here are some other things I saw in use:
Costumes – I saw everything from little girls dressed in white and sparkles for wedding photos to anime cosplay fans with extra tall boots and their signature perfect hairdos.
Step ladder – Most of the sunflowers are taller than you. If you want a vantage point of the whole sunflower field, you'll need to bring a ladder. We didn't bring one, but towards the end of the event, we asked one man if we could use his for a quick shot each and he said "sure!"
Props – If you want to stage some shots, props are OK to bring. Umbrellas were the most common, but you can bring almost anything to use in your photos.
Camera gear – The Waialua sunflower fields are a great safe place to bring your expensive camera gear and have fun as the lighting gets better and better.
Drones – It seems like drone fly zones are getting fewer and fewer, but this is one spot where drones are OK. I saw at least 4 of them zipping around!
Local Tip: In my opinion, the "best" sunflowers were in the middle near the main walkway on the right side when you enter. Because of the large path, you could stand directly in front of the sunflower from all angles to get that perfect shot.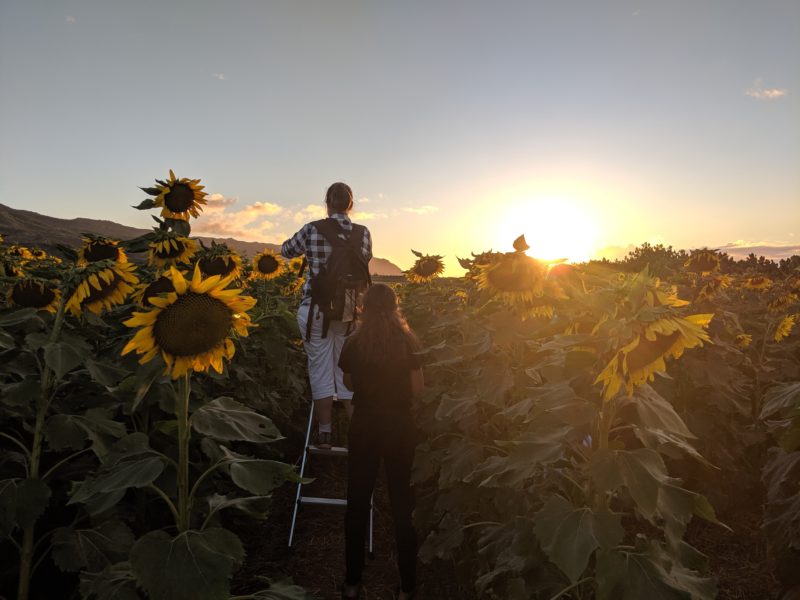 Local Tip: Corteva Agriscience opens up the Waialua sunflower fields after the sunflowers have fully matured and before harvesting the seeds. This means (unfortunately) that the sunflowers face away from the sun and droop to protect the seeds from birds. So your window of great lighting is shorter, but you'll get to play with backlighting techniques.
Plan Ahead For Your Visit To The Waialua Sunflower Fields
The Waialua Sunflower Field event is short. It usually only lasts about 10 days and opening hours vary since this is a working farm. Up thru 2017 and 2018's cancelled event, you could find all the sunflower field information at the DuPont Pioneer website (this website doesn't seem to exist anymore). Some of the information is still there and can give you some insight into your planning.
However, this year and probably into the future, it looks like Corteva Agriscience will be taking over. Information regarding the Waialua sunflower event on the site is minimal though. I recommend looking to news sources starting in early July. Keep checking back because of the four news sources that I found, only two of them mentioned the sunset viewing.
Local Tip: Do not go to the Waialua Sunflower Fields outside of tour hours as it will be considered as trespassing.
Directions And Parking At The Waialua Sunflower Fields
The Waialua Sunflower fields are located on Farrington Highway. From Waikiki, this will take you about 45 minutes to 1 hour depending on traffic. From Ko Olina, the drive will take you about 40 to 50 minutes.
From most starting points on the island, start driving toward Haleiwa/North Shore and check your map once you get into Wahiawa. From Wahiawa, you'll slowly head west toward the sunflower fields. If you're coming from north of Haleiwa (Laie, Kahuku, etc.), check your map at Haleiwa and head west.
Since our event was from 6 PM to 8 PM, we arrived around 5:50 PM and saw a long line of cars outside of Corteva Agriscience's cattle gate. In other words, their 6 PM to 8 PM event meant that the gates opened for parking at 6 PM on the dot.
All of the cars lined up outside of the cattle gate on the side of Farrington Highway. Don't panic because there is plenty of parking and when they do open the gates, it's a quick and easy procedure. Continue to drive past the entrance and follow the long line of cars parked on the side of the road. Do a U-turn when you reach the end and line up with everyone else.
Local Tip: If you arrive "late", let's say 6:05 PM, you'll be able to make a left turn into the entrance and merge into the cars waiting in line.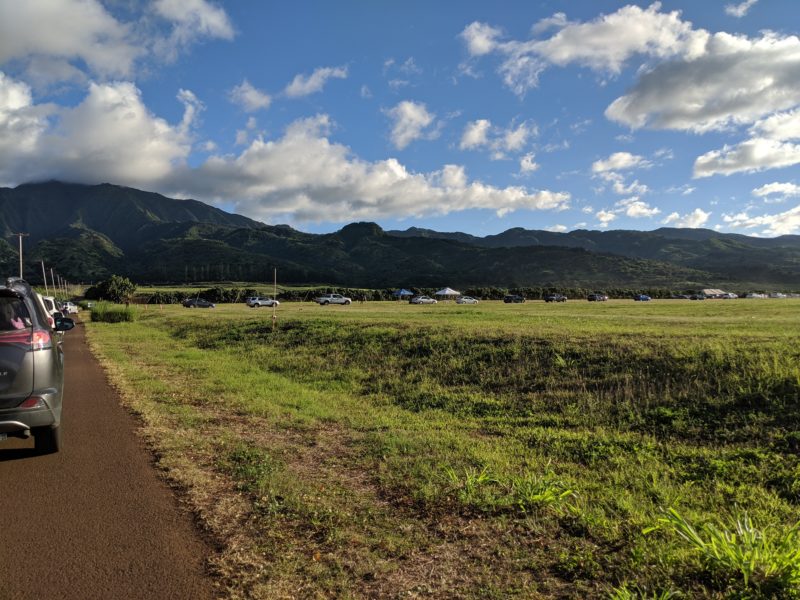 A couple of minutes after 6 PM, we moved at a steady pace and passed the cattle gate. The view opened up to large empty field and a great view of the Waianae mountains. In total, we had our car parked in less than 10 minutes, which takes place on the empty field.
The parking attendants were attentive and kept everyone in neat and orderly lines, so it was also easy to leave, too. From there it's a short walk to the entrance, marked by the huge white tent that is impossible to miss.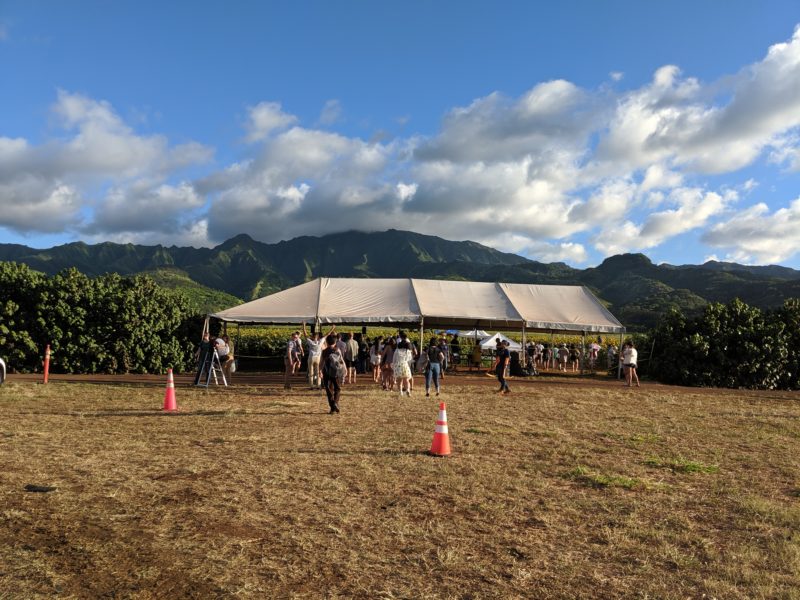 Other Sunflower Fields In Oahu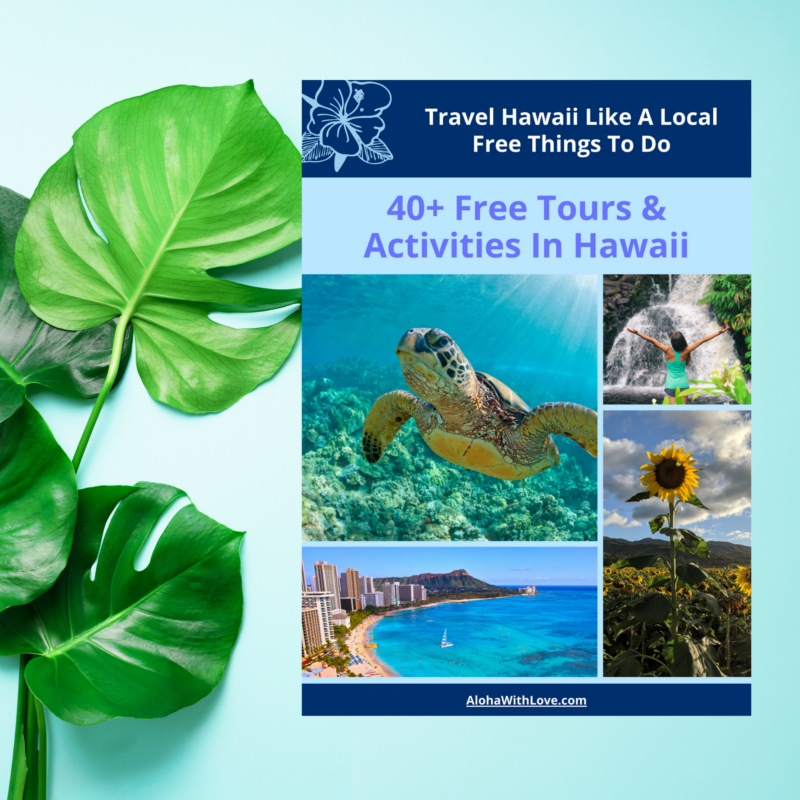 Want to go on a free tour in Hawaii?