This post may contain affiliate links, which means I'll earn a small commission if you purchase something through these links. You won't pay any extra; instead, you'll be helping Aloha With Love to thrive. Thank you! Learn more.
COVID-19 has affected many of Hawaii's businesses and events. Please double check their dates and times before you go or make plans. Visit HawaiiCOVID19.com for more information.
--
Chinese cooking often involves a lot of flour and dough work and Mom excels at applying this knowledge to bread. She initially made these buns stuffed with sweet bean, taro, and meat filling, but one day decided to just go with fresh bread and it was a tasty success approved by the whole family. The texture is similar to a thick English muffin and with each bite, they are as soft and chewy as you can imagine. The key is letting the dough rest to get that extra softness.
These do take some time to make. All the "letting the dough rest" adds up. Save these for an early morning when everyone will wake up late and no one will disturb you in the kitchen. The wait is worth it since these will turn out extremely soft and can be paired with anything from plain butter to a hot pork and bean stew.
Aloha with love,
Amy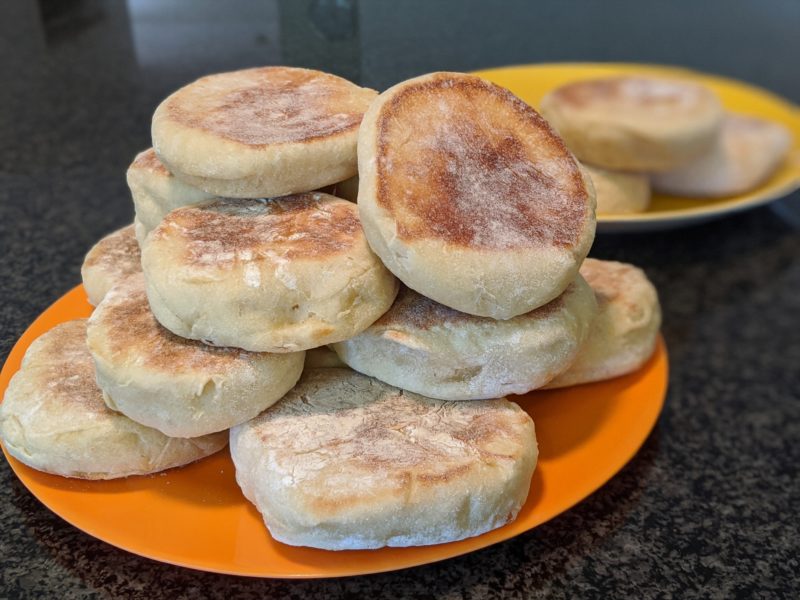 Ingredients
5¼

c

all-purpose flour

¼

tsp

salt

2

tbsp

sugar

⅔

c

hot water

1

c

warm water

1

packet

yeast

0.25 oz.

4

eggs

¼

c

olive oil

Or any cooking oil.
Instructions
In a mixing bowl, add flour, salt and sugar and mix. Heat up ⅔ c hot water. Pour in the first ⅓ c slowly and mix. Once the water has bonded with the flour, pour in the second ⅓ c slowly and mix.

After mixing the hot water into the flour, it should be at a lumpy half-flour/half-dough stage.

Note: To make hot water, Mom uses the Keurig coffee machine and runs water through without a k-cup.

In a separate small bowl, combine 1 c warm water with 1 package of yeast. Mix.

Add eggs into the flour followed by this yeast mixture.

Mix until the yellow of the yolk has fully mixed into the dough. Keep mixing if you still see large pockets of egg yolk here and there. At about 1 minute, you'll be able to smell the yeast. Between 1 – 2 minutes of mixing, the yellow yolk should be incorporated into the dough.

Cover the dough and let it rest for 20 minutes.

Clean your hands really well and dry. Pour oil directly onto the dough. Lift the edge of the dough and bring it to the middle and push it into the dough. Rotate the bowl slightly and repeat this kneading method of stretching the edge and pushing it into the middle.

Pull, stretch, rotate the bowl, and repeat for about 3 – 4 minutes. You'll know the dough is ready when the oil has soaked into the dough and is sticking to your hands.

Cover and rest for 1½ hours.

Uncover the dough and you'll see that it has expanded more than twice its size. Sprinkle the top with flour. Pat the dough down to get it closer to its original size.

From here, don't be shy with the flour. In order to get a beautiful shape, the dough cannot be sticky. Make sure the dough, your work surface, and your hands have plenty of flour to work with.

Tilt the bowl and slowly roll out the dough onto a heavily floured work surface in one piece. Make sure you have set aside plenty of flour to be used. Flour the top of the dough (as well as your hands).

Pretend the dough is a rectangle and fold it in half and press down.

Fold it in half in the opposite direction.

Fold it in half 2 more times (a total of 4 times folded in half). By now the shape should be a nice and smooth rectangle or square.

Knead and rotate the dough. Once the dough becomes smooth, flip the dough over so that it's nice and smooth on top.

Pinch the dough and create balls of dough. Each ball of dough is about 2 inches in diameter. Put the balls on the side but make sure there is plenty of flour underneath them.

The balls of dough will slowly flatten. You don't have to worry about smoothness right about yet. Flour up the dough's top and bottom so that it won't stick to your hands.

With your thumb and fingers, pinch the edges and bring them underneath the ball of dough.

Rotate the ball of dough 90° and repeat the above instructions. Continue to pull the dough underneath about 4 or5 times for each ball of dough.

Turn over the ball of dough and pinch the ends together to make it smooth.

Flip the ball of dough once more so that the pinched side is on the bottom and the top is smooth. Put plenty of flour on the bottom of the dough.

Put the balls of dough off to the side with plenty of space in between. This time they'll be rounder and will stand up higher than before.

With your hand, push the dough down to flatten it. Once again, make sure there is plenty of flour underneath and around each ball of dough. Sprinkle more flour on the top as well.

Spread out the balls of dough with lots of space in between. Cover with saran wrap or a thin plastic shopping bag (the kind offered in the fresh vegetable section in the grocery store). Cover 20 – 30 minutes.

After allowing them to rest (and if they were spaced out and floured enough on both sides), they should be relatively easy to pick up and hold with floured hands.

Put a large pan on the stove and adjust the temperature to medium. Then drop it down to medium-low for a few minutes to get an even heat. Add one bun to the pan and allow it to slowly cook for 1 minute. Turn over. Add the next bun and repeat.

Note: Add a new bun to the pan only when the earlier ones have been flipped at least once. If 2 buns that haven't been flipped touch, they will stick to each other and become misshapen.

Continue to flip every so often to slowly brown each side. As the buns cook they continue to rise. Remove from the pan when there is a nice brown on both sides of the buns.
Notes
Mom usually makes 16 – 18 buns for this recipe. But you can adjust the size of the buns to make more or less.
The key to these soft buns is letting the dough relax every time you knead it. Kneading makes it tight and less flexible.
Use plenty of flour especially when separating the dough into buns. Once they stick to your work surface, plastic cover, hands, or each other, they will lose their shape and be uneven when cooking.
Every person is different, but our family eats these buns with butter, jam, honey or even with hearty stews. Most recently we enjoyed this with pork and beans.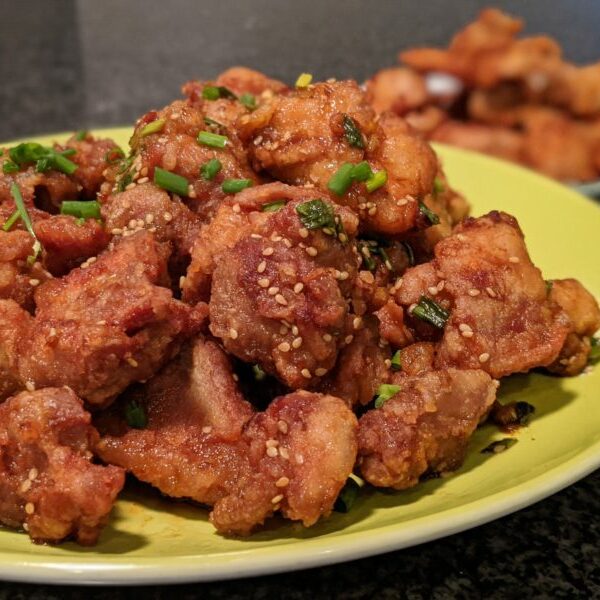 Get my latest recipes with a spoonful of aloha!