This post may contain affiliate links, which means I'll earn a small commission if you purchase something through these links. You won't pay any extra; instead, you'll be helping Aloha With Love to thrive. Thank you! Learn more.
COVID-19 has affected many of Hawaii's businesses and events. Please double check their dates and times before you go or make plans. Visit HawaiiCOVID19.com for more information.
--
Lanai Is A Snorkeler's Paradise
If you search the internet for Lanai and snorkeling, you'll find pages and pages of Yelp reviews, TripAdvisor reviews and articles about which snorkeling tour or boat dive company is better. With so few people, many of the best beach snorkeling spots aren't advertised as widely as the other islands. If you happen to be on Lanai, try these beaches out because I think Lanai is a snorkeling gem!
Hulopoe Bay and Manele Bay
Are you a snorkeling beginner? This is the spot to begin your first venture into snorkeling if you're on Lanai. But the biggest perk here is that this is a marine sanctuary with a bunch of rare species! There's a ton of things to see here and it's a great beach for kids, too!
Extra Tip: Puu Pehe (Sweetheart Rock) is right next door.
Shark Fin
Excellent snorkel spot at this huge rock that juts out like a shark's fin in Kaunolu Bay. You'll probably need to go with a snorkel tour since it's a bit far from shore, but it's reachable if you have a kayak or surfboard that you can anchor while you snorkel.
Local Tip: Can't reach Shark Fin rock? Just stay in Kaunolu Bay because the snorkeling here is great, too.
Fish Rock
Located right outside Manele Bay, this snorkel spot may not have the most unique name, but it certainly lives up to it! It's also a good dive spot, too!
Sergeant Major
No, this spot isn't named after someone famous, but after all of the Sergeant Major Damselfish that cloud this area. It's a pretty cool thing to see with so many of them in the water.
Turtle Haven and Coral Garden
Love turtles? Make sure you come out here to see these guys in action since they seem to congregate here. On a side note, the name "Turtle Haven" changes to "Coral Garden" on the rare days when no turtles are in sight? How's that for excellent marketing?
1st and 2nd Cathedral
The Cathedrals are the most highly sought after dive spots in Lanai. Dive tours are always getting special requests to come here and the layers of hardened lava certainly give these areas an almost architectural look. If you're an underwater photographer, this is a great spot to get those awesome shots in!
Oscar's Reef
There are some spots in Hawaii that are known as "turtle cleaning stations." You'll often find these stations filled with small fish darting from shell to shell as they nibble away. Oscar's Reef is one of them and it's a cool symbiotic relationship to see. Definitely a must see for those interested in biology, marine life, etc.
Only One Day In Lanai
Popping in and out for one day to see the Pineapple Island is a common choice for Hawaii travelers. This way, most people save money (staying overnight on Lanai can be pricey) and get to knock off at least two islands off their Hawaiian vacation. If you're thinking to go this route, here are some neat choices for you:
Maui to Lanai Ferry: Most Lanai hoppers will come from Maui on the ferry. It's $30 and super fun – if you haven't traveled between islands on a small boat in the Pacific Ocean, you haven't lived yet (spoken like a girl with an Uncle who ferries her from Molokai to Maui at top speed – Hi Uncle Dart!).
The Lanai Rafting Excursion and the SNUBA Excursion are good ideas for water lovers. These tours will take you to land on a Lanai beach where you'll get to explore and play.
And if you want a trekking adventure, this 4×4 tour is a good one – exploring Lanai off road literally means going off road. You won't have to worry about reserving a car or driving into ditches here.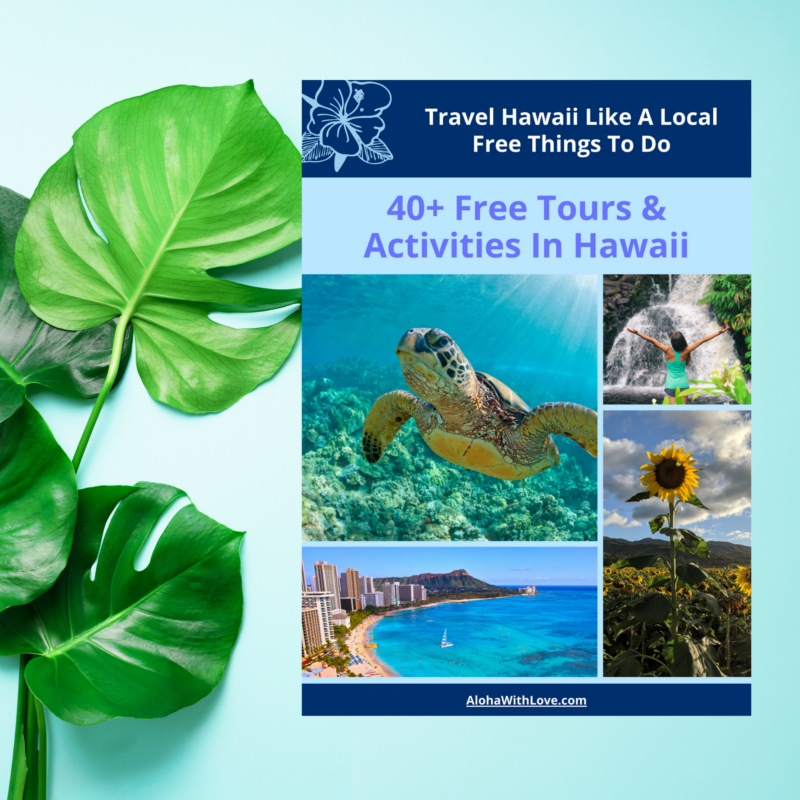 Want to go on a free tour in Hawaii?