This post may contain affiliate links, which means I'll earn a small commission if you purchase something through these links. You won't pay any extra; instead, you'll be helping Aloha With Love to thrive. Thank you! Learn more.
COVID-19 has affected many of Hawaii's businesses and events. Please double check their dates and times before you go or make plans. Visit HawaiiCOVID19.com for more information.
--
Shoyu pork and eggs is an easy dish that cooks a lot of food with minimal effort. Preparation takes only about 20 minutes. Boil the eggs, cut the meat, toss everything into a large pot and you're done. The best part of this dish is that it usually lasts for a few days and it has a simple, but delicious shoyu flavor to it. The eggs can be eaten separately for breakfast or as a snack, while the pork can be part of your lunch or dinner. Even the sauce can be used separately in your next dish (it turns into flavorful gelatin in the fridge).
Mom recommends cooking shoyu pork and eggs on the weekends or on your day off. You'll have plenty of leftovers and it tastes great hot or cold. This is one of her go-to recipes when she's not sure what to cook. Pork butt is almost always available at our local grocery store. It's especially convenient since it can use up a whole tray of Costco wholesale eggs in one go, which stretches our dollar per meal pretty far.
Aloha with love,
Amy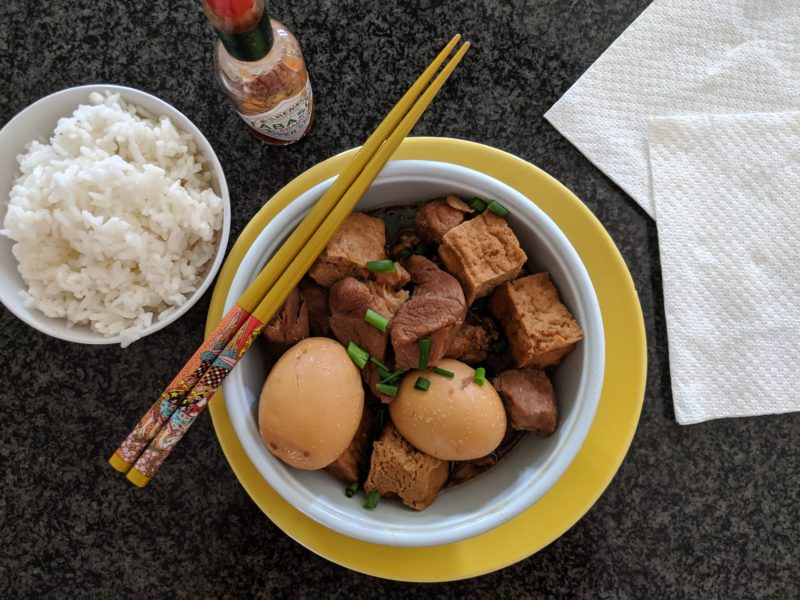 Ingredients
12+

eggs

3 – 3½

lbs

pork butt

2

in

ginger

5

green onions

¼

c

cooking wine

Any white wine or rice wine.

1

c

shoyu

Soy sauce.

4

c

water

2

in

rock sugar

1

package

deep-fried tofu

Optional.
Instructions
Boil and peel the eggs
12 eggs is a good minimum for this recipe, but you can go up to 20 as Mom did. Put the eggs in a pot, cover with water, and adjust the temperature to high. When the water begins to boil, turn off the stove and leave as is on the stove for at least another 20 minutes. Mom usually boils the eggs first and leaves them on the side until all the cooking is done.

After 20 minutes, run the pot of hot eggs under cold water nonstop. Holding the eggs in the running water, crack each egg all around and return them to the pot of (now cold) water without peeling them. The cold water will seep into the cracks and separate the shell from the egg. The shells should now slide off the egg easily.
Ready the pork, ginger, and green onions
Cut the pork into large bite-sized chunks about 1½ in long.

Peel the ginger and cut into about 5 chunks. This is just for flavor so you don't need to worry about how it looks. They just need to be easy to fish out when the cooking is done.

Cut green onions into thirds so that they're about 5 to 6 in long.
Cooking shoyu pork and eggs
In a large skillet on the stove, adjust the temperature to high heat. Add the pork, ginger, green onions and cooking wine. Stir and let the pork brown for about 5 min. When the pork has a nice brown all around, add in the shoyu and water.

Add rock sugar. Rock sugar is highly recommended as it tastes the best. The 2nd best option is 2 tablespoons of brown sugar. Every once in a while, Mom uses 2 – 3 packets of Truvia. Keep the stove on high heat, cover, and bring to a boil. Once it reaches a boil, lower the stove to medium-low heat. Stir 2 – 3 times for 1 hour. Keep covered as it simmers.

Optional: Cut deep-fried tofu into bite-sized cubes. You can also use aburaage (deep-fried tofu skin). Both are commonly found at Asian grocery markets and soak up the shoyu sauce really well. Mom usually buys her deep-fried tofu at Don Quixote as they usually have the best price.

Add hardboiled eggs and the deep-fried tofu to the pot. Spread and mix everything together. Make sure the sauce is at least touching the eggs and tofu so the flavor can soak in. Keep the temperature at medium-low and cook for another 30 minutes covered. Stir 2 – 3 times so that the shoyu sauce can soak in evenly.

This is ready to eat as soon as you turn off the stove. Add a sprinkle of green onions to add some color.
Video
Notes
Pork butt is the best choice, but if you don't have it, then chicken is a good substitute. Do not use beef as it will become too tough.
The more fat or skin on the meat, the tastier this dish will be.
Use strong-flavored shoyu (cooking shoyu). Kikkoman Shoyu is a good choice. Aloha Shoyu is better suited for dips and sauces.
For this recipe, you can use up to 20 eggs (which Mom did for this dish).
Rock sugar gives the best flavor. If you don't have rock sugar, 2 tablespoons of brown sugar can be used. When avoiding sugar, Mom uses 2 – 3 packets of Truvia (or your favorite artificial sweetener).
Deep-fried tofu or any fried bean curd (aburaage) is completely optional. We love it because it soaks up the flavors so well. If you prefer regular tofu, use firm so that it holds its shape.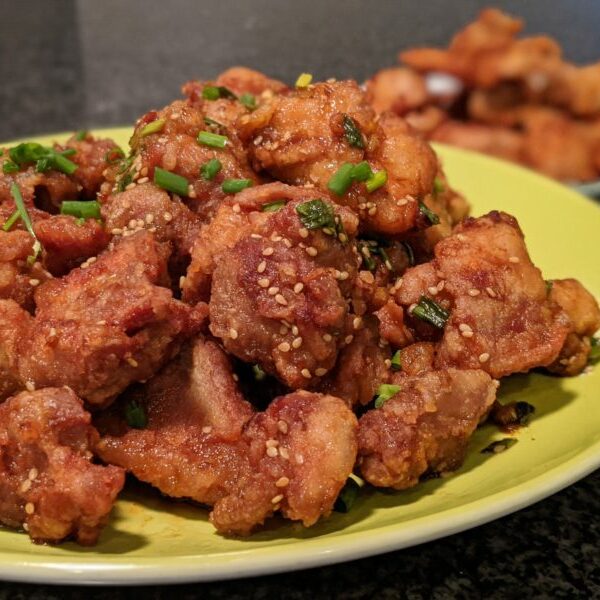 Get my latest recipes with a spoonful of aloha!