This post may contain affiliate links, which means I'll earn a small commission if you purchase something through these links. You won't pay any extra; instead, you'll be helping Aloha With Love to thrive. Thank you! Learn more.
COVID-19 has affected many of Hawaii's businesses and events. Please double check their dates and times before you go or make plans. Visit HawaiiCOVID19.com for more information.
--
With a potential meat shortage underway due to COVID-19, Mom found a great deal for local whole chicken from 50th State Poultry, a local source for chicken in Hawaii. There were plenty still available at our local grocery despite the empty sections of beef, pork, and chicken. While this local chicken is smaller than what most people are used to, you can't beat the price at just under $5.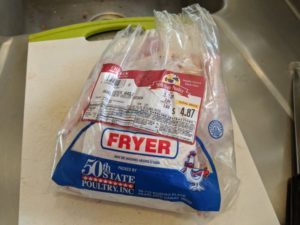 Mom and I think it's probably because people aren't sure what to do with a smaller bird. They might be thinking "I need two of these tiny chickens to feed my family…that's twice the work!" In actuality, these smaller chickens can really stretch your dollar if done right. Plus, their size and freshness makes them naturally juicier than the usual frozen chicken we buy from the store.
Shoyu chicken is a local dish that's popular at plate lunch restaurants, but Mom decided to throw in some extra baked potatoes we had leftover and plenty of eggs just like her shoyu pork and eggs recipe. The result was plenty of tender chicken and sweet shoyu soaked into each bite of potatoes and eggs. It was more than enough for our family of four adults and easy enough for anyone to recreate.
Aloha with love,
Amy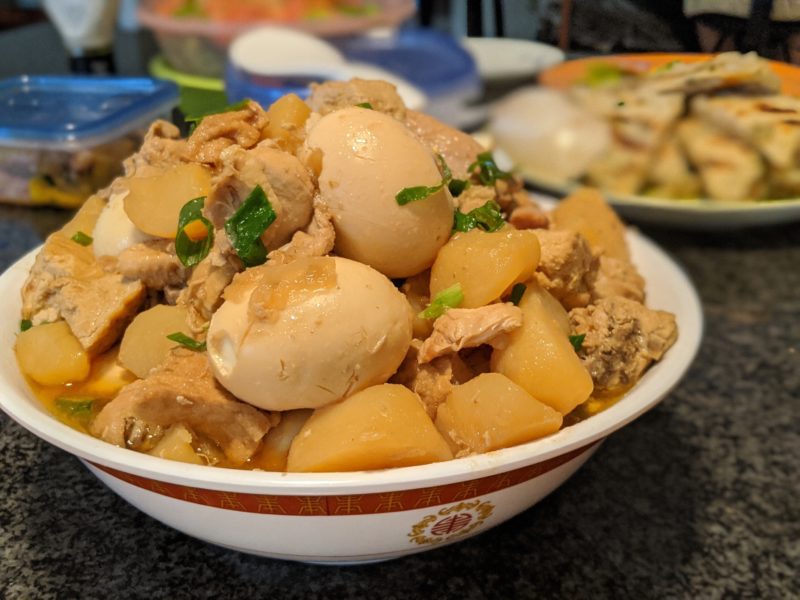 Ingredients
1

50th State Poultry whole chicken

2

cloves

garlic

Thinly chopped.

1

in

Ginger

Thickly sliced.

½

onion

Large cubes.

1

tbsp

olive oil

1

small chili pepper

Optional.

½

c

shoyu

Soy sauce.

1

tbsp

brown sugar

1

c

water

1

package

deep-fried tofu

Cubed.

10

eggs

Hardboiled.

3

potatoes

Cubed.

1

c

green onions

Finely chopped.
Instructions
The 50th State Poultry chicken is smaller, but cut it into sections like any normal chicken: wings (2 pieces), legs (2 pieces), and breast (cut in half down the middle then into three pieces). The left over bones (back and rib cage) can be frozen and used to make a broth later.

Add oil to the dutch oven and adjust the temperature to high heat. Add onion, garlic, and ginger. Mix continuously for about 3 minutes.

Optional: Add one chili pepper, thinly chopped.

Add in the chicken when you smell the onion and garlic cooking in the hot oil. Stir continuously. Add the shoyu and adjust the temperature to medium heat.

1 minute later add the brown sugar and water. Raise the temperature to high heat to allow the shoyu to cook and the brown sugar to melt. Cover until it boils (about 5 minutes).

Uncover and add deep-fried tofu. Mix gently. Cover again and reduce heat to medium for 6 – 8 minutes.

Uncover and add the hardboiled eggs and potatoes. Mix gently and cover. Cook for 20 minutes. The sweet shoyu flavor will soak deeply into the chicken, tofu, eggs, and potatoes during this time.

Optional: Add any other root vegetables at this time such as other potato varieties, carrots, daikon, lotus root, taro, or even gobo.

Turn off the stove and top with green onions when you're ready to serve.
Notes
Mom actually used leftover baked potatoes from 2 dinners ago. They didn't melt away, which is always a concern when you cook russet potatoes too long. Instead they sucked up a lot of flavor and may have been the highlight of this dinner.
Mom also made a batch of green onion pies and it was perfect with shoyu chicken. Shoyu chicken makes a lot of extra juicy sauce. Usually we pour it over a hot bowl of rice, but this time we dipped the green onion pie into it and it was delicious.
You don't have to use this exact chicken for this recipe. Any chicken will do, even frozen.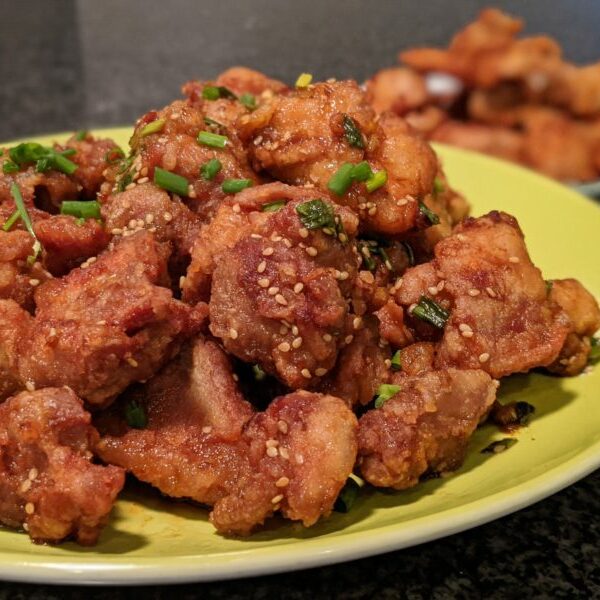 Get my latest recipes with a spoonful of aloha!