This post may contain affiliate links, which means I'll earn a small commission if you purchase something through these links. You won't pay any extra; instead, you'll be helping Aloha With Love to thrive. Thank you! Learn more.
COVID-19 has affected many of Hawaii's businesses and events. Please double check their dates and times before you go or make plans. Visit HawaiiCOVID19.com for more information.
--
You can "kimchi" all kinds of vegetables and Mom tried it out with sayote thinking it would just be a fun project at being creative. But it turned out fantastic! Just like how pickled sayote is the lighter version of pickled mango, sayote kimchi is also the lighter version of the more traditional daikon kimchi.
Since stumbling on this new way to eat sayote, Mom has made sayote kimchi twice now in the past couple of months. Not only is it tasty, but it's been great for my grandpa who loves kimchi, but can't have MSG and finds it hard to bite into crunchy foods. Plus, it's a good way to use up and preserve all of the sayote we got from the farm. Otherwise they'd just go bad in a couple of weeks.
Let me know if you have the chance to try this! I don't think many people will since you'll need to round up at least 10 sayote, but at least this recipe is out there for the few of you who do have extra sayote. All I can say is if you make some, don't forget to share it with your friends!
Aloha with love,
Amy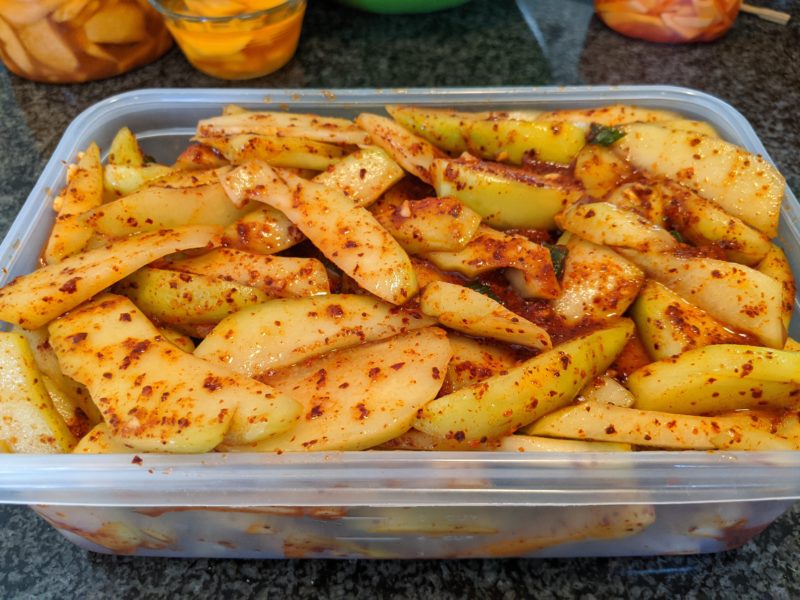 Ingredients
4

lbs

sayote

2

tbsp

salt

2

tbsp

sugar

3

cloves

garlic

Minced.

1

tsp

ginger

Minced.

½

c

green onions

⅓

c

Korean chili pepper flakes

Gochugaru.

¼

c

fish sauce
Instructions
Slice the sayote and mix with salt and sugar. Let it rest for about 30 minutes. Mix every 5 – 10 minutes. A lot of water will be drawn out of the sayote. Don't throw this away as you'll use it later.

In another large bowl mix together the garlic, ginger, green onions, chili pepper flakes, and fish sauce. Use a glove or the chili pepper will burn your hand.

Add the sayote (but not the water) into the bowl of spicy mix. Mix until the spicy mix is well distributed. Add ½ c of the leftover water if you feel it needs more water to mix thoroughly. Add another ½ c if you think it needs more.

Note: In this case, Mom actually used up all of the leftover water.

You can eat this right away, but it's best if you wait at least 2 days.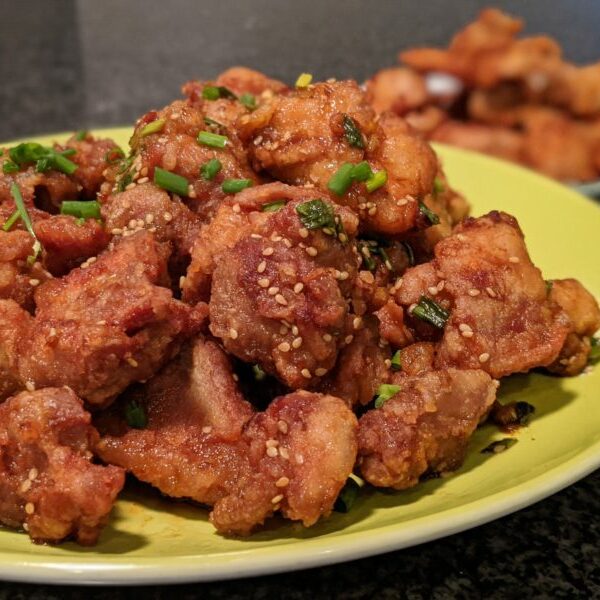 Get my latest recipes with a spoonful of aloha!