This post may contain affiliate links, which means I'll earn a small commission if you purchase something through these links. You won't pay any extra; instead, you'll be helping Aloha With Love to thrive. Thank you! Learn more.
COVID-19 has affected many of Hawaii's businesses and events. Please double check their dates and times before you go or make plans. Visit HawaiiCOVID19.com for more information.
--
You normally wouldn't think to add potatoes to a stir fry, but if you can take the starch out, then stir-fried potatoes are a wonderful way to enjoy this easy-to-eat dish. The key to stir-fried potatoes is soaking and rinsing the potatoes in water. This removes a lot of the starch, which is what makes potatoes go soft when cooking them. And since they are white inside, adding some orange carrots and green vegetables really makes this a very pretty dish. The best thing about this dish is that my grandparents can eat as much as they like. They have sensitive and missing teeth so a stir-fry dish without the crispy vegetables makes eating enjoyable and easy.
Aloha with love,
Amy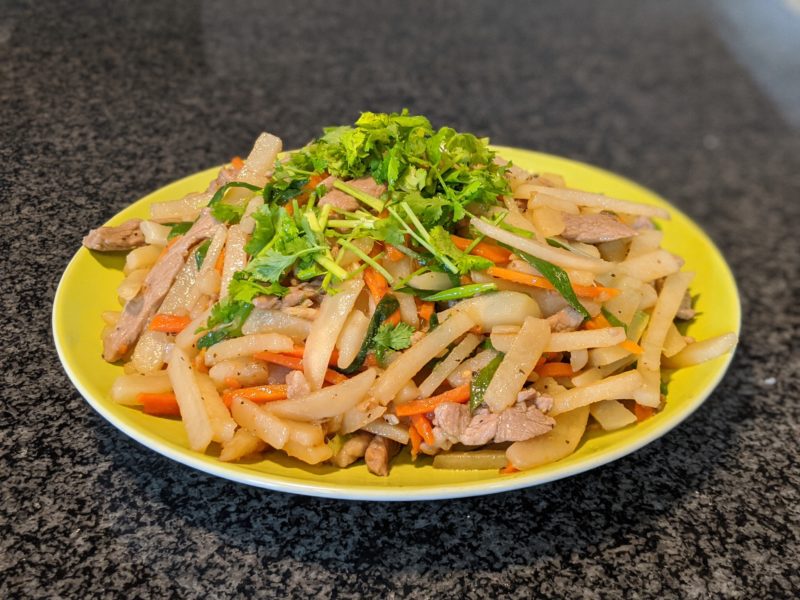 Ingredients
5

russet potatoes

2

medium carrots

4

green onions

½

lb

pork

1

clove

garlic

1

ginger

Same amount as garlic.

2

tbsp

shoyu

Soy sauce. Flavors the pork.

1

tsp

salt

1

tsp

pepper

1

tbsp

shoyu

Soy sauce. Flavors the dish.

½

tsp

brown sugar

Sriracha

Optional. Or your favorite hot sauce.

¼

c

water

½

c

green onions

Chopped.

1

tsp

sesame seed oil

1

handful

Chinese parsley
Instructions
Peel potatoes and cut into strips like french fries (about 2 – 3 times the thickness of McDonald's fries). Rinse potatoes in a large bowl of water with your hands, drain, and repeat until the water runs clear. Fill the bowl of potatoes up with water once more and let it soak.

Slice the carrots long and thin and the green onions at a diagonal so that they match the long shape of the potatoes. This helps with the presentation of the dish.

Finely chop up the ginger and garlic. Slice the pork into long bite-sized pieces.

Add oil to a pan and adjust the temperature to high. Put in the ginger and garlic in first. When they just begin to brown, add in the pork and stir.

When the pork is about 75% done, add in 2 tbsp of shoyu. The shoyu flavor will soak into and flavor the pork. Stir a few times and let the shoyu cook into the pork.

Take a moment to drain the potatoes and put them in a colander. Return to the pot and continue to stir.

About 3 – 4 minutes in, the liquid from the shoyu will be almost gone and the meat will be brown all over. Add in the carrots and stir for another 30 seconds.

Note: as soon as the shoyu liquid is gone, the fat in the pork will kick in and flavor the dish.

Add all of the potatoes, salt, pepper, brown sugar, and another 1 tbsp of shoyu into the pan. This second dash of shoyu will flavor and add color to the white potatoes.

Optional: add hot sauce.

Add water, adjust the heat to medium and cover for about 3 minutes. After 3 minutes, remove the lid and you should still see a little bit of liquid left as shown in this picture. Stir for a few seconds to help the evaporation process.

When you're ready to plate and serve, adjust the temperature to high heat and add the green onions. Stir the green onions in for a few seconds to allow them to cook.

Turn the stove off and add in the sesame seed oil. Stir one last time to spread out the sesame seed oil. Plate and serve.

Optional: put Chinese parsley on top when you serve for aesthetics.
Notes
Any potatoes can be used, but to make sure this remained soft for my grandparents to eat, we used russet potatoes.
The longer you can soak the potatoes, the better as it will draw out more starch. With less starch in them, the potatoes will hold their shape better and not be mushy as you stir them.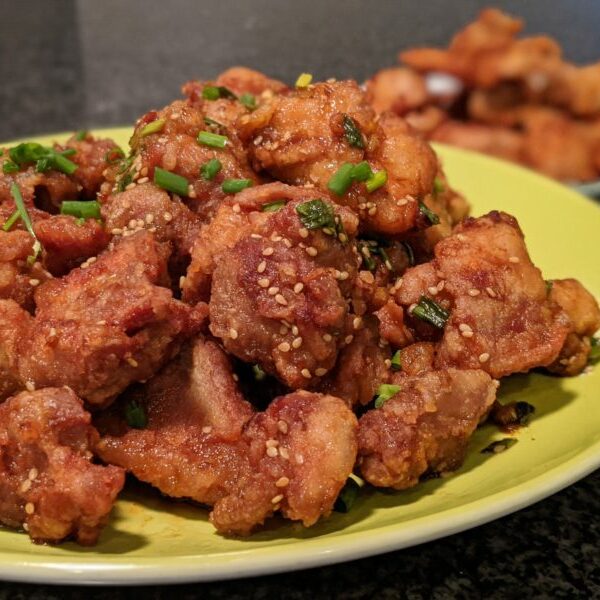 Get my latest recipes with a spoonful of aloha!