This post may contain affiliate links, which means I'll earn a small commission if you purchase something through these links. You won't pay any extra; instead, you'll be helping Aloha With Love to thrive. Thank you! Learn more.
COVID-19 has affected many of Hawaii's businesses and events. Please double check their dates and times before you go or make plans. Visit HawaiiCOVID19.com for more information.
--
Baozi (or bao) is just one of the many traditional dishes that I grew up with. My Mom would make these by hand and served hot they are a perfect meal or snack. When other kids would bring sandwiches and a bag of chips to a field trip, my brother and I had 3 baozi (and a bag of carrots). Just a couple will fill you up and they can be packed easily into a lunch box. Making baozi looks intimidating – I certainly was afraid to learn because it looked like too much effort. But once you get the hang of it, it's pretty easy and you can make a lot in just one go. It's also a fun family activity especially with kids!
Aloha with love,
Amy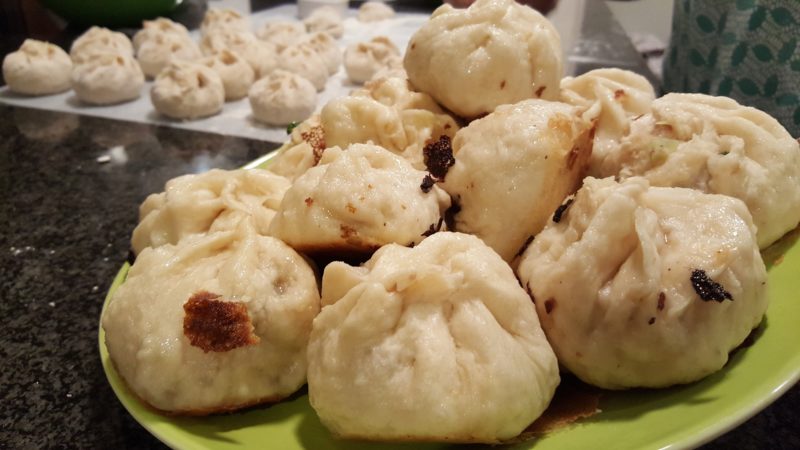 Ingredients
Filling
2

lbs

ground pork

⅔

green cabbage

Add 1 tbsp salt to take the water out.

1

c

japchae noodles

Presoak.

2

tbsp

ginger

½

c

green onions

1

tsp

salt

4

tbsp

shoyu

Soy sauce.

1

tsp

pepper

2

tbsp

sesame seed oil

4

tbsp

olive oil

1

tbsp

rice wine

Optional.
Dough
4

c

self-rising flour

2

c

water at room temperature
Instructions
Filling
Soak the japchae noodles in a bowl of water to soften.

In a mixing bowl, add ground pork, ginger, green onions, salt, shoyu, pepper, sesame seed oil, olive oil, and rice wine (optional). Mix and put in the fridge to cool so that it's easier to mold and work with when forming the baozi.

Dice the green cabbage as small as possible. Mom recommends not using a food processor as it will make the diced cabbage too fine and mushy. Do not use the core. Instead keep it for your next soup recipe.

Add about 1 tbsp salt to the diced cabbage and mix. Let it sit for a few minutes so that the salt draws out as much water as possible. Do not rinse. Squeeze the water out by the handful and add to the bowl of filling. The more water you can take out of the cabbage, the less mushy the inside of the baozi bread will be.

By now the japchae noodles should be soft and pliable. Dice as small as possible and add to the filling.

Mix everything together and return to the fridge to cool and harden.
Dough
Add self-rising flour to a mixing bowl. Note that this dough recipe (4 c flour, 2 c water) will use half of the filling, which is enough for our family of four and leftovers. If you want to use up all of the filling in one go, double this dough recipe.

Slowly add room-temperature water to the flour a little at a time to create a clumpy dough. Mix with a wooden spatula. Do not knead. Mom prefers using her wooden one-piece rolling pin to slowly combine the water with the flour. After the water has been incorporated and all the flour has formed a dough, leave as is.

Cover and rest for at least 10 – 15 minutes.
Wrap the baozi
Gently roll out the dough out of the bowl and onto a floured tabletop without kneading. Cut the dough in half and cover one half with saran wrap.

With the other half, roll it out like one big noodle. Aim for about 2 inches in diameter.

Start on one end of the noodle and pinch the dough to separate into balls of dough. The size will vary depending on each person and their hand size. Mom usually ends up with 2½ to 3 inches in diameter.

Flatten each ball of dough with the palm of your hand.

With a rolling pin, flatten each ball of dough further to about 3 mm in thickness. In the middle of the dough, leave a raised bump of dough. This allows you to stretch and close the baozi without tearing the dough as it thins out.

With the flat and rolled out dough in one hand, add a large scoop of filling on top. Start with about 2 tbsp and work your way up as you get used to it.

Begin by gathering the dough together with your thumb and forefinger. Your thumb stays in place as you pinch the next bit of dough.

Your other hand holds and rotates the baozi as you work your way around it pinching it closed. Your thumb pushes the filling inside as you rotate and pinch it closed.

That "bump" of dough in step 5 comes into play here. As your thumb pushes the filling back into the baozi, the bump allows the dough to stretch at the bottom without breaking.

The closed baozi should be about 3 to 3½ inches in diameter. Add some flour to the bottom so that it will form a nice crust while cooking.
Cooking
Use a large fry pan with a cover. With the pan on high heat, add enough oil to cover the whole bottom of the pan. Add the baozi to the pan, but leave enough space in between as the baozi will expand as they cook. Add enough water to cover the baozi halfway. Cover and cook at high heat.

You'll know when the water has almost disappeared when the low boiling sound becomes a high-pitched sizzle. Take the cover off to allow the remaining water to evaporate and form a nice bottom crust from the flour. This usually takes anywhere from 1 – 3 minutes.

Remove when the bottom is a golden brown.
Notes
Substituting beef or chicken for the pork is not recommended. However, a vegetarian version can be made using ground tofu, beans and/or mushrooms.
The rice wine is optional. Mom includes it to get rid of the pork smell. The ginger is put in for the same reason, but must absolutely be included.
Baozi tastes best when you grind the pork by hand. To do this, chop up the pork, then take a heavy knife (or tenderizer) and hit the pork with the blunt edge. Mom has used the food processor in the past several times, and while the taste is there, the texture is mushy and takes away from the deliciousness.
Mom's favorite sauce for baozi is shoyu and vinegar mixed together. I also like to add hot sauce.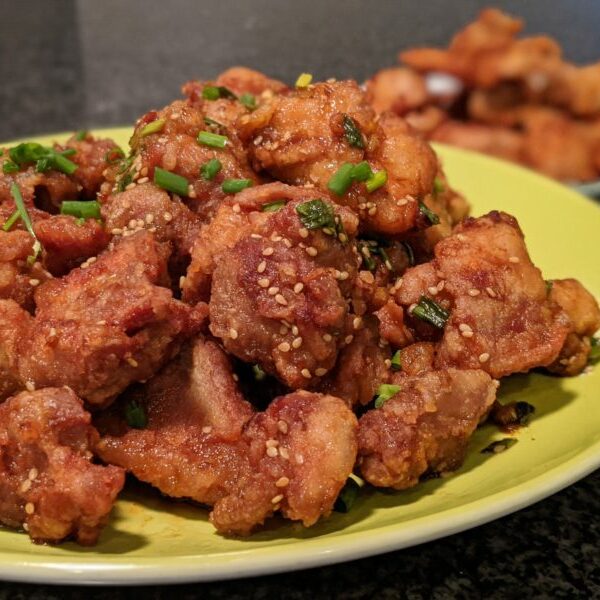 Get my latest recipes with a spoonful of aloha!